Happy Birthday to Love & Confections!
I can't believe I started this blog 2 years ago. I started it on a whim, because I wanted to share recipes and techniques, was interested in food photography, and to continue learning, exploring, photographing and tasting all things baking and pastry. Over my two years of blogging, I have had ups and downs in life and in the blog world, but as Walt Disney said, "Keep moving forward," and that is just what I have done.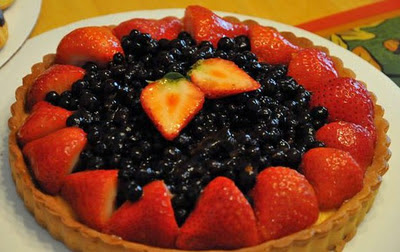 I am trying to blog on a more regular basis and continually striving to improve my photography skills. I have been fortunate enough to have family and friends let me use their dslrs whenever they can, as opposed to my point-and-shoot that I use on a regular basis – thank you Aunt W & Susan! I am also experimenting in the kitchen more – hoping to bring you lots of original recipes in the coming year.
I thought a tart would be a nice blogiversary treat, instead of the normal birthday cake. Whatever dough and frangipane you do not use, can be frozen for later use. Just remember to wrap the dough very well. The frangipane can be put in a freezer ziploc. Let it freeze flat, then you can move it on its side, or wherever else you need to put it in the freezer. Remember to label them properly – name and date – so you always know what you have. Whenever you're ready to use them again, just thaw for a day in the refrigerator.
Blueberry-Strawberry Tart
Love & Confections original recipe
Tart Dough Ingredients:
– 280 grams Pastry Flour
– 280 grams All Purpose Flour
– 225 grams Butter, cold and cut in small cubes
– 225 grams Confectioner's Sugar
– 5 grams Salt
– 158 grams Eggs (roughly 3 large eggs)
Tart Dough Directions:
– Preheat oven to 350F
– Combine first 5 ingredients into the bowl of a stand mixer. Using the paddle attachment, on a low speed, mix the ingredients until the Butter becomes pea-sized and the mixture feels somewhat like sand.
– Add the Eggs, half at a time, and mix until combined. This is a very sticky dough.
– Once mixed, enclose the dough on plastic wrap, shaping it into a rough circle, and let it rest in the refrigerator for at least 2 hours.
– After the dough has chilled and rested, roll the dough out on a floured work surface. Gently place the dough in the tart pan without stretching it. Press it to the bottom, in the corners, and up the sides. Dock the dough, line it with a piece of parchment on it and pie weights or beans, and par bake it for 10 minutes. Remove the parchment and beans and let cool. The tart shell can me made ahead and frozen.
Frangipane Ingredients:
– 16 ounces Almond Paste
– 100 grams Sugar
– 195 grams Butter, room temperature
– 30 grams Almond Meal/Flour
– 250 grams Eggs (5 large eggs)
– 115 grams Flour, sifted
Frangipane Directions:
– This can be made while the dough is resting.
– Combine Almond Paste, Sugar, Butter and Almond Flour in the bowl of a stand mixer with the paddle attachment. Mix the ingredients on medium, stopping and scraping down the sides of the bowl every few minutes.
– While on low, add in the Eggs one at a time, making sure the Egg is thoroughly mixed in before adding the next. Scrape the sides of the bowl to ensure that everything is mixed properly
– Add in the Flour and mix on low until incorporated.
– Refrigerate mixture until ready to use, or divide into freezer bags as stated above.
Other Ingredients:
– 1 pint Strawberries, hulled and halved
– 6 ounces Blueberries
– Apricot Jelly
Tart Assembly:
– Measure 300 grams of the Frangipane into the tart shell. Using an offset spatula, spread and level the Frangipane. Bake for 25-30 minutes, or until the top is golden brown and springs back slightly when you tough it. Let it cool completely in the tart pan before going to the next step.
– Remove the tart from the pan and place on a cardboard cake round. Arrange the Strawberries around the edge of the tart. Place the Blueberries in the center of the tart.
– Warm the Apricot Jelly in a saucepan until liquid. You will need to add a few tablespoons of water, one at a time, to the jelly, so it doesn't burn or darken too much.
– Using a pastry brush, brush the tops of the strawberries and blueberries with the Apricot glaze. This is best done right before serving. Keep refrigerated.
– Enjoy!
Until next time,
LOVE & CONFECTIONS!