No mermaid party is complete without a Mermaid Layer Cake. This moist vanilla cake with vanilla almond buttercream is sure to be the highlight of any Summer dessert table. Colorful frosting, sprinkles and candy melt mermaid tails give the perfect mermaid vibe!
I received product samples from sponsor companies to aid in the creation of the #SummerDessertWeek recipes. All opinions are mine alone.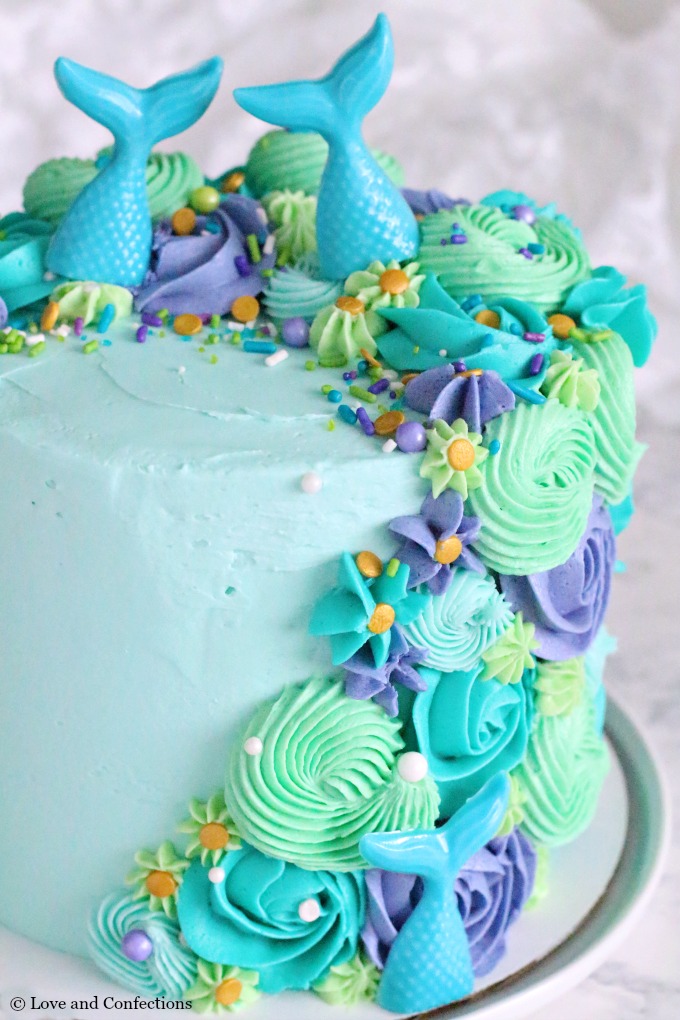 Summer is all about fun and what better way to celebrate than with a mermaid-themed party! I love anything and everything mermaids, so a Mermaid Layer Cake was definitely on my list to bake for this year's Summer Dessert Week hosted by Angie from Big Bear's Wife. I didn't want to go too crazy with the flavor on this one, since Little L&C was more interested in the color choices than flavor.
Cake:
A simple and moist vanilla cake is the base for my Mermaid Layer Cake. The recipe I used calls for 8-inch cake pans, but I opted to bake mine in 6-inch. The only difference is the baking time. Since there is more batter in a smaller area, it took about 10 extra minutes to bake in the 6-inch cake pans. I used three, but next time, I might divide it into 4 6-inch pans. I prefer the look of a taller, slimmer cake, as opposed to a shorter, wider one.
This cake is very vanilla. I love when you can really taste the vanilla in cakes, and used Adams Best Vanilla. There is a whole tablespoon in the recipe, so it has a lot of flavor in the cake. I also used Dixie Crystals sugar in both the cake and frosting.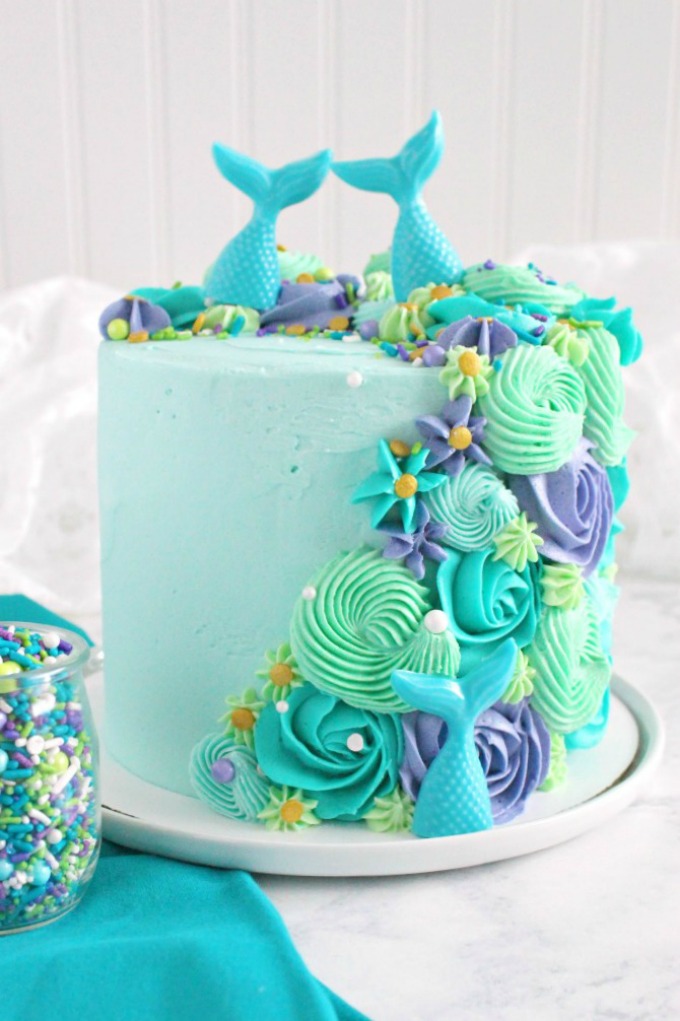 Frosting:
I used a traditional American-style buttercream for the frosting. To make sure I had enough, I made one and a half batches of frosting. There was quite a bit leftover, which is perfect for some mermaid-themed cupcakes too! You can totally get away with only making a single batch, but I usually err on the side of caution when it comes to these kind of cakes. I like to have extra in case I decide to switch up the piping while decorating.
If you couldn't tell already, teal is one of my favorite colors, so I loved using the turquoise gel color to make the base frosting on the mermaid layer cake. It's the same color turquoise in my Pineapple Paradise Cake too! For this cake, I used turquoise, dark turquoise, mint, mint + turquoise, and regal purple.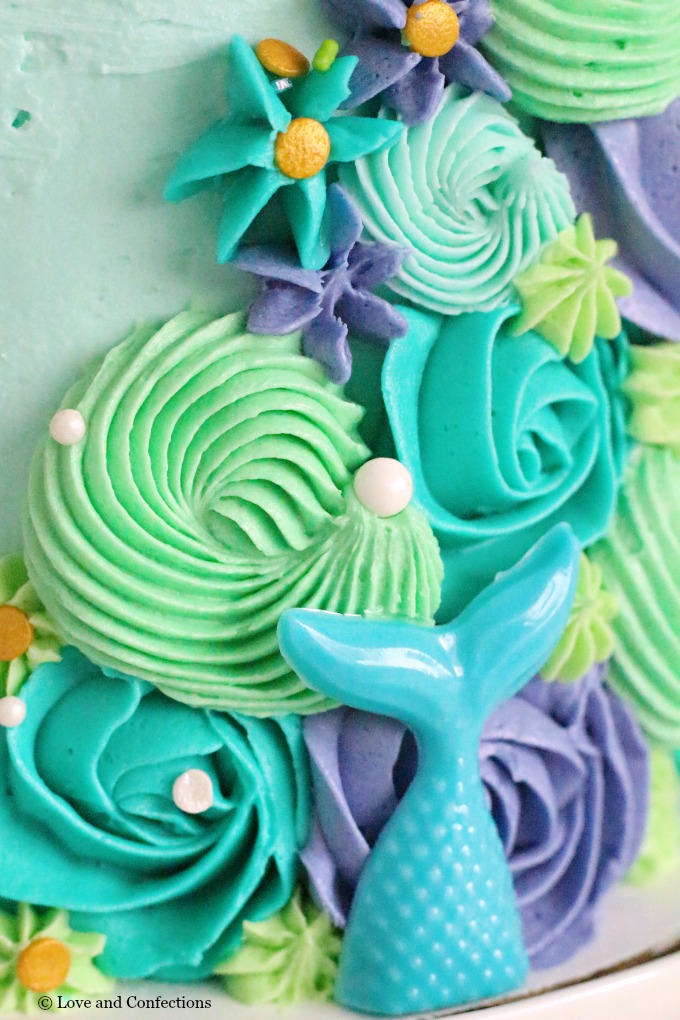 Decorations:
Sprinkles are a must with a fun cake like this, and Sweets & Treats feeds my sprinkle addiction with her cute and custom sprinkle mixes. I often create cakes and cupcakes based off of the colors in her mixes, like my Purple Velvet Halloween Layer Cake. I used the Sea Splash sprinkle mix for my Mermaid Cake.
Wilton gave us some fun baking supplies, including a mermaid cupcake kit. I used the blue candy melts and chocolate mold to create adorable mermaid tails.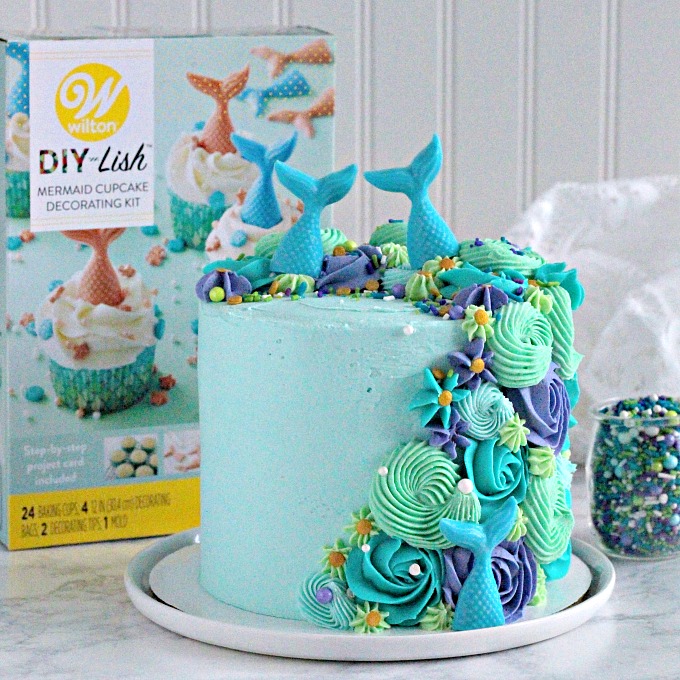 Tools, Tips & Tricks:
Start with a good set of cake pans. I have both 6-inch and 8-inch round pans, depending on the type of cakes I want to make.
I use a professional cake decorating turntable to fill and frost easier.
A stainless steel scraper will help get clean edges and a smooth cake. All of my favorite baking tools are in my Amazon Store.
Crumb coating is a thin layer of frosting that traps loose crumbs before applying the final frosting.
Piping tips used for the Mermaid Layer Cake: (2)1M, 8B, 22, and 32.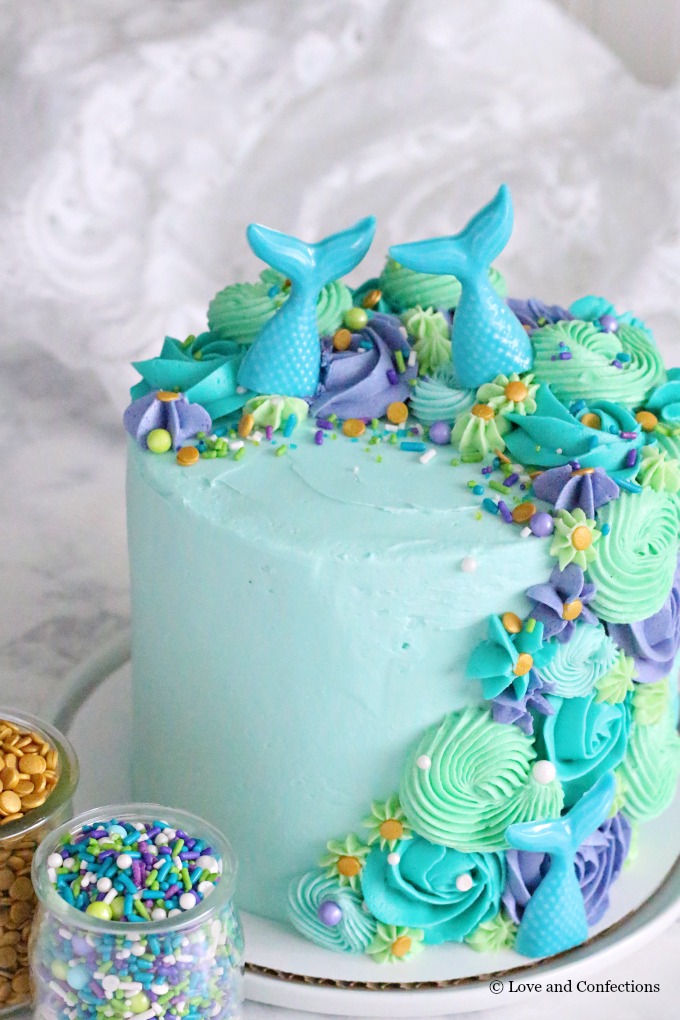 RECIPE NOTE: I LOVE USING PURE ALMOND EXTRACT IN BUTTERCREAM FROSTING, BUT IT CAN BE OMITTED IN CASE OF A NUT ALLERGY.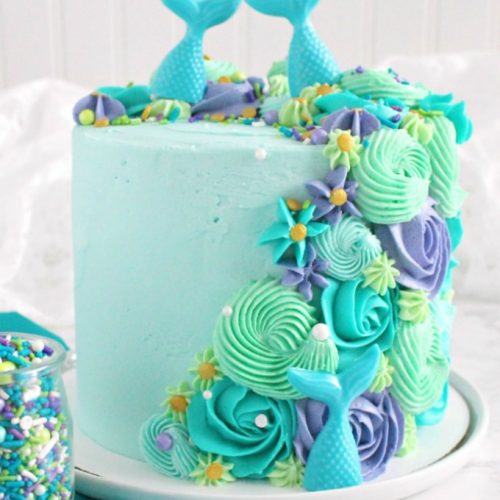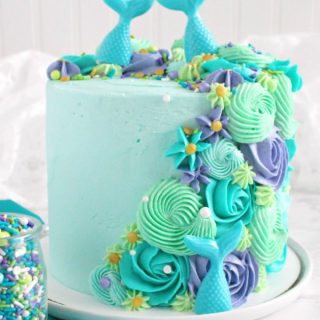 Mermaid Layer Cake
adapted from BeyondFrosting.com
Ingredients
Vanilla Cake
2

cups

Dixie Crystals Extra Fine Granulated Sugar

1/2

cup

vegetable oil

3

large eggs, room temperature

1

tablespoon

Adams Best Vanilla Flavor

1/2

cup

sour cream

2 1/2

cups

all-purpose flour

1

tablespoon

baking powder

1

teaspoon

salt

1 1/4

cups

milk, room temperature
Vanilla Almond Buttercream Frosting
2

cups

unsalted butter, cold

pinch

salt

7

cups

Dixie Crystals Confectioners Powdered Sugar

2

teaspoons

Adams Clear Imitation Vanilla Extract

1/2

teaspoon

butter Extract

1/2

teaspoon

pure almond extract

2

tablespoons

milk
Instructions
Vanilla Cake Instructions
Heat oven to 350F. Prepare 3 6-inch cake pans with parchment circles and baking spray. Set aside.

In the bowl of your stand mixer fitted with the paddle attachment, combine the sugar, oil, eggs and vanilla extract. Beat until fully incorporated and light in color - approximately 2-3 minutes. Add in sour cream and mix to combine. Scrape down the sides of bowl as needed

Whisk together flour, baking powder and salt in a medium bowl. Add half of the flour mixture into the batter and while on low speed, pour in half the milk. Mix until just combined. Repeat with remaining flour and milk. Scrape down the sides of bowl to incorporate fully.

Divide batter between 3 cake pans. For 6-inch pans, bake 30-33 minutes, or until a cake tester inserted into the center comes out clean.

Remove from oven and cool in pans for 10 minutes. Invert onto cooling rack to cool completely. Once cool, wrap in plastic wrap and refrigerate until cool enough to level cakes.
Vanilla Almond Buttercream Instructions
Cut butter into small slices and place into bowl of stand mixer with paddle attachment. Add salt. Whip butter for 5-7 minutes until light and airy. Scrape down sides of bowl as necessary.

Add 3 cups powdered sugar and mix on low to combine. Add in vanilla, butter and almond extracts then combine.

Add 2 cups powdered sugar and mix on low to combine. Scrape down sides as necessary. Add in remaining 2 cups powdered sugar. While on low, add in milk and mix to combine. Beat on medium-high for 5 minutes to whip. Scrape sides of bowl and re-whip if needed.
Assembly
Level cakes. Place a small amount of frosting on cake board to secure cake. Place bottom layer on cake board. Add frosting to cake and level with offset spatula (approx 1/4 – 1/3 cup). Repeat with second layer.

Place last layer on top upside-down and apply a crumb coat*  over cake. Place in freezer for 15-20 minutes. 

Remove 2 cups white frosting. Color 1/2 cup dark turquoise, 1/2 cup mint, 1/2 cup mint + turquoise, and 1/2 cup regal purple. 1M for dark turquoise, 1M for regal purple, 8B for mint/turquoise, and 22 for mint.

Color remaining frosting light turquoise. Frost top and sides and smooth with cake scraper/comb. Place in freezer for 15-20 minutes to chill. Place extra into piping bag with Wilton 32 open star tip.

Pipe rosettes onto cake and add sprinkles. Place in refrigerator while making candy mermaid tails. Follow directions on package for mermaid tails. Reserve a small amount of candy coating and use it to adhere small lollipop sticks to the back of two tails. Insert into cake. Place additional tail on the side of the cake.

Serve or refrigerate then bring to room temperature before serving.


Notes
* Crumb coat is a thin layer of frosting applied after stacking the cake, so the crumbs do not show when the final layer of frosting is applied.
Check out the amazing #SummerDessertWeek recipes from our bloggers today!
Ice Cream Recipes:
Pies of Summer:
Sweet Summertime Cakes and Cupcakes:
No Bake Treats:
Baked Desserts:
Cookies:
Puddings:
Cookies:
Puddings:
Welcome to the 3rd Annual #SummerDessertWeek event hosted by Angie from Big Bear's Wife. This week-long summer time event is filled with some down right amazing sweet recipes from fantastic bloggers. There are 45 bloggers participating in this year's #SummerDessertWeek event! Thanks to those bloggers, we have over 168 summer time sweet treat recipes being shared this week! 
Disclaimer: These posts and recipes are part of the week-long event, #SummerDessertWeek but all opinions are 100% mine! We would like to Thank our amazing sponsors: Dixie Crystals, Adam's Extract, Wilton, Sweets and Treats Shop and Anolon ! These wonderful sponsors provided the prize packs for our giveaways and also sent samples and products to the #SummerDessertWeek bloggers to use in their recipes.