Chocolate pumpkin cake is layered with spiced pumpkin frosting and topped with a chocolate ganache drip for a cake that is great for both holiday celebrations and weeknight desserts.
This post is sponsored by Florida Dairy Farmers. All opinions are my own.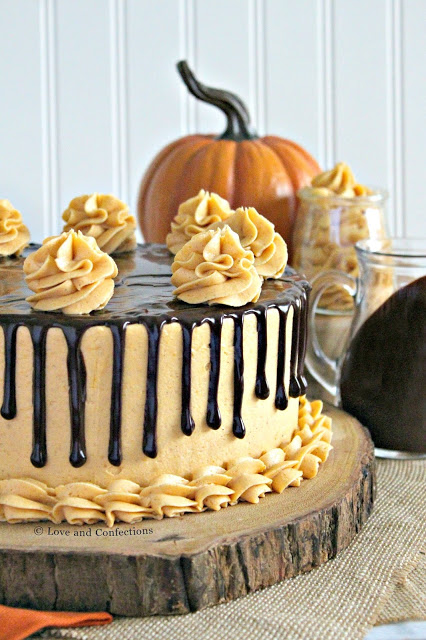 Drip cakes are one of my favorites to create. I love the way the chocolate drips over the edges, as well as the fun flavors and decorations that accompany it. Chocolate and pumpkin are a great flavor combination and come together beautifully in this chocolate pumpkin cake with pumpkin frosting and chocolate ganache drip.
Pumpkin is a great ingredient to bake with and not just for Halloween and Thanksgiving. I love baking with pumpkin throughout the year. Layer cakes are definitely a show-stopper during the holiday season and this cake is sure to please a crowd.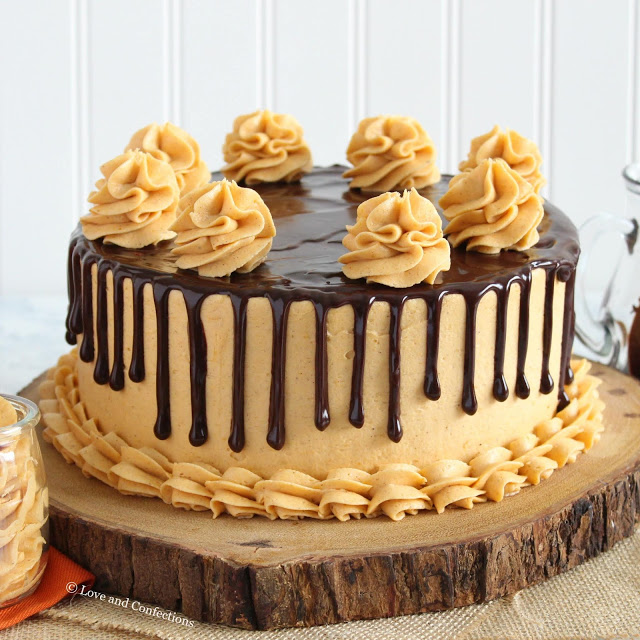 I have to admit that the pumpkin frosting is my favorite part of the cake, though. I could eat it with a spoon. It so fluffy and perfectly spiced – a great frosting to keep on hand for cupcakes and cakes throughout the season.
I made the cake in 2 8-inch cake pans, but the recipe can definitely be doubled for a taller cake, or halved for a single layer. If you're interested in a 6-inch cake, I would probably do one and a half times the batter and divide between 3 cake pans. The 8-inch are my go-to pans for everyday cakes, so those are the ones I recommend for the recipe.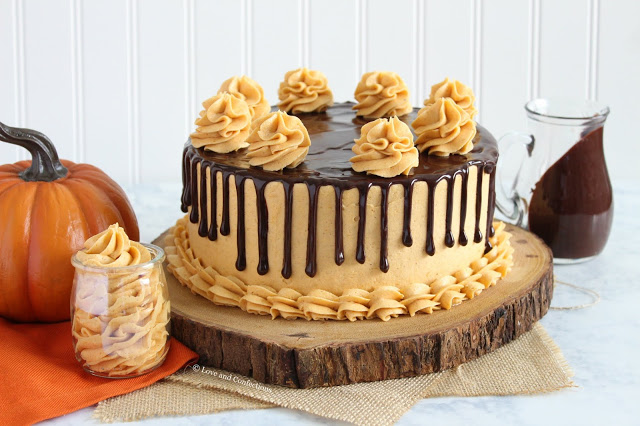 I hope you have a delicious holiday season and give the pumpkin and chocolate combination a try!
Here are a few items I used in this recipe:
Chocolate Pumpkin Drip Cake
By Love and Confections
Ingredients
1 cup granulated sugar
1/2 cup light brown sugar, packed
3 eggs, room temperature
1/2 cup vegetable oil
1/4 cup milk
2 teaspoons vanilla extract
1 cup pumpkin puree, not pumpkin pie filling
2 cups all purpose flour
1/4 cup cocoa powder
1 tablespoon baking powder
1 teaspoon salt
2 teaspoons pumpkin pie spice
3/4 cup unsalted butter, softened
3/4 cup vegetable shortening
1/2 teaspoon salt
1/2 cup pumpkin puree, not pumpkin pie filling
2 teaspoon pumpkin pie spice
8-9 cups powdered sugar
2-3 tablespoon milk or heavy cream
Instructions
Heat oven to 350F. Prepare 2 8-inch cake pans with baking spray and parchment circles, and set aside.
In a large bowl, or bowl of stand mixer with paddle attachment, combine sugar, brown sugar and eggs on medium to medium-high speed until light and fluffy.
Add in oil, milk, vanilla extract and pumpkin puree. Mix on low until combined.
In a medium bowl, sift or whisk together flour, cocoa, baking powder, salt, and pumpkin pie spice. Gradually add into wet mixture while on low, scraping down the sides of the bowl as necessary
Divide batter evenly between two pans. Bake for 22-25 minutes, or until a skewer inserted into the center comes out clean. Cool in pans for 10 minutes. Remove to wire rack to cool completely.
Pumpkin Frosting Instructions: In large bowl with hand blender, or bowl of mixer with whisk attachment, mix butter and shortening together until completely combined. Add in salt, pumpkin puree, and pumpkin pie spice and mix on low until combined. Scrape down sides of bowl.
Once incorporated whip on medium low and add in vanilla extract and milk, starting with 2 tablespoons and adding more after incorporating powdered sugar. Scrape down sides of bowl as necessary.
Add in powdered sugar, 1 cup at a time, starting with 8 cups. Once combined, whip on medium to medium-high until light and fluffy, 3-5 minutes. If you live in a humid climate, or frosting does not hold shape, add sifted powdered sugar, 1/4 cup at a time, until you reach desired consistency. If frosting is too stiff and dry, add remaining milk.
Assembly Instructions: Level each cake. Place one cake on a cake round or serving plate. Fill bottom layer with frosting. Turn second layer upside down so flat, uncut side is up. Crumb coat* entire cake and chill for 45 minutes. Frost entire cake with pumpkin frosting and chill another 45 minutes.
Once cake is fully chilled, place chocolate chips in large heat-proof measuring cup or medium glass bowl.
Place 1/2 cup heavy cream and 2 tablespoons corn syrup into heat-proof measuring cup or glass bowl and microwave for 45 seconds – 1 minute, until hot. Pour immediately on top of chocolate chips and let sit for 2 minutes.
Using a whisk or spatula, combine the melted chocolate and heavy cream until a glossy, drip consistency. Place in piping bag or candy-making squeeze bottle and create drips around the edge of the cake. Less pressure makes smaller drips, more pressure makes longer drips.
Pipe chocolate on top of cake and spread using a small offset spatula.
Chill cake for 10 minutes. Place pumpkin frosting in piping bag fitted with 1M open star tip. Pipe border around the base of cake and pipe dollops on top of cake. Can be made a day in advance.
* Crumb coat is a thin layer of frosting applied after stacking the cake, so the crumbs do not show when the final layer of frosting is applied.
Yield: 1 8-inch cake
Until next time,
LOVE & CONFECTIONS!