Caramelized Onion, Kale, Bacon and Cheddar Cheese come together to make a delicious Strata – full of flavor and perfect for breakfast or brunch any day of the week!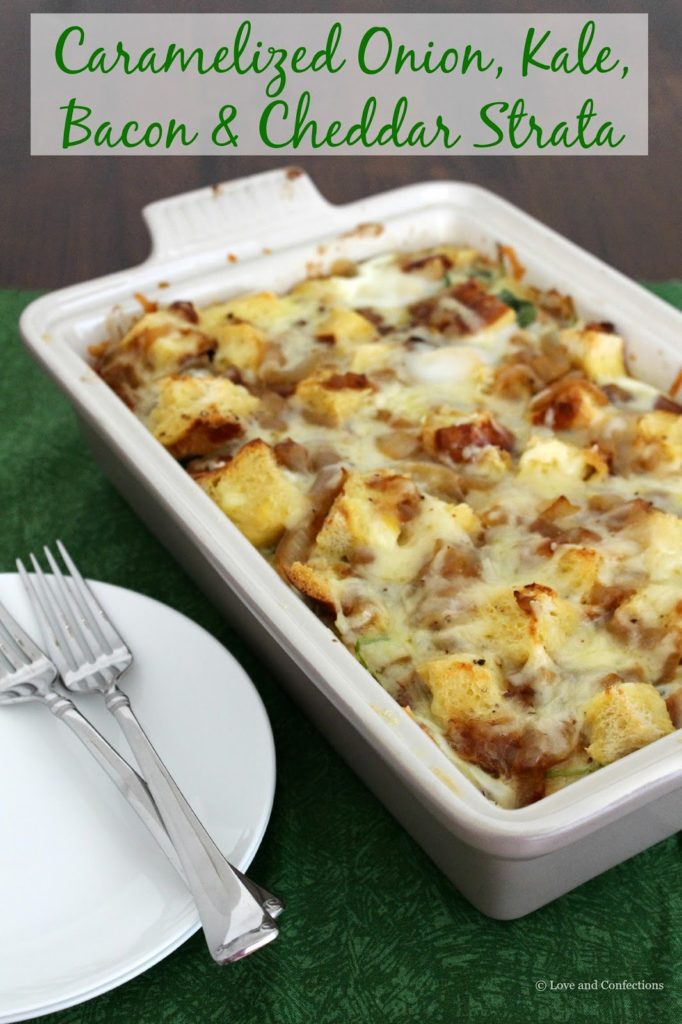 It's day 4 of #BrunchWeek and what a great week it has been. I am co-hosting with Shaina from Take A Bite Out Of Boca. The week is half over and the delicious recipes keep coming! Our #BrunchWeek giveaway is still going on, so make sure you enter before the end of the week! I hope you enjoyed my 60-Minute Cinnamon Rolls yesterday, as well as my Whiskey Walnut Tart and Blueberry Sangria that kicked off the week – they are all delicious!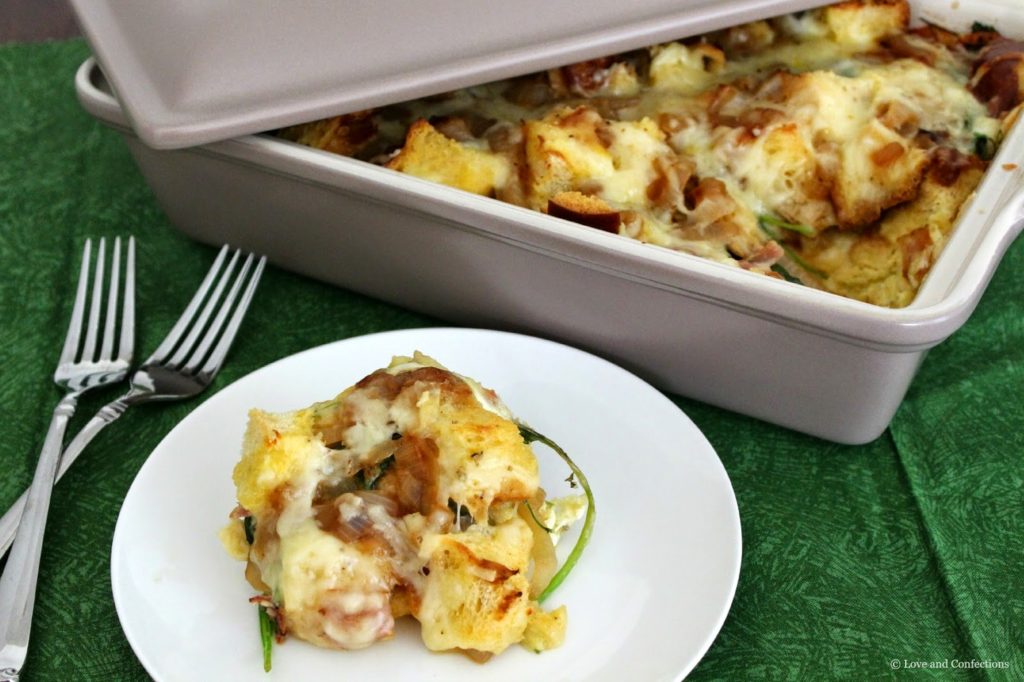 Today I am sharing a breakfast strata, which is kind of like a savory bread pudding. I always love a good bread pudding, like my Pumpkin Pie Bread Pudding, Banana Bread Pudding, and Apple Pie Bread Pudding, and have never shared a savory version, so I thought this would be perfect.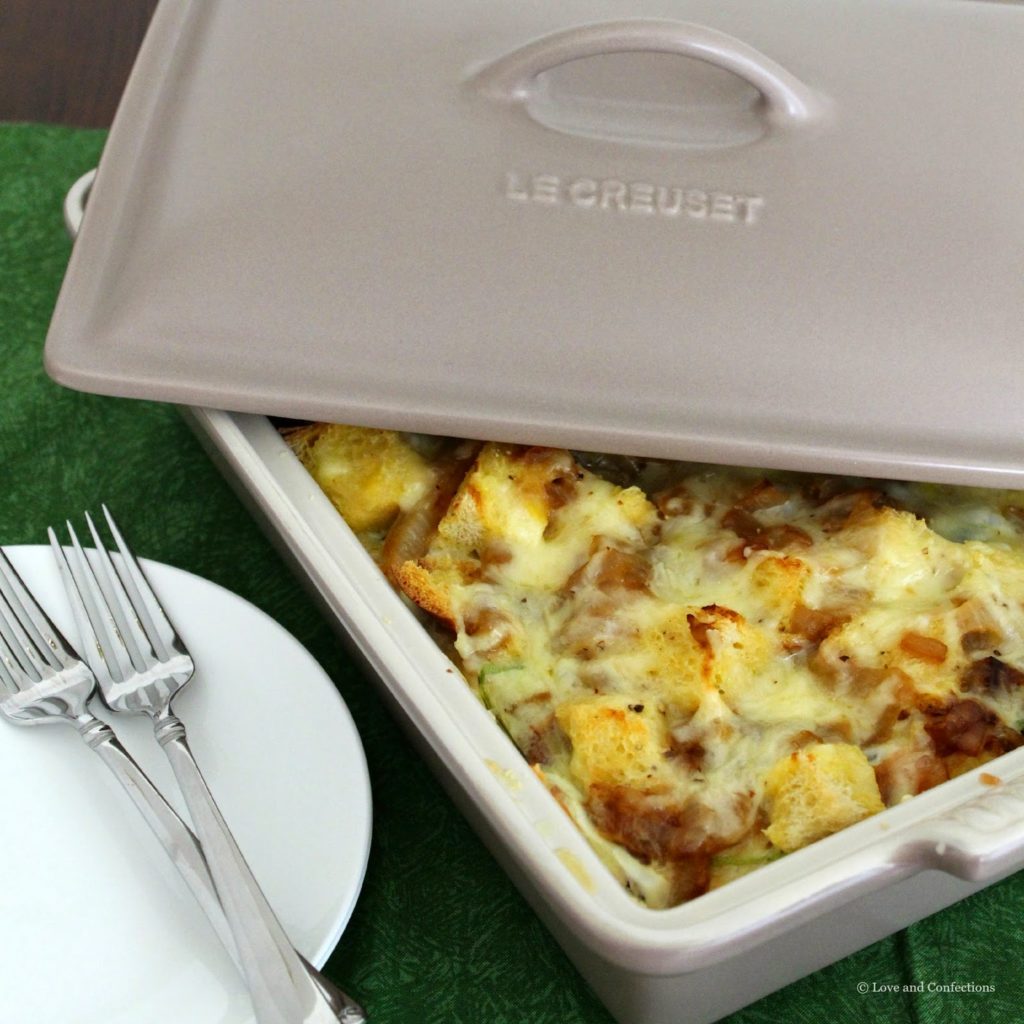 I received some gorgeous produce and juices from Grimmway Farms, Call-Organic and True Juice and knew I wanted to use kale in my recipe. I love adding kale to salads and pastas and thought it would be perfect in this strata. Caramelized onions are a favorite in our house. We put them on tacos, with roast chicken and potatoes, and in every meal possible. The sweeter the onion, the better it is to caramelize. Vidalia Onions are the best, but if you don't have Vidalias in stores yet, a sweet onion will have to do. I use Alton Brown's method for caramelizing onions on the stove. Also, I love the new Le Creuset Revolution Bi-Material Saute Spoon for making caramelized onions. It is has a flexible silicone edge that is perfect for making sure the onions don't stick and burn, while being incredibly sturdy.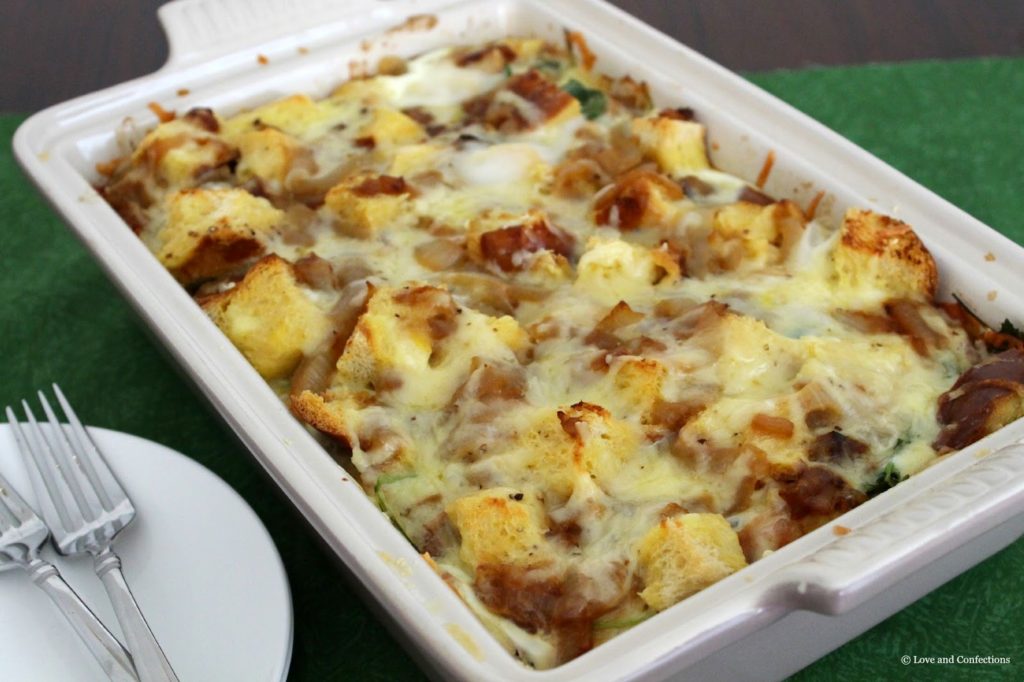 Of course, you can't have a strata without some good cheese. I was so excited to receive some amazing cheddar cheeses from Cabot Creamery Cooperative. In addition to their amazing cheeses, Cabot also offers yogurt, butter, cream cheese, sour cream, whipped cream and dips. The Cabot Cheese selection is fabulous! There are so many different flavors and I can't wait to try them all, especially their Tomato Basil Cheddar, Garlic & Herb Cheddar and Everything Bagel Cheddar.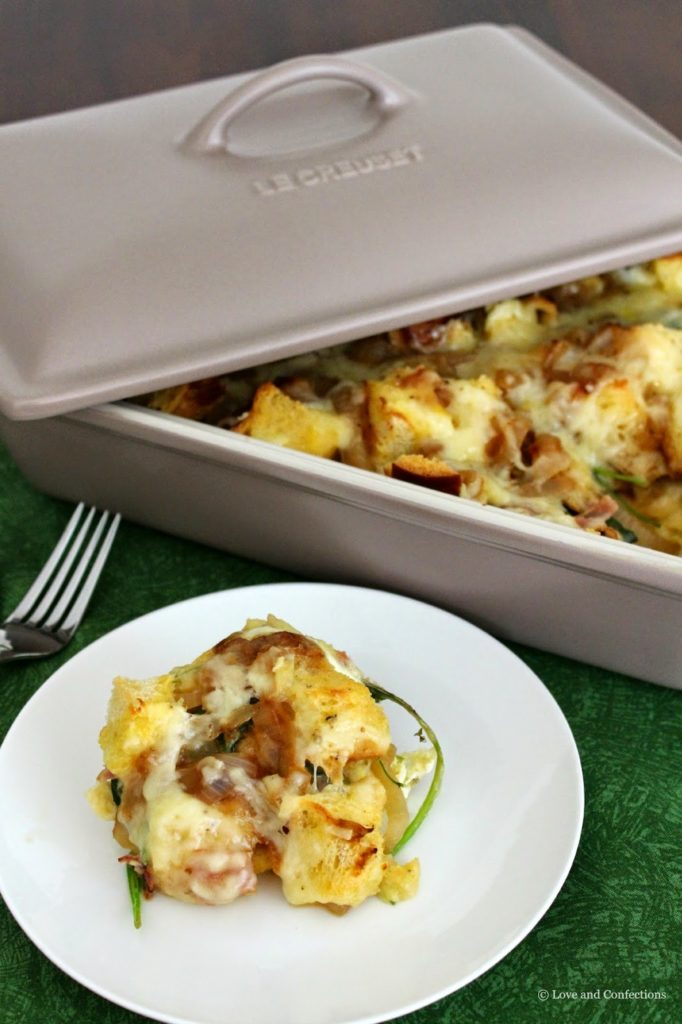 This strata is a mix of everything I like for breakfast all baked into one dish. The challah bread soaks up the egg and milk mixture and is layered with onions, kale, bacon and cheddar – such a delicious combination! You can even prepare this the night before and bake it in the morning, just be sure your baking dish is made to go from the refrigerator to the oven.
Caramelized Onion, Kale, Bacon and Cheddar Strata
A Love and Confections original recipe
Click here for a printable recipe
Caramelized Onion, Kale, Bacon and Cheddar Strata Ingredients:
– 12 ounces Challah Bread, cut into 1 inch cubes
– 2-3 teaspoons Olive Oil
– 5 ounces of Kale, rinsed, dried, de-stemmed and roughly chopped
– 2 pounds Caramelized Vidalia Onions
– 6 ounces Cabot Farmhouse Reserve Premium Aged Cheddar Cheese
– 12 slices of Bacon, chopped
– 10 large Eggs
– 1 & 1/2 cups Whole Milk
– Butter or Cooking Spray
– Salt and Pepper, to taste
Caramelized Onion, Kale, Bacon and Cheddar Strata Directions:
1. Heat oven to 350F. Toast Challah Bread cubes for 5 minutes in the oven while preparing the rest of the ingredients.
2. Lightly saute the Kale in a large skillet with some Olive Oil, then set aside. Use Butter or Cooking Spray and prepare a deep 9 x 13 pan.
3. Place 1/3 of the toasted Challah Bread in the bottom of the dish, followed by 1/2 of the Kale, 1/2 of the Onions, 1/3 of the Bacon and 1/3 of the Cheese. Place another layer of Challah followed by the second 1/2 of Kale, second 1/2 of Onions, 1/3 of the Bacon and 1/3 of the Cheese. Layer the last bit of Challah Bread, last 1/3 of Bacon and last 1/3 of Cheese.
4. In a large bowl, crack the Eggs in and whisk to break them apart. Add in the Whole Milk, Salt and Pepper and whisk to combine.
5. Gently pour the egg mixture over the filling and let it sit for 15 minutes in the refrigerator. Bake for 30-40 minutes, or until the Strata is set and the top is lightly brown. Let it cool for 5-10 minutes and enjoy!
Join us for Brunch today with these recipes from the #BrunchWeek Bloggers!
BrunchWeek Beverages:
Grape Mojito from The Spiffy Cookie.
BrunchWeek Egg Dishes:
Caramelized Onion, Kale, Bacon and Cheddar Strata from Love and Confections.
Kale and Toasted Quinoa Egg White Scramble from Take A Bite Out Of Boca.
Breakfast Enchiladas from Cooking in Stilettos
Croque Madame Breakfast Casserole from Bread Booze Bacon.
Rainbow Chard and Cheddar Cheese Frittata from My Catholic Kitchen.
BrunchWeek Breads, Grains and Pastries:
Perfect French Toast from Quarter Life (Crisis) Cuisine.
Oat Breakfast Cookies from Pink Cake Plate.
Cinnamon Oatmeal Pancakes with Spiced Pear Syrup from The Redhead Baker.
Cinnamon Crumb Coffee Cake Muffins from Making Miracles.
Classic Buttermilk Pancakes from That Skinny Chick Can Bake.
Bacci Bread and Pear Pudding from A Day in the Life on the Farm.
Pear Coffee Cake and Fruit & Cheese Salad from Sew You Think You Can Cook.
BrunchWeek Main Dishes:
Waldorf Quinoa Chicken Salad from Cupcake & Kale Chips.
BrunchWeek Fruits, Vegetables and Sides:
Chilled Strawberry Soup from The Suburban Soapbox
BrunchWeek Desserts:
Orange Blossom Olive Oil Cake with Mango Citrus Glaze from Taste Cook Sip.
Walnut Meringue Banana Mess from Jane's Adventures in Dinner.
Until next time,
LOVE & CONFECTIONS!
Disclaimer: Thank you to #BrunchWeek Sponsors: Bob's Red Mill, Cabot Creamery Cooperative, California Walnuts, Dixie Crystals, Grimmway Farms/Cal-Organic/True Juice, KitchenAid, Le Creuset, Nielsen-Massey Vanillas, Pacari Chocolate, Stonyfield Organic, Vidalia Onions, and Woot Froot for providing the prizes free of charge. These companies also provided the bloggers with samples and product to use for #BrunchWeek. All opinions are my own. This post may contain affiliate links.