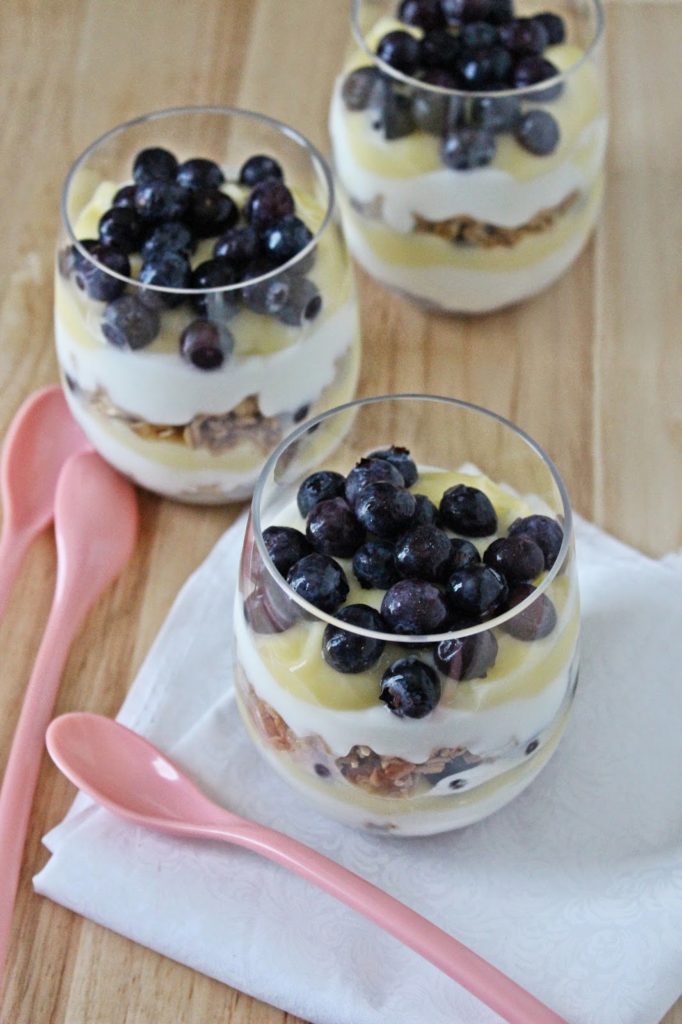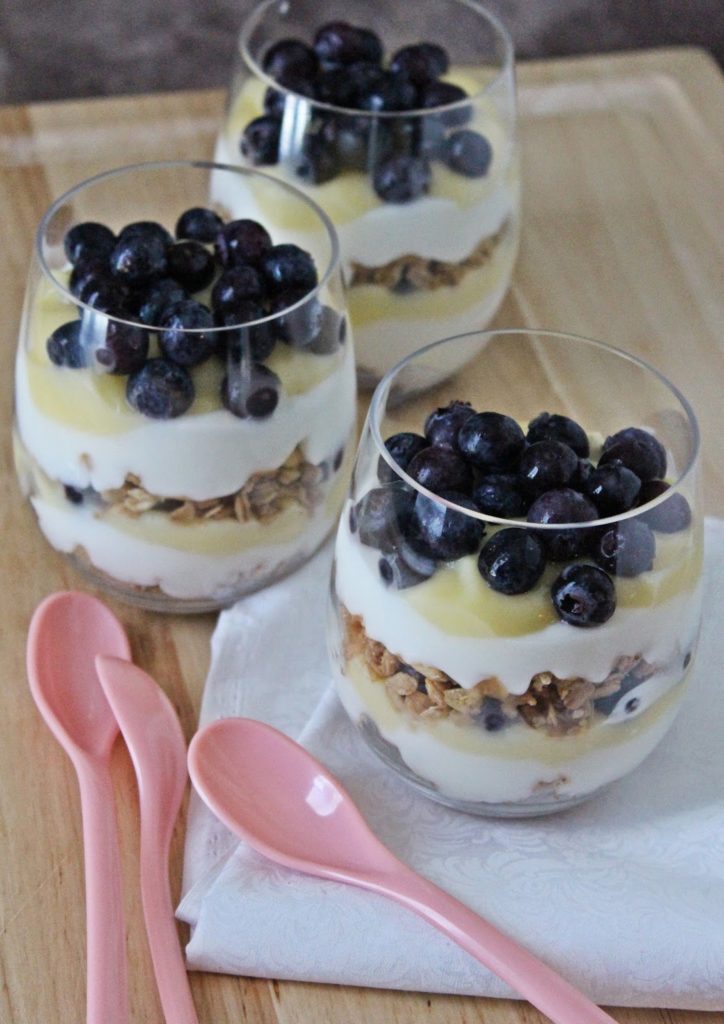 I am always a fan of having yogurt at a brunch. With all the heavy and rich foods that brunch can include, it's nice to have a light and fruity option. If I don't have an already prepared and beautifully layered parfait, I like a yogurt bar. Yogurt bars are great because you can set out a few types of yogurt, some granola, a bunch of different fruit and everyone can make their own parfaits.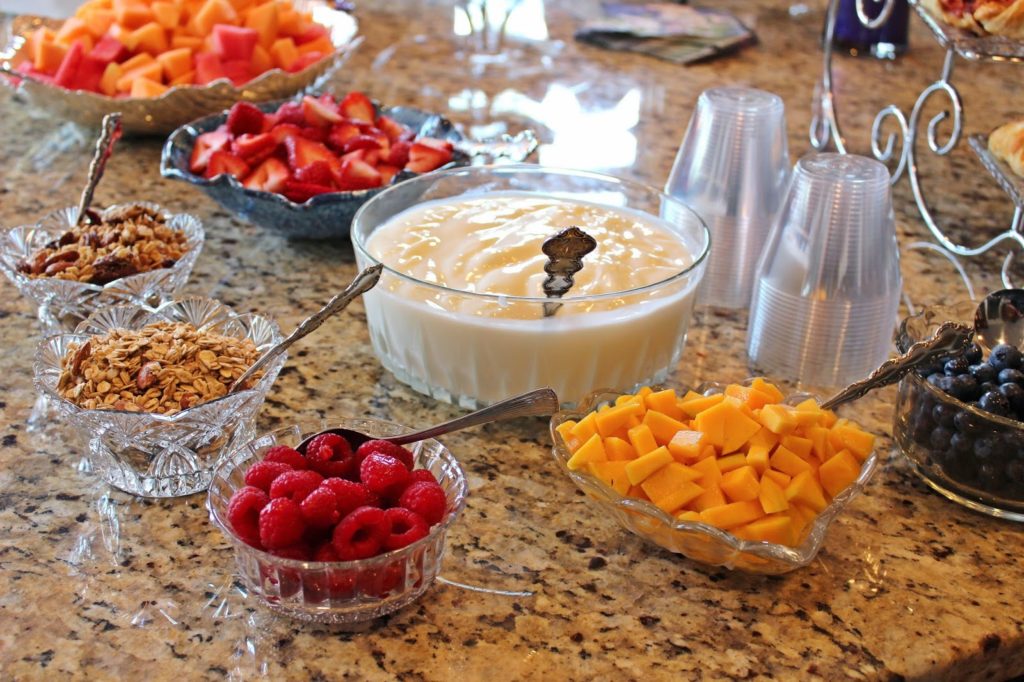 Even thought this is a lighter option, it in no way skimps on flavor. Once blueberry season begins, you can bet I go out and pick a bunch. I didn't used to like blueberries as a kid, but now I can eat them straight off the bush. Blueberries and lemon go hand in hand. The tartness of the lemon curd, freshness of the blueberries, crunchy granola and sweet yogurt are a perfect combination.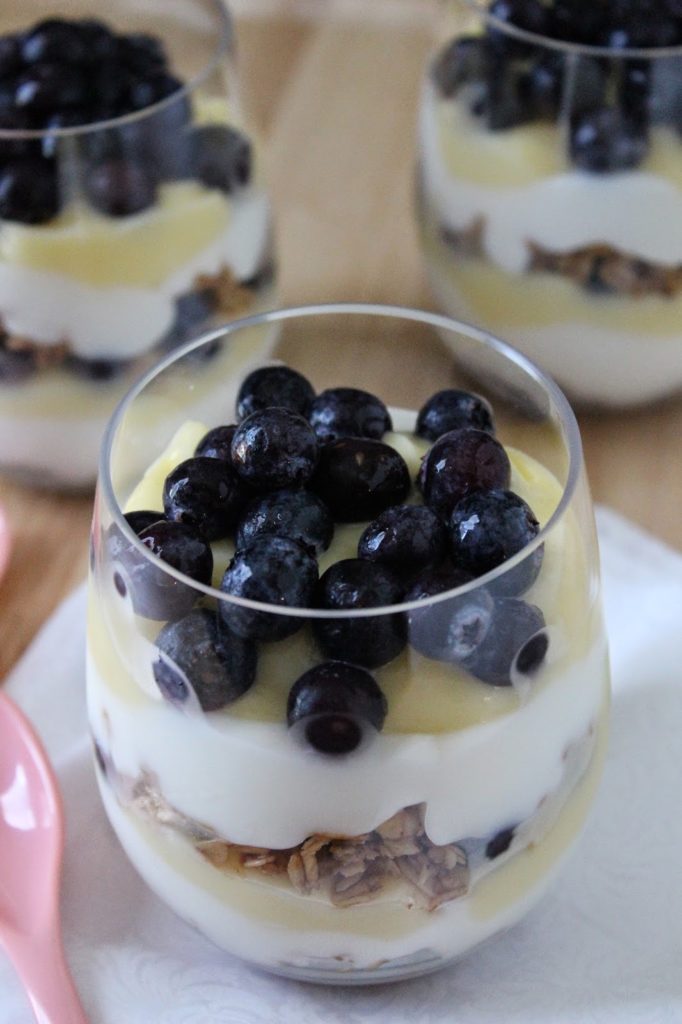 This is the perfect breakfast on it's own or great for a crowd at brunch. You can scale down the recipe for small shot glass portions, or you can increase it and make a large trifle – the choice is yours. I personally like parfaits in a stemless wine glass – it looks so pretty and is the perfect amount just for me. Grab a spoon and dig in. Happy Brunching!
Lemon Blueberry Parfaits
a Love and Confections original recipe
serves 4
Lemon Blueberry Parfait Ingredients:
– 2 cups Granola* homemade or store bought
– 2 cups Vanilla Yogurt
– 2 cups Lemon Curd, prepared the day before
– 2 cups fresh Blueberries
Lemon Blueberry Parfait Directions:
– Per glass: Layer 1/4 cup Granola, 1/4 cup Yogurt, 1/4 cup Lemon Curd and 1/4 cup Blueberries. Repeat the layers
– Serve immediately. Enjoy!

Lemon Curd Ingredients:
– 200 grams freshly squeezed Lemon Juice
– 125 grams Unsalted Butter (roughly 1 stick + 1 tablespoon)
– 125 grams Dixie Crystals Extra Fine Granulated Sugar
– 125 grams Dixie Crystals Extra Fine Granulated Sugar
– 25 grams Corn Starch
– 300 grams whole Eggs, room temperature (roughly 6 large)
Lemon Curd Directions:
– In a medium-sized saucepan, heat the Lemon Juice, Butter and first measure of Sugar until just simmering.
– While the lemon mixture is warming up, in a medium-sized mixing bowl, whisk together the second measure of Sugar and the Cornstarch.
– Crack the eggs and keep them separate until the very last minute. When the lemon mixture looks like it is about to simmer, whisk the eggs into the sugar and cornstarch.
– Slowly pour 3/4 of the lemon juice mixture into the egg mixture while whisking constantly.
– Return the entire mix back to the pot on medium heat and cook for 2-3 minutes, whisking constantly, until thickened.
– With a sieve, strain the curd into a clean mixing bowl, ensuring that no overcooked eggs get into the curd.
– Place plastic wrap directly onto the surface of the curd and allow it to come to room temperature. Refrigerate over night.

*for some great homemade Granola check out Blueberry Granola by Katie's Cucina, Nutty Granola with Olive Oil and Honey by The Lemon Bowl, or Cherry-Berry Granola from Sweet Remedy
Brunch Beverages:
Brunch Eggs:
Brunch Mains:
Brunch Breads, Grains and Pastries:
Until next time,
LOVE & CONFECTIONS!

Disclaimer:
California Walnuts, Bob's Red Mill, Oxo, Dixie Crystals, Whole Foods Market Doctor Phillips, Grimmway Farms, Woot Froot, Vidalia Onion, Baloian Farms, Stemilt and Bonne Maman are providing the prizes free of charge. I have received product from Dixie Crystals to use for #Brunchweek. All opinions stated are my own.