Light and lemony angel food cake with fresh lemon curd and lemon-scented meringue is the perfect addition to any brunch or Mother's Day menu!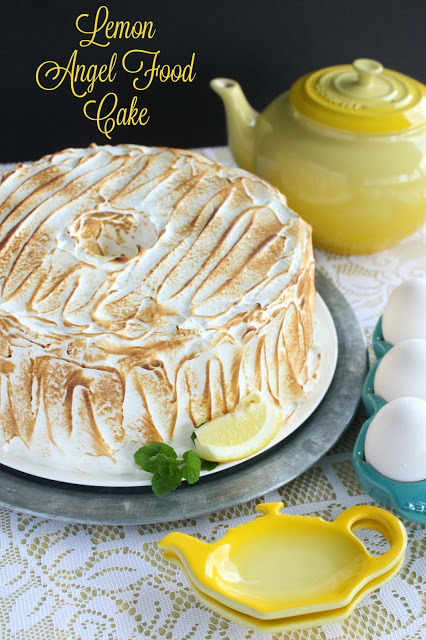 Welcome to day 2 of #BrunchWeek! My family has a love of lemon desserts. My mom's favorite is lemon meringue pie. Instead of creating a pie, I opted to make an angel food cake, which was one of my grandmother's favorite desserts – creating a delicious combination of the two.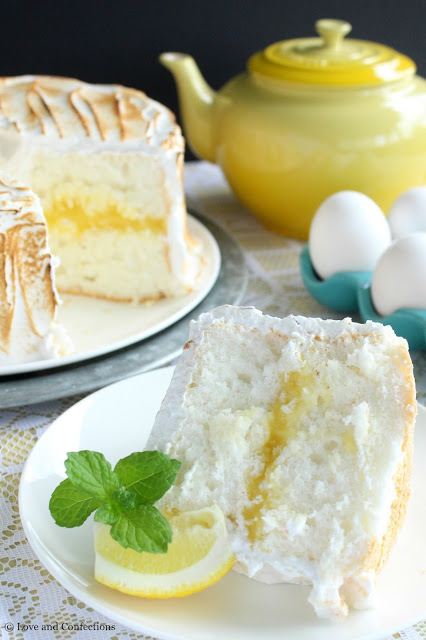 My mom and grandmother have been an inspiration to me throughout my whole life. I learned to love cooking from being in the kitchen with them. We baked bread, made cookies, and cooked meals together. I am fortunate to be able to cook with my mom on a near daily basis. I miss my grandmother terribly, but she is still with us in spirit – especially since #ToddlerLnC is named after her.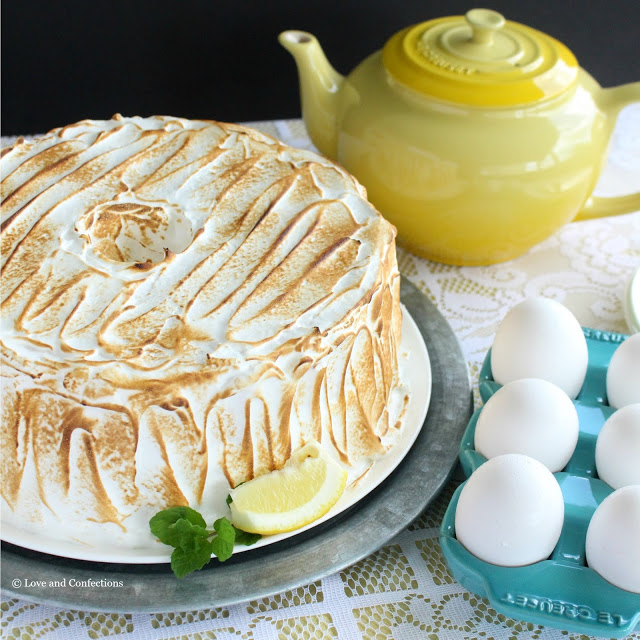 Angel food cake is very easy to make, even though lots of people think otherwise. The hardest part is sifting the ingredients – and that isn't hard at all. Homemade lemon curd makes all the difference – fresh, sweet, and slightly tart, I use this curd in parfaits, crepes, or just eat it with a spoon.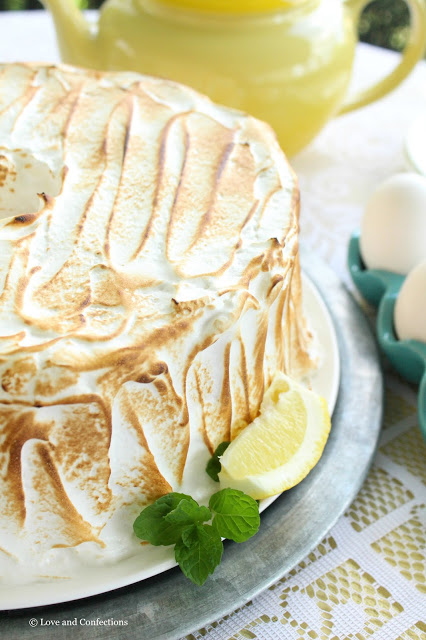 My friends over at Nielsen-Massey Vanillas gifted me with a bottle of their Pure Lemon Extract and Pure Orange Extract. I used the lemon extract in both the cake and meringue. The hint of lemon in fluffy, toasted meringue is subtle and luxurious.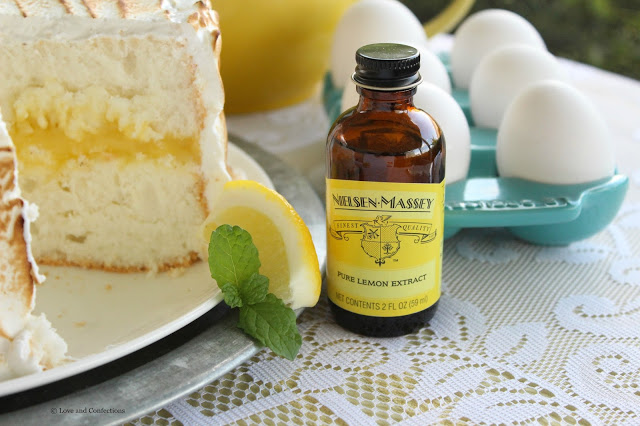 Do you have a favorite dessert that reminds you of someone you love? I hope you give this delicious cake a try!


Don't forget to enter the #BrunchWeek giveaway!
Lemon Meringue Angel Food Cake
Cake adapted from Allrecipes
Lemon Curd and Meringue a Love and Confections original recipe
Lemon Meringue Angel Food Cake Ingredients:
For the Lemon Curd :
– 100 grams Lemon Juice
– 60 grams Unsalted Butter, room temperature
– 60 grams Dixie Crystals Granulated Sugar (first measurement)
– 60 grams Dixie Crystals Granulated Sugar (second measurement)
– 12 grams Corn Starch
– 150 grams large Eggs, roughly 3
Angel Food Cake Ingredients:
– 1 & 1/4 cups Cake Flour
– 1 & 3/4 cups Dixie Crystals Extra Fine Granulated Sugar
– 1/4 teaspoon Salt
– 1 & 1/2 cups Egg Whites, liquid measure roughly 10-11 large eggs
– 1 teaspoon Cream of Tartar
– 1/2 teaspoon Almond Extract
– 1/2 teaspoon Nielsen-Massey Pure Lemon Extract
Lemon Meringue Ingredients:
– 4 large egg whites
– 1 cup Dixie Crystals Extra Fine Granulated Sugar
– 1/8 teaspoon Cream of Tartar
– 1/4 teaspoon Vanilla Extract
– 1/4 teaspoon Nielsen-Massey Pure Lemon Extract


Lemon Meringue Angel Food Cake Directions:
Lemon Curd Directions:
1. In a medium saucepan, combine the Lemon Juice, Unsalted Butter and first measurement of Sugar. Whisk to combine and cook on medium to medium-high until sugar has dissolved and mixture is just simmering.
2. Right before the liquids boil, whisk together the second measurement of Sugar, Corn Starch and Eggs in a bowl big enough to hold the liquid and egg mixtures.
3. Temper the eggs: slowly pour the hot liquid, in a small stream, into the bowl while constantly whisking the eggs. Pour the mixture back into the pan and heat on the stove until it is thick and almost boiling.
4. With a sieve, strain the curd into a clean bowl to insure no overcooked eggs get into the curd. Place plastic wrap directly onto the surface of the curd and let it cool for 30 minutes on the counter, then refrigerate it until it is thoroughly chilled. Can be made a day before use. Can be stored for up to 3 days in the refrigerator. Makes 2-3 cups.


Angel Food Cake Directions:
1. Sift together Cake Flour, Sugar and Salt. Repeat 5 times.
2. In the bowl of your stand mixer fitted with the whip attachment, beat the Egg Whites until foamy. Add the Cream of Tartar, Almond Extract and Lemon Extract and whip until medium peaks. Gently fold in the dry ingredients, making sure it is all combined without deflating the whites
3. Pour batter into an ungreased 10-inch tube pan and place in a cold oven. Heat oven to 325F and bake for 50-60 minutes, or until golden brown and skewer comes out clean when inserted into the center of the cake.
4. Invert cake, while in pan, and allow it to cool completely upside down. Once cool, remove from pan.


Lemon Meringue Directions:
1. Create a double boiler by placing a saucepan with water on the stove, making sure the bottom of your stand mixer bowl does not touch the surface of the water.
2. Place egg whites and sugar into the bowl of your stand mixer and whisk almost constantly while on the double boiler, until the eggs are warm and the sugar has completely dissolved.
3. Place the bowl on the mixer and whip until foamy. Add in the Cream of Tartar, Vanilla Extract and Lemon Extract. Whip on high until stiff peaks form.
Assembly:
1. With large serrated knife, cut cake in half horizontally. Spread an even amount of lemon curd on the cut surface, then place the top layer back on.
2. With an offset spatula, spread the meringue over the cake, covering it completely. With a kitchen torch, carefully toast the meringue. Serve immediately or refrigerate up to one day. Enjoy!


Until next time,
LOVE & CONFECTIONS!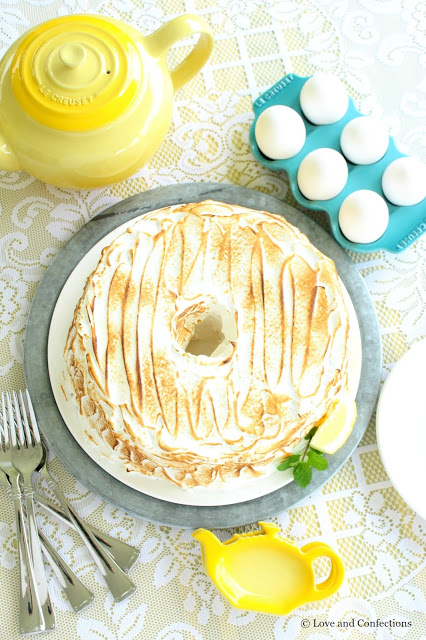 BrunchWeek Beverages:

BrunchWeek Breads, Grains and Pastries:

BrunchWeek Fruits, Vegetables and Sides:

BrunchWeek Egg Dishes:

BrunchWeek Main Dishes:

BrunchWeek Desserts: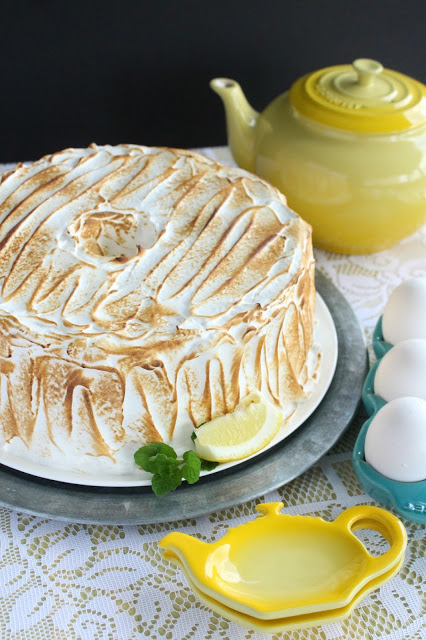 Disclaimer: Thank you to #BrunchWeek Sponsors: Red Star Yeast, Dixie Crystals, Cabot Cheese, Vidalia Onion Committee, Sage Fruits, Nielsen-Massey, KitchenIQ, and Le Creuset for providing the prizes free of charge. These companies also provided the bloggers with samples and product to use for #BrunchWeek. All opinions are my own. The #BrunchWeek giveaway is open to U.S. residents, age 18 & up only. All entries for the winner will be checked and verified. By entering you give the right to use your name and likeness. The number of entries received determines the odds of winning. Eight winners will be selected. The prize packages will be sent directly from the giveaway sponsors. The #BrunchWeek Bloggers are not responsible for the fulfillment or delivery of the prize packages. Bloggers hosting this giveaway and their immediate family members in their household cannot enter or win the giveaway. No purchase necessary. Void where prohibited by law.