Oatmeal Waffles with crunchy walnut pieces and topped with fried apples is a delicious dish for breakfast or brunch any day of the week!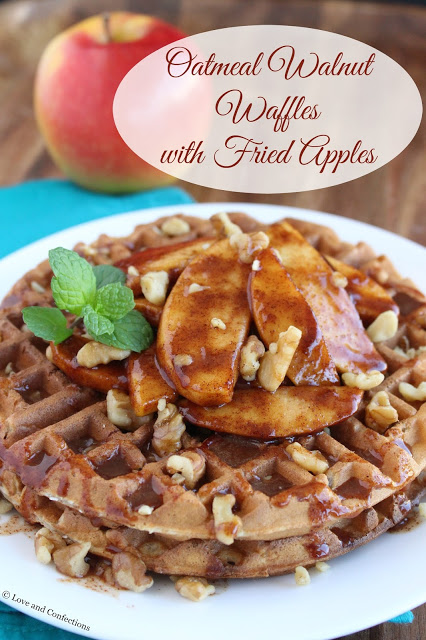 Today is day 6 of #BrunchWeek – the final day to enter our huge BrunchWeek giveaway! I have had so much fun creating delicious recipes for you for this year's BrunchWeek. Thank you to my co-hostess Christie from A Kitchen Hoor's Adventure! I hope you had a chance to take a peek at my recipes this past week. I made a Green Tea Mojito, Lemon Meringue Angel Food Cake, Everything Bagel Rolls, Blueberry Salad with Green Onion Poppy Seed Dressing, The Perfect Cheddar Cheese Board with Balsamic Onion Jam, and today's recipe Oatmeal Walnut Waffles with Fried Apples.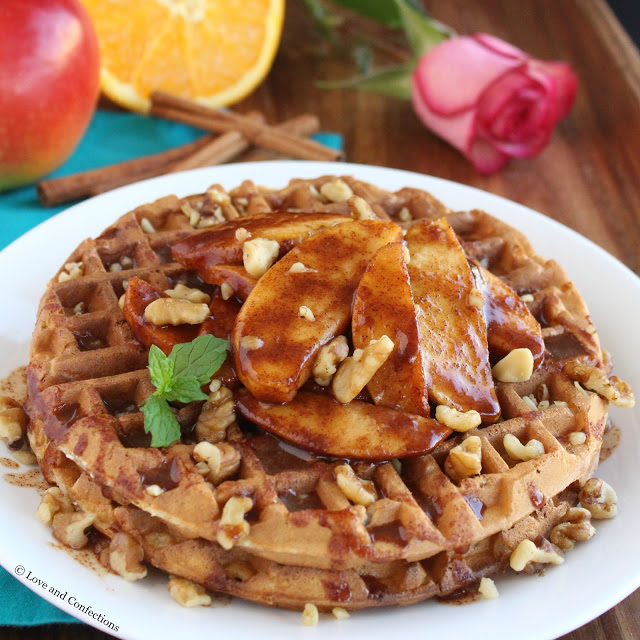 My mom suggested I make this recipe, because she fell in love with an oatmeal waffle recipe on a trip to New York. We made a few tweaks and added walnuts, and these are pretty darn good. I love the crunch from the walnuts, and the fried apples on top are such a treat.
Sage Fruit sent me some of their delicious Breeze apples, which is a new variety that originated in New Zealand. Sage Fruit is exclusively growing them in Washington State and introducing them to the US markets.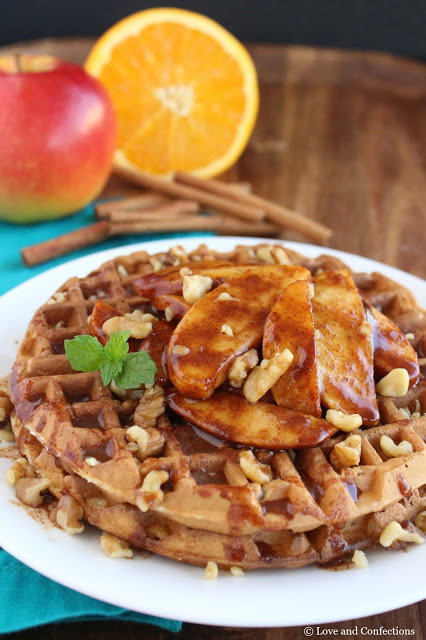 I also used my handy tools from KitchenIQ when making this recipe. The Better Zester is one of my favorite microplanes. It creates such a fine and delicate grate, and I used it to zest an orange for the apples. I also used my Nesting Measuring Spoons. I am always using multiple measuring spoons in recipes, or misplacing them, and I love that these stack perfectly and are narrow enough to fit into tiny spice jars. I could probably use a couple more sets, just to make sure I always have them ready for a recipe.
Don't forget, today is the last day to enter the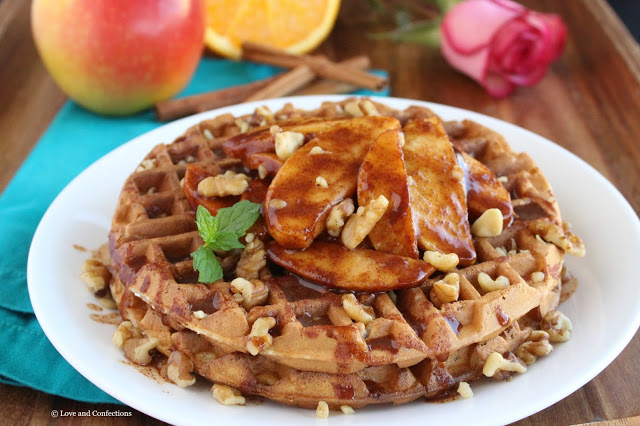 Oatmeal Walnut Waffles with Fried Apples
Waffles adapted from Allrecipes
Fried Apples a Love and Confections original recipe
Oatmeal Walnut Waffles with Fried Apples Ingredient:
Waffle Ingredients:
– 1 cup all purpose flour
– 1 cup oatmeal
– 4 teaspoons baking powder
– 2 tablespoons Dixie Crystals Extra Fine Granulated Sugar
– 1/2 teaspoon salt
– 2 eggs
– 1 & 3/4 cups whole milk
– 2 tablespoons vegetable oil
– 1 teaspoon Nielsen-Massey Vanilla Extract
– 1/2 cup chopped walnuts
Apple Ingredients:
– 6 tablespoons unsalted butter
– 1/4 cup Dixie Crystals Light Brown Sugar
– 1/4 cup Dixie Crystals Extra Fine Granulated Sugar
– 1/2 teaspoon salt
– 2 tablespoons cinnamon
– 1/2 teaspoon orange zest
– 1 tablespoon orange juice
– 1 teaspoon Nielsen-Massey Vanilla Extract
– 4 Breeze Apples, peeled, cored, and sliced
Oatmeal Walnut Waffles with Fried Apples Directions:
Waffle Directions:
1. In a food processor, pulse the oatmeal until it resembles a coarse flour.
2. Combine the flour, oatmeal flour, baking powder, sugar, and salt in a medium bowl. In a large measuring cup, whisk together the eggs, milk, oil, and extract. Whisk the wet ingredients into the dry ingredients until combined. Add in walnuts and mix.
3. Prepare your waffle iron with cooking spray, if necessary, and bake according to manufacturer's directions until golden brown. Keep in a warm oven until the apples are ready.
Apple Directions:
1. In a large skillet on medium heat, add butter, brown sugar, and granulated sugar. Stir until the sugars start to melt. Add in the salt, cinnamon, zest, juice, and extract, and stir to combine.
2. Add in apples, stirring occasionally, and cook until they are tender, about 7-10 minutes. Spoon over waffles and enjoy!
Until next time,
LOVE & CONFECTIONS!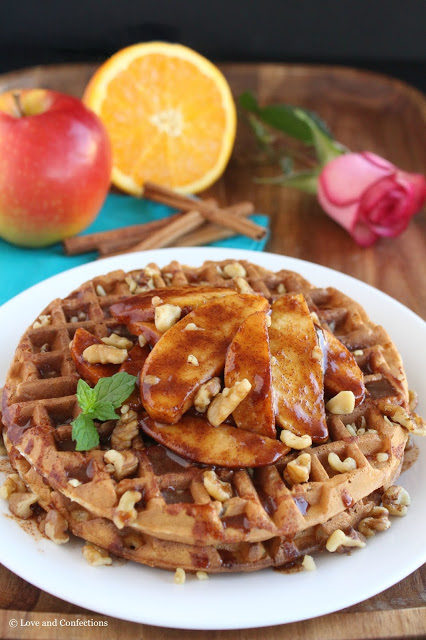 BrunchWeek Beverages:

BrunchWeek Breads, Grains and Pastries:

BrunchWeek Fruits, Vegetables and Sides:

BrunchWeek Main Dishes:

BrunchWeek Desserts:

Disclaimer: Thank you to #BrunchWeek Sponsors: Red Star Yeast, Dixie Crystals, Cabot Cheese, Vidalia Onion Committee, Sage Fruits, Nielsen-Massey, KitchenIQ, and Le Creuset for providing the prizes free of charge. These companies also provided the bloggers with samples and product to use for #BrunchWeek. All opinions are my own.