Palm Sunday Easter Bread, or Pane di Pasqua, is a yeast bread decorated with beautiful dyed eggs, and colorful sprinkles. It has just the right amount of sweetness and looks gorgeous displayed on your Easter table.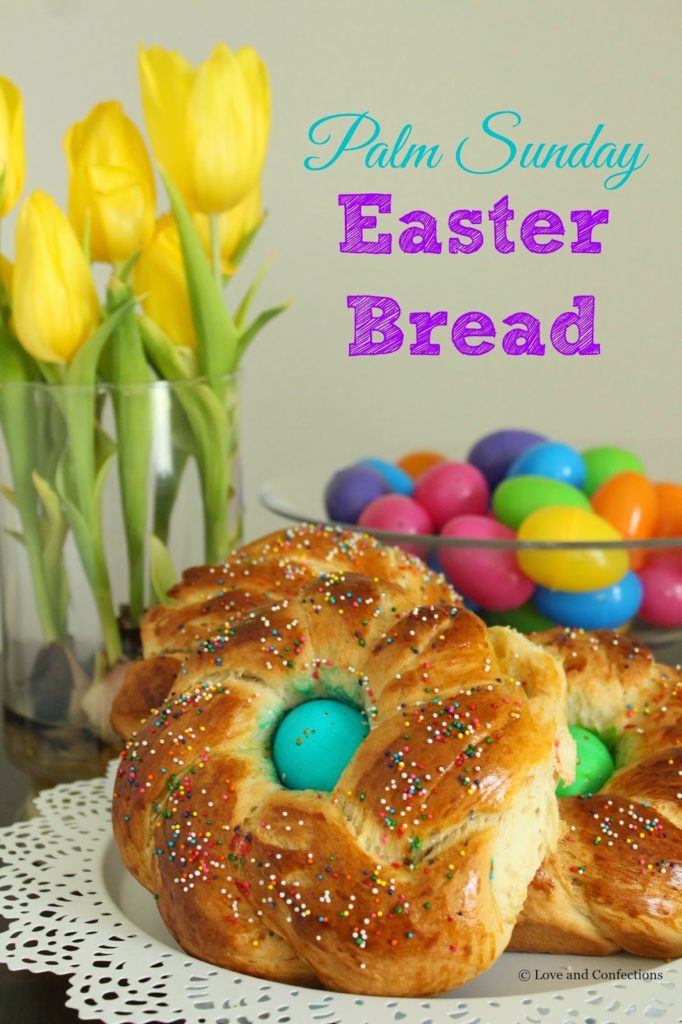 Easter Bread is one of my favorite family traditions. We used to make it with my grandmother every year. She would come to our house, and her and my Mom would make a bunch of loaves for the week before Easter. Since it was Palm Sunday, my grandfather was busy at work making us all basket-weave crosses from the palm fronds we received at church.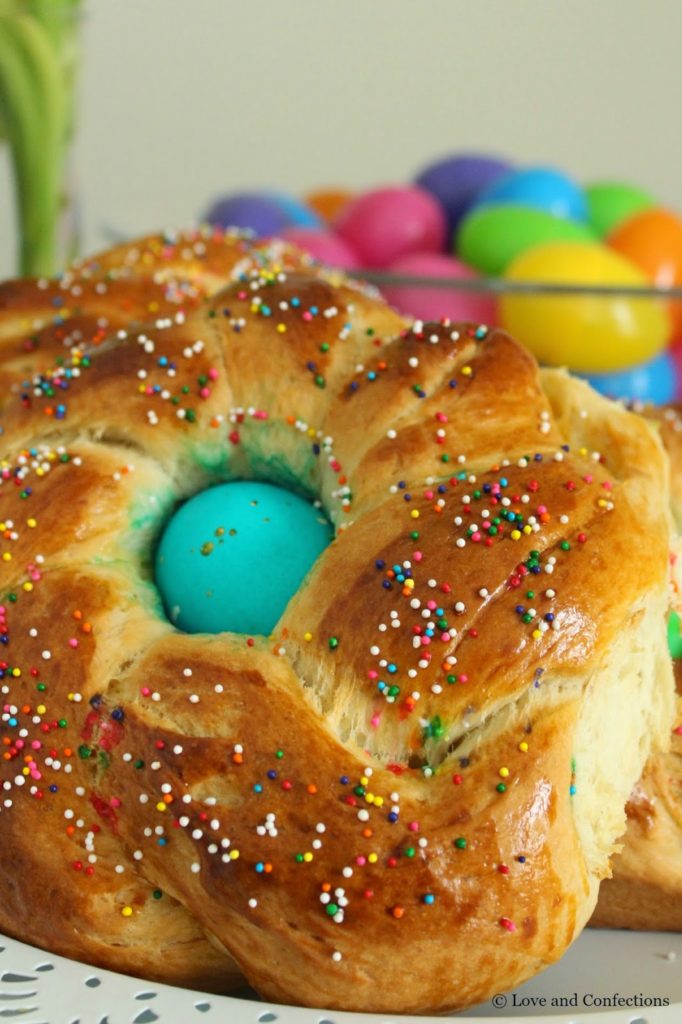 I would sit there and watch my grandmother knead and make the dough, then while it was rising, sit and watch my grandfather make the crosses. He showed me how to make them, then when he was done, we each had a cross for our rooms. When it was time to form the bread, I would watch my grandmother, who was about five feet, rolling the dough out on the table, swiftly but gently. She would either braid it into a loaf or twist it into rings and place our dyed eggs into the loaves before their final rest.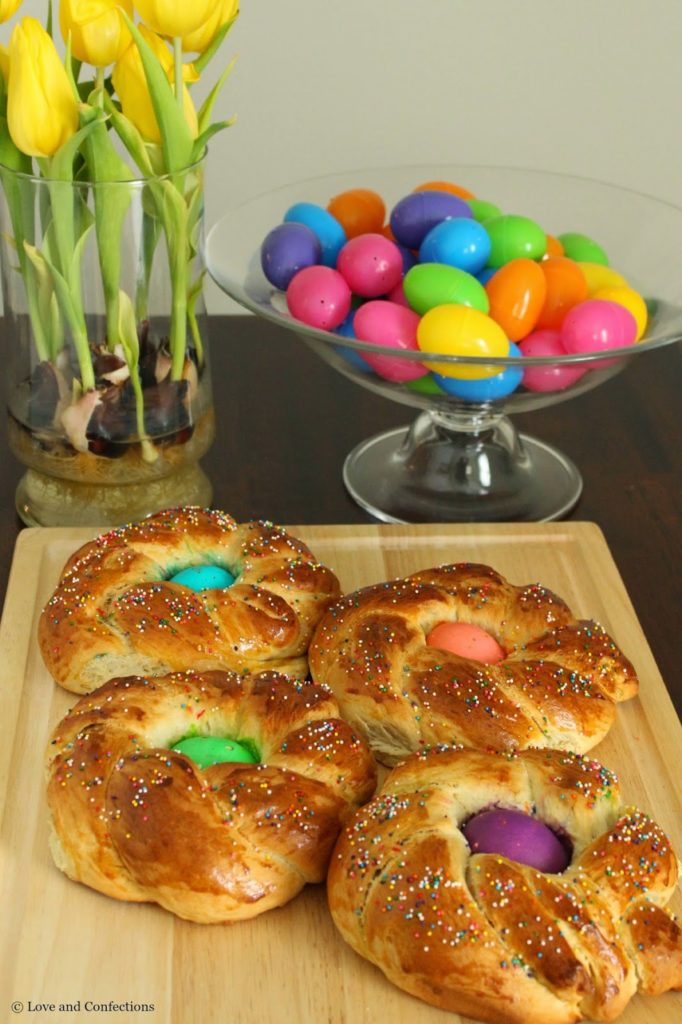 I would always try and pick the prettiest eggs for the Easter Bread, even though they smear and sometimes get splotchy during baking, I still had to make the prettiest eggs for the bread. When I baked Easter Bread this year, I picked out the prettiest eggs and smiled to myself when the colored splotchy streaks appeared after baking.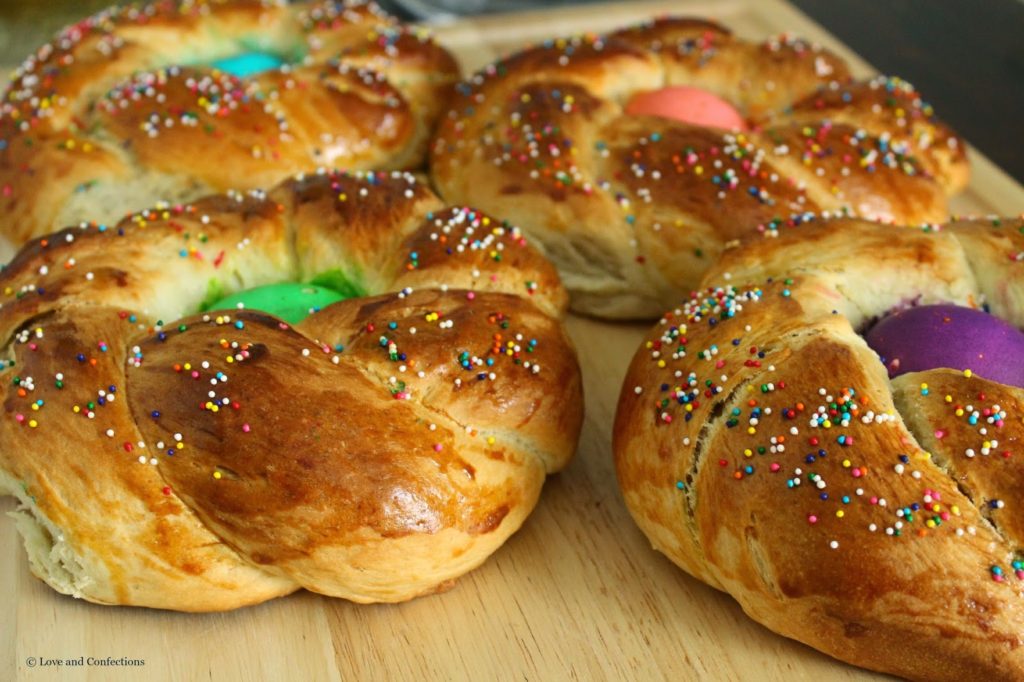 The house smelled fantastic this past week when I baked my loaves. It brought back so many memories of baking with my grandmother and mother. I am so grateful they instilled this tradition in our family and can't wait until my little girl is old enough to help me make Easter Bread too. Toddler L&C is 15 months old, so she was able to eat this year's batch for the first time. She tried a warm, fresh piece of bread and instantly loved it! Maybe next year she will be able to have a little apron and get messy in the flour with me too.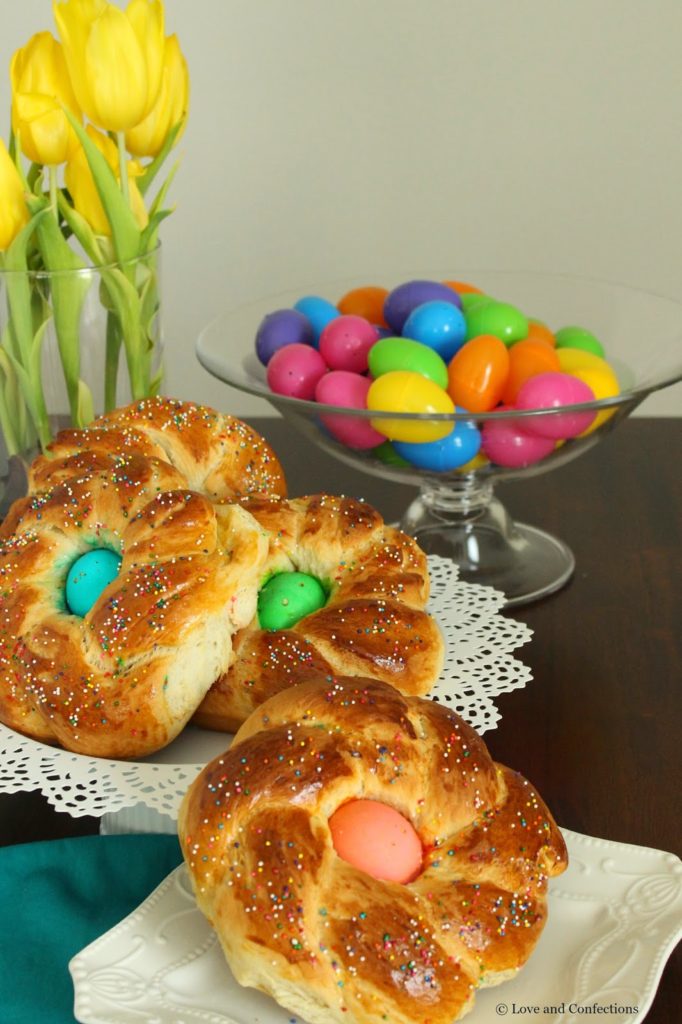 Palm Sunday Easter Bread – Pane di Pasqua
A Love and Confections' Family Recipe
Click here for a printable recipe
Yield: 1 large, 2 medium, or 4 small rings or loaves
Palm Sunday Easter Bread Ingredients:
– 7 large Eggs, divided
– 2 packets Active Dry Yeast
– 1 cup Warm Water
– 6 & 1/2 cups All-Purpose Flour, divided
– 3/4 cup Shortening
– 2 tablespoons of fresh Lemon Juice
– 1 tablespoon Lemon Zest
– 1 cup Granulated Sugar
– 1 teaspoon Salt
– 1 tablespoon Milk
– Colored Nonpareil Sprinkles
Palm Sunday Easter Bread Directions:
1. Dye 5 uncooked eggs and set aside. (optional). If you choose not to use eggs, you only need 3 for this recipe.
2. In a small bowl, soften 2 packages of Active Dry Yeast in 1/2 cup of Warm Water and let it stand for 5-10 minutes until it bubbles up.
3. In a medium-large bowl, add 1/2 cup Warm Water and 1 & 1/2 cups sifted Flour. Once yeast is proofed, add it to the flour and water and mix well until very smooth. Cover the bowl with waxed paper, followed by a tea towel, and let it rest for 1 & 1/2 to 2 hours, until it has nearly doubled in size.
4. In the bowl of your stand mixer with the paddle attachment and near the end of the first rest, cream the Shortening, Lemon Juice and Lemon Zest until the shortening is soft. Gradually add in the Sugar and Salt and cream until it is light and fluffy, scraping down the sides of the bowl when necessary.
5. Beat 2 Eggs and 1 Egg White (reserve the yolk for the egg-wash) until thick and frothy. Add the eggs into the shortening in thirds, beating well and scraping down the bowl after each addition.
6. Add the dough from the first rise into the shortening and mix well. Measure 4 & 1/2 cups of Flour and add 1/2 into the dough, starting on low and increasing until you have a very smooth dough. Repeat with the rest of the Flour. Once incorporated, knead the dough by hand on a lightly floured surface and if necessary, add in up to another 1/4-1/2 cup of flour.
7. With cooking spray, grease a bowl large enough for the dough to double. Shape the dough into a smooth ball and place it into the greased bowl, turning it once to bring the greased surface to the top, insuring that the entire dough is greased. Cover the bowl with wax paper and a tea towel, and let the dough rise until doubled – about 1 & 1/2 to 2 hours.
8. After the dough has risen, punch it down with your fist. Divide dough into 4 equal balls (if you are making 4 small rings). Cover with the wax paper and let the dough rest for 10 more minutes.
9. Cut a dough ball in half and with your hands, roll each ball into a rope about 18 inches long and 1 inch thick. Using the two pieces of dough, overlap them to form into a loose braid, then form that into a ring. Place a dyed egg into the middle of the ring and place on a greased sheet pan with sides. Repeat with the other dough balls. Do not have more than 2 rings per sheet tray. Cover the dough rings with wax paper and a towel and set aside in a warm place until the dough has doubled, about 20-30 minutes.
10. Heat the oven to 350F, with racks in the upper and lower thirds of your oven. In a small bowl, whisk together the Egg Yolk and Milk. Bake the rings for 10 minutes, then take out and quickly brush each with the egg-wash followed by Sprinkles. Return the bread to the oven to bake an additional 30-40 minutes or until the bread is golden brown, flipping the sheet trays so they bake evenly, halfway through. Enjoy!
Until next time,
LOVE & CONFECTIONS!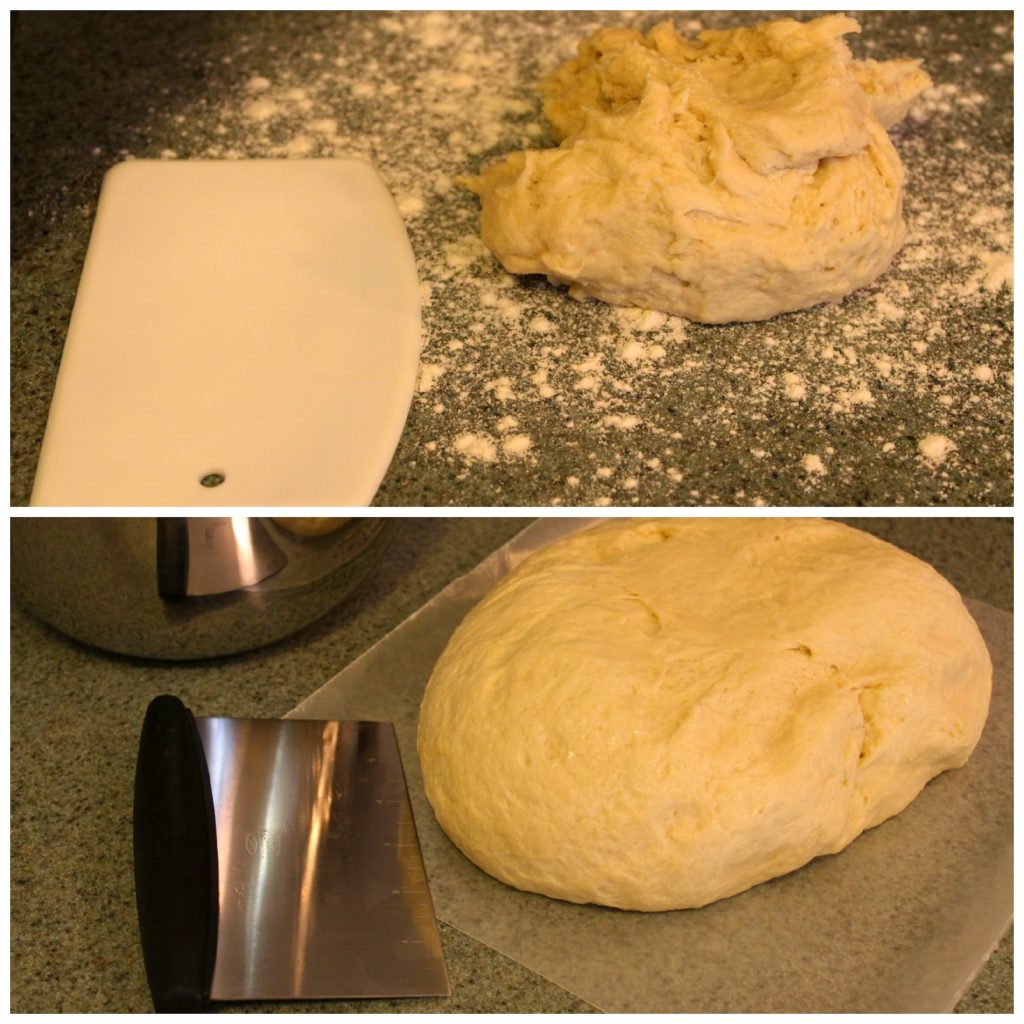 Two of my favorite bread-making tools – a bowl scraper and a bench scraper.


Here are more Springtime treats from #SundaySupper:
Beverages

Appetizers

Sides

Entreés

Desserts

Join the #SundaySupper conversation on twitter on Sunday! We tweet throughout the day and share recipes from all over the world. Our weekly chat starts at 7:00 pm ET. Follow the #SundaySupper hashtag and remember to include it in your tweets to join in the chat. To get more great Sunday Supper Recipes, visit our website or check out our Pinterest board.
Would you like to join the Sunday Supper Movement? It's easy. You can sign up by clicking here: Sunday Supper Movement.
Disclaimer: There are affiliate links in this post. If you purchase through these links, I receive a small portion of the cost, which helps run this website.