Pavlova with fresh Strawberry Curd is a delicate and delicious dessert! Make it for a special occasion or a delightful after dinner treat.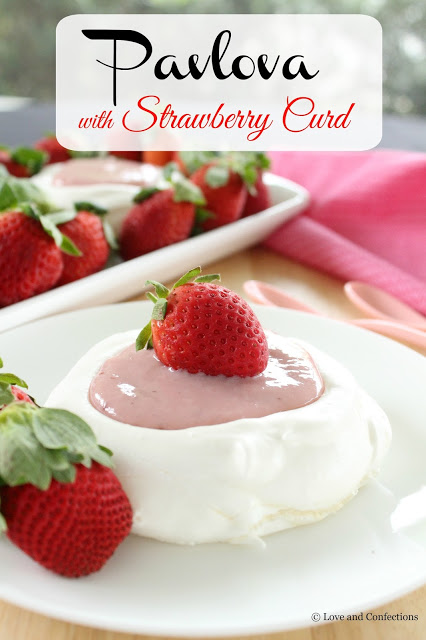 It's time for #SundaySupper again, and the theme this week is eggs! There are so many delicious recipes to create with eggs, like frittatas, quiches, deviled eggs, etc. I love eggs in almost every form, but decided to go sweet and do a dessert this week.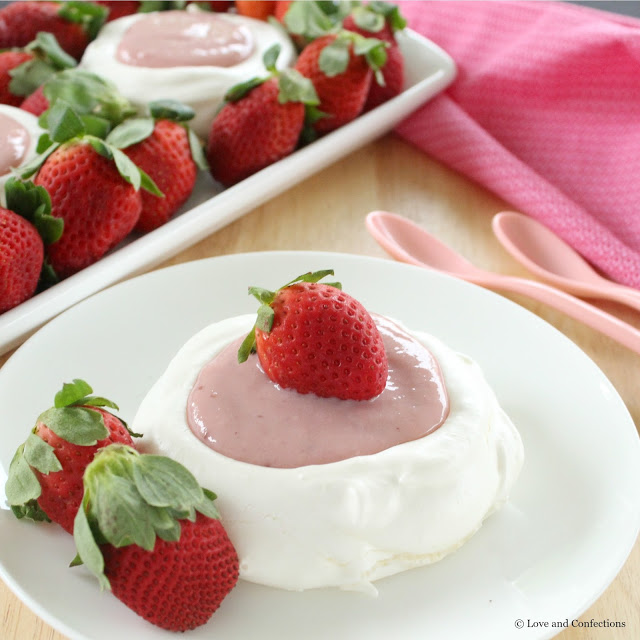 Pavlova with Strawberry Curd is a great way to use eggs, because it used both whole eggs and egg whites. Meringue can be finicky depending on the weather, and making baked meringue (or macarons) is best done on days with low humidity.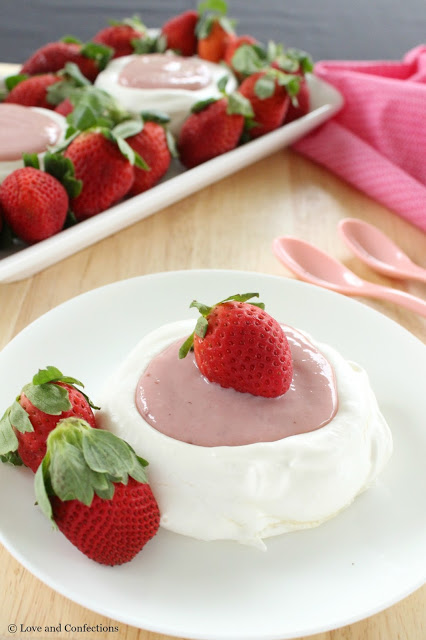 Another tidbit of advice: cold eggs separate better, yet warm eggs whip up better. Separate your eggs while they are cold and let them come to room temperature before whipping them. In quite a few recipes where egg whites need to be whipped, a double boiler is a great tool to warm the eggs. I usually prepare a small saucepan with about 1-2 inches of water and use my stand mixing bowl as the double boiler – that way, when my eggs get warm, I can move straight to the stand mixer and start whipping.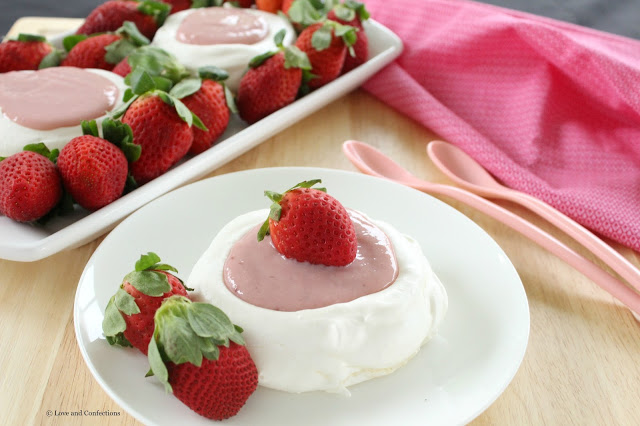 Pavlova with Strawberry Curd
Strawberry Curd is a Love and Confections original recipe
Meringue is adapted from Francois Payard
Strawberry Curd Ingredients:
– 8 ounces Strawberries
– 2 tablespoons fresh Lemon Juice
– 1/2 cup granulated Sugar, divided
– 5 extra large Eggs
– 4 tablespoons unsalted Butter, room temperature
Strawberry Curd Directions:
* before starting have a clean bowl along with a fine mesh sieve set aside for after the mixture is cooked.
1. Puree strawberries in a food processor, then strain it through a fine mesh sieve or cheesecloth. Discard the solids. Combine the strawberry puree, lemon juice, and 1/4 cup sugar in a medium pot. Heat until just under boiling.
2. In a medium bowl, whisk together the eggs and remaining 1/4 cup sugar. Slowly pour the puree into the eggs while whisking continuously.
3. Return the mixture to the pot and cook on medium-high, whisking constantly, for 3-5 minutes, or until thickened slightly and coats the back of a wooden spoon.
4. Remove from the stove and strain through the waiting fine mesh sieve into a clean bowl. Cover with plastic wrap, making sure the surface is completely covered to prevent a skin from forming. Refrigerate a minimum 8 hours, preferably overnight.
Meringue Ingredients:
– 90 grams Egg Whites
– 110 grams Granulated Sugar
– 60 grams Confectioner's Sugar
Meringue Directions:
1. Place a rack in the center of the oven and preheat to 200F. Line one or two baking sheets with silicone mats or parchment and set aside.
2. Put the Egg Whites in a bowl and whip until soft peaks form. Increase speed to high and gradually add granulated sugar, 1 tablespoon at a time, until stiff peaks form. (The whites should be firm but moist.)
3. Sift the Confectioner's Sugar over the Egg Whites and fold the dry ingredients into the whites. (This looks like it will not happen. Fold gently and it will eventually come together.)
4. Fill a pastry bag with the meringue. Pipe the meringue into whatever shapes you desire. Alternatively, you could free form your shapes and level them with the back of a spoon or an offset spatula.
5. Bake for 2-3 hours until the meringues become dry and crisp. Cool and store in an airtight container for up to 3 days.
Assembly:
Do not assemble unless serving immediately. Place meringue on serving plate, fill with strawberry curd and top with fresh whipped cream or strawberries. Enjoy!
Until next time,
LOVE & CONFECTIONS!
Here are more egg recipes from the Sunday Supper Family!


Appetizers & Sides

Main Dishes (Breakfast, Brunch, Lunch, Brinner and Dinner!)

Desserts

Join the #SundaySupper conversation on twitter on Sunday! We tweet throughout the day and share recipes from all over the world. Our weekly chat starts at 7:00 pm ET. Follow the #SundaySupper hashtag and remember to include it in your tweets to join in the chat. To get more great Sunday Supper Recipes, visit our website or check out our Pinterest board.Would you like to join the Sunday Supper Movement? It's easy. You can sign up by clicking here: Sunday Supper Movement.