Pumpkin Magic Custard Cake is both creamy and fluffy, and similar to a crust-less pumpkin pie.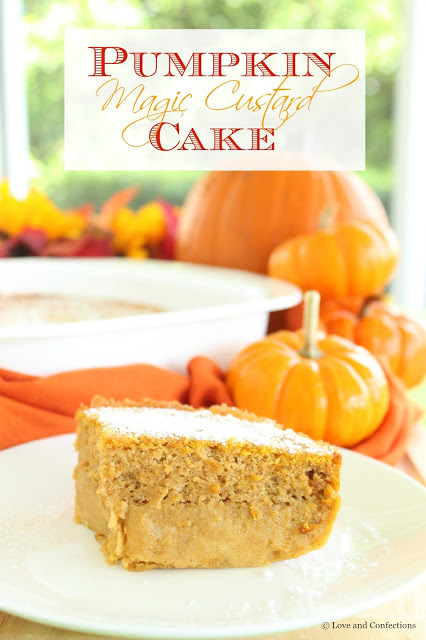 Welcome to #PumpkinWeek day 5! I have had an awesome time, along with 18 other Bloggers sharing 65 pumpkin-filled recipes over this past week. We have had everything from muffins to cakes, cocktails, breakfast baked goods, savory pastas and stews, and gluten-free recipes too. You can also find all these great recipes and more on Love and Confections' #PumpkinWeek Pinterest Board!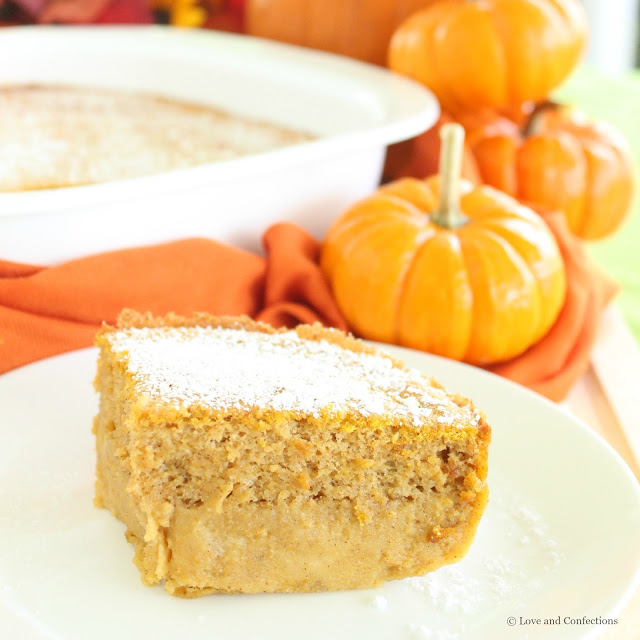 So I have seen the magic custard cakes around the internet for a while and decided to try one out myself. It is pretty nifty. This pumpkin magic custard cake starts off as basically a liquid and turns into a sort of crust-less pumpkin pie/not quite cake thing. It's really good too.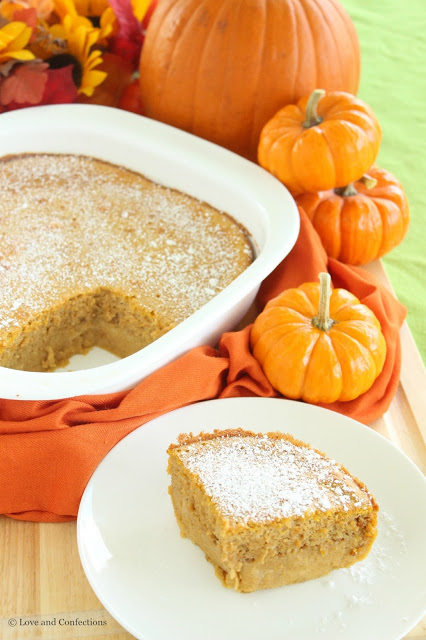 I can definitely see myself making this throughout the Fall. While I do love pumpkin pie, I sometimes don't love the crust. Certain pies have too much crust to pie ratio, they are overdone and hard, or just aren't tasty. While I do love a graham cracker pie crust, it isn't always the best option for some pies. This cake fixes my crust woes.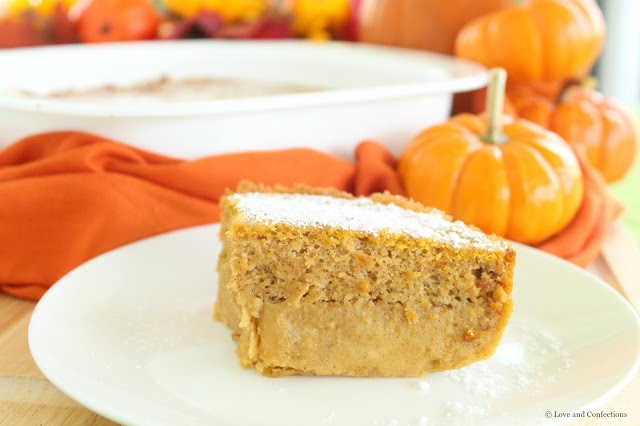 It is a pretty simple and straightforward recipe. I was able to create it while the toddler was napping. I had a bite while it was warm, room temperature, and cold. I think I prefer it most at room temperature. Top it with some powdered sugar, whipped cream, or add a scoop of ice cream for an easy and delicious Autumn dessert.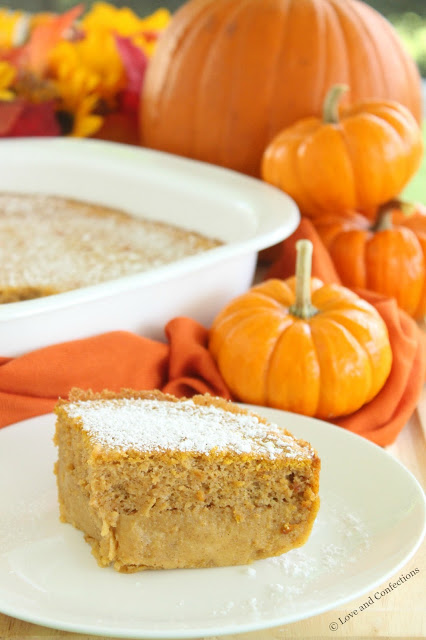 Pumpkin Magic Custard Cake
Adapted from The Gunny Sack
Click here for a printable recipe
Pumpkin Magic Custard Cake Ingredients:
– 1/2 cup unsalted Butter
– 2 cups Whole Milk
– 4 large Eggs, separated
– 1/8 teaspoon Cream of Tartar
– 1 & 3/4 cups Powdered Sugar
– 1 teaspoon Vanilla Bean Paste
– 2 teaspoons Homemade Pumpkin Pie Spice
– 1 cup White Whole Wheat Flour
– 1 cup Pumpkin Puree, not pumpkin pie filling
Pumpkin Magic Custard Cake Directions:
1. Heat oven to 325F. Prepare a 9 x 9 baking pan with nonstick cooking spray and set aside.
2. Melt butter and set aside until cool. Heat milk in the microwave for approximately 1 to 1:30 minutes until warm and set aside.
3. In a clean bowl of your stand mixer, using the whip attachment, whip the Egg Whites and Cream of Tartar until stiff peaks have formed. Transfer them into another bowl.
4. In the same stand mixer bowl, beat the Egg Yolks and Powdered Sugar until pale yellow and fluffy. Add in the cooled, melted Butter, Vanilla Bean Paste and Pumpkin Pie Spice and combine.
5. Add in the Flour, Pumpkin Puree, and 1/2 cup of the Milk. Combine then scrape down the sides of the bowl to make sure everything is incorporated.
6. While on the lowest speed, slowly stream in the remaining milk until completely mixed it. The batter will be very liquid.
7. With a spatula, fold in the Egg whites in 2 additions. The batter will look lumpy from the whites, but incorporate them as best you can.
8. Pour into baking dish and bake for roughly 55 minutes. The cake might jiggle, since it is a custard, but should be solid and not runny. Let it cool completely and top with Powdered Sugar. Enjoy!
Until next time,
LOVE & CONFECTIONS!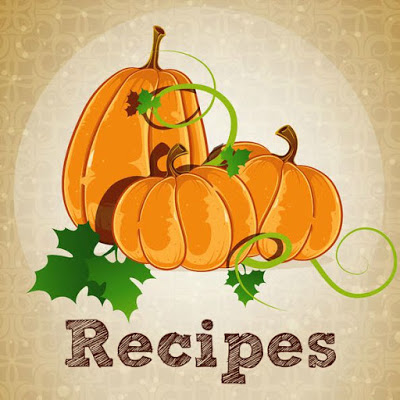 #PumpkinWeek day 5 recipes: