Simple Southern Sweet Tea is a staple at our family and holiday gatherings, and perfect for sipping on the porch while watching the sunset any time of year.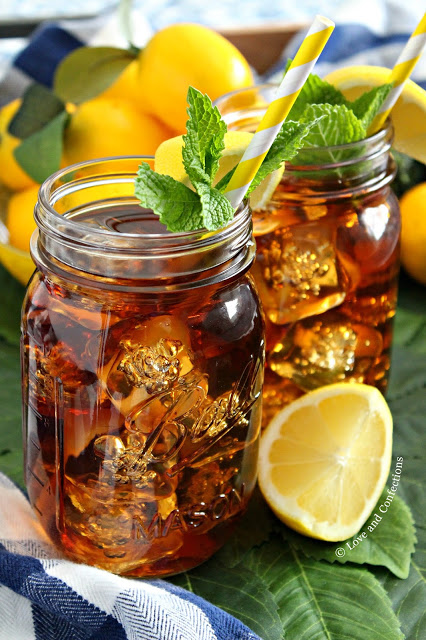 My best friend's grandmother, who everyone called Gran, even if we weren't her grandchildren (but in all reality she is seriously like my own grandmother and I love her just the same) was one of the people who started me on my love of sweet tea. She also makes THE best chicken wings in the entire world, but that is for another time.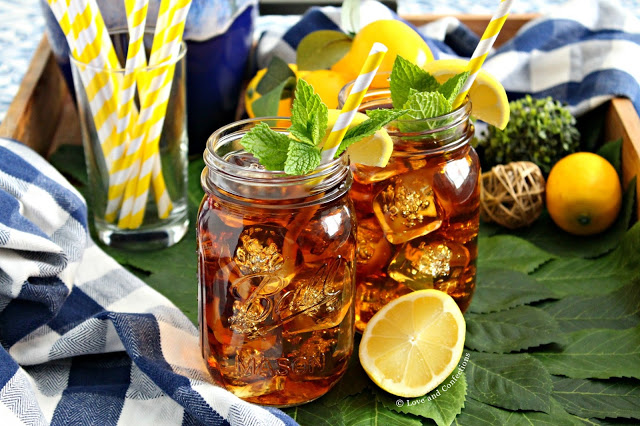 The other person responsible for my love of sweet tea is my uncle's mother-in-law, Nanny. Every family gathering we went to with my aunt's family, sweet tea was present. Nanny is the sweetest lady and I always love being a part of their family parties, especially if she comes. She reminds me so much of my own grandmother with her warm smile and welcoming hugs.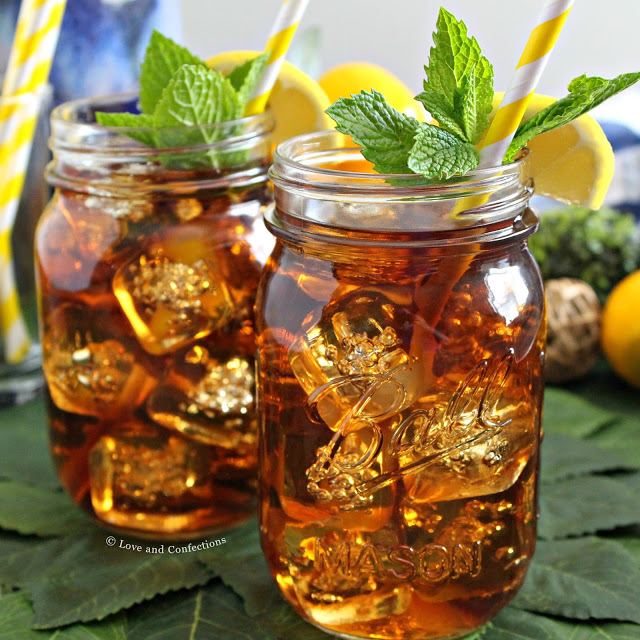 Sweet tea isn't just a tradition, it's more personal than that; it's about community. Inviting someone in and offering a glass of cold sweet tea, sitting on the porch with friends in the Summer sipping from a delicious flavored tea, or enjoying a glass at a holiday party or celebration are all perfect occasions for my simple southern sweet tea.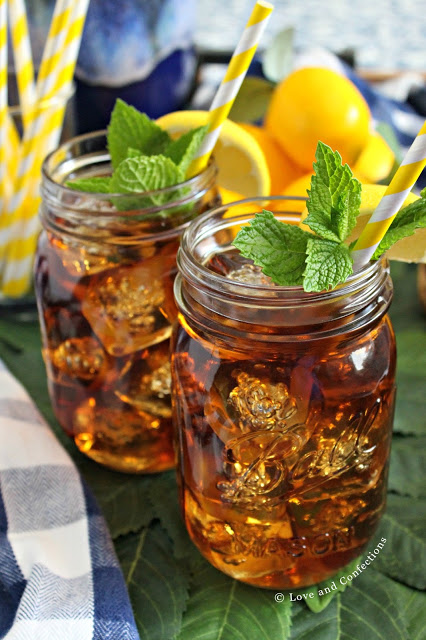 Baby showers are also the perfect time for sweet tea, and today a group of blogging friends are celebrating a new mom and her adorable, just a little early, baby boy. Angie from Big Bear's Wife was due in early October, but the little man decided he wanted to make an entrance 3 days ago, thus spoiling my surprise virtual baby shower–now turned surprise virtual baby welcome, LOL.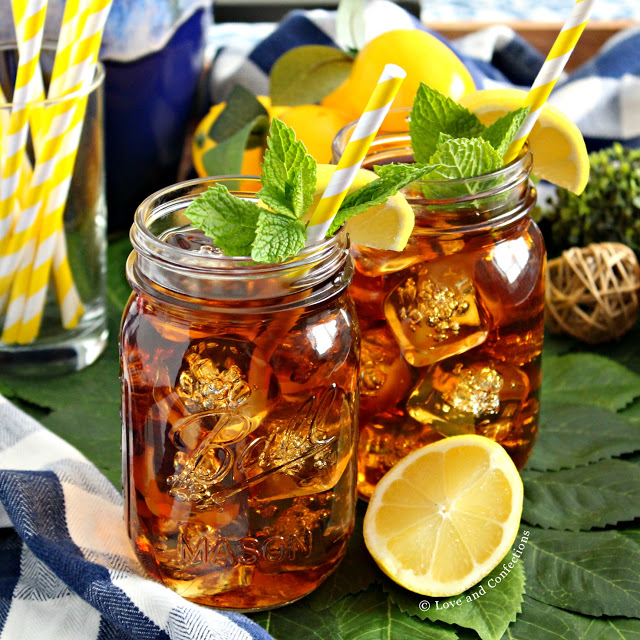 If you follow Angie, then you know she has some amazing recipes. I love her Southern-style and easy recipes, no-churn ice creams and she also has these delicious Strawberry Sweet Tea Popsicles that I cannot wait to make.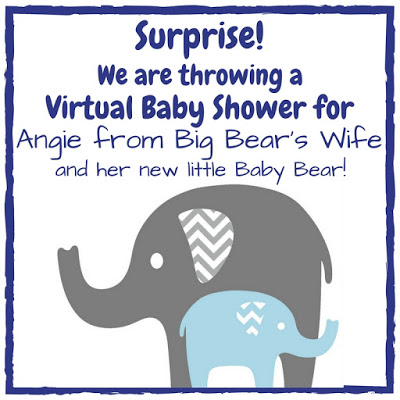 Angie, you are the most deserving, sweet and lovable person!! I know your baby boy is incredibly lucky to have you and Thomas as parents. You are going to be a great mother and you have an incredible village behind you ready to help support and love you all. Savor every moment, even the sleepless ones, because they truly do grow up too fast. All my love!
Simple Southern Sweet Tea
By Love and Confections
Published 09/22/2017
Simple Southern Sweet Tea with tips and tricks from a few grandmotherly sources – baking soda helps with bitterness, cooling on counter prevents cloudiness, Luzianne recommended for best tea.
Ingredients
16 cups filtered/spring water, divided
4 Luzianne large iced tea bags, not cold brew
1/4 teaspoon baking soda
1 1/2 – 2 cups extra fine granulated sugar – I use Dixie Crystals
Lemon and mint for garnish
Instructions
In medium saucepan, bring 4 cups water just to a boil. Place tea bags and baking soda in a large glass measuring cup that is heat-safe.
Pour water over tea bags and let steep for 5-8 minutes. Remove tea bags, letting them drip, but do not squeeze bags to get liquid out.
Pour into large pitcher and stir in sugar. Pour remaining 12 cups water into pitcher and let cool to room temperature. Store in refrigerator and serve over ice with lemon slices and mint for garnish.
Yield: 1 gallon
Until next time,
LOVE & CONFECTIONS!


Please take some time to check out all the amazing recipes we made for Angie's virtual baby shower!
Beverages:
Baby Blue Punch from Or Whatever You Do.
Easy Fall Party Punch from Miss in the Kitchen.
Simple & Fun Mimosa Bar from My Life Well Loved.
Simple Southern Sweet Tea from Love and Confections.
Appetizers & Salads:
Creamy Grape Salad with Toasted Pecans from Unsophisticook.
Mini Chicken and Waffles from Sweet Beginnings.
Pimento Cheese Stuffed Buttermilk Biscuits from It's Yummi.
Savory Cucumber Melon Salad with Honey Thyme Vinaigrette from Cooking in Stilettos.
Spicy Southern Deviled Eggs from This Gal Cooks.
Entrees:
American Pierogi Casserole from Rants From My Crazy Kitchen.
Chicken Satay Skewers with Peanut Butter Sauce from Culinary Adventures with Camilla.
Pimento Cheese Tomato Ham Sliders from Honey and Birch.
Desserts:
Banana Pudding Layered Dessert from High Heels and Grills.
Brookies from Baked Bree.
Caramel Corn from The Redhead Baker.
Caramel Pecan Cheesecake from Cooking with Carlee.
Chocolate Chip Clouds from All Day I Dream About Food.
Lemon Donuts with Raspberry Glaze from Ashlee Marie
Low Carb Chocolate Peanut Butter Stuffed Cupcakes from Sugar-Free Mom.
Mickey Mouse Candy Pops from The Decorated Cookie.
Pumpkin Cheesecake Brownie Bars from The Bitter Side of Sweet.
Small Batch Rhubarb Strawberry Jam from The JavaCupcake Blog
Classic Yellow Butter Cake with Fudgy Chocolate Icing from That Skinny Chick Can Bake.
Yellow Cupcakes with Peach Cream Cheese Frosting from Cookie Dough and Oven Mitt.
Worms and Dirt Cookie Cups from Cupcakes & Kale Chips.