Strawberry Daiquiri Pie is a family favorite – easy to make and full of flavor!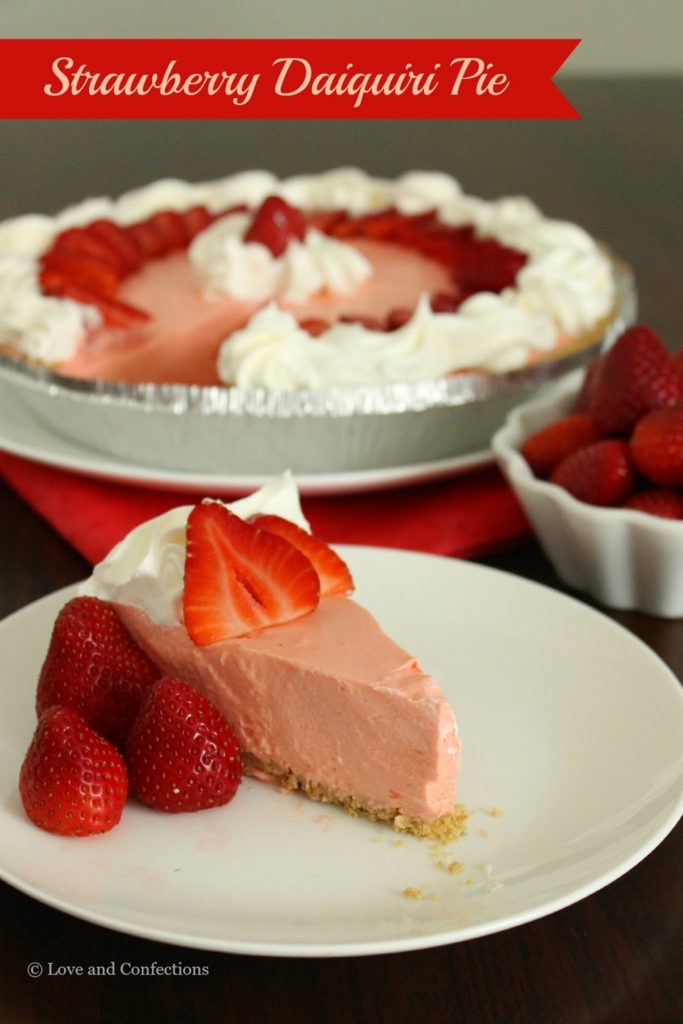 Welcome to Pi(e) Day! Pi Day is celebrated every March 14 by math fans around the world – and also bakers and pastry chefs. Pi is an non-repeating, infinite number represented by the Greek letter π, and used to represent the ratio of the circumference of a circle to its diameter. Today, March 14, 2015, is an extra special Pi Day, because at 9:26:53 AM it creates the "Pi Moment of the Century". The first ten digits of Pi are 3.141592653 (3/14/15, 9:26 AM and 53 seconds). This exact date and time happens once every hundred years – a once in a lifetime moment for most of us. How cool is that? Today, 20 Food Bloggers have gathered and want to celebrate the fun of Pi by creating their own sweet and savory pies to share with you. Hope you have a delicious day!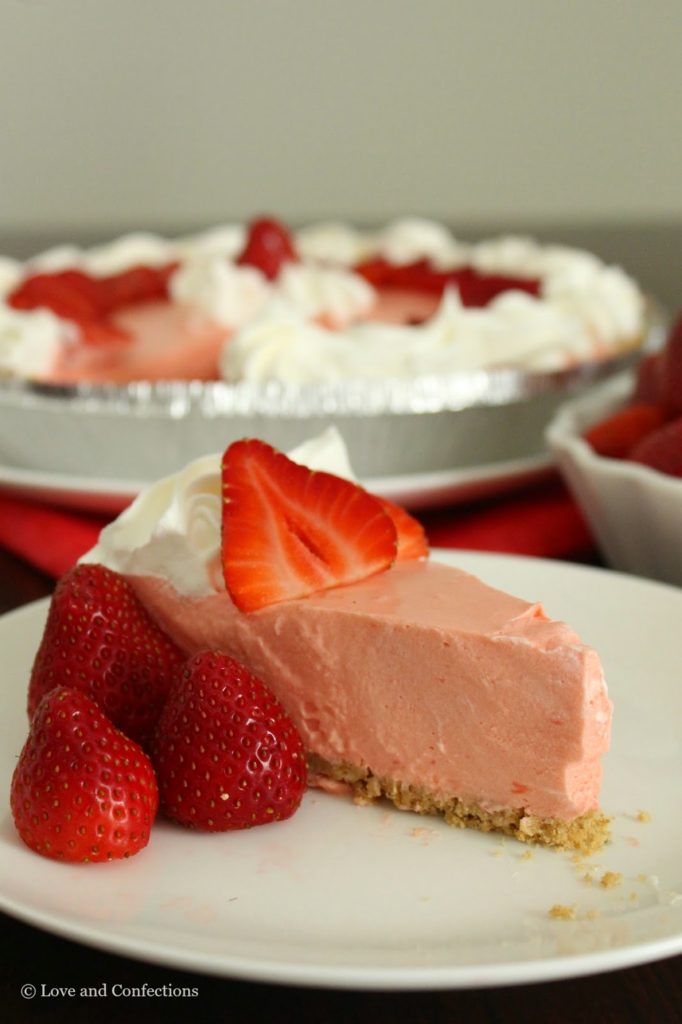 [Nerd Alert] I have a huge love of Pi. Don't ask me why, it might be my competitive nature. When I was in high school, one of our teachers knew 45 decimals of Pi. I decided to try and learn more to beat his number. To help me learn, I created a Pi Necklace, where every color bead represented a digit 0 through 9. (example, red=0, white=1…) I learned new digits of Pi in sets of three and every time I learned new numbers, I added to my necklace. I made my necklace over the course of a few weeks.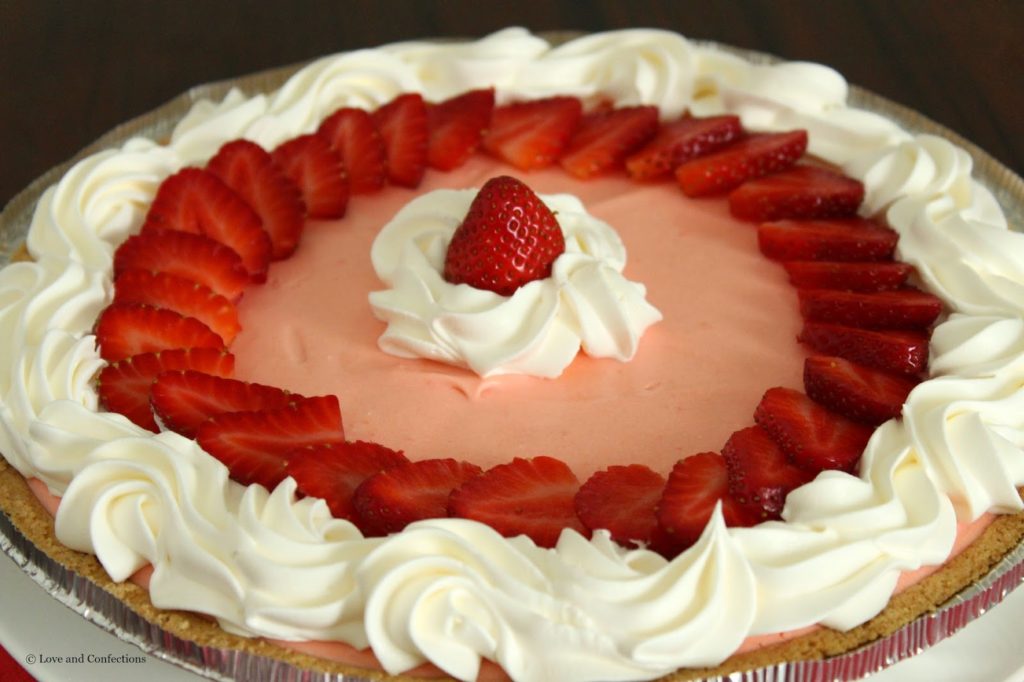 We decided to host Pi Day at school and have a bake sale of nothing but pies. I don't know how we managed it, but we thought it would be fun to pie teachers in the face and were surprised a few of them said yes. It was quite entertaining being able to smash a whipped cream pie into your teacher's face. I had finished memorizing Pi and did, in fact, beat the number of my teacher. I know 56 decimals of Pi by memory and can recite them still to this day.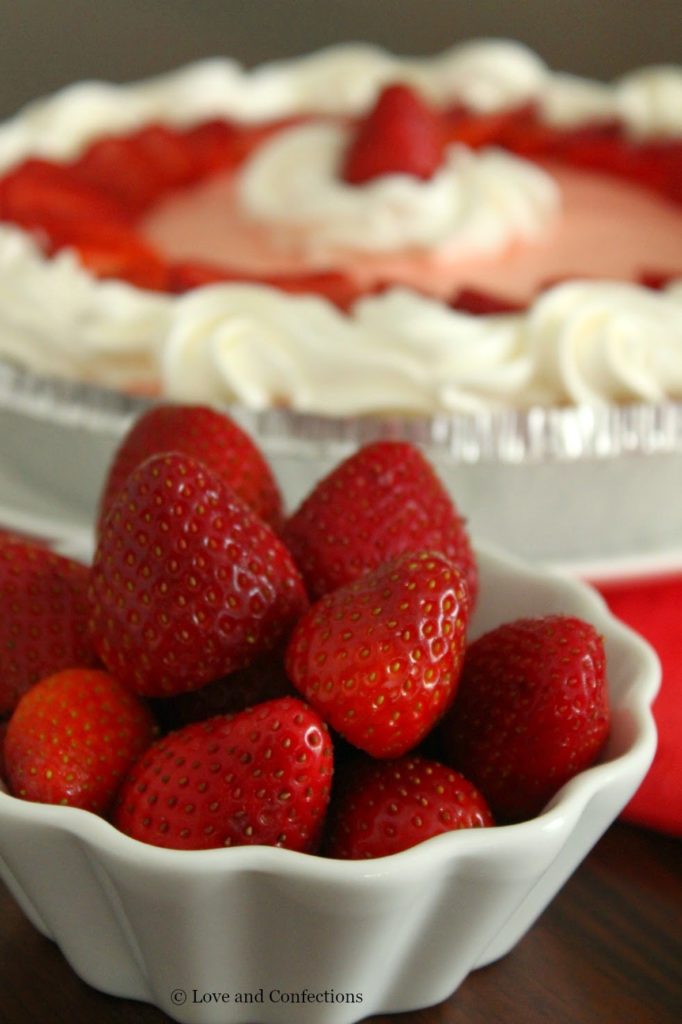 For Pi Day, I decided to make one of my all-time favorite pie recipes, one that my Grandmother used to make for me (minus the alcohol). I always loved the smell of this pie because the strawberry scent permeates the house. It isn't from scratch, it uses a pre-made pie shell, but that's how she did it and that's how I intend to keep it. Whenever I think about this pie I think about her and wish she were here to have a slice with me.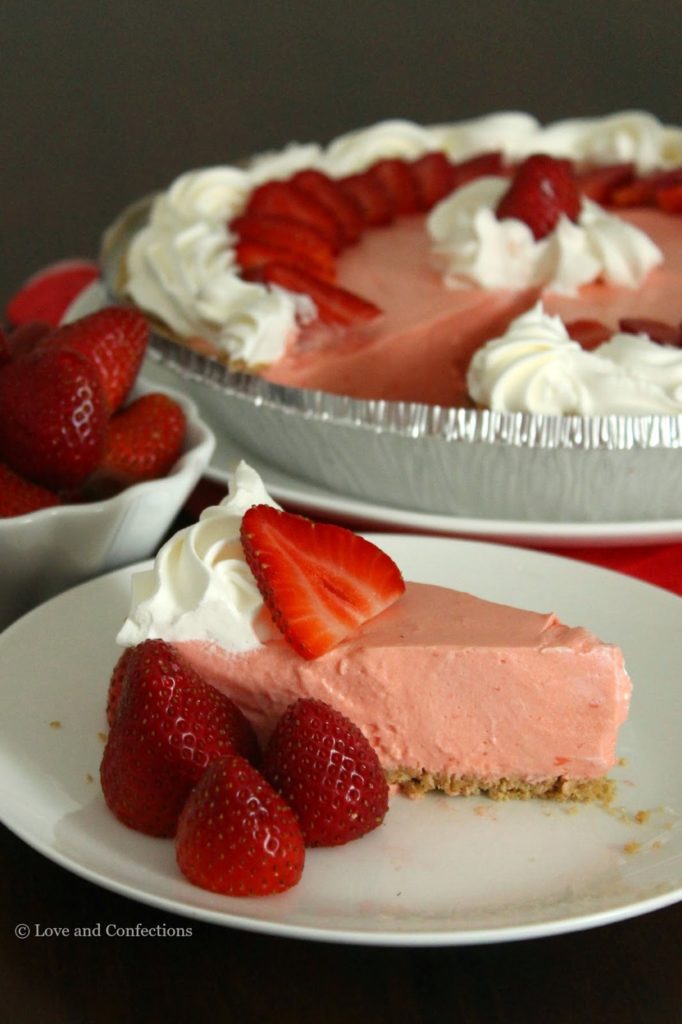 Strawberry Daiquiri Pie
Adapted from Bacardi
Click here for a printable recipe
Strawberry Daiquiri Pie Ingredients:
– 1-3 ounce box of Cook & Serve Vanilla Pudding & Pie Filling
– 1-3 ounce box of Strawberry Gelatin Dessert
– 1/2 cup Granulated Sugar
– 2 large Eggs
– 2 & 1/2 cups Water, divided
– 1/2 cup Dark Rum (optional)
– 8 ounces Whipped Topping, thawed and divided
– 2 prepared Graham Cracker Pie Crusts or 1 Extra-Serving Graham Cracker Pie Crust*
– Strawberries for garnish (optional)
Strawberry Daiquiri Pie Directions:
1. In a medium saucepan, combine the Vanilla Pudding, Strawberry Gelatin, Granulated Sugar, Eggs and 1/2 cup of the Water. Whisk to combine. Over medium heat, whisk in the remaining Water and bring to a full boil.
2. Take off the heat and using a sieve, strain into a clean bowl to insure no overcooked egg gets in your pie. Whisk in the Dark Rum and refrigerate for 1.5 hours.
3. Once chilled, fold in 6 ounces of Whipped Topping. If it is not smooth, you can lightly whisk the mixture. Pour into the prepared Pie Crust and refrigerate until set.
4. Garnish with remaining Whipped Topping and sliced Strawberries and enjoy!
*If you use the Extra-Serving Pie Crust, not all the filling will fit and you will need to place the rest in a small container to refrigerate.
Enjoy a slice from the Pi(e) Day Bloggers: