Sugar Cookies are a family favorite for holidays and celebrations. I jumped on the trend and created Succulent Vanilla Sugar Cookies that are perfect for Mother's Day, bridal showers, baby showers, and so much more.
This post is sponsored in conjunction with #BrunchWeek. I received product samples from sponsor companies to aid in the creation of the #Brunchweek recipes. All opinions are mine alone. This post contains affiliate links.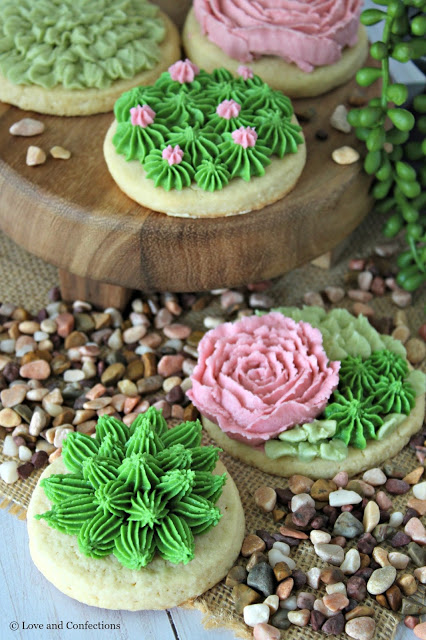 For #BrunchWeek Day 2, I am bringing you a family favorite recipe that we use for pretty much every holiday throughout the year. We love baking and decorating cookies. In addition to my fun straw collection I mentioned yesterday in my Strawberry Frosé post, I also have quite a collection of cookie cutters. I don't have hundreds like a lot of the cookiers out there, but I keep adding to my collection. I chose a simple round cutter for my succulent sugar cookies today.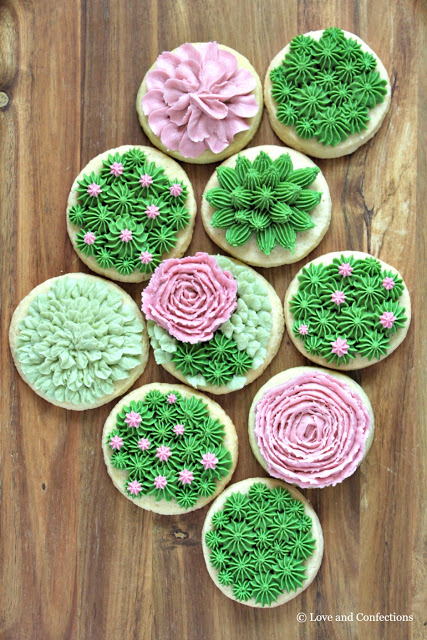 I have a thing for succulents. I liked them before they were big and everywhere, actually. However, I have a black thumb and kill almost every plant I own. "Succulents can't be that hard to keep alive; they're sturdy little suckers" – said the voice in my head before going to a plant and flower show and purchasing some.
Well, low and behold, while they are pretty easygoing plants, I learned the hard way that they really, really, really need a lot of light. Did you know that succulents grow taller when they need more sunlight? Yep, I didn't, but I do now. And now I have to find a sunnier spot than my back patio to place them for optimum sunlight… Oh, and thanks to Youtube, I know how to trim them and try and get them smaller again. That's my project this Spring and Summer – to not kill my plants.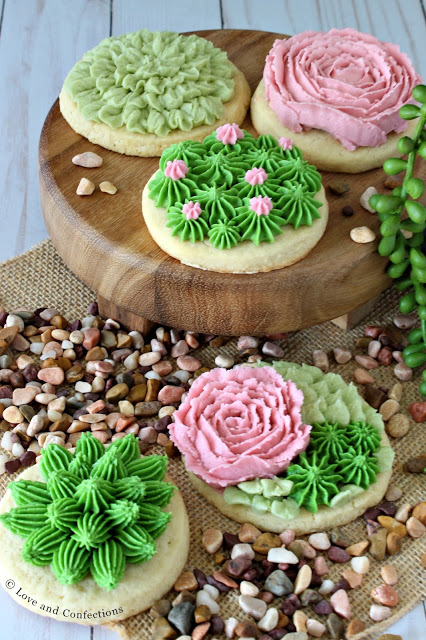 Anyway, back to the recipe. I love sugar cookies and wanted to do a fun, themed cookie for
#BrunchWeek. Succulents are great because they come in any and every color under the rainbow. I chose to use my favorites, green and pink.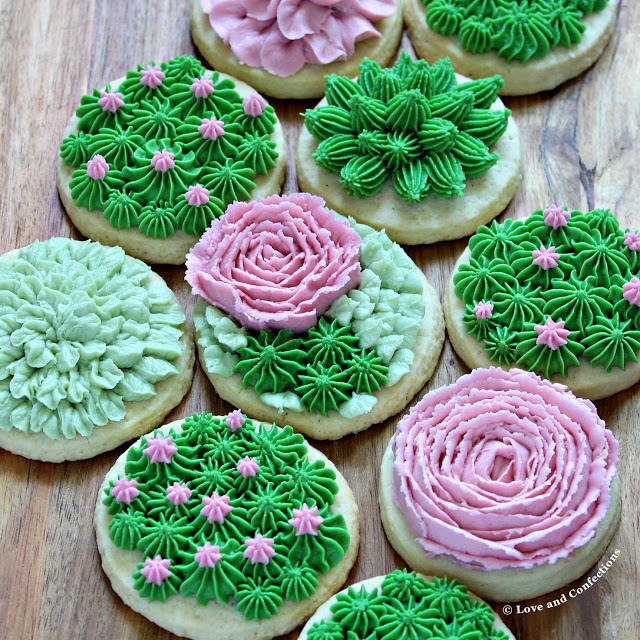 After mixing the frosting and coloring them with gel colors (do not use regular food coloring) I fell in love with the forest green one. The avocado green is really pretty and I might try doing a shade darker next time. I also used a moss green, but it didn't look appetizing at all… we won't go there. The pink frosting is actually a few drops of Merlot color. I love how it came out all dusty rose-like.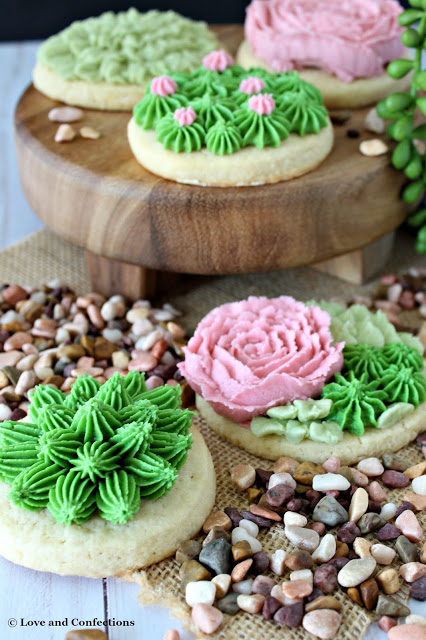 The frosting I made is absolutely delicious. I had always been curious about LorAnn Oils and Flavors, especially the Princess Baking Emulsion. It has a vanilla, citrus, nutty taste and was a pleasant surprise and addition to my frosting. I will definitely be using it again soon my my baked goods and frostings!
In case you're wondering what tips I used: 18, 21, 32, 101, 104, 352. Here are some items I used for today's recipe:
I had a lot of fun coming up with designs and cannot wait to practice piping more succulent cookies soon! I hope you are enjoying #BrunchWeek so far and don't forget to enter the giveaway!!
Succulent Vanilla Sugar Cookies
By Cookies adapted from Pillsbury, Frosting from Love and Confections
Ingredients
3 cups all-purpose flour
1/2 teaspoon baking powder
1/2 teaspoon salt
1 cup Dixie Crystals Extra Fine Granulated Sugar
1 cup (2 sticks) unsalted Cabot butter, softened
1 Eggland's Best large egg, room temperature
3 tablespoons heavy whipping cream
1 teaspoon vanilla bean paste or vanilla extract
Instructions
Combine flour, baking powder, salt and sugar into a large bowl. Use a whisk to combine and break up any lumps. cut in butter using a pastry blender.
In a small bowl or measuring cup, beat the egg and add in heavy cream and vanilla paste or extract. Pour into flour mixture and combine with a spatula, or by hand, until it forms a ball of dough, without overworking it.
Form a disk and wrap airtight in plastic wrap. Refrigerate at least 4 hours or overnight. If not using immediately, you can securely wrap it and place in a zip top bag and store in the freezer for up to 2 weeks. Thaw overnight in refrigerator or a few hours on the counter.
When ready to make cookies, heat oven to 400F, roll out to 1/4 inch thick, cut out shapes with cookie cutters and place on an ungreased air-bake baking sheet.
Bake for 10-16 minutes, on an air-bake sheet tray or until just golden brown around the edges. If using a regular sheet pan, cooking time will be reduced to 5-8 minutes. Cool on cookie sheet for 2 minutes, then transfer to cooking rack and cool completely before icing.
Princess Frosting
Ingredients
1 cup (2 sticks) unsalted Cabot butter, softened
1 cup vegetable shortening, preferably Crisco
1/2 teaspoon salt
2 pound bag Dixie Crystals Powdered Confectioners Sugar
1 teaspoon LorAnn Princess Emulsion
1 teaspoon vanilla extract or vanilla bean paste
3-6 tablespoons milk
Gel food colors
Instructions
In stand mixer, beat butter 2-3 minutes until light. Scrape down the sides of the bowl, add in shortening, and beat until combined.
Add about half of the powdered sugar and mix on low. Scrape down the sided of the bowl. Add in the emulsion, extract or paste and 3 tablespoons milk. Top with remaining powdered sugar and mix on low to combine. Scrape sides of bowl then mix on medium speed for 3-5 minutes. If frosting is too thick to pipe, add in remaining milk, 1 tablespoon at a time and beat to combine. Buttercream should be soft enough to pipe, but hard enough to retain shape and fine lines.
Separate buttercream into bowls and color with desired gel food colors. Keep covered when not in use. Place into piping bags prepared with tips. Pipe and decorate cookies. Once frosting has "crusted" slightly, keep covered in an airtight container, refrigerated, for up to 2 days.
Yield: 20 cookies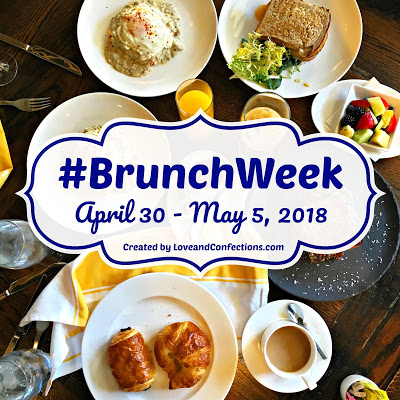 Take a look at what the #BrunchWeek Bloggers are creating today!
BrunchWeek Beverages:
Carrot Grapefruit Smoothie from Rants From My Crazy Kitchen
Cranberry Orange Mimosas from The PinterTest Kitchen
Hazelnut Coffee Syrup from The Redhead Baker
BrunchWeek Appetizers:
Antipasto Salad from Cooking with Carlee
Egg & Asparagus BLT Salad from Sweet Beginnings
Spring Brunch Veggie Tray from Wholistic Woman
BrunchWeek Egg Dishes:
California Club Omelet from The Barbee Housewife
Quick & Easy Cheesy Cheddar Asparagus Frittata from 4 Sons 'R' Us
Huevos Rancheros Cups from A Day in the Life on the Farm
Kuku Sabzi (Persian Herb Omelette) from Culinary Adventures with Camilla
BrunchWeek Breads, Grains, and Pastries:
Buttermilk Scones from Mildly Meandering
New York Style Garlic Knots from Girl Abroad
Miso Butter Toast from Brunch-n-Bites
Pecan Belgian Waffles with Strawberry Sauce from Family Around the Table
Savory French Toast with Asparagus from Forking Up
BrunchWeek Main Dishes:
Breakfast Macaroni and Cheese from Strawberry Blondie Kitchen
Canadian Bacon, Egg & Asparagus Quesadilla from Kudos Kitchen by Renee
BrunchWeek Fruits, Vegetables and Sides:
Asparagus Fried Rice from Tara's Multicultural Table
Asparagus Bacon Rollups from For the Love of Food
Creamy Baked Cheesy Asparagus from Daily Dish Recipes
Roasted Asparagus with Parmesan from Books n' Cooks
BrunchWeek Desserts:
Blueberry Raspberry Chocolate Bark from Caroline's Cooking
Raspberry Chocolate Cheesecake from The Crumby Kitchen
Red Velvet Cake Macaron from A Kitchen Hoor's Adventures
Succulent Vanilla Sugar Cookies from Love and Confections
Until next time,
LOVE & CONFECTIONS!
Thank you to #BrunchWeek Sponsors: Dixie Crystals, Cabot Cheese, LorAnn Oils and Flavors, Cento Fine Foods, Michigan Asparagus, Cal-Organic and Eggland's Best for providing the prizes free of charge. These companies also provided the bloggers with samples and product to use for #BrunchWeek recipes. All opinions are my own. The #BrunchWeek giveaway is open to U.S. residents, age 18 & up. All entries for the winner will be checked and verified. By entering you give the right to use your name and likeness. The number of entries received determines the odds of winning. Seven (7) winners will be selected. The prize packages will be sent directly from the giveaway sponsors. The #BrunchWeek Bloggers are not responsible for the fulfillment or delivery of the prize packages. Bloggers hosting this giveaway and their immediate family members in their household cannot enter or win the giveaway. No purchase necessary. Void where prohibited by law. This promotion is in no way sponsored, endorsed or administered by, or associated with Facebook, Instagram, Pinterest, Twitter, or any other social channel mentioned in the #Brunchweek posts or entry.