Tex-Mex Quinoa Jars are the perfect, healthy, grab-n-go meal for a busy week!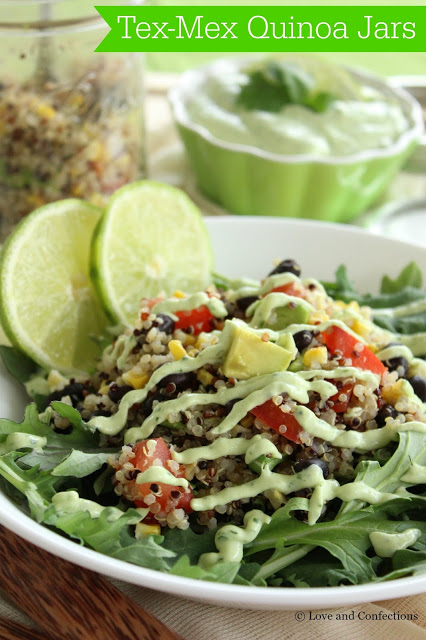 This post is sponsored by Stonyfield Yogurt and Ball Canning. All opinions are my own.

I love all kinds of Mexican flavors, so-much-so that we usually have a Tex-Mex meal once a week. For unknown reasons (i.e. poor planning) it usually isn't "Taco Tuesday". We mostly do Tex-Mex on Wednesdays, so I have gotten into the habit of calling it "Mexican Miercoles" – coined the term from a family friend.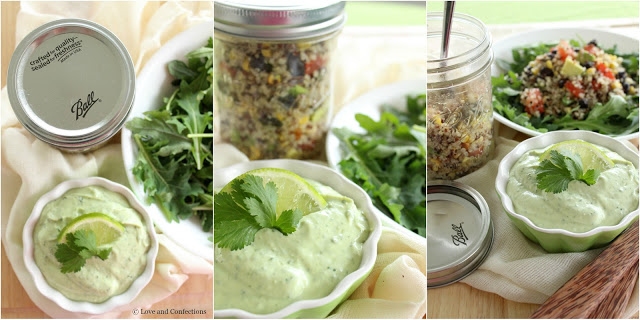 We have a lot of the popular toppings or sides, like tomatoes, avocado or guacamole, corn, rice, and black beans. I have been using Stonyfield Greek Yogurt to top all my Tex-Mex dishes because it is way healthier than sour cream, plus you can have more than 2-3 tablespoons per serving… seriously, check the back of your sour cream containers versus Greek yogurt!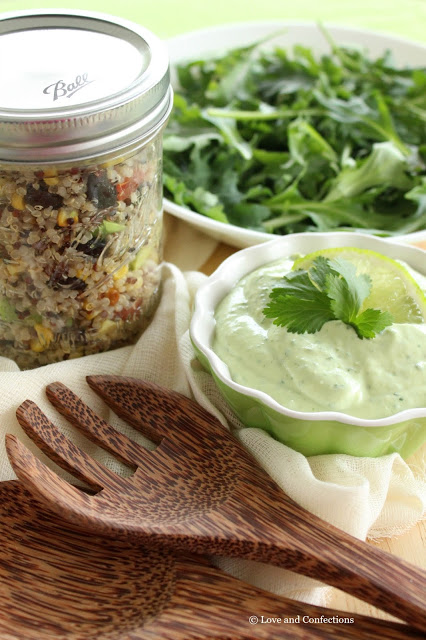 The toddler even loves Mexican Miercoles, she loves black beans, guacamole, rice, tomatoes and Greek yogurt. She even sometimes eats salsa too, if it's not too spicy. I actually got the idea for these Quinoa Jars from her meal. She doesn't like the beef or chicken we have with tacos, so it's more of a vegetarian night for her.
I didn't like quinoa until a few years ago, and now I have it quite a bit. I prepare a big batch of it, and use it in salads or as a side throughout the week. It is perfect for these Tex-Mex Jars and gives the perfect nutty flavor to balance out the mix-ins and dressing. You can eat it out of the jar, as-is, or add it to a bowl with some lettuce or arugula for an even better lunch option.
Click here for more information on Ball Canning, and follow them on Facebook, Pinterest, Instagram & Twitter
Tex-Mex Quinoa Jars
A Love and Confections original recipe
Tex-Mex Quinoa Jars Ingredients:
– 1/4 cup packed Cilantro
– 1/4 teaspoon Salt
– 1/4 teaspoon Onion Powder
– 1/4 teaspoon Garlic Powder
– 1/2 cup Stonyfield Greek Yogurt
– 1-2 teaspoons Lime Juice, to taste
– 1 cup prepared Quinoa
– 1/4 cup diced Tomatoes
– 1/4 cup Black Beans, drained and rinsed
– 1/4 cup diced Avocado
– 1 ear oven-roasted corn kernels
– Baby Kale and Arugula, optional
– Hot Sauce or Salsa, optional


Tex-Mex Quinoa Jars Directions:
1. In a blender, combine the Cilantro, Salt, Onion Powder, Garlic Powder, Greek Yogurt, and Lime Juice, and mix until consistency of salad dressing. Refrigerate.
2. Combine Quinoa, Tomatoes, Black Beans, Avocado and Corn in a mixing bowl, and disperse into 1-2 Ball Canning Jars. Use immediately with dressing, mix into salad, or refrigerate 1-2 days. Enjoy!
Until next time,
LOVE & CONFECTIONS!
Disclaimer: I have an ongoing relationship with Stonyfield as a member of the Clean Plate Club. I receive product, coupons and/or compensation for posts featuring their products. As always, all opinions are my own. #stonyfieldblogger #sponsored.