This basic Vanilla Bean Ice Cream is anything but ordinary. Creamy, Sweet and flecked with Vanilla Seeds, this ice cream is sure to be a great base for any sundae, float or shake.

Welcome to day 2 of Ice Cream Week 2014! This year the event is hosted by Kim of Cravings of a Lunatic and Susan of The Girl in the Little Red Kitchen. We have teamed up with 25 amazing bloggers to bring you ice cream treats all week long. It's going to be an epic week full of frozen treats!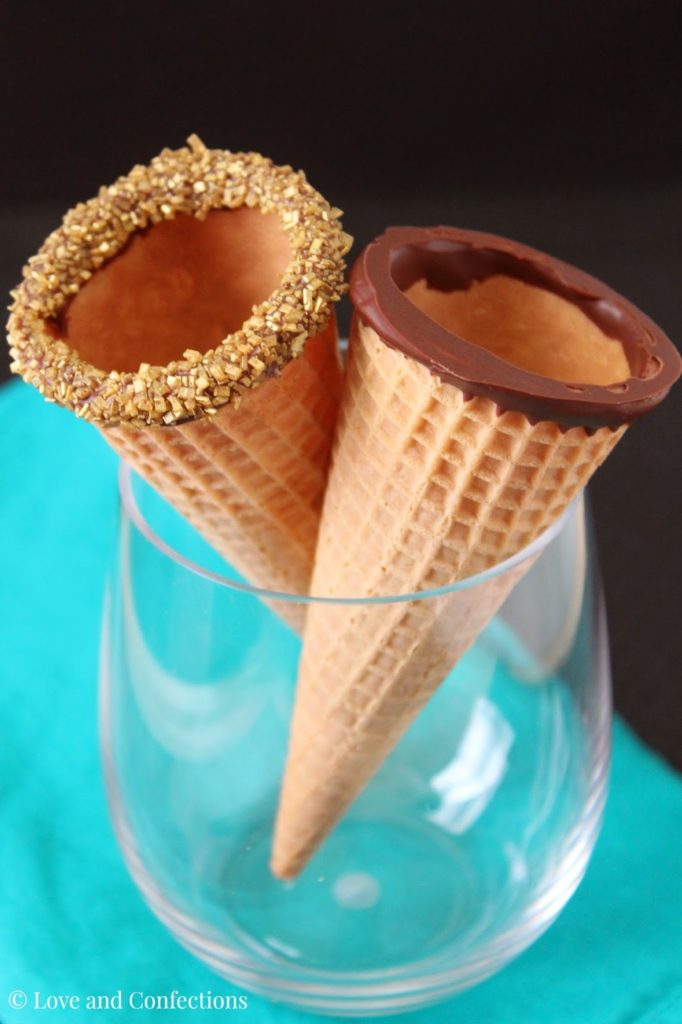 I absolutely LOVE vanilla ice cream. Sure chocolate or cookie dough is great, as are other flavors like Key Lime Pie Ice Cream, but I love vanilla. There is something special about eating a well-made vanilla ice cream. I love how creamy it is and when I can see the little vanilla seeds dispersed throughout.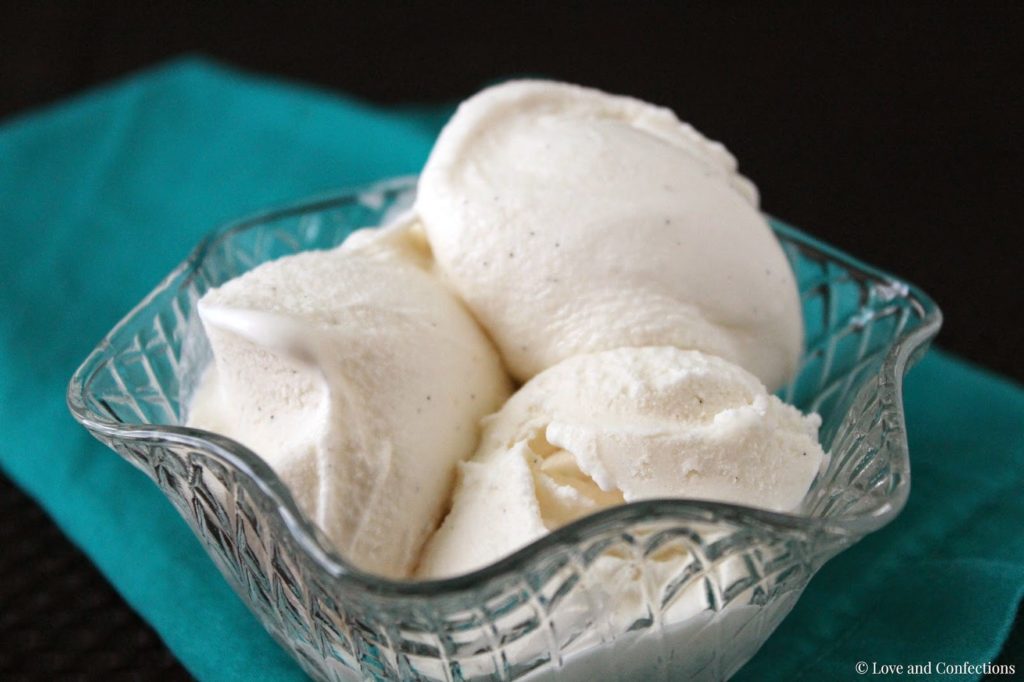 Vanilla is a great base for everything, from ice cream pie to floats, shakes and sundaes. I personally love hot fudge, caramel and sprinkles on my sundae. Top it with whipped cream and a cherry and I am one happy girl!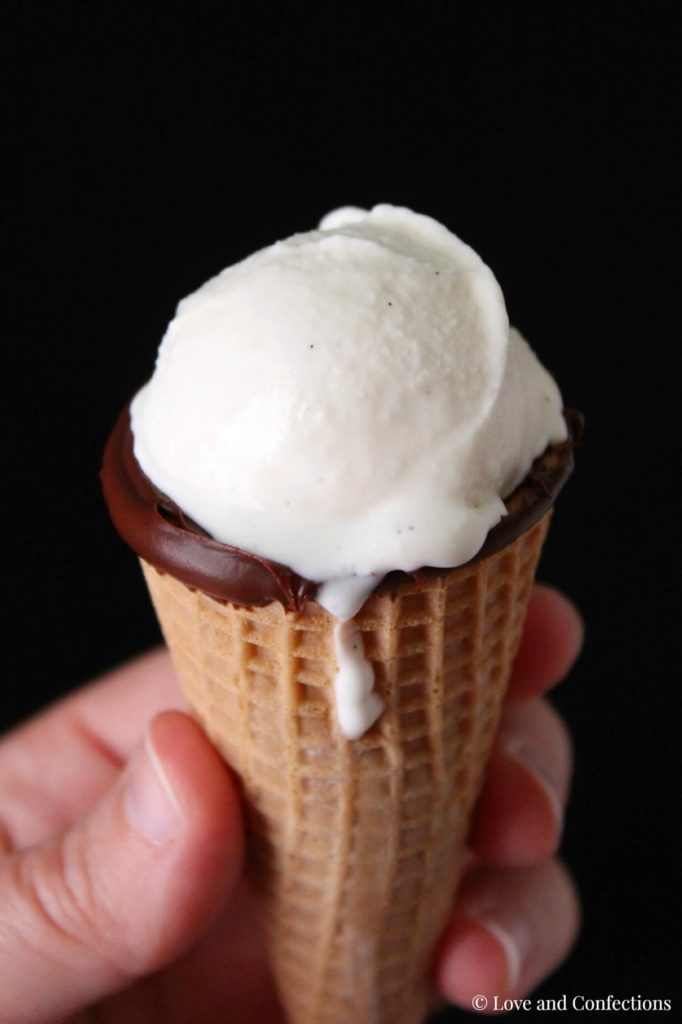 I usually make a custard base for my ice cream, but wanted to do something different and easy in case anyone was not sure about cooking eggs. I will be posting a custard based ice cream later in the week, so if you would like to try it, it is delicious!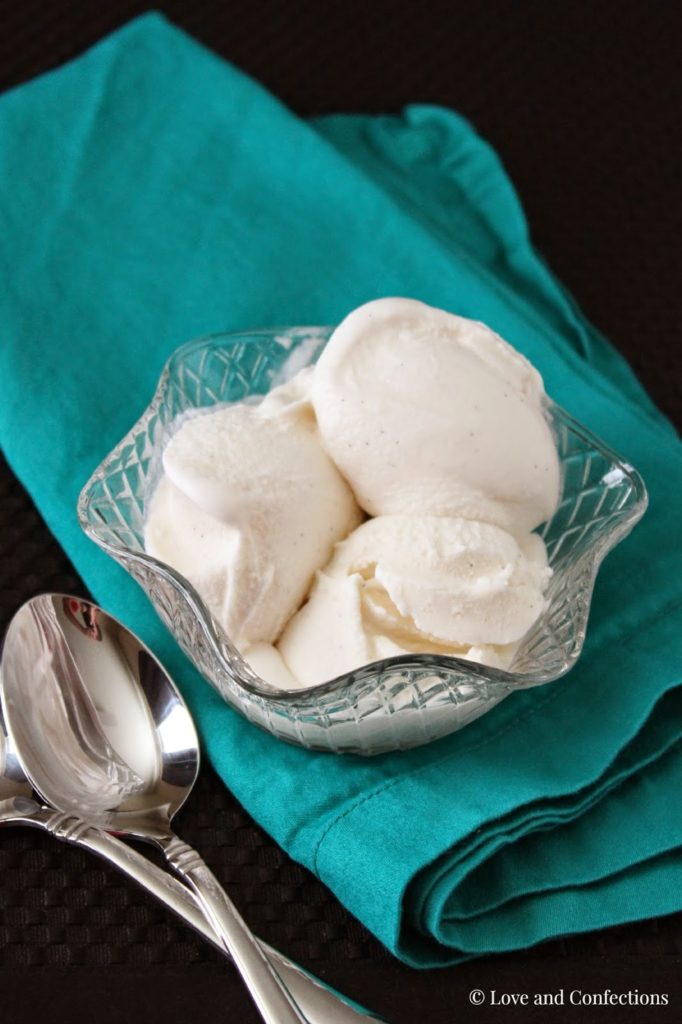 Vanilla Bean Ice Cream
a Love and Confection original
Click here for a printable recipe
Vanilla Bean Ice Cream Ingredients:
– 1 cup Whole Milk
– 1 cup Extra Fine Granulated Sugar
– 1/8 teaspoon Salt
– 2 teaspoons Vanilla Bean Paste
– 2 cups Heavy Whipping Cream
– Hot Fudge, Sprinkles or any other toppings optional
Vanilla Bean Ice Cream Directions:
1. Make sure the bowl of your ice cream maker is frozen for a minimum of 24 hours before needed. Make sure all the dairy ingredients are well chilled before using.
2. In a medium bowl, whisk together the Whole Milk, Granulated Sugar, Salt and Vanilla Bean Paste until thoroughly combined.
3. Add in the Heavy Whipping Cream and slowly stir/whisk to combine. You do not want to whip it too much. Since the mixture should still be cold, you can churn immediately. If you wish, you can refrigerate it again for 30 minutes or up to 2 hours.
4. Churn ice cream according to manufacturer's directions. You can either serve immediately or place in a freezer-safe container and freeze for a minimum 4 hours, or until firm. Enjoy!
Until next time,
LOVE & CONFECTIONS!
Stop by to visit all our Day 2 Ice Cream Week Participants:
Our sponsors for the event have provided us with some great prizes. A huge thanks to Cake Boss, Anolon, Microplane, WÜSTHOF, Page Street Publishing and Quarry Spoon. Kim of Cravings of a Lunatic and Susan of The Girl in the Little Red Kitchen have tossed in a bonus prize of a Cuisinart Ice Cream Maker because they think everyone should own one!
Here's what is up for grabs, One Winner Takes All:

Disclaimer: I did not receive any product for participating in this event. The #IceCreamWeek Giveaway is open to U.S. and Canada residents only. ONE winner will receive ALL the prizes listed. Giveaway ends at midnight on August 31st.

LOVE & CONFECTIONS!