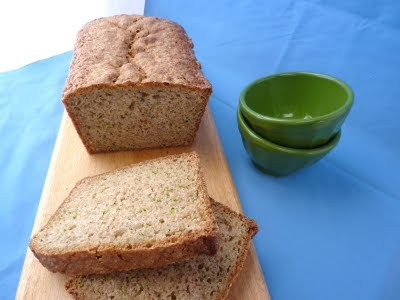 After a couple weeks of perusing one of the local farmer's market, I decided to buy some zucchini. The Hubby loves all types of vegetables, especially zucchini and we don't normally use it. Although, I do make a good veggie casserole with chicken, carrots, zucchini, pasta and cheese. But back to baking…
What better way to use zucchini than making zucchini bread? I have to admit that I don't particularly like zucchini, and was leery of making zucchini bread, since I have never had it. My mom has made zucchini bread more times than I can count, so I figured I'd give it a try, hoping it didn't taste too much like to the vegetable I didn't care for.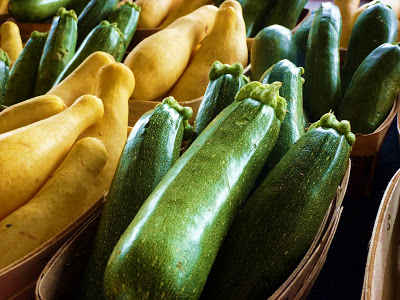 I was pleasantly surprised. No, even better; I was amazed. It was delicious! The bread tasted spectacular. I honestly do not know why I haven't tried it until now. It has a hint of zucchini, but the sweetness and the texture of the bread balance it. Want to know the best part? It's good for you – well, for the most part, minus the sugar, etc. You're eating a vegetable!

This bread has the perfect texture, the right amount of sweetness, and is absolutely lovely with all the little green specks throughout. You need to grate and drain the zucchini. Too much water will affect the recipe. I used cheese cloth to squeeze the excess liquid from the vegetables, and I found this method worked best. Happy baking!
Zucchini Bread
a Love & Confections family recipe
yield: 2 loaf pans
Zucchini Bread Ingredients:
– 4 Eggs
– 1 cup Vegetable Oil
– 2 cups Sugar
– 3 cups All-Purpose Flour
– 1 teaspoon Salt
– 1 teaspoon Baking Soda
– 1 tablespoon Cinnamon
– 1 teaspoon Vanilla Extract
– 1 tablespoon Baking Powder
– 2 cups Zucchini, grated & drained – about 3 medium zucchinis
– 1 cup Nuts (optional)
– 1 cup Raisins (optional)
Zucchini Bread Instructions:
1. Preheat oven to 325F
2. Grease and flour loaf pans
3. Beat Eggs well
4. Add Oil and Sugar to Eggs and beat well
5. Add Flour, Salt, Baking Soda, Cinnamon, Vanilla Extract, and Baking Powder. Mix to combine.
6. Add Zucchini, Nuts (optional) and Raisins (optional). Mix to combine.
7 Bake for 45-55 minutes, or until toothpick comes out clean when testing.

Until next time,
LOVE & CONFECTIONS!