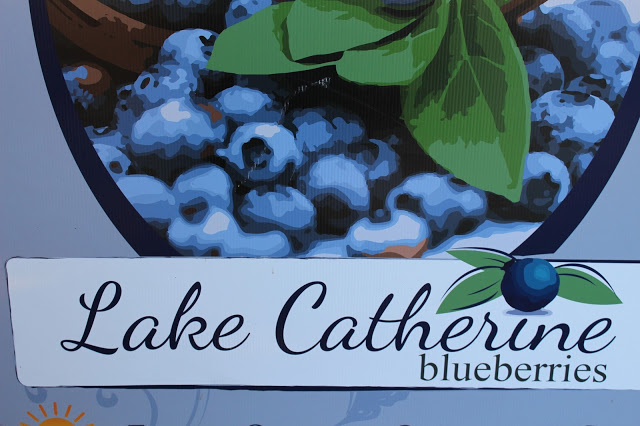 The sun warmed us as honeybees flew near and we picked and ate blueberries off the bush. We rode around in a John Deere and learned about blueberries and blueberry farming for hours. We ate more blueberries. We tasted homemade Blueberry Orange Blossom Honey and a variety of Blueberry Jams. We ate some more blueberries, and planned what we would create with our haul. A truly wonderful Spring day…
A few local Food Bloggers and I recently went and took a tour of Lake Catherine Blueberries. I have been blueberry picking before and wait for blueberry season every year. I met one of the owners at a local farmer's market and inquired about the farm. I can definitely say it was a great experience. The owners are incredibly nice and immensely knowledgeable. They welcomed us onto their farm and into their lives. Please read to the end for information on their grand opening celebration and a coupon for blueberries!
I love seeing where my food comes from and interacting with local farmers and producers. We learned so much about blueberries that our tour lasted about 5 hours. The quality of Lake Catherine Blueberries is incomparable to what is found in the grocery stores.
Most grocery store berries are over 26 days old due to the nitrogen displacement of oxygen for transport from South America. The use of nitrogen as a non-chemical method of food preservation is gaining acceptance in the food industry because it expands the availability of perishable items. Most fruit in grocery stores have had this nitrogen preservation. Lake Catherine Blueberries are picked fresh and sold in season – when the fruit is at its best.
The variety of blueberries depends on the climate. Blueberries need a specific number of cold hours each Winter to regulate their growth, known as chill hours – one hour of time with the temperature between 32 & 45 degrees F to set buds. If a blueberry bush doesn't receive enough chill hours in the Winter, the buds might not open evenly, or at all, in the Spring.
Lake Catherine Blueberries grows 2 different types of berries appropriate for Florida chill hours, Emerald and Jewel. Emeralds are large, mildly sweet berries and Jewels are large, slightly tangy berries. They have these two different varieties for cross-pollination purposes – which creates more seeds.
Learning how the Bumble Bees help with pollination
For pollination, Lake Catherine Blueberries uses both Honey Bees and Bumble Bees. Their honey bees also make amazing Blueberry Orange Blossom Honey that they sell at the Farmer's Markets and during u-pick season. Florida produces 20-25 million pounds of blueberries per year and Lake Catherine hand picks about 10,000 blueberries per day.
Lake Catherine Honey Bees
During blueberry season, Lake Catherine is open daily from 9am-5pm. Check out the Lake Catherine Blueberries Facebook Page for weather conditions and updates before you visit. They also encourage you to eat the berries right off the bush, so you can decide which type you like best. Come back on Sunday to see one of the desserts I made with Lake Catherine Blueberries!
Lake Catherine Homemade Jams – they are DELICIOUS!
This coming Saturday, April 20th, Lake Catherine Blueberries is hosting a Grand Opening Celebration for the season. There will be live entertainment, face painting, pony rides, hay rides and a barbeque, in addition to some wonderful u-pick berries. They will also be selling their jams, cobblers, syrups, honey and other Lake Catherine Blueberry products. Just remember that they do not accept debit or credit cards at this time, so please have cash. Below is a coupon for $2 off one pound of blueberries. Tell them Terri from Love and Confections sent you – you will love it.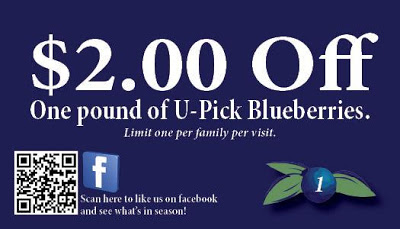 Lake Catherine Blueberries
5849 Lake Catherine Road
Groveland, FL 34736
(352) 551-4110
View of Lake Catherine and the Lake Catherine Blueberry Farm in the distance
Until next time,
LOVE & CONFECTIONS!