Pecan Streusel Coffeecake is perfect when you want a slice of cake that isn't overly sweet. It is perfect for breakfast, an afternoon snack or dessert.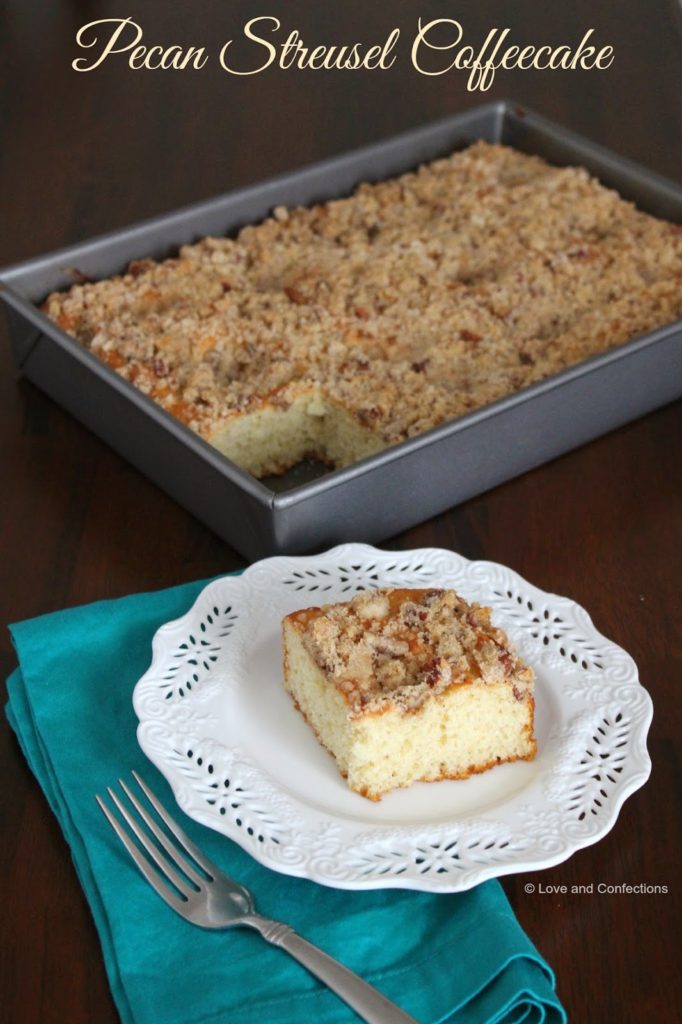 This isn't like your regular sweet, quick bread coffee cake. With the addition of yeast, this cake is more bread-like in texture and not as sweet. While I do like danishes and traditional coffee cakes as breakfast items, sometimes you want something that isn't cloyingly sweet, yet still satisfies your sweet tooth. Don't forget to enter in my Red Star Yeast Bread-Baking Giveaway at the end of the post. Giveaway now closed.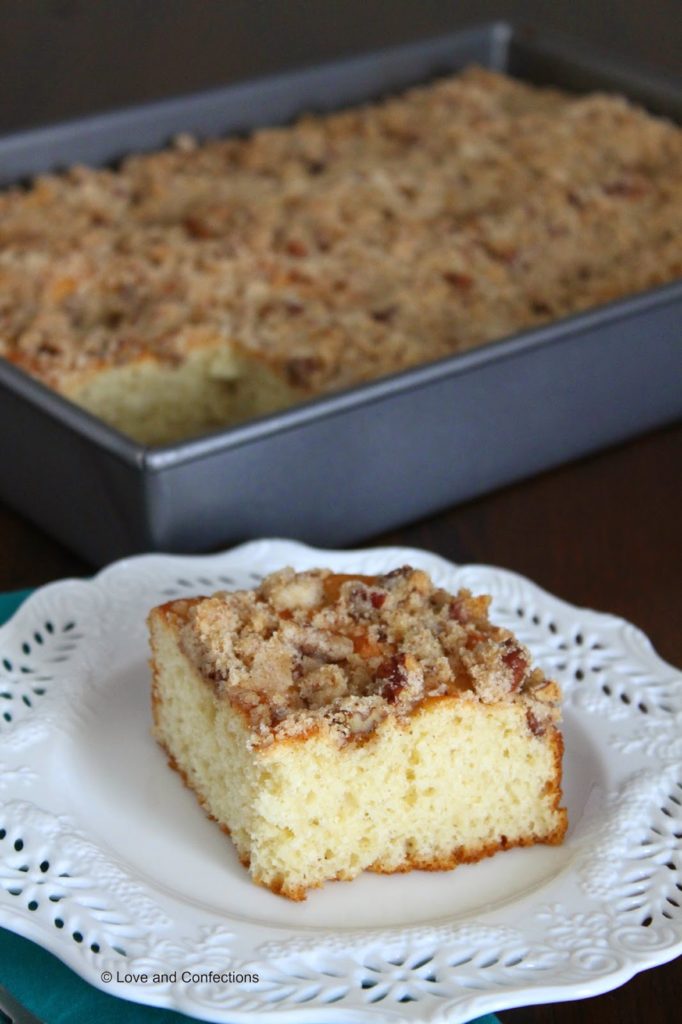 Like most of my baking these days, I made this recipe with Baby L&C was napping. It is very easy to make, especially since it is a no-knead yeast recipe. I decided to add pecans instead of almonds. I love using pecans in baked goods and they went perfectly with this cake. The streusel topping was my favorite part, and the cake smelled like yeasty, cinnamon deliciousness while baking!
Hopefully you have loved all the yeast baked goods I made this week. My Homemade Pizza Dough and Baba au Rhum are just some of the easy recipes you can make at home with yeast. Also, hopefully my Bread Baking Tips-Working with Yeast gave you a little explanation and better understanding of yeast.
Pecan Streusel Coffeecake
Slightly adapted from Red Star Yeast
Click here for a printable recipe
Pecan Streusel Coffeecake Ingredients:
– 3 cups Unbleached Bread Flour
– 2 packets Red Star Active Dry Yeast
– 1/3 cup Granulated Sugar
– 1/2 teaspoon Salt
– 3/4 cup Water
– 1/2 cup Milk
– 1/4 cup Unsalted Butter
– 2 large Eggs
– 1/2 cup Granulated Sugar
– 1/4 cup Brown Sugar
– 1/2 cup Unbleached Bread Flour
– 1/2 cup chopped Pecan Halves
– 1 teaspoon Cinnamon
– 1/4 teaspoon salt
– 1/4 cup Unsalted Butter, melted
Pecan Streusel Coffeecake Directions:
1. In the bowl of your stand mixer fitted with the paddle attachment, place 1 & 1/2 cups Flour, Yeast, Sugar and Salt. Mix to combine.
2. In a medium saucepan, heat the Water, Milk and Butter to 120-130F Please make sure you have a working thermometer that is calibrated. The temperature affects the yeast and too hot could kill it. Add to Flour mixture.
3. Add Eggs, then beat on low for 1 minute, scrape down the sides, then beat on medium for 3 minutes. Add in the rest of the flour and mix by hand to create a stiff dough.
4. Prepare a 9×13 pan with baking spray and spread mixture in evenly. It is very sticky so wet your hands slightly and also use an offset spatula to help spread the dough. Set aside while preparing topping.
5. Mix together the Sugar, Brown Sugar, Flour, chopped Pecans, Cinnamon, Salt and Butter. Sprinkle evenly over the top of the cake. Cover with plastic wrap and let it rise in a warm place for about 45 minutes, or until it has doubled in size.
6. During the last few minutes of rising, heat the oven to 375F. Bake the cake for 25 minutes until it is golden brown. Let it cool slightly before serving. Enjoy!
Until next time,
LOVE & CONFECTIONS!
Disclaimer: Red Star Yeast provided me with samples of the yeast used in these blog posts. Red Star Yeast is providing the prize package. All opinions are my own.