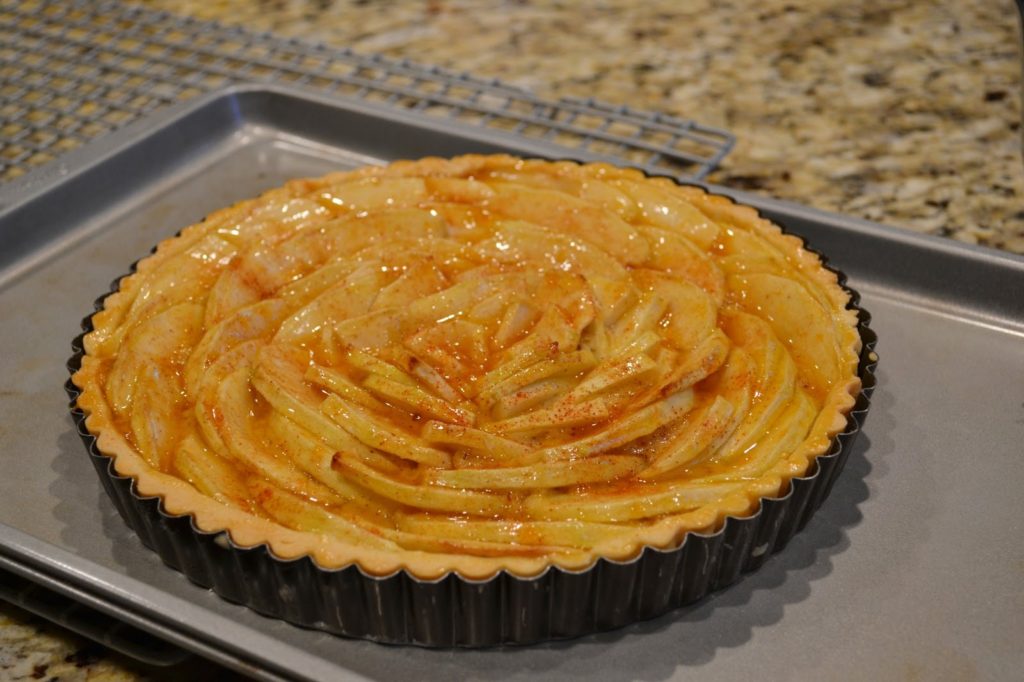 It's that time of year where everything is red and pink. Hearts, roses boxes full of assorted chocolates and over-sized teddy bears crowd store windows. I don't really do anything too big for Valentine's Day. Restaurants are too crowded and most are too pricey. I'd rather stay home, cook a nice dinner, have some wine and relax. Well, this year I will probably be exhausted and need more than just one glass.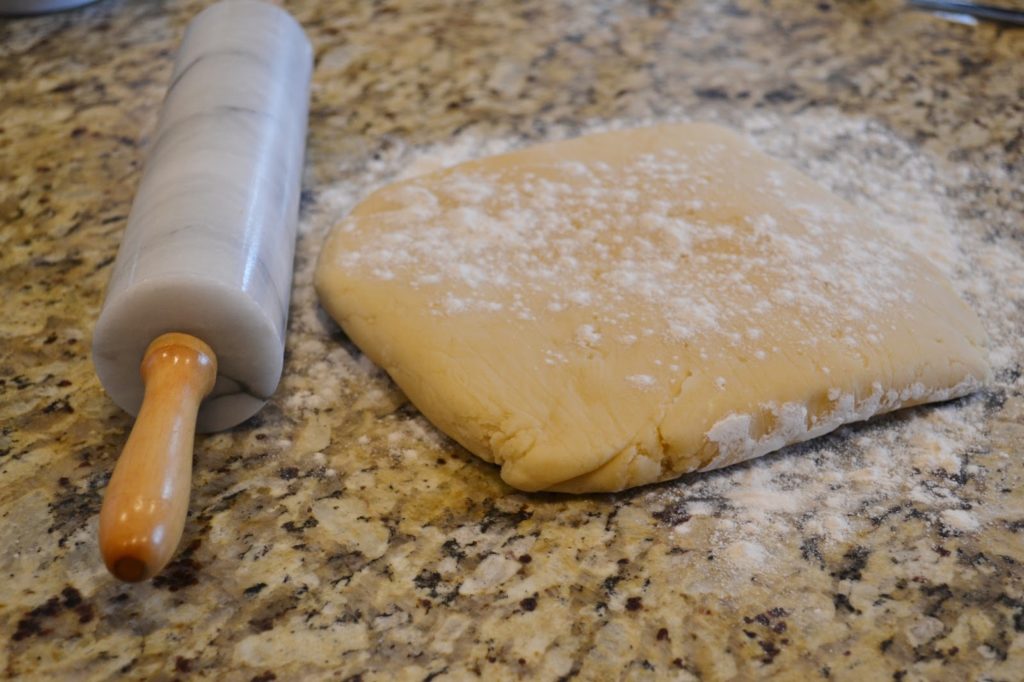 Valentine's Day is the busiest day of the year at my job. The bakery is in high gear, prepping for the day. My schedule next week has me starting at or before 8am through "?". I literally have a question mark on the schedule – the entire week. It's basically a work until you can't work anymore, schedule.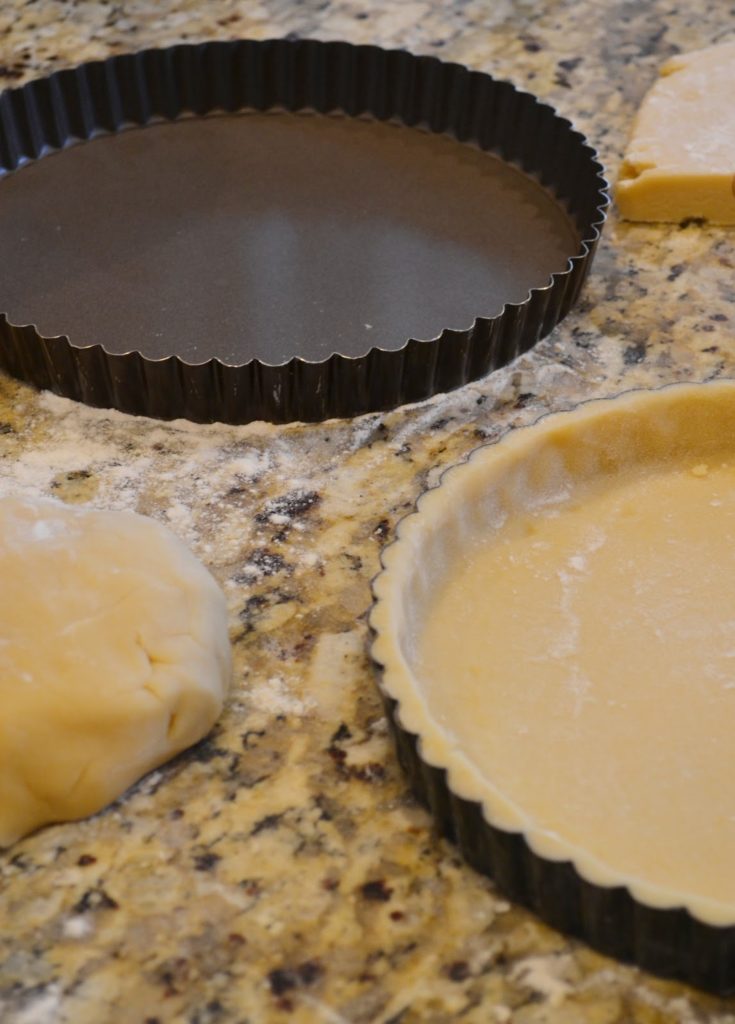 Hopefully you will have time to prepare something nice for the holiday, if you celebrate it. If you don't, this is still a great tart for any special occasion. Or just because – just because tarts are great too. If you don't have a tart pan, you can use a pie pan, but it will not be the same shape and the measurements for everything will be different. I recommend a tart pan, though, because it looks so pretty with the fluted edge. Otherwise it's just a pie. Believe me, nothing is wrong with just a pie, but an Apple Almond Tart makes it sound a little more special.
Apple Almond Tart
Love & Confections original recipe
Tart Dough Ingredients*:
– 560 grams All Purpose Flour
– 225 grams Butter, cold and cut in small cubes
– 225 grams Confectioner's Sugar
– 5 grams Salt
– 158 grams Eggs (roughly 3 large eggs)
Tart Dough Directions:
– Combine first 4 ingredients into the bowl of a stand mixer. Using the paddle attachment, on a low speed, mix the ingredients until the Butter becomes pea-sized and the mixture feels somewhat like sand.
– Add the Eggs, half at a time, and mix until combined. This is a very sticky dough.
– Once mixed, enclose the dough on plastic wrap, shaping it into a rough circle, and let it rest in the refrigerator for at least 2 hours.
– After the dough has chilled and rested, roll the dough out on a floured work surface. Gently place the dough in the tart pan without stretching it. Press it to the bottom, in the corners, and up the sides. Dock the dough, line it with a piece of parchment on it and pie weights or beans, and par bake it for 10 minutes. Remove the parchment and beans and let cool. The tart shell can me made ahead and frozen.
Frangipane Ingredients*:
– 16 ounces Almond Paste
– 100 grams Sugar
– 195 grams Butter, room temperature
– 30 grams Almond Meal/Flour
– 250 grams Eggs (5 large eggs)
– 115 grams Flour, sifted
Frangipane Directions:
– This can be made while the dough is resting.
– Combine Almond Paste, Sugar, Butter and Almond Flour in the bowl of a stand mixer with the paddle attachment. Mix the ingredients on medium, stopping and scraping down the sides of the bowl every few minutes.
– While on low, add in the Eggs one at a time, making sure the Egg is thoroughly mixed in before adding the next. Scrape the sides of the bowl to ensure that everything is mixed properly
– Add in the Flour and mix on low until incorporated.
– Refrigerate mixture until ready to use, or divide into freezer bags as stated above.
Other Ingredients:
– 3 Granny Smith Apples
– Cinnamon Sugar (optional)
– 1/4-1/2 cup Apricot Jelly
Tart Assembly:
– Preheat oven to 350F.
– Measure 300 grams of the Frangipane into the tart shell. Using an offset spatula, spread and level the Frangipane. Peel and core the Granny Smith Apples. Slice them, either by hand or with a mandolin, thin enough so they are flexible and can be layer in a pattern on the frangipane.
– Bake for 40-50 minutes, until you stick a knife under the apples into the frangipane and it comes out clean (like a cake).
– Remove the tart from the pan and place on a cardboard cake round. Sprinkle with Cinnamon Sugar if desired.
– Warm the Apricot Jelly in a saucepan until liquid. You will need to add a few tablespoons of water, one at a time, to the jelly, so it doesn't burn or darken too much.
– Using a pastry brush, brush the tops of the apples with the Apricot glaze. This is best done right before serving. Keep refrigerated if not serving immediately.
– Another option is to fully prepare the tart and freeze before baking. The baking time will be increased slightly, but all you need to do is pop it in the oven and bake!
– Enjoy!

*this recipe makes enough for 2 tarts

Until next time,
LOVE & CONFECTIONS!