Baked Ricotta Dip is the perfect accompaniment for a fruit and cheese tray. Pair it with gluten-free crackers for a delicious back-to-school snack that everyone can enjoy!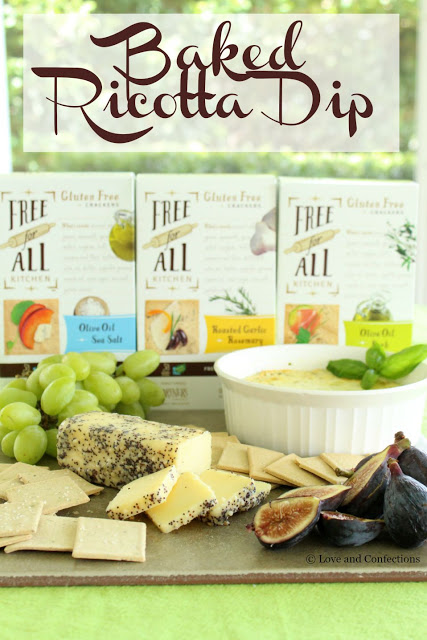 I was compensated by PARTNERS, A Tasteful Choice Company, for my time in creating this post.
All opinions are my own.
Back-to-school is a great time to have an informal gathering for parents (and kids) to either reconnect or introduce yourselves if your children have changed grades or schools. With the rise and awareness of allergies and intolerance, when a guest is invited to your house, you want them to be comfortable and enjoy themselves. One way to do that is to have plenty of options, like cheese, fruit and gluten-free crackers.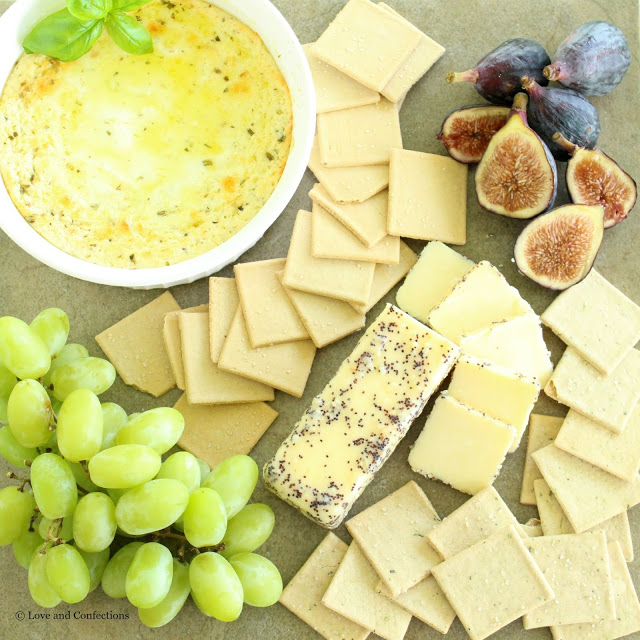 6 Tips for Gluten-Free Entertaining:
Educate yourself. Our household is not gluten intolerant, but we have many friends that are. I always check with guests if there are certain foods they prefer or stay away from, so I am prepared and not rushing last minute to come up with something our guests can eat.
Cook from scratch. Gluten can be in a lot of places you wouldn't expect, or don't realize, like salad dressings and marinades, mixes, soy sauce, some bulk bin foods, and cooking spray. When I have a gluten-free guest, I make sure I read all the labels carefully and try to cook from scratch. Some ingredients to avoid are wheat, barley, malt, or rye. Again, double check with your guests what they can and cannot eat.
Involve your guests. Entertaining is always easier when everyone helps. Sometimes a parent feels more comfortable bringing something they can guarantee their child can eat. If they want to bring their favorite gluten-free dish, be gracious and thank them – it's never a bad idea to have extra food.
Have options. It's always nice to have a variety of food at party. Focus on naturally gluten free foods like fruits and vegetables, meats, seafood, beans and legumes, eggs, most dairy products, potatoes, rice and other starches like quinoa, amaranth, and more.
Avoid cross-contamination. Sometimes when preparing food, things can get a bit messy and unorganized. Don't rush, keep gluten-free food separate, and cook it first, if you are also serving other food that may have gluten. You can also make festive labels for the party, so everyone knows what is or isn't gluten-free.
Dessert options. Sometimes, for gluten-free friends, dessert can be overlooked. It's always good to have a gluten-free dessert option, like flourless chocolate cake, poached fruit, gluten-free cookies or ice cream.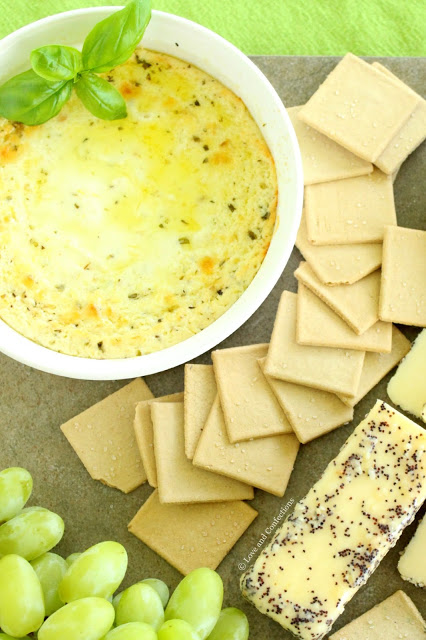 I created a Baked Ricotta Dip and paired it with two of PARTNERS Free for All Kitchen Gluten Free Crackers – Olive Oil & Sea Salt and Olive Oil & Herb. They also have another cracker flavor, Roasted Garlic & Rosemary, which would be perfect with hummus!
The newest addition to the Free for All Kitchen product line are the Brownie Thins. They are deliciously amazing, have a great chocolate flavor and are gluten free! The Brownie Thins are perfect on their own, with a cold glass of milk, but would be amazing as a s'more or with a sweet dip. All their products are made with cassava root flour and a blend of five ancient grains: amaranth, quinoa, millet, sorghum and teff, and are GMO-Free. You can find more about their products on their Facebook page as well.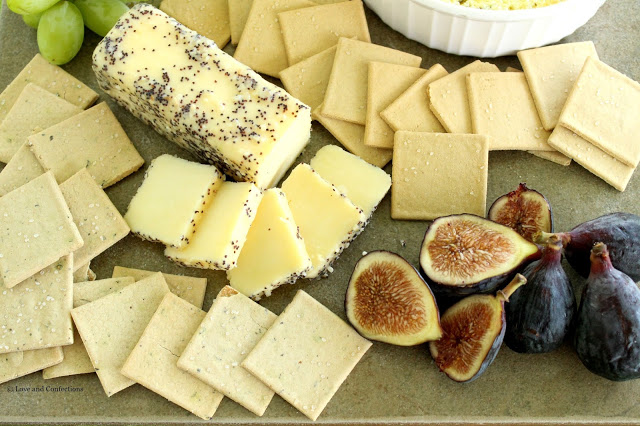 Baked Ricotta Dip
A Love and Confections original recipe
Click here for a printable recipe
Baked Ricotta Dip Ingredients:
– 2 cups Ricotta Cheese ( I used whole milk ricotta)
– 1 teaspoon minced Basil
– 1/2 teaspoon dried Oregano
– 1/2 teaspoon minced Garlic
– 2 tablespoons Olive Oil
– Salt and Pepper to taste
Baked Ricotta Dip Directions:
1. Heat oven to 350F.
2. In a medium bowl, combine the Ricotta, Basil, Oregano, Garlic and 1 tablespoon of Olive Oil. Place the ricotta mixture into an oven-safe baking dish.
3. Bake for 25-30 minutes. Drizzle with the remaining Olive Oil (optional) and serve warm.
Until next time,
LOVE & CONFECTIONS!
Disclaimer: Some of the gluten-free information in the post is from CeliacCentral.org. I am neither a doctor nor a nutritionist and do not give medical advice. Please consult your physician regarding your health. This post was sponsored by PARTNERS. All opinions are my own. For a full list of stores carrying PARTNERS products or to request Free for All Kitchen products in your local store, please search here.