Sorry this post took a little long to write – somehow these things always seem harder to put into words.
While everyone was prepping for Easter, I prepped for a different kind of party…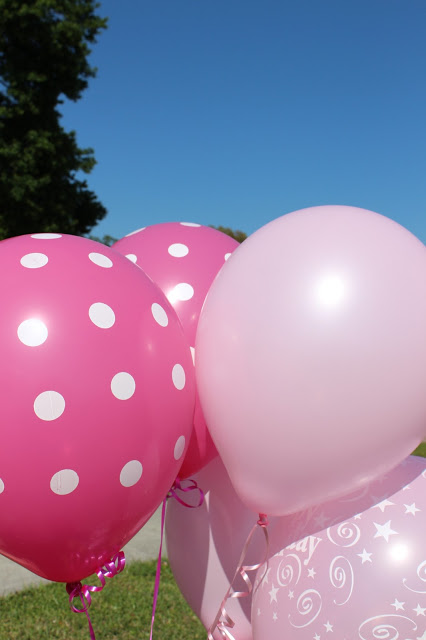 I don't remember how old I was when I finally realized I had an older sister, but she had died before I was born. My family and I visited her grave often and we all saw her little baby picture every day. I knew that she was my sister, but I was too young to actually understand what it all meant. The day it became a reality, I was sitting in the kitchen and I started to cry uncontrollably. I couldn't believe I had a sister, and that I would never get to meet her, or play with her, or grow up with her.
That was when Mom decided that we celebrate her, instead of cry about it, and that's what we did. Every year on her birthday, we would send pink balloons to Heaven – one balloon for each year, however old she would have been.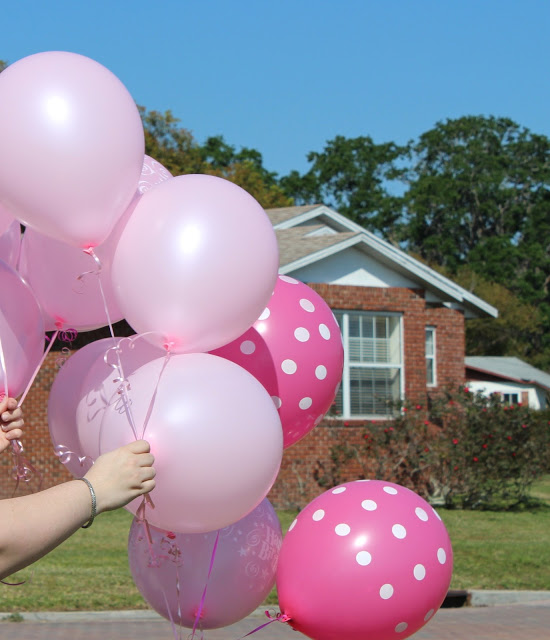 I would get so excited for her birthday. KB and I would help Mom pick out balloons – sometimes all pink, different shades of pink, or a pink and purple combination. It was the only thing we could do to make it special, so it had to be perfect. Most of the time, we went to the cemetery to let them go.
On one of her teenage birthdays, Mom decided that we should let them go at home, because of the inclement weather. The sky was dark gray and looked like a bad storm was coming. Since we had a lot of balloons, the party store employee separated them into two groups and tied the strings together. The wind was furious, and we struggled with the balloons.
In our driveway, Mom and KB let go of one set of balloons. They floated away, tied together, on their journey to Heaven. My turn came and the wind picked up. My set of balloons sailed right into our neighbor's tree, tied together, and stuck on one of the top branches. Up to that point, I had never felt so much panic in my life. She NEEDED her balloons on her birthday.
Mom got out an 8 foot ladder, but couldn't reach. She got a 12 foot ladder, but couldn't reach. She got the pool net, standing on top of the 12 foot ladder and still couldn't reach. As a last-ditch effort, she duct-taped a broom to the pool net, on the ladder, swaying in wind… all while I was crying my eyes out. It finally worked! She managed to free the balloons – a few had popped from the branches – but they were free!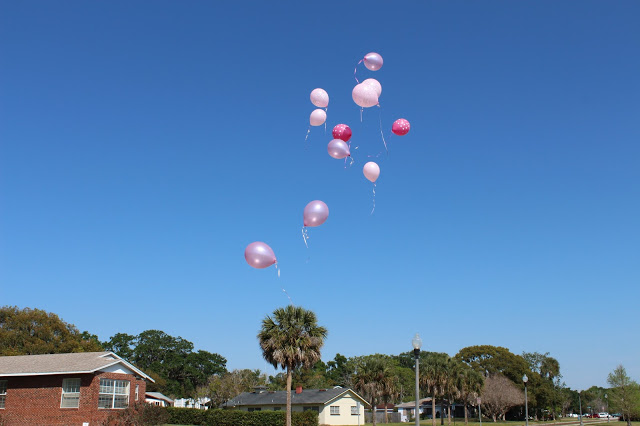 We can laugh about it now, at how ridiculous and dangerous everything was. My Mom is my hero – for this and many other things. She made sure my Sister got her birthday balloons. To this day, we always make sure we are in an open area and don't have them tied together.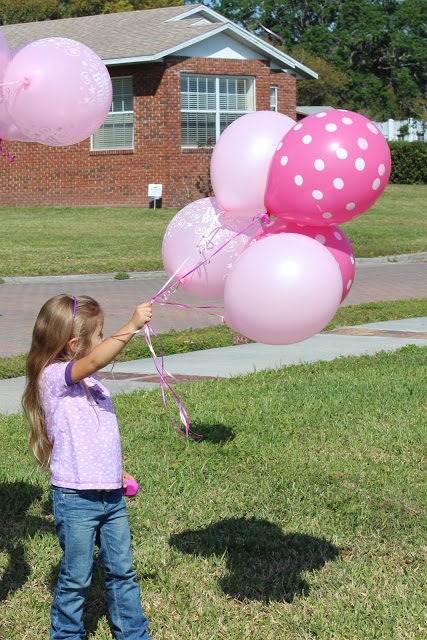 Little E & Thelma helped with the balloons. So thankful to have such great friends.
Last Saturday, March 30th, her 30th Birthday, my Family and I released 30 pink balloons (and 1 gold one, since it would have been her golden birthday) for my Sister. 15 from Raleigh, NC, where my Parents and KB live, and 15 from me in Orlando, FL. Even though we never met, she is a huge part of my life. She has always been remembered and missed at every holiday and major life event, but we know she is always there with us in Spirit.
There is barely a day that goes by that I don't think about my Sister, my Angel. Happy Birthday Elyse!
Until next time,
LOVE & CONFECTIONS!