This isn't an average banana bread. This banana bread contains the most delicious filling possible – Nutella!
Nutella® (pronounced "new-tell-uh") is a spread made from roasted hazelnuts, skim milk and a hint of cocoa. It was created by a pastry maker, Pietro Ferraro, who founded the Ferraro Company in Italy. Nutella has no artificial colors or preservatives, is kosher, and gluten-free (does not contain any ingredients derived from gluten containing cereals: wheat, barley, rye, oats or triticale.) More information can be found at the Nutella website.
The banana bread recipe I used, is from a cookbook that is almost as old as I am. In 1988, my great-aunt, Anne, was the editor-in-chief volunteer for the A Taste of South Florida cookbook, in which the proceeds benefited the American Cancer Society. The forward says it best…
From the golden skyline of the Palm Beaches…the balmy breezes of Broward County… the magic of Miami… the tropical temptations and harvests of fresh produce of the Homestead/South Dade areas… through the dazzling Florida Keys where playful porpoises are on parade… this is the panorama of South Florida. Our cooking heritage has included the most intriguing combinations of traditions and the cosmopolitan. Our South Florida past with the scent of Spanish senoritas in mantillas… a trace of the Caribs… and spice from the Seminoles… make our cooking distinctive and different. The abundance of fresh fruits, vegetables, fish and game… the unusual flavor combinations… blending the old and the new… makes our South Florida cooking colorful and exciting.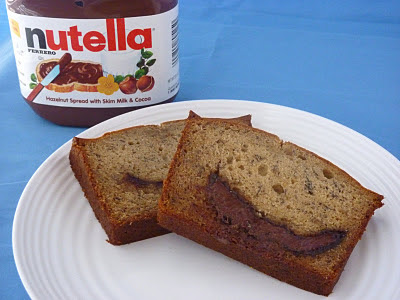 The Nutella is smiling at me… live and learn – swirl next time.
This cookbook belonged to Booboop. I'm not sure our family has used any other banana bread recipe, since both she and my Mom each received this book, . The cover is fading, the pages are thumbed through and stained. The paper clip she used to bookmark the recipe is still in its place, after all these years. Her handwriting is in the margins, making notations about this recipe.
I was fortunate enough to inherit her copy of the book. The work my great-aunt put toward the cookbook, gathering and creating recipes to help the American Cancer Society, makes it even more special.
adapted from A Taste of South Florida
Nutella Banana Bread Ingredients:
– 1/2 cup Shortening
– 1 & 1/4 cups Brown Sugar
– 2 Eggs
– 2 cups Flour
– 1 teaspoon Baking Soda
– 1/4 cup Buttermilk or Sour Milk*
– 1 teaspoon Vanilla Extract
– 3 extra ripe Bananas, mashed
– 1/3 cup Nutella
*to make Sour Milk, add 1/2 teaspoon lemon juice to regular milk, stir, and let sit for a few minutes
Nutella Banana Bread Directions:
1. Preheat oven to 350F. Grease and flour (or whichever method you prefer) 1 loaf pan or 4 individual-size loaf pans
2. Sift together Flour, and Baking Soda and set aside
3. Cream Shortening and Brown Sugar.
4. Add Eggs, one at a time, making sure it is fully incorporated before the next one is added. Scrape down the sides of the bowl to ensure everything is mixed properly.
5. Add sifted Flour to the mixture.
6. Add in Sour Milk, Bananas, and the Vanilla Extract. Scrape down the sides of the bowl to ensure everything is mixed properly.
7. Pour half of the batter into your loaf pan. Spoon the Nutella over the batter. You can leave the Nutella in the center, or with a knife, swirl the Nutella into the batter. My Nutella pretty much sank to the center, so I would recommend swirling it in… live and learn.
8. Pour the remaining batter into the loaf pan.
9. Bake for 1 hour, or until a tester inserted into the cake comes out clean (remembering that you have Nutella in the center)