Don't forget to visit my Food Blogger Brunch Week Post to see the AMAZING prizes for #BrunchWeek and enter to win these FABULOUS prizes below in the Rafflecopter (ARV $1800)! This week I have posted a great Blood Orange Mimosa recipe, a recipe for Tomato and Mozzarella Quiche, Almond Croissants and Crumb-Top Blueberry Muffins – so good! Happy Brunching!!!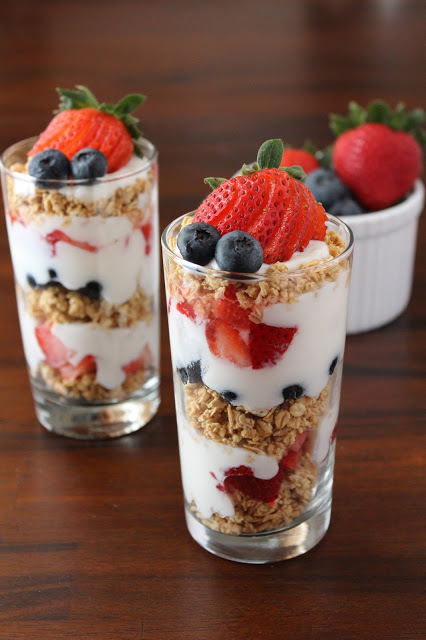 After all the heavy and sweet items, I decided to go a little healthier for today's post – Berry Parfaits! This is such an easy recipe to put together. You can have it for any meal any time of the day – breakfast, brunch, afternoon snack or even dessert.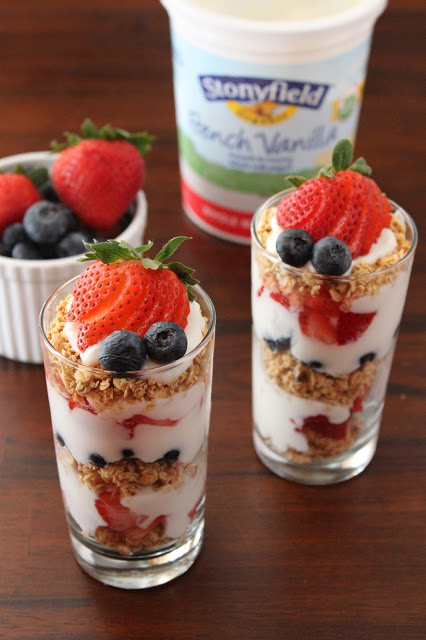 The crunchy Granola is great with the creaminess of Stonyfield Organic's French Vanilla Yogurt. The Strawberries I had were slightly tart, but balance by the sweetness of the Blueberries I picked a few weeks ago.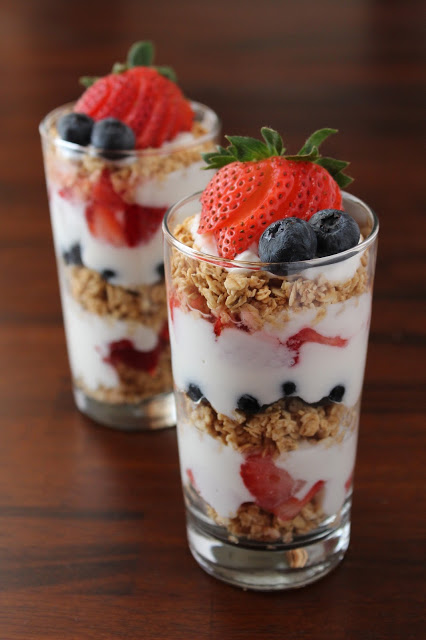 Berry Parfaits
a Love and Confections original recipe
serves 2
Berry Parfait Ingredients:
– 1/2 cup Granola*
– 1 cup Stonyfield Organic French Vanilla Yogurt
– 1/2 cup Strawberries, diced plus more for garnish
– 1/4 cup Blueberries
Berry Parfait Directions:
– Starting with the Granola, layer about 2 tablespoons in the bottom of your glass. Followed by 1 tablespoon of Strawberries and 2 tablespoons of Yogurt. Repeat the layers, alternating strawberries and blueberries for the fruit part, until you reach the top.
– Place a dollop of Yogurt on top, a sliced Strawberry and 2 Blueberries for presentation. Eat immediately
*for a great homemade Granola check out Blueberry Granola by Katie's Cucina
Today's Brunch Recipes from participating #BrunchWeek Food Bloggers
Brunch Drink Recipes

Breads, Grains, Cereals and Pancake-type Yums

Brunch Egg Recipes

Potato Recipes for Brunch

Meat, Poultry, Fish and Legume Brunch Recipes

Brunch Dessert Recipes

Until next time,
LOVE & CONFECTIONS!
Disclosure: I have not been given any monetary compensation for this post or any #BrunchWeek post involving the above sponsors and/or prizes. Samples and bits of promotional material have been given to me, not exceeding a value of $100 total.