This shop has been compensated by Collective Bias, Inc. and its advertiser. All opinions are mine alone. #SnackPackMixins #CollectiveBias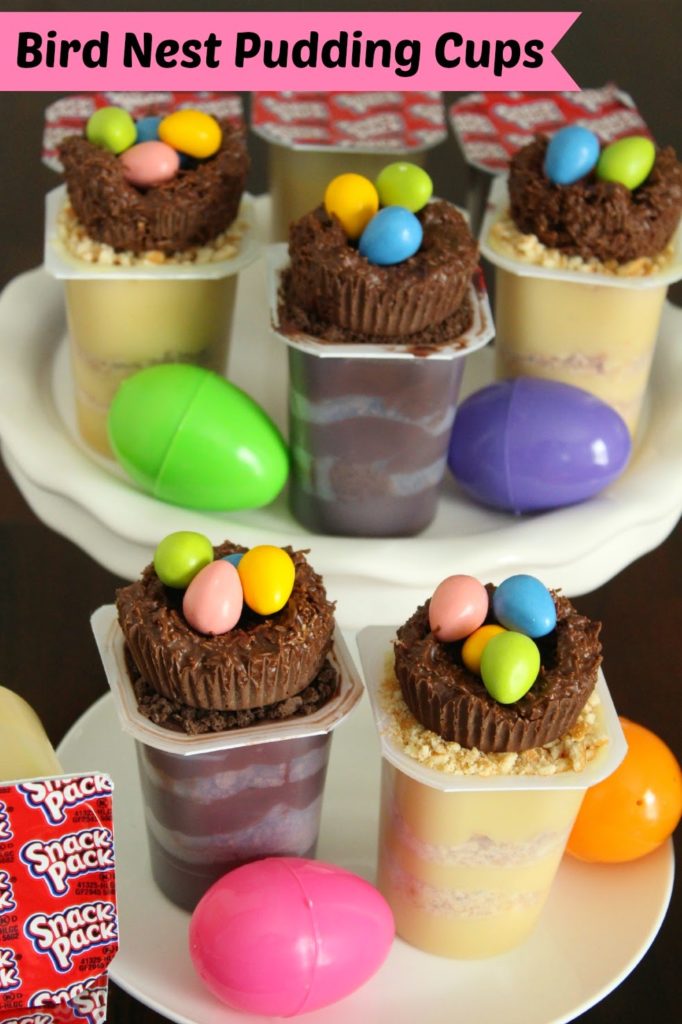 Easter is just around the corner and Spring is in the air! I love holidays because family gathers, we eat a great meal, and I get to decorate. I love decorating for every holiday, Easter especially, because we get to dye eggs, bake Easter Bread and have all sorts of good desserts. These Snack Pack Pudding Cups are perfect for a cute (and easy) Easter dessert.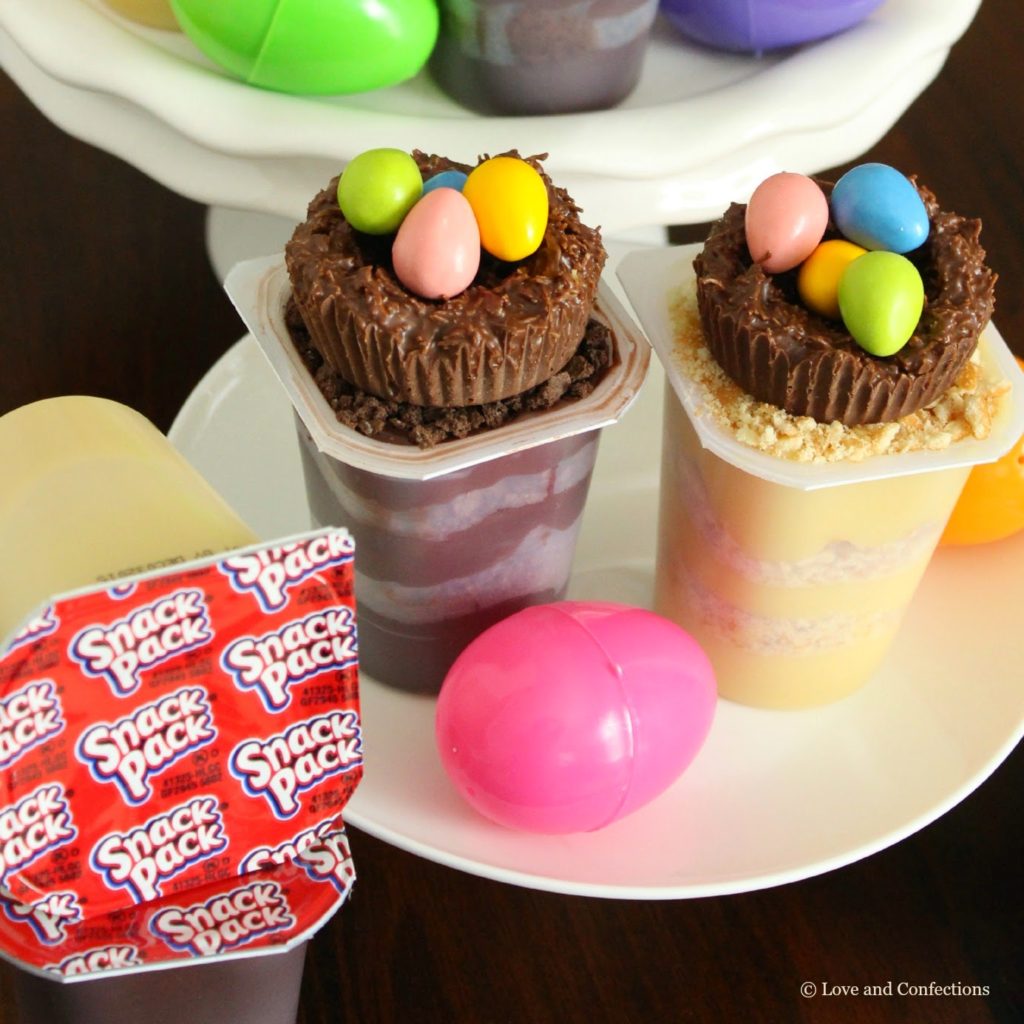 While I love making layer cakes and tarts, not all holiday desserts have to look like they came out of a pastry kitchen. I may have every intention of making desserts like that, but with Toddler L&C on the loose, my pastries don't always happen. That's why I love being able to make cute desserts from items I find during a Walmart shopping trip.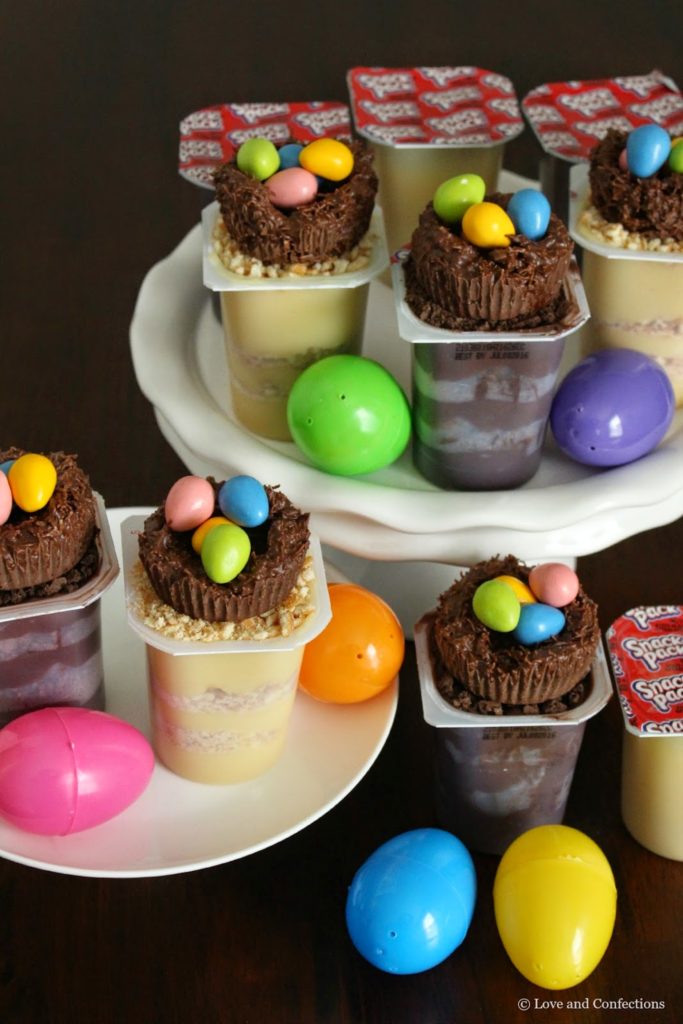 Easter candy is a great way to liven up your Snack Packs. Just pull the easty-to-open lid, add some candy and you have a special treat. There are so many decorating options that you can make personalized desserts for everyone at Easter. You can find these Snack Packs at a special display in your local Walmart. The display even has some recipes available for you to take home with you. What would you put in your Easter #SnackPackMixins ?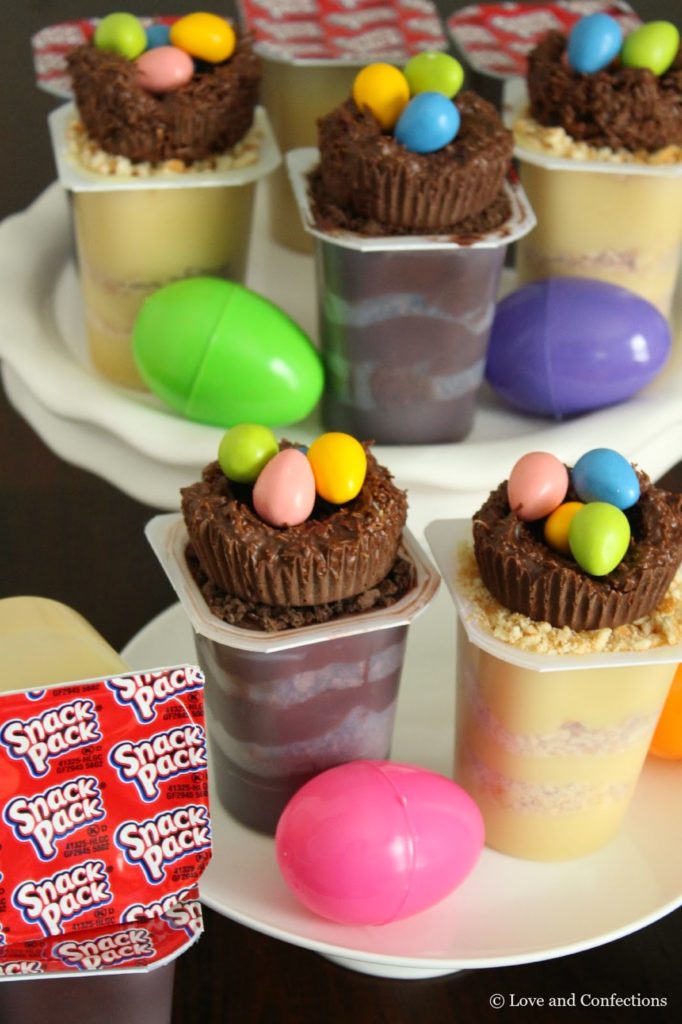 Gather all the ingredients you need to make the layered Bird Nest Easter Pudding Cups.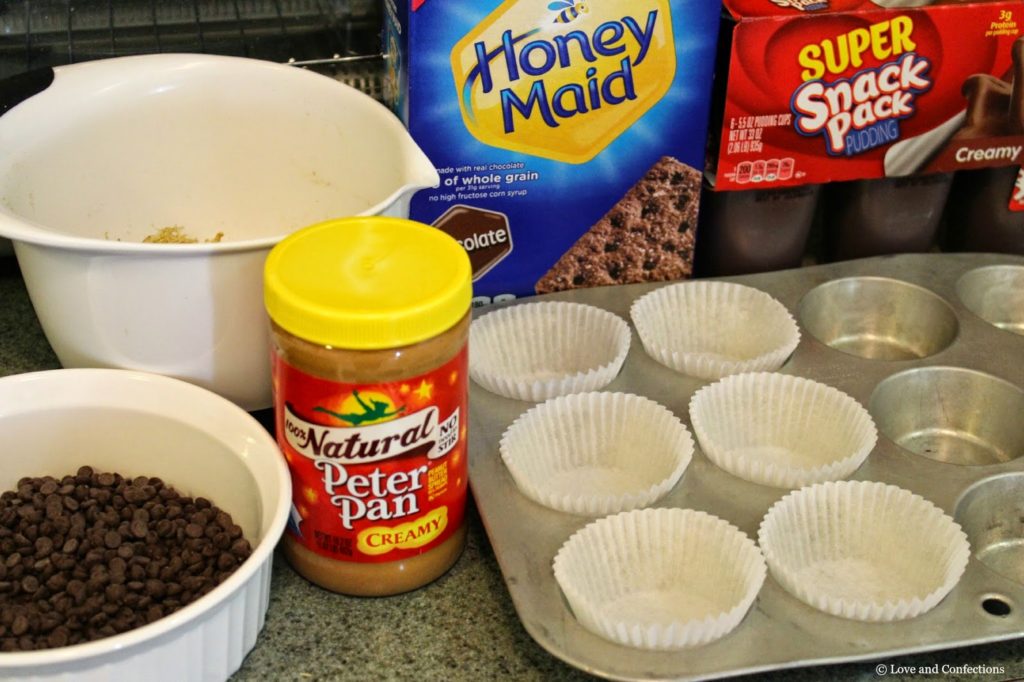 Melt the chocolate and peanut butter and mix into the shredded wheat.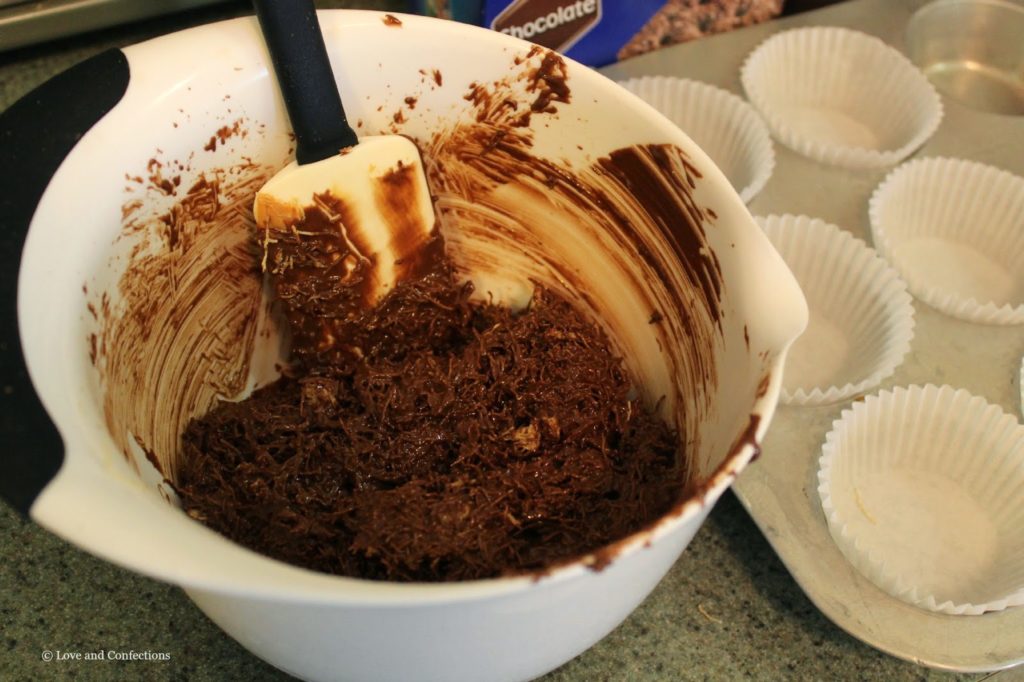 Scoop the mixture into paper cups and use the back of a wooden spoon to create the center.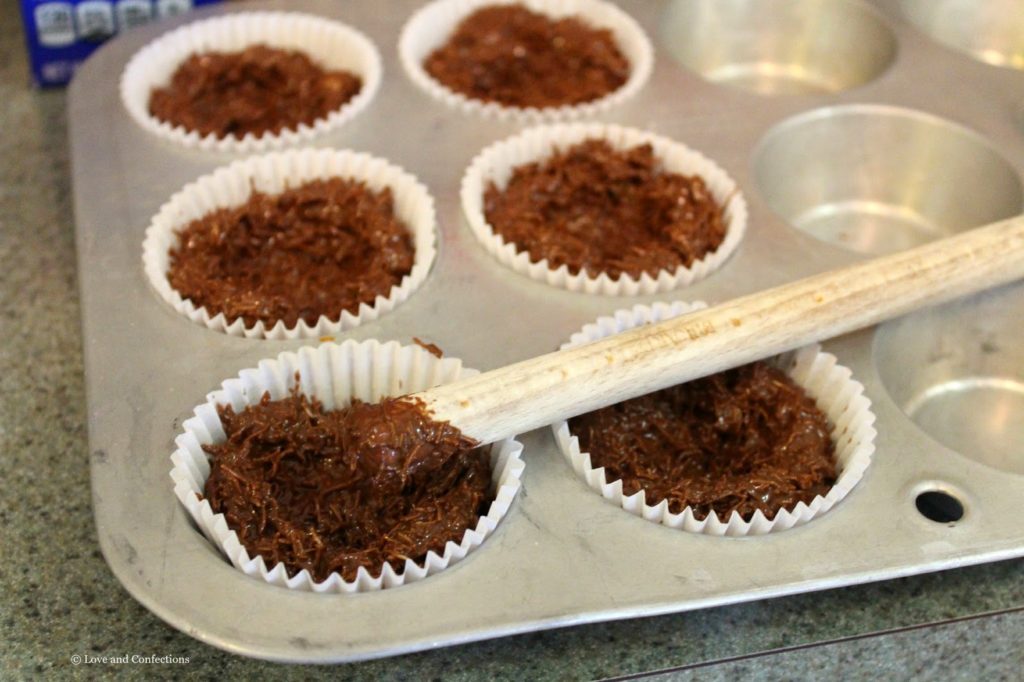 Crush the Grahams and Nilla Wafers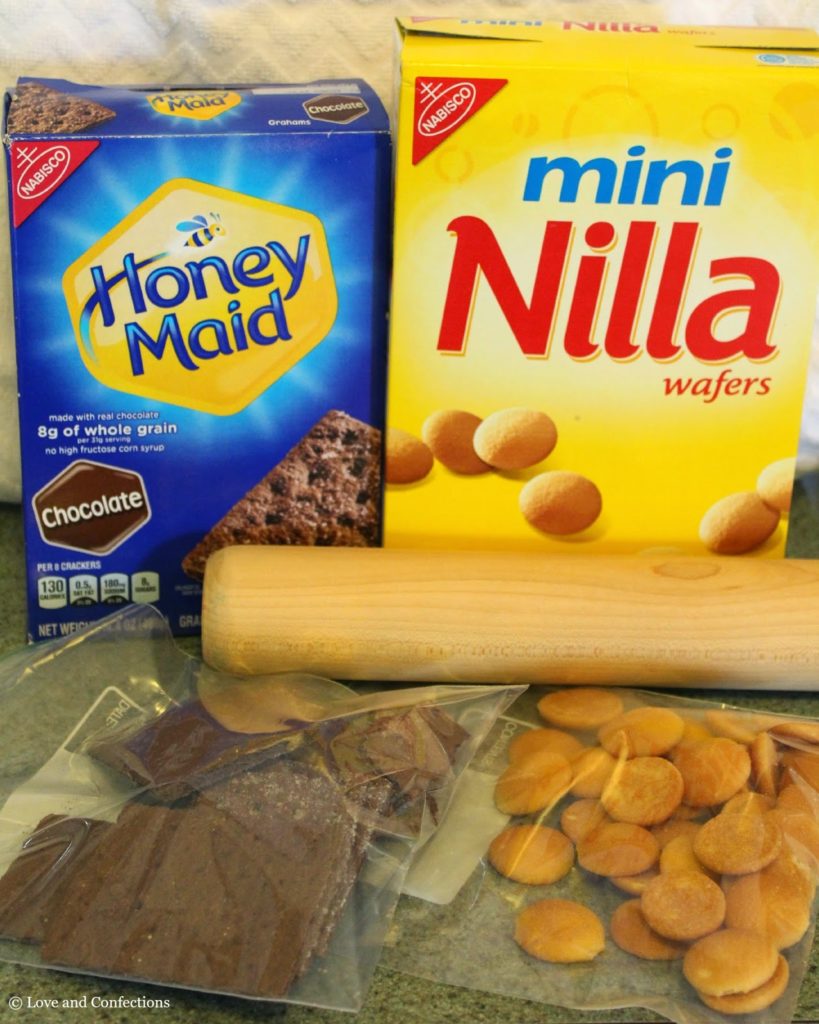 Place pudding into a piping or plastic gallon bag for filling cups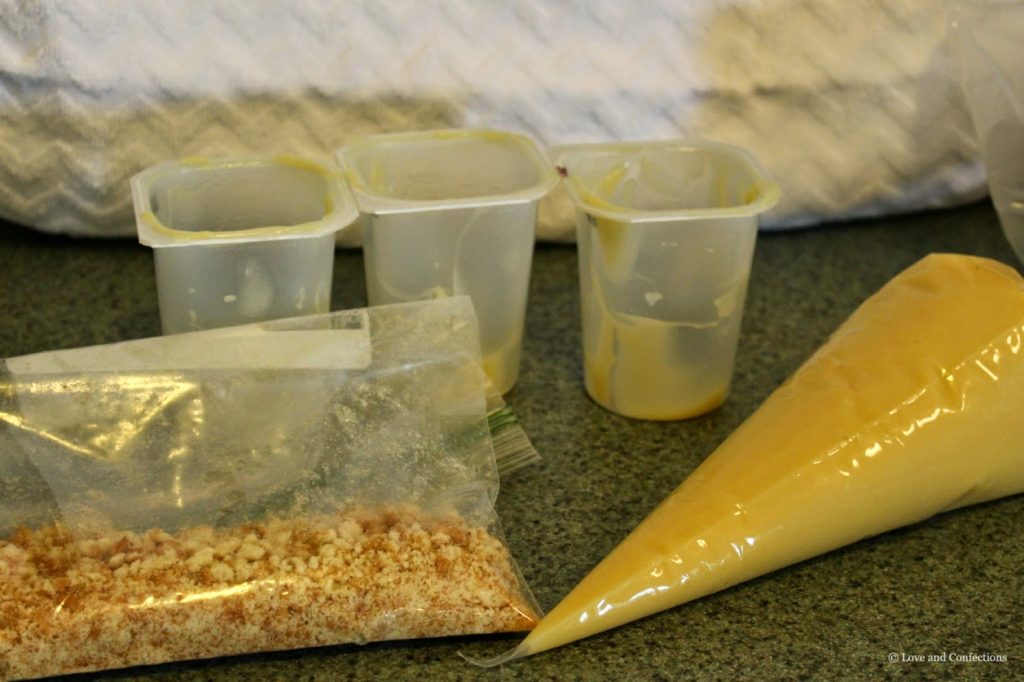 Alternate layers of pudding and cookies. Use Nilla Wafers for Vanilla Snack Packs and Chocolate Honey Maid Grahams for Chocolate Snack Packs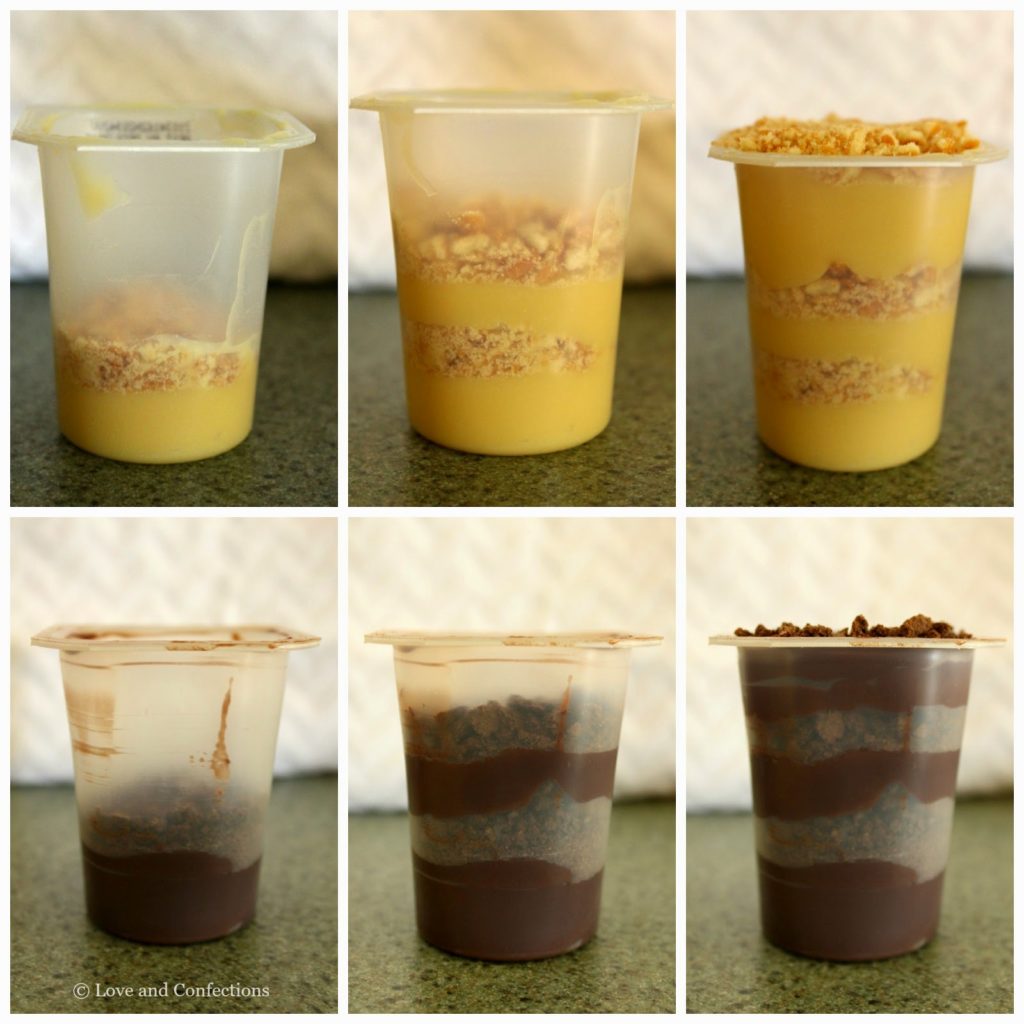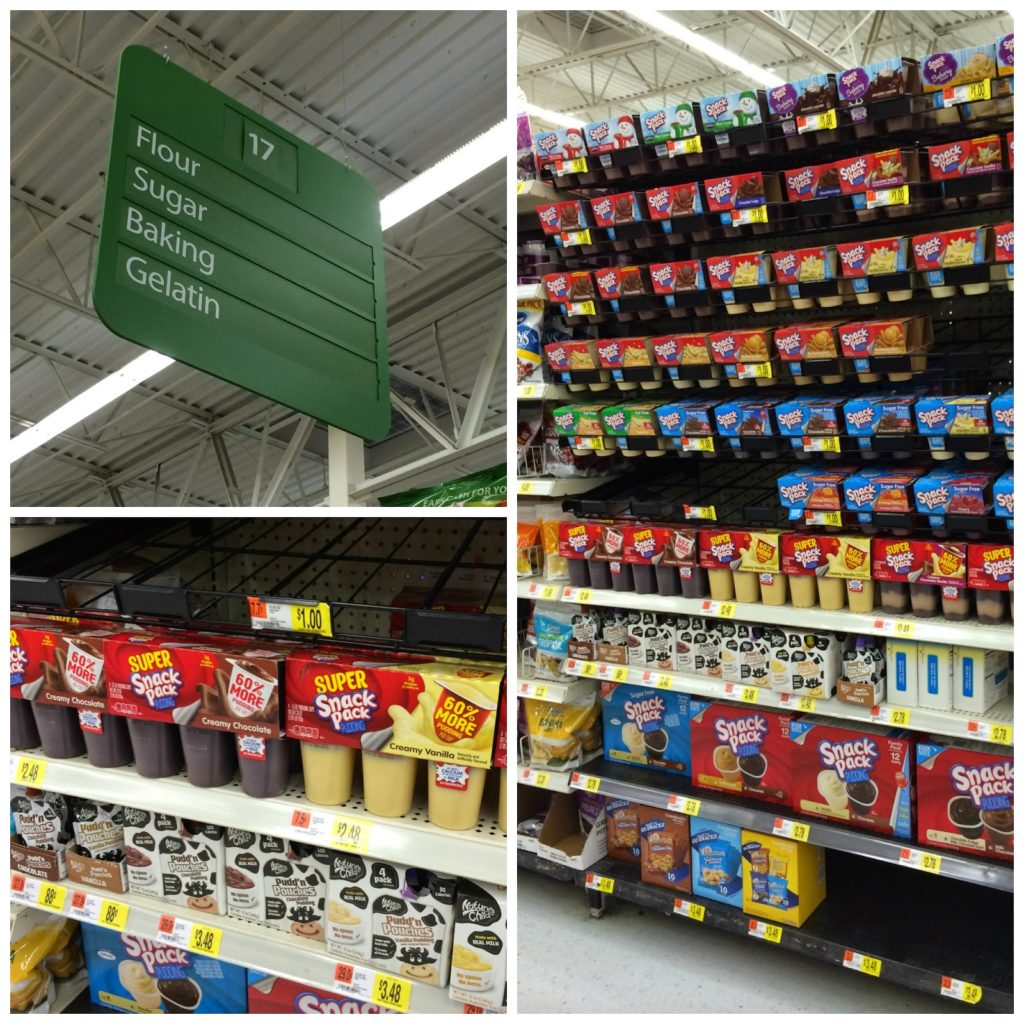 Bird Nest Easter Pudding Cups
A Love and Confection original recipe
Click here for a printable recipe
Bird Nest Easter Pudding Cups Ingredients:
– 4 large Shredded Wheat Biscuits, crushed
– 6 ounces Chocolate Chips
– 1/4 cup Creamy Peanut Butter
– 6 Snack Packs
– 40 Mini Nilla Wafers, crushed
– 4 Chocolate Honey Maid Grahams, crushed
– Candy Bird Eggs
Bird Nest Easter Pudding Cups Directions:
1. Crush the Shredded Wheat Biscuits into a bowl. Melt Chocolate Chips in the microwave for 1 minute, stirring after every 20 seconds. Add Peanut Butter into the chips and heat for another 15-45 seconds, stirring after every 15 seconds. Be careful not to overheat. Line a cupcake tin with wrappers.
2. With a spatula, mix the Chocolate-Peanut Butter mixture with the Shredded Wheat until completely combined. Scoop into the cupcake tin and create a center with the end of a wooden spoon. Refrigerate until hard.
3. Place the Nilla Wafers into a plastic sandwich bag and crush. Place the Grahams into a plastic sandwich bag and crush. Scoop Pudding into piping bag or plastic gallon bag. Alternate layers of pudding and cookies. Place the Bird Nest on top and garnish with Candy Eggs. Enjoy!
Until next time,
LOVE & CONFECTIONS!