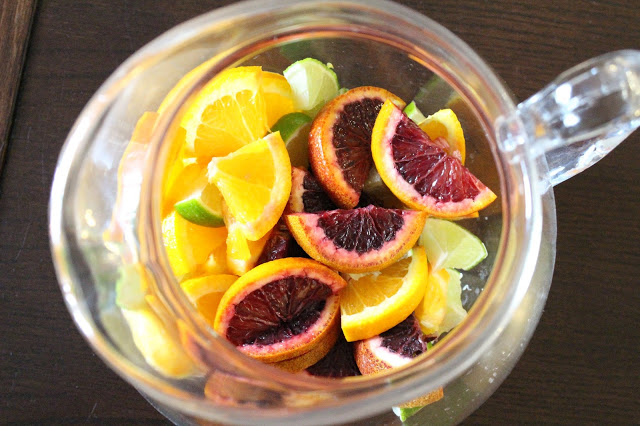 Yesterday was "Girl's Day". Every couple of months – because monthly never tends to work out – Thelma, Susan and I, along with three other friends, plan a day where we get together. One of our favorite Girl Day adventures is Epcot's Food & Wine Festival, which we have gone to regularly for a few years now.
This month, we did movie day at Lolo's house. Everyone brought a dish, drink, dessert, or in my case, all three. Lolo's Birthday is Tuesday, so I made red velvet cupcakes to celebrate. Everyone always requests my Buffalo Chicken Dip – which isn't really a secret recipe, since it's on the back of the buffalo sauce bottle – but I doctor it up a bit.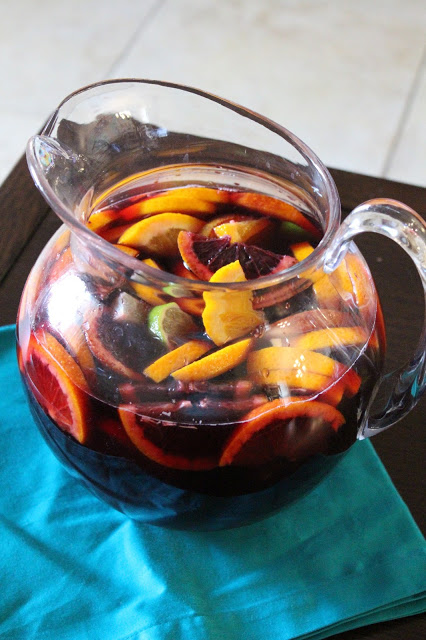 It isn't a Girl's Day without some form of "adult beverages". I had a few Blood Oranges from a recent trip to the farmer's market and thought they would be perfect for sangria. For this recipe, you can either by a pre-made sangria and add to it, or make your own from scratch. Either way it is delicious.
Sangria is usually made with red wine, fresh fruit, and sparkling water or citrus-flavored soda. There are no set rules when it comes to making sangria. Everyone has their tried and true, go-to recipe. The fruits vary, the wines can be cheap budget-friendly, and you can add your own spin on it with sweeteners, juice, additional liquor, and garnishes.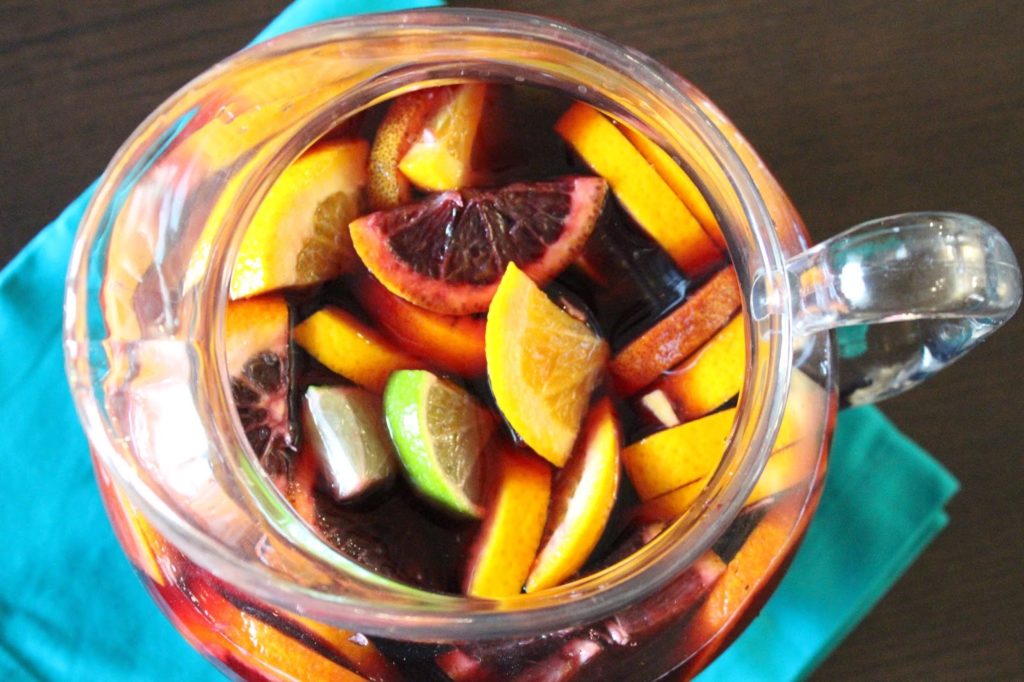 Blood Orange Sangria
a Love and Confections original recipe


Blood Orange Sangria Ingredients:
– 1.5 liters of your favorite Red Wine, preferably one with citrus notes (read the labels, they're helpful) or a pre-made bottle of red Sangria.
– 750 milliliters all natural Blood Orange Soda (I use this one)
– 2 Blood Oranges
– 1 large Orange
– 2 Limes
Blood Orange Sangria Directions:
– Chill Red Wine, Blood Orange Soda and Citrus for at least an hour before making the Sangria.
– Slice, then quarter both Blood Oranges, the regular Orange and one Lime. Place pieces in pitcher. Juice the second Lime into the pitcher.
– Pour in the Red Wine and the Blood Orange Soda. Stir to combine and enjoy. Best if consumed within 4 hours.
Until next time,
LOVE & CONFECTIONS
Disclaimer: Please Drink Responsibly. This recipe is intended for those who are 21 years of age or older. There are external links.