This post was sponsored by Fresh From Florida as part of an Influencer Activation for Influence Central, however, all opinions expressed are my own.
Fresh Blueberry Lemon Cupcakes with Cream Cheese Frosting is one of my favorite Spring desserts!


Cupcakes make me happy, and baking cupcakes with
Fresh From Florida
blueberries is the first thing I make when blueberry season comes. Lemon and blueberry are a match made in Heaven and I knew a blueberry lemon cupcake would be a hit with everyone. The cupcakes turned out fabulous, and I was able to share some with our neighbors too. They raved about them – so glad everyone loves these as much as I do!
The cream cheese frosting is literally the 'icing on the cake'. There is something really great about the mixture of tart and sweet when it comes to blueberries, lemon and cream cheese. These flavors compliment each other so well.
When I made the cupcakes, I put a few aside and added purple sprinkles for the Little One; because you can never have too many sprinkles, right? The rest got decorated with simple fresh blueberries and a small sprig of mint for color.
I experimented with two different kinds of baking cups. One was a colorful grease-proof liner and the other was my normal white baking cups. While the purple grease-proof looked beautiful, you can't see the blueberries in the actual cupcake. I mixed them up for the photos, just so you can tell there are blueberries in the cupcake too.
If I'm not shopping for my blueberries at Publix, I am picking them in a Fresh From Florida field. Blueberry season is a much anticipated time of year. My family thoroughly enjoys all the baked goods I make, breakfast recipes, and eating blueberries by the handful.
We even keep a bowl on the counter with washed berries, so anyone can grab some throughout the day. It is a healthy, fresh and delicious snack that the whole family enjoys. Blueberries end up in our shopping basket nearly every week.
I use them in my morning smoothie and also pack some in the Little One's lunchbox for pre-K. I love blueberries on salads, making jam, and syrup too. Blueberry cocktails are also a favorite, like my Blueberry Sangria! You can use the search bar to find that recipe in the archives.
When making cream cheese frosting, a little trick I learned from culinary school will help. Sometimes the cream cheese gets clumpy when you beat the butter and cream cheese together, and it doesn't create a nice, smooth frosting. If you beat the butter first, then slowly incorporate the softened cream cheese, it should be a nice, creamy, and lump-free frosting. Also, don't forget to sift your powdered sugar!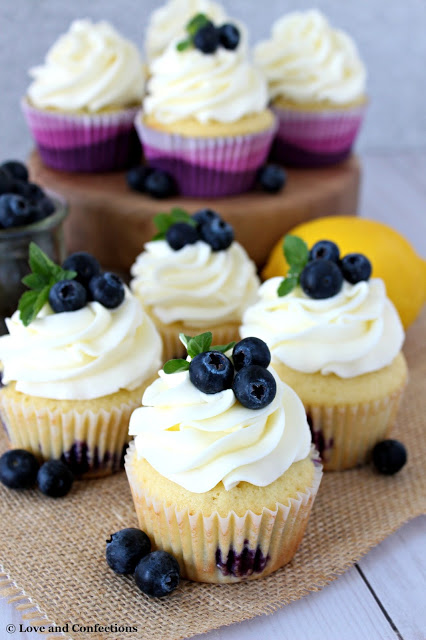 I love having seasonal fresh Florida produce, like blueberries, sweet corn, and watermelon. Florida farmers make it easy to have wonderful, flavorful, fresh produce available for everyone year-round. Whether I'm at the grocery store or in the field, I follow
the fresh
!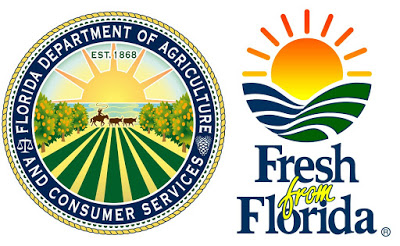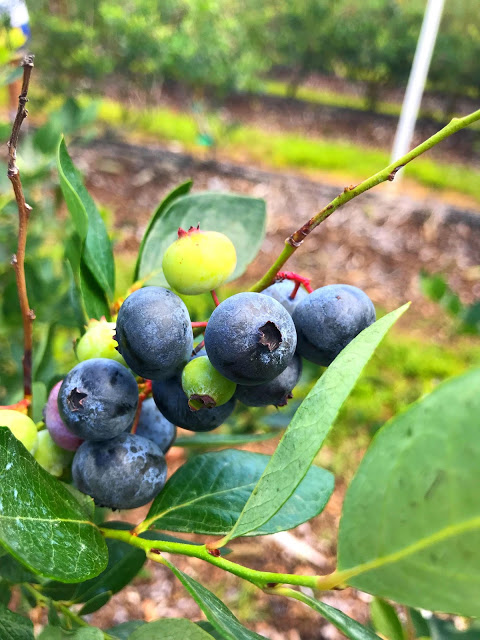 Blueberry Lemon Cupcakes with Cream Cheese Frosting
By Love and Confections
Ingredients
1 cup (2 sticks) unsalted butter, softened
1 1/2 cups granulated sugar
4 eggs, room temperature
3 cups all-purpose flour + 2-3 tablespoons
1/2 teaspoon salt
1 tablespoon baking powder
1 cup whole milk, room temperature
1 teaspoon lemon extract
1 teaspoon vanilla extract
1 1/4 cups fresh blueberries
Instructions
Heat oven to 350F and line cupcake tins with baking paper.
With a stand or electric mixer, beat butter and sugar on medium until light and fluffy. Add in eggs, one at a time, scraping down the sides of the bowl after each addition.
In a medium bowl, whisk together 3 cups flour, salt and baking powder and set aside. Combine milk and extracts in a measuring cup and set aside.
Alternate the flour and milk mixture, in 5 additions, beginning and ending with the flour.
In a small bowl, toss the freshly washed blueberries into 2-3 tablespoons of flour, so the berries are coated. Gently fold them into the batter.
Scoop batter into muffin tins, filling about 2/3 in each cup. Bake for 16-18 minutes, or until the top is springy and a cake tester inserted into the center comes out clean. Allow to cool in pan for 10 minutes, then transfer to wire rack to cool completely.
Cream Cheese Frosting
Ingredients
1/2 cup (1 stick) unsalted butter, softened
8 ounce cream cheese, softened
4-5 cups powdered sugar, sifted
1 teaspoon butter vanilla flavoring
Instructions
Beat butter for 2-3 minutes until light. Add in cream cheese and beat on low until combined. Scrape down the sides of the bowl. With mixer on low, add in powdered sugar, 1/2 cup at a time. Start with 4-4 1/2 cups, depending on humidity in the kitchen. Whip frosting on medium for 3-5 minutes. See if frosting can hold a soft peak – if not, add in remaining powdered sugar and mix again. Refrigerate frosting for 2-3 hours.
Prepare piping bag with large open star tip. Pipe frosting onto cupcakes and top with either fresh blueberries or sprinkles!
Yield: 26 cupcakes
Until next time,
LOVE & CONFECTIONS!