Blueberry Salad with Green Onion-Poppy Seed Dressing is a family favorite. The salad has bright, bold flavors and colors, and the tangy dressing pairs perfectly with the sweet blueberries and oranges.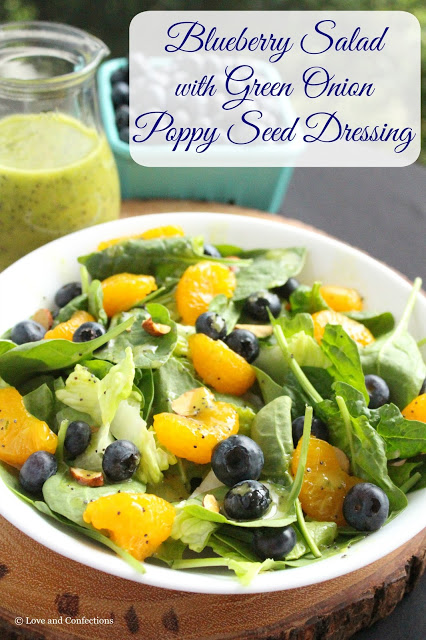 Welcome to day 4 of #BrunchWeek. My aunt introduced me to this salad. It is usually present at family gatherings, including brunch, and I love its versatility. You can definitely customize it with different fruits, vegetables and nuts, depending on the season. Blueberry season just started here in Florida, and we have already been out in the field picking blueberries. Well, I did the picking, #ToddlerLnC showed me every blueberry she picked, faked me out thinking she would put it in our bucket, then popped it into her mouth. Every. Time… toddlers…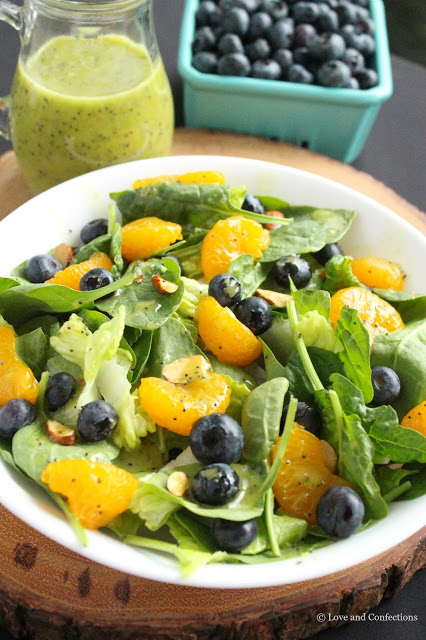 What I love most about this salad is that I am able to enter it into the #Blueberry Toss contest for the Food Wine Conference. The conference is less than 2 weeks away and I can hardly wait. One of the conference sponsors is Wish Farms – a Florida Strawberry and Blueberry grower. They tasked us to create an original recipe that includes at least 1 serving of blueberries.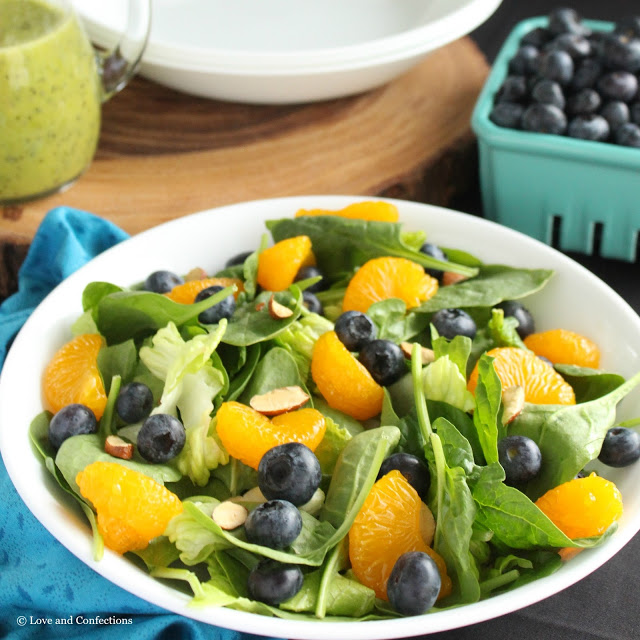 I know that this recipe is a favorite in my family, and with some tweaks of my own, this is the perfect salad for any family event – especially brunch. I hope you enjoy it as much as we do. If you are interested in joining me at the Food Wine Conference, there are still tickets available! It is a wonderful experience, with amazing food, delicious wine, fabulous speakers (did you hear our keynote speaker is Donatella Arpaia?!?!) and great sessions planned.
for $800+ in prizes!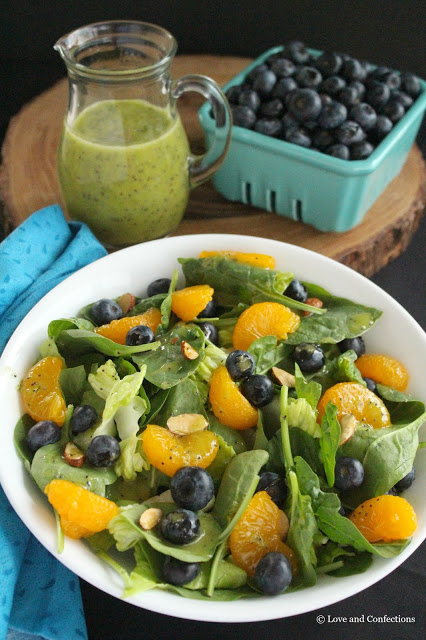 Blueberry Salad with Green Onion-Poppy Seed Dressing
A Love and Confections original recipe
serves 4-6
Blueberry Salad with Green Onion-Poppy Seed Dressing Ingredients:
Dressing Ingredients:
– 1/2 cup cider vinegar
– 1/2 cup granulated sugar
– 1 teaspoon dijon mustard
– 1/2 teaspoon salt
– 1 bunch green onions (scallions), cut into 1-inch pieces
– 3/4 cup extra virgin olive oil
– 4 teaspoons poppy seeds
Salad Ingredients:
– 1 head romaine lettuce
– 8 ounces baby spinach
– 1 & 1/2 cups blueberries
– 1 15-ounce can mandarin oranges, drained
– 1/4 cup sliced almonds or toasted sunflower seeds
Blueberry Salad with Green Onion-Poppy Seed Dressing Directions:
Dressing Directions:
1. Place vinegar, sugar, mustard salt and green onions in a high powered blender, and blend until fully combined. Slowly drizzle in the olive oil while the blender is on. Add the poppy seeds and give it a quick blend again. Can be made ahead and chilled.
Salad Directions:
1. Toss romaine and spinach in your serving bowl. Top with blueberries, oranges, and nuts. Serve dressing alongside. Enjoy!
Until next time,
LOVE & CONFECTIONS!
BrunchWeek Beverages:

BrunchWeek Breads, Grains and Pastries:

BrunchWeek Fruits, Vegetables and Sides:

BrunchWeek Egg Dishes:

BrunchWeek Main Dishes:

BrunchWeek Desserts:

Disclaimer: Thank you to #BrunchWeek Sponsors: Red Star Yeast, Dixie Crystals, Cabot Cheese, Vidalia Onion Committee, Sage Fruits, Nielsen-Massey, KitchenIQ, and Le Creuset for providing the prizes free of charge. These companies also provided the bloggers with samples and product to use for #BrunchWeek. All opinions are my own.