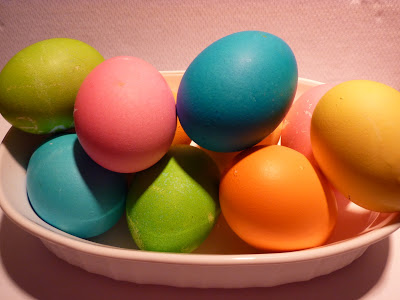 Happy Easter… or Buona Pasqua in Italian!
I'm doing the family Easter traditions on my own this year, because we can't all be together.
I still love dying Easter eggs. The $2 kit is a bargain for the joy of pulling out a dozen or more brightly colored eggs. When we were little, we only used vinegar with the color tablets. Now they now have choices for coloring methods…
For pastel colored eggs use only water with the colored tablet.
For traditional colored eggs use lemon juice and water with the colored tablet.
For ultra-vibrant colored eggs use vinegar and water with the colored tablet.
This year I decided to go with my family's "traditional" method and used vinegar. The little matching cups make dying eggs so easy, unless you can't figure out which tablet is which. I had to guess the colors 3 out of the 5 tablets and hoped I put them in the correct corresponding colored cup – which I did. Yellow, orange and green – yes, green! – look way too similar.
Another family tradition is baking and decorating sugar cookies. My mom, along with other family members, decorated cookies and dyed eggs today. I love picture text messages! My mom text messaged some pictures of her Easter cookies this year and of the table decorated for her Easter Brunch.
Another Tradition is Easter Bread. My grandmother, Grace, made it every year. She taught my mom how to make and and they both taught me when I was younger. I remember the first time I was taught how to make Easter Bread, in my mom's kitchen. I watched them make the dough and waited patiently for it to rise. I loved when the dough had to double in size, because I was the one to either put it on a table in the garage – when it was warm enough, or on top of the running clothes dryer – which always made me laugh inside. The smell of Easter Bread baking is one of my favorite smells in the whole world. I don't use anise seeds because I don't like the taste. Instead, I make the recipe without and put colored sprinkles on top.
After my grandmother passed away, making Easter Bread became more meaningful. Easter Bread is not only a way to remember her, but also to keep a tradition alive that has been passed down through our family.
Until next time,
Love & Confections!