A classic Halloween candy is transformed into Candy Corn Layer Cake! Layers of yellow, orange and white vanilla cake are decorated with buttercream, dripping with chocolate ganache and adorned with candy corn bark for a festive and fun treat!
This post is sponsored by Dixie Crystals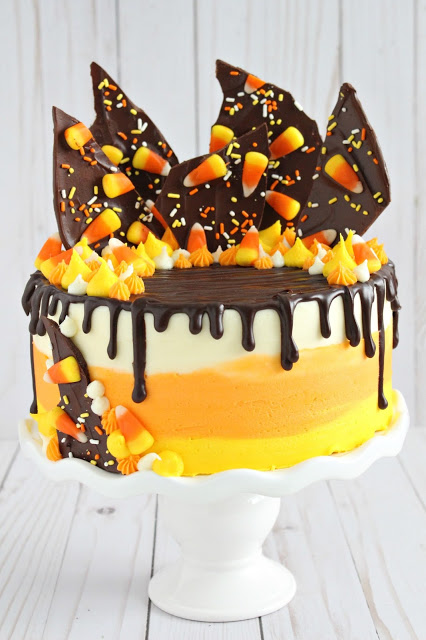 I love creating fun, themed cakes and this Candy Corn Layer Cake was as cute as it was delicious! I really need to make more cakes on here, because they are just so fun. This vanilla cake recipe was tinted to look like candy corn, with corresponding colored frosting. Candy corn bark and ganache is on top, which makes an over-the-top presentation that everyone will love.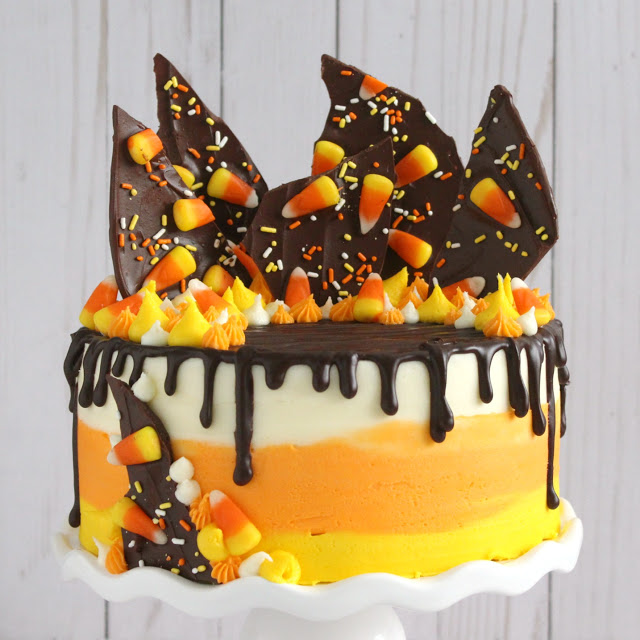 GG is head over heels for candy corn this year, now that she knows what it is because of her Aunt and Uncle sneaking her pieces here and there. She keeps saying it's her favorite candy, so I really hope she gets some while out trick-or-treating this year. Either way she will have a blast on Halloween because she now knows what it's all about…. the candy.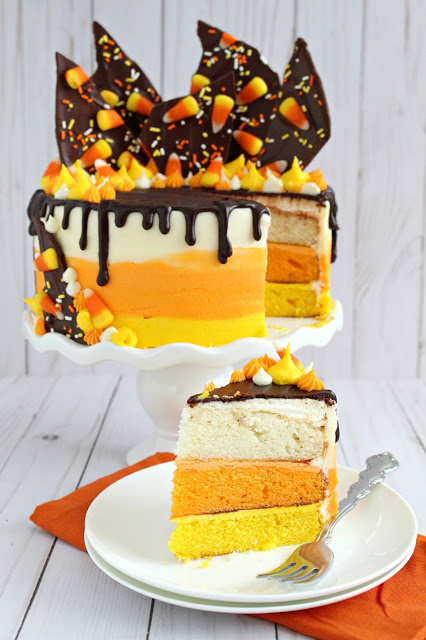 As soon as she saw this cake she screamed, "it's a candy corn cake!" I wish I could bottle up that excitement. It was adorable. She even wanted to help mommy take pictures of the cake and ran upstairs to grab her "camera". I had to snap a quick pic of my mini me. She kept "taking pictures" and said it looked good. What a character!!
I struggled a little to try and figure out the decorations for the top and ultimately decided that chocolate makes everything better! The ganache isn't too sweet which is great because I don't like an overly sweet cake. The frosting has a hint of almond extract and is absolutely delicious – my family LOVED it so much. It is definitely one of my favorites that I will be making again soon!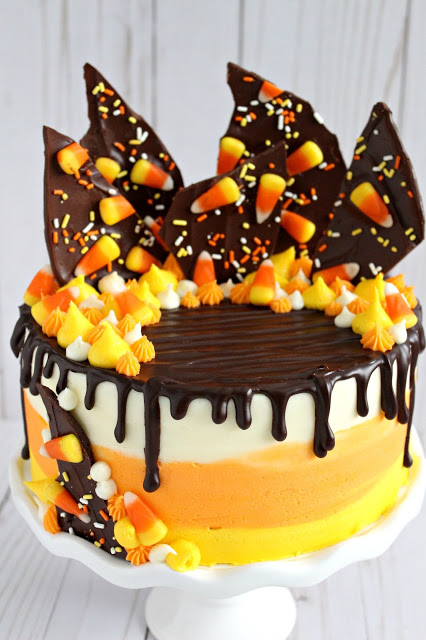 Until next time,
LOVE & CONFECTIONS!

I have an ongoing relationship with Dixie Crystals as a recipe developer and brand ambassador. I receive product, coupons and/or compensation for posts featuring their products. This post may contain Amazon Affiliate links. Thank you for supporting the brands that make Love and Confections possible. As always, all opinions are my own.