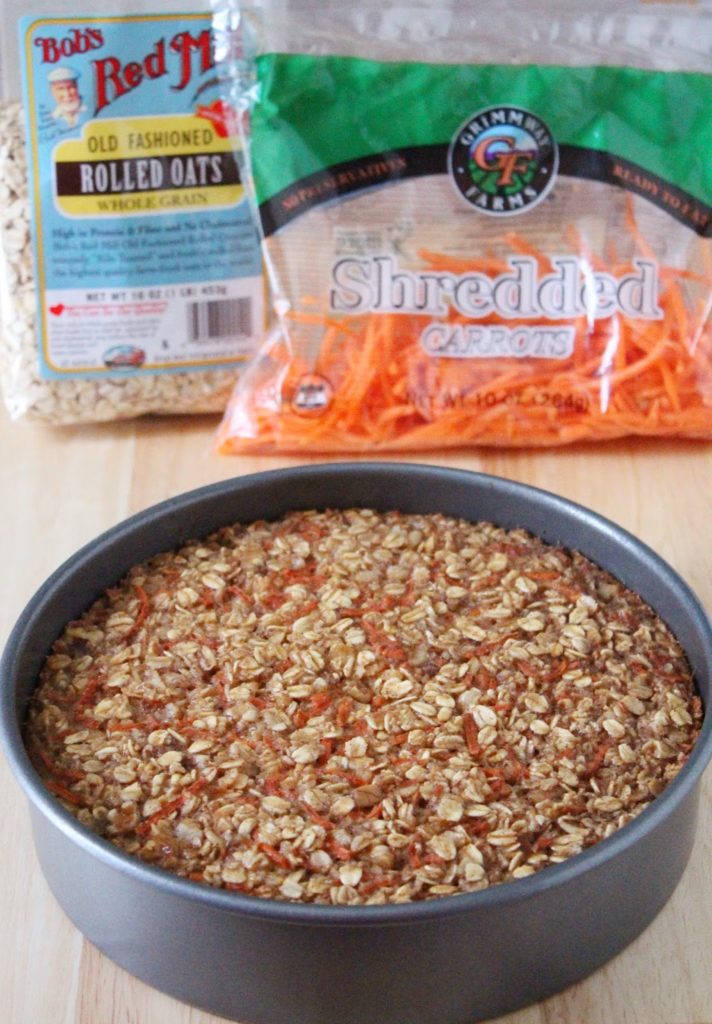 #BrunchWeek is finally here! Welcome to the second annual BrunchWeek. I am so excited to have Susan of The Girl In The Little Red Kitchen as my co-host this year! Join us May 5th through 11th while we celebrate the deliciousness of brunch and to prepare for Mother's Day and summer brunching season. We have 32 bloggers bringing you their best brunch recipes, from cocktails to eggs benedict to donuts; there is something for everything this week.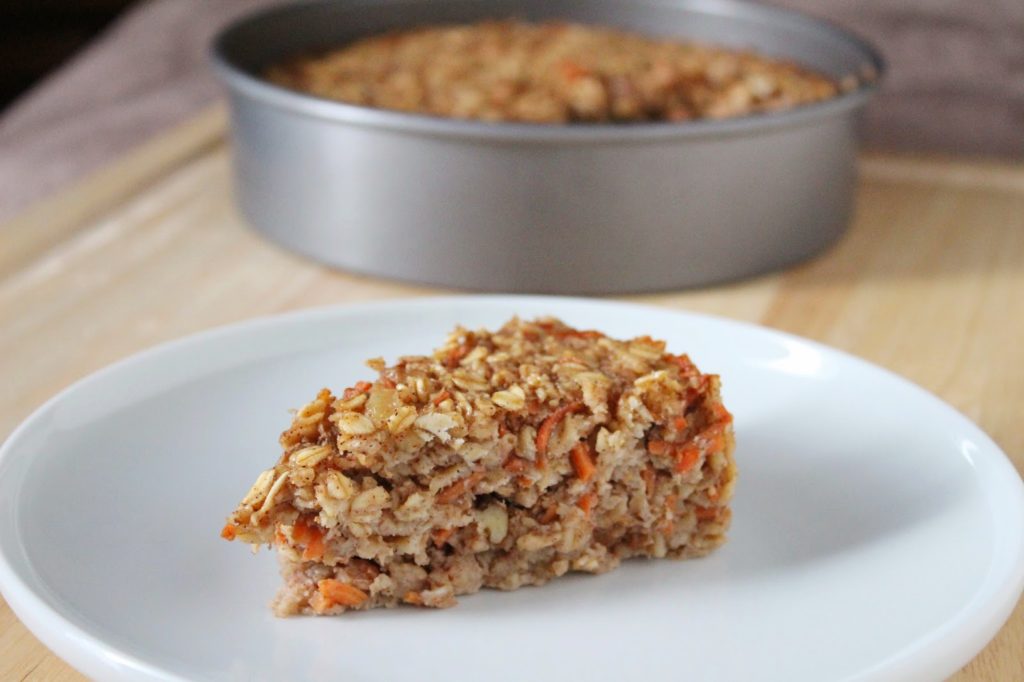 Yesterday I posted about a delicious Frozen Peach Bellini. Today is on the "healthier" side. It has carrots and oats, but tastes like a cake – so you can totally have it for breakfast. I mean, cake for breakfast isn't a bad idea, right? Especially if it's carrot cake – one of my favorites.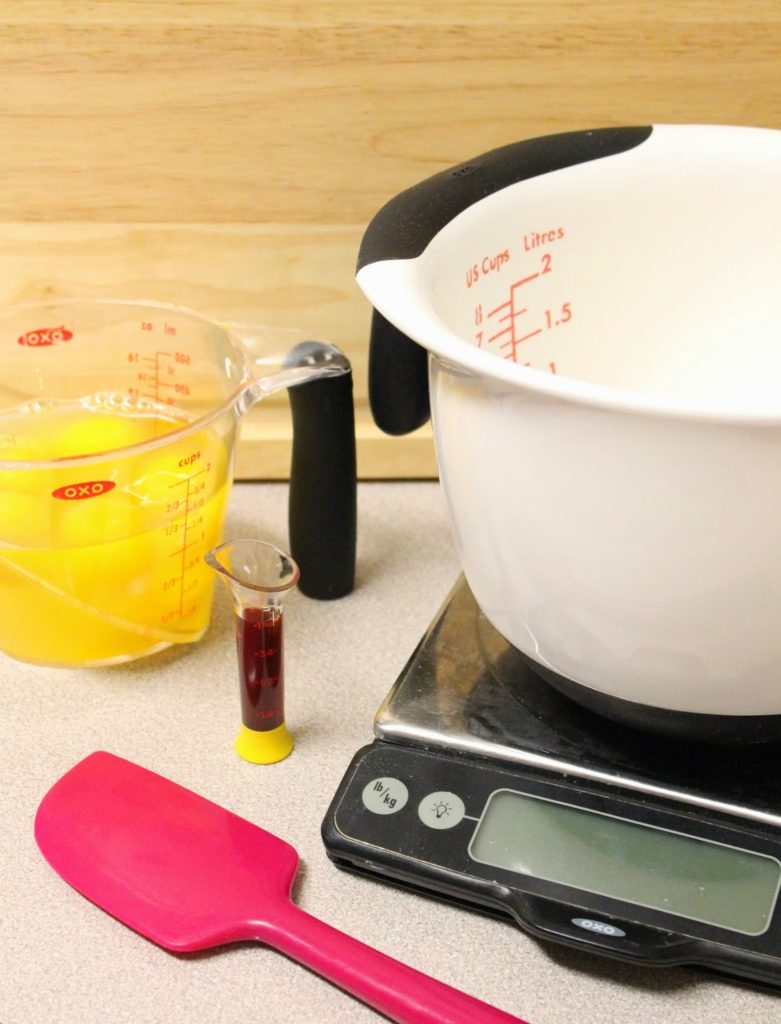 I love using my OXO tools to create recipes. Oxo provided me with this great mixing bowl with handle, spatula and mini measuring cups – which are all up for grabs in the giveaway below. I also use the OXO measuring cups and my trusty OXO scale on an almost daily basis for all my recipes.
Grimmway Farms gave me a bunch of carrots to use for BrunchWeek and boy have I been using them. The shredded carrots are perfect for muffins and oatmeal. I have been snacking on the carrot chips in the afternoons, and the baby carrots are great roasted as a side for dinner. I don't have an 8×8 square pan, so I used a round cake pan, but I would recommend using a square pan, lined with parchment, to get it out easier. I like the base of this recipe, but I am definitely going to continue improving and adapting it. This is best eaten immediately warm right out of the oven.
Carrot Cake Baked Oatmeal
inspired by/adapted from Southern In Law and Diet Taste
Carrot Cake Baked Oatmeal Ingredients:
– 2 cups Shredded Grimmway Farms Carrots
– 1/2 cup California Walnuts
– 2 cups Bob's Red Mill Old Fashioned Rolled Oats
– 1 & 1/2 teaspoons Baking Powder
– 1 & 1/2 teaspoons Cinnamon
– 1/2 teaspoon Salt
– 1/3 cup Brown Sugar
– 2 tablespoons unsalted Butter, melted
– 1 & 1/2 cups whole Milk
– 1/2 cup Applesauce
– 2 Eggs
– 2 teaspoons Vanilla Extract
Carrot Cake Baked Oatmeal Directions:
– Heat oven to 350F. Prepare a cake pan with baking spray.
– Using your
OXO
tools, measure the Carrots, Walnuts, Rolled Oats, Baking Powder, Cinnamon, Salt and Brown Sugar and put them in a mixing bowl.
– In a separate bowl, combine the Butter, Milk, Applesauce, Eggs and Vanilla Extract. Add that into the dry mixture and combine
– Pour into prepared pan and bake for 30 minutes, or until the center is cooked through. Enjoy!
Here are more #Brunchweek recipes from our Brunchweek Food Bloggers. Make sure you come back tomorrow to see some other great recipes too!
Brunch Beverages:
Brunch Egg Dishes:
Brunch Main Dishes:
Brunch Breads and Grains:
Brunch Sides:
Brunch Desserts:
Until next time,
LOVE & CONFECTIONS!

Disclaimer:
California Walnuts, Bob's Red Mill, Oxo, Dixie Crystals, Whole Foods Market Doctor Phillips, Grimmway Farms, Woot Froot, Vidalia Onion, Baloian Farms, Stemilt and Bonne Maman are providing the prizes free of charge. I have received product from Bob's Red Mill, OXO and Grimmway Farms to use for #Brunchweek. The walnuts used were purchased by me, but my preferred brand is California Walnuts. All opinions stated are my own.