Creamy Balsamic Dressing made with yogurt, is the perfect accompaniment to Charred Romaine Salad with Bacon, Tomatoes and Herb Skillet Croutons.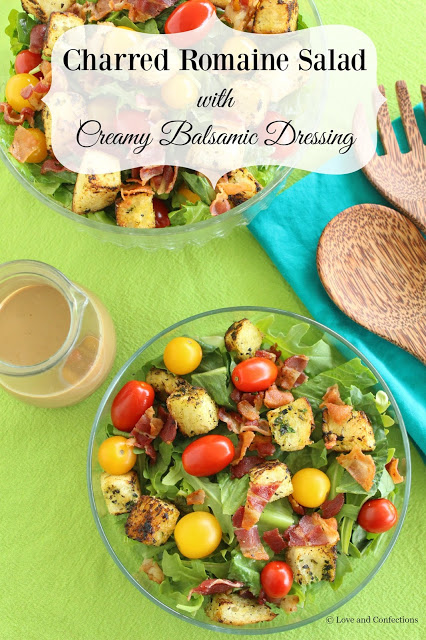 This is a sponsored post on behalf of Stonyfield Organics and Wayfair.com. As always, all opinions are my own.
I have been having a lot of lunch dates with one of my good friends lately. She recently had a baby and gets "cabin fever" some days. I totally remember when #ToddlerLnC was little and I stayed inside for some time. It is definitely good to get out and do things, even if it is going over to someone's house for lunch.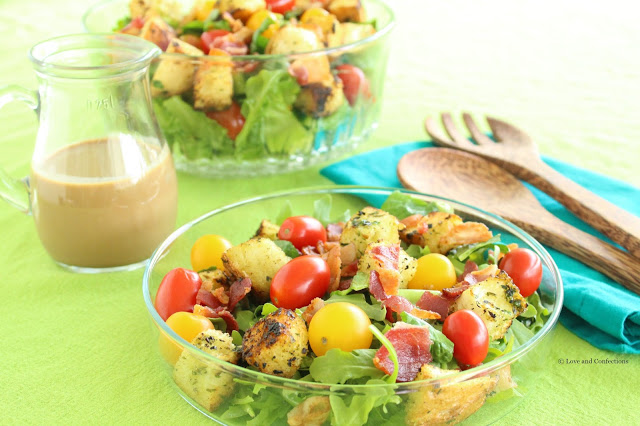 What makes things a lot easier is that I still have a lot of the baby gear out and available. We are able to put her baby in the playpen bassinet and he can sleep there, or in a little rocking bassinet that I used for the toddler when she was an infant.
I love having salads for lunch with different mix-ins. We usually have a large salad for dinner some nights during the week as well. Already prepared rotisserie chicken is an easy shortcut when things get a little hectic around here, and I often add it to salads. Some other things we like to add are tomatoes, black olives, artichoke hearts, and hearts of palm.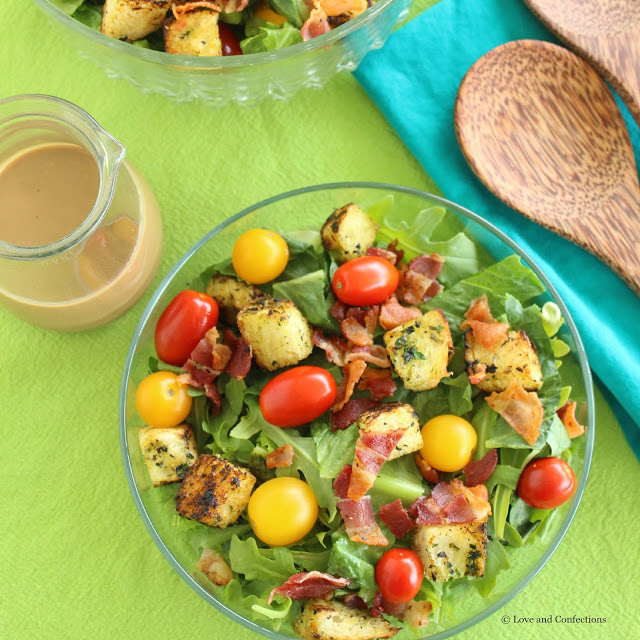 I am definitely a fan of charred lettuce. Some people don't like their lettuce warmed, but I love the flavor it gets when it is slightly charred or grilled. The lettuce isn't completely cooked, just a few of the leaves, then it is chopped, and topped with whatever you choose. For our salad today, we had tomatoes, bacon and homemade seasoned croutons. I made a Creamy Balsamic Dressing using Stonyfield Greek Yogurt. It is fabulous and I cannot wait until I make another batch.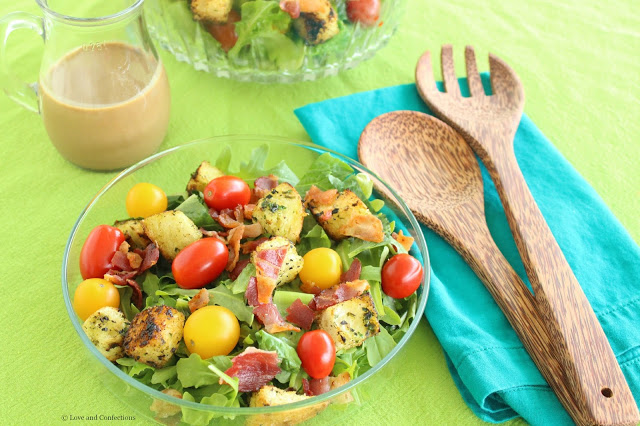 The Homemade Herb Skillet Croutons are an easy and delicious touch to any salad. I made them in a cast iron pan I got from Wayfair.com. I also used the cast iron pan to char the lettuce and crisp the bacon, too. There are so many fun items on the Wayfair website. I also chose a glass salad dish that looks great and lets you see all the goodies in the salad.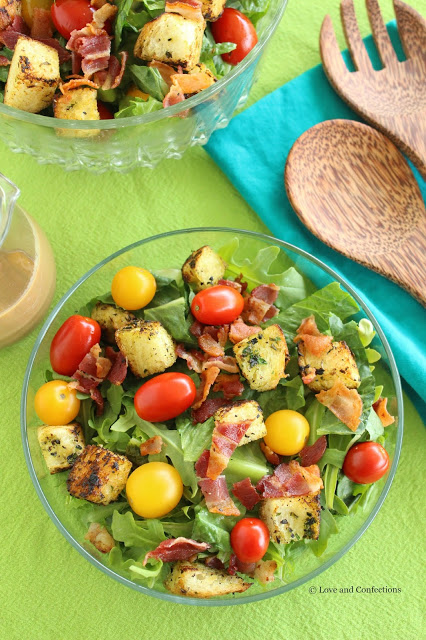 Charred Romaine Salad with Creamy Balsamic Dressing
Herb Skillet Crouton Ingredients:
– 3 cups cubed Italian Bread
– 1/2 tablespoon chopped Italian Flat-leaf Parsley
– 1/2 tablespoon chopped Basil
– 1/2 teaspoon dried Oregano
– 1/4 teaspoon Salt
– 1/4 teaspoon Pepper
– 1 tablespoon Extra Virgin Olive Oil
Herb Skillet Crouton Directions:
1. Place the Bread, Herbs, Spices and Olive Oil in a medium bowl and toss to coat.
2. Heat a large cast iron skillet on medium heat. Add in the coated bread and cook for 5-7 minutes, turning occasionally until golden brown.
3. Serve warm over salad.
Creamy Balsamic Dressing Ingredients:
– 1/4 cup Balsamic Vinegar
– 1 tablespoon Light Soy Sauce
– 1 & 1/2 tablespoons Dijon Mustard
– 1 & 1/2 tablespoons Honey
– 3 tablespoons Stonyfield Greek Yogurt
– 1/2 tablespoon Extra Virgin Olive Oil
Creamy Balsamic Dressing Directions:
1. Place all ingredients in a small bowl or measuring cup and whisk to combine. Store in refrigerator for up to two days.
Salad Ingredients:
– 1 head Romaine Lettuce
– 1 tablespoon Extra Virgin Olive Oil
– Salt and Pepper to taste
– 4 pieces cooked and chopped Bacon
– 1/2 cup Cherry Tomatoes
– Herb Skillet Croutons
– Creamy Balsamic Dressing
Salad Directions:
1. Heat cast iron skillet on medium heat. Slice the head of lettuce, lengthwise, in half and pour Olive Oil on each sliced side. Sprinkle with Salt and Pepper.
2. Cook in skillet until the cut side is slightly wilted and has a little char. Remove from the skillet and cut into bite-size pieces. Place in serving bowl.
3. Top Lettuce with Bacon, Tomatoes, and Croutons. Drizzle on dressing, to taste, and toss to combine. Enjoy!
Until next time,
LOVE & CONFECTIONS!
Disclaimer: I have an ongoing relationship with Stonyfield as a member of the Clean Plate Club. I receive product, coupons and/or compensation for posts featuring their products. As always, all opinions are my own. #stonyfieldblogger #sponsored.