Cherry, Peach and Raspberry Sangria is one of the my favorite cocktails because it is so easy to make, incredibly delicious, and perfect for any occasion.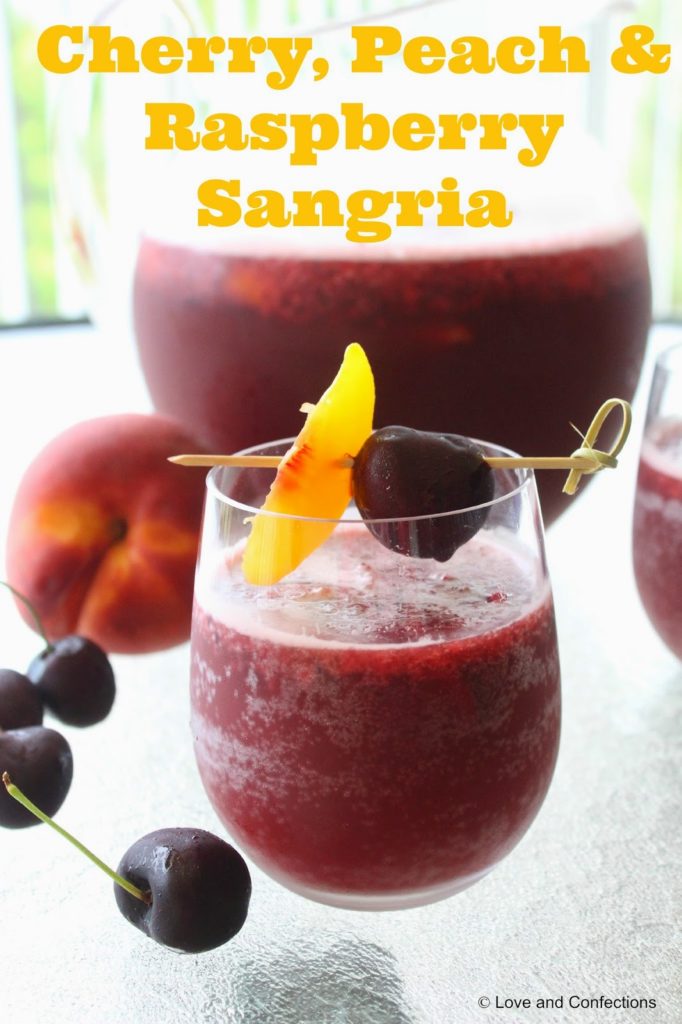 I made this sangria a few times this past Summer, and every time, it was finished before I could get any pictures, so here it finally is. Cherry, Peach and Raspberry Sangria is that good! I made this sangria for a few parties and it was a hit. The flavor combination is so refreshing and perfect for Summer.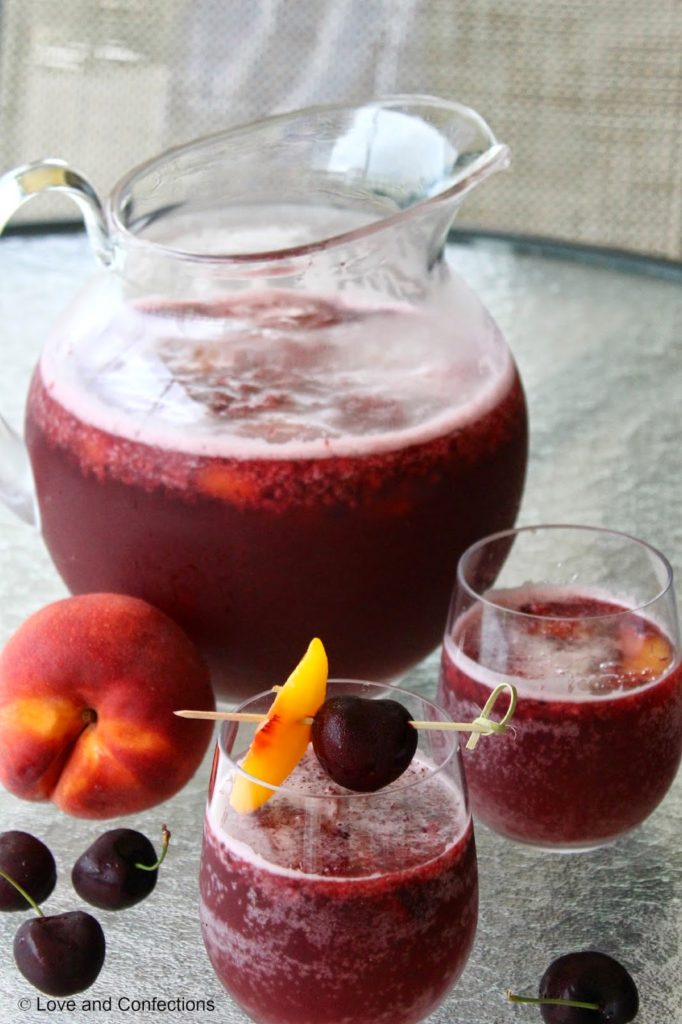 I was given a gorgeous box of cherries from my friends at
Stemilt
, and have made a few goodies with them including this Sangria back in July. The cherries were gorgeous and the delivery guy knows me well enough now that when I start jumping up and down with excitement about a delivery, he doesn't ask questions.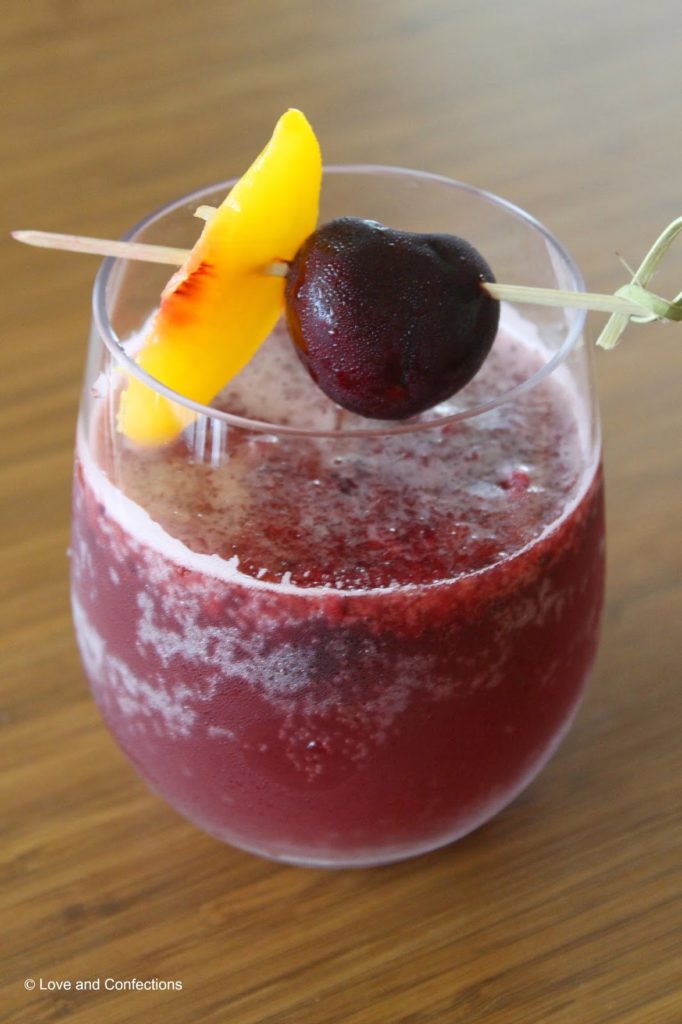 You would be excited too if you got a delivery like this. As soon as I received the cherries I dived right in. Fresh cherries are so amazing. I also love to pit and freeze them, so I have cherries year-round. I hope I can visit the
Stemilt
orchards in person one day soon. I have loved cherry season and can't wait for their apples and all the wonderful Fall baking I plan on doing with them.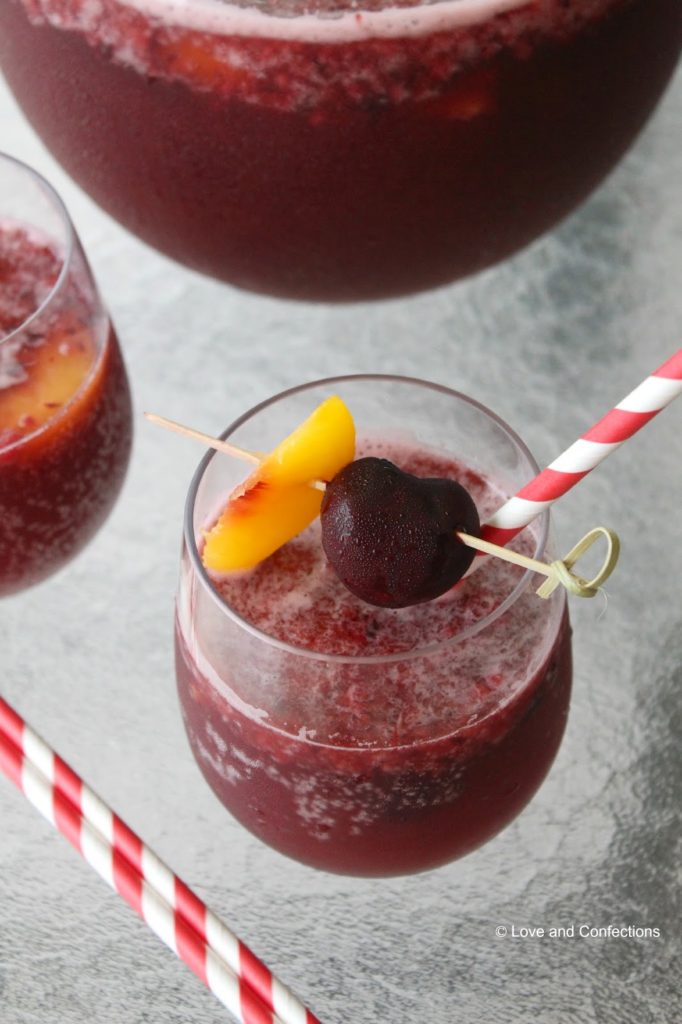 Cherry, Peach and Raspberry Sangria
a Love and Confection original
Cherry, Peach and Raspberry Sangria Ingredients:
– 1 pound Cherries, pitted, preferably fresh but can use frozen
– 2 cups Raspberry Liqueur
– 3 cups Peach Nectar
– 3 cups Lemon-Lime Soda
– 6 ounces Frozen Raspberries
– 10 ounces Frozen Sliced Peaches
– 1 bottle Sweet Red Wine, chilled
Cherry, Peach and Raspberry Sangria Directions:
1. Place Cherries and Raspberry Liqueur in a lidded container overnight in the refrigerator, the day before you wish to make the Sangria.
2. On the day you want your Sangria, in a blender or food processor, blend half of the Cherry/Raspberry Liqueur mixture and pour it into a pitcher. Pour the rest of the whole cherries and liqueur into the pitcher.
3. Add the Peach Nectar, Lemon-Lime Soda, Frozen Raspberries and Frozen Peaches. Stir to combine.
4. Add the bottle of Sweet Red Wine and stir. Serve over ice and garnish with cherries, peaches and raspberries. Please drink responsibly. Enjoy!
Until next time,
LOVE & CONFECTIONS!
Disclaimer: I received a box of cherries from Stemilt and was not compensated for this post. All opinions are my own and I only work with companies I love.