Chocolate Avocado Bundt Cake is incredibly moist and absolutely delicious!
It's even better when chocolate chips are added and topped with ganache!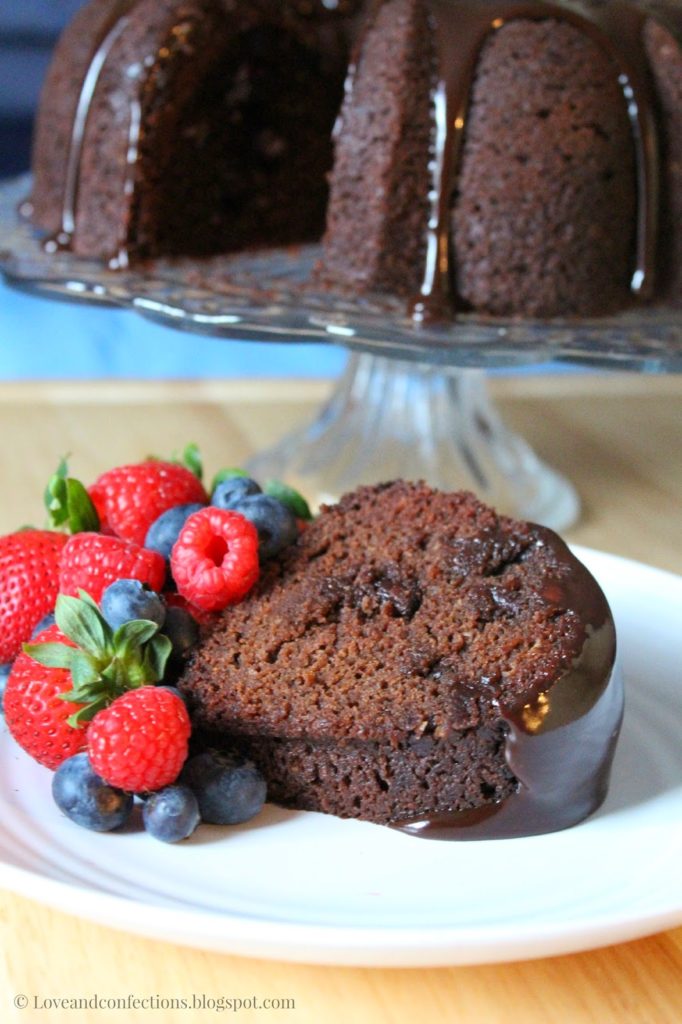 Sometimes you get an idea into your head and you just go with it. That is definitely the case with this month's bundt cake. Our theme this month is stone fruit. I love cherries, peaches, plums and nectarines, but a few other bloggers were already doing some of the ideas I had. I, instead, took a different route – avocado.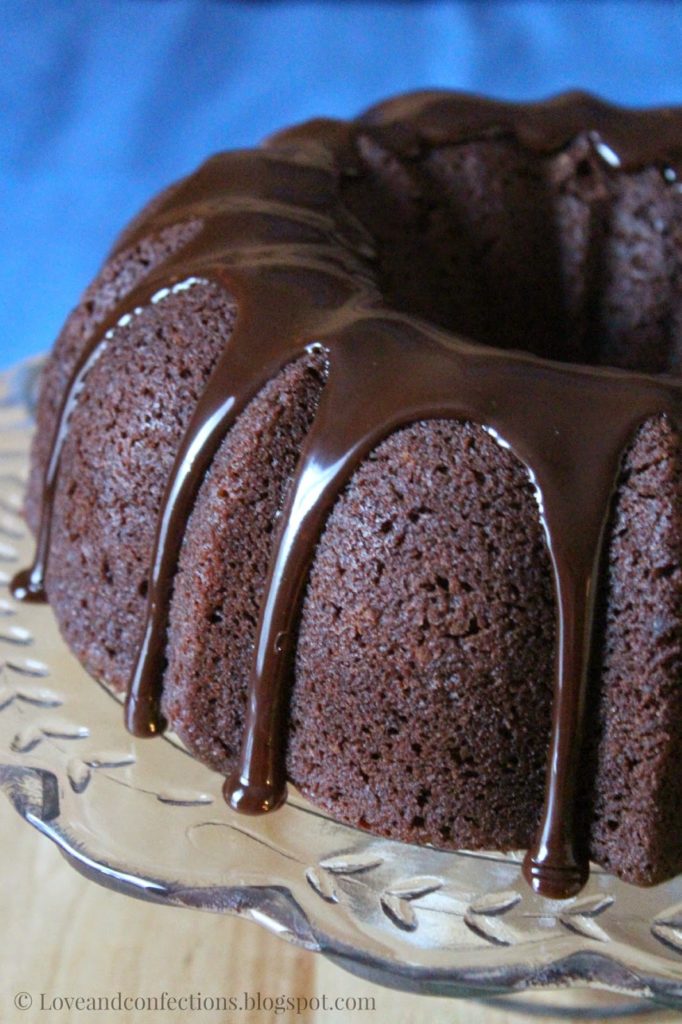 I have actually never baked with avocado, but I will definitely keep baking with it in the future! There are no eggs and butter in the cake, so it is easily adaptable for anyone on a specific diet/ The avocado acts like butter, being the fat in the cake. I was skeptical that the avocado flavor would be overly predominant and I actually did not taste it at all. Avocado also makes this cake incredibly moist! I was very surprised at how it turned out and definitely crossed my fingers praying I wouldn't need to change my recipe and re-bake it the night before.
I made this cake the other night, after Baby L&C went to bed. I totally forgot that I needed the avocado to be extremely smooth and the food processor would have definitely woken her up. Instead I took my KitchenAid 5-Speed Hand Blender and pureed all the wet ingredients together. I was given this KitchenAid Hand Blender to review and I am in love with it. With 5 different speeds and 4 different options on how to blend/puree, this baby does the trick! It even has a whisk and chopper attachment, all in a nifty case. I am definitely grateful that I can put all the pieces away in one place, know where they are at all times, and not have to dig through my "baking drawer" to find something. I have made smoothies, purees, hollandaise and even mashed potatoes with it – the perfect kitchen tool!
Chocolate Avocado Bundt Cake
adapted from Joy the Baker
Click here for the printable recipe
Chocolate Avocado Bundt Cake Ingredients:
– 3 cups All-Purpose Flour
– 6 tablespoons Cocoa Powder
– 1/2 teaspoon Salt
– 2 teaspoons Baking Powder
– 2 teaspoons Baking Soda
– 1/4 cup Vegetable Oil
– 1 cup soft Avocado**
– 2 tablespoons White Vinegar
– 2 teaspoons Vanilla Extract
– 2 cups Water
– 2 cups Granulated Sugar
– 1 cup Semisweet Chocolate Chips
– Ganache or prepared Hot Fudge Sauce (optional)
Chocolate Avocado Bundt Cake Directions:
1. Heat oven to 350°F. Prepare large bundt pan with baking spray.
2. Sift together Flour, Cocoa Powder, Salt, Baking Powder and Baking Soda into a medium bowl.
3. In a food processor or another medium bowl and using a KitchenAid Hand Blender with S-blade attachment, mix together the Vegetable Oil, Avocado, White Vinegar and Vanilla Extract.
4. Add in the Water and Sugar and blend together. Pour the entire wet mixture into the dry mix and whisk until combined and smooth. Stir in the Chocolate Chips with a spatula or spoon
5. Pour the batter into the prepared bundt pan and bake for 40-50 minutes or until the cake springs back and a toothpick inserted into the center comes out clean.
6. Cool in pan for 15 minutes, then turn out onto cake serving plate. This cake is very moist and will most likely stick to whatever surface you put it on and be hard to transfer once completely cool, so its serving plate is best.
**When picking out an avocado to use in this recipe, it needs to be very ripe. I used a Florida Avocado, because it was available to me. One trick to pick out a ripe Florida Avocado is to shake it. If you hear the seed, it is ripe.
Until next time,
LOVE & CONFECTIONS!
Don't forget to check out these other fabulous bundt cakes:
#BundtBakers is a group of Bundt loving bakers who get together once a month to bake Bundts with a common ingredient or theme. Follow our Pinterest board right here. Links are also updated each month on the BundtBakers home page. We take turns hosting each month and choosing the theme/ingredient. If you are a food blogger and would like to join us, just send Stacy an email with your blog URL to foodlustpeoplelove@gmail.com.
* I was given the
KitchenAid 5-Speed Hand Blender
for reviewing purposes. All opinions are my own. I only work with companies I love. There are affiliate links in this post, which means that if you click on it and buy it, I will make a percentage from the sale.