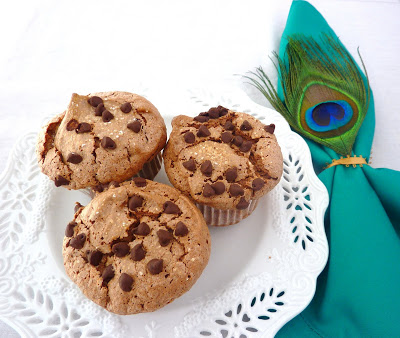 I decided to make these delicious Chocolate Chocolate Chip Angel Food Cupcakes. I love angel food cake. It's so light and airy and pillowy. The crunchy sugar crusted top gives way to a tender cake center. It is perfect by itself – eating a piece of cake straight from your hand is one of the ways we enjoyed it as children – or add fresh whipped cream and berries – Heavenly! Must be why it is called Angel Food Cake.
This recipe adds some chocolate flavor the the already great angel food cake. Some people don't like making angel food cake because it only uses egg whites, and you have a ton of yolks leftover. Don't worry. You'll get a recipe for those leftover yolks later. I like to use fresh egg whites for my angel food cake. The store-bought egg white only cartons are do-able in a pinch, but fresh egg whites are preferable.
This Chocolate Angel Food Cupcake recipe was easy to make and even easier to make them disappear. I hope you enjoy them. I doubled the recipe, but you can easily scale it down to the original measurements.
Chocolate Chocolate Chip Angel Food Cake
adapted from The Galley Gourmet
Angel Food Cake Ingredients:
– 1/2 cup plus 2 tablespoons Cake Flour
– 1/2 cup Dutch-Processed Cocoa Powder
– 1 teaspoon Espresso Powder
– 1 & 1/2 cups granulated Sugar, divided
– 12 large Egg Whites, at room temperature
– pinch of Salt
– 1 & 1/2 teaspoons Cream of Tartar
– 2 teaspoons Vanilla Extract
– Confectioners Sugar for dusting
– Mini Semi-Sweet Chocolate Chips for garnish
Angel Food Cake Directions:
1. Preheat the oven to 350F, spray the tops of 2 cupcake tins and trays with 16 liners (evenly spaced out because you will have empty spots).
2. Separate Egg Whites and Yolks. Be careful to not get any yolk in the whites, or the whites will not whip properly. The best way is to crack the egg over a separate small bowl and then transfer the white to your mixing bowl and the yolk to another bowl. It creates more dirty dishes, but prevents any yolks from getting into your whites.
3. Sift the Cake Flour, Cocoa Powder, Espresso Powder and 1/2 cup plus 4 tablespoons Sugar into a medium bowl and set aside.
4. In the bowl of your stand mixer, with the whip attachment, whip the Egg Whites, Salt, Cream of Tartar and Vanilla on high, until soft peaks form. While the mixer is still on high, gradually add in the remaining Sugar, a little at a time, and whip until stiff, glossy peaks form (2-3 minutes).
5. Gently fold the dry ingredients into the egg whites in three additions, making sure not to deflate the egg whites too much.
6. Fill each cupcake liner high with batter – two ice cream scoops full.
7. Dust each cupcake with Confectioners Sugar and sprinkle the tops with a few mini Chocolate Chips.
8. Bake for 20-30 minutes – depending on your oven – until the tops are puffed and dry.
9. Keep the cupcakes in the tin for an hour to cool and ensure they keep their shape. After one hour, gently remove the cupcakes and enjoy! They can be stored in an airtight container for up to 2 days – although I don't think they will last that long, they are too delicious!
Until next time,
LOVE & CONFECTIONS!