Moist, delicious and easy to make, these Chocolate Chip Scones will have you running to the oven!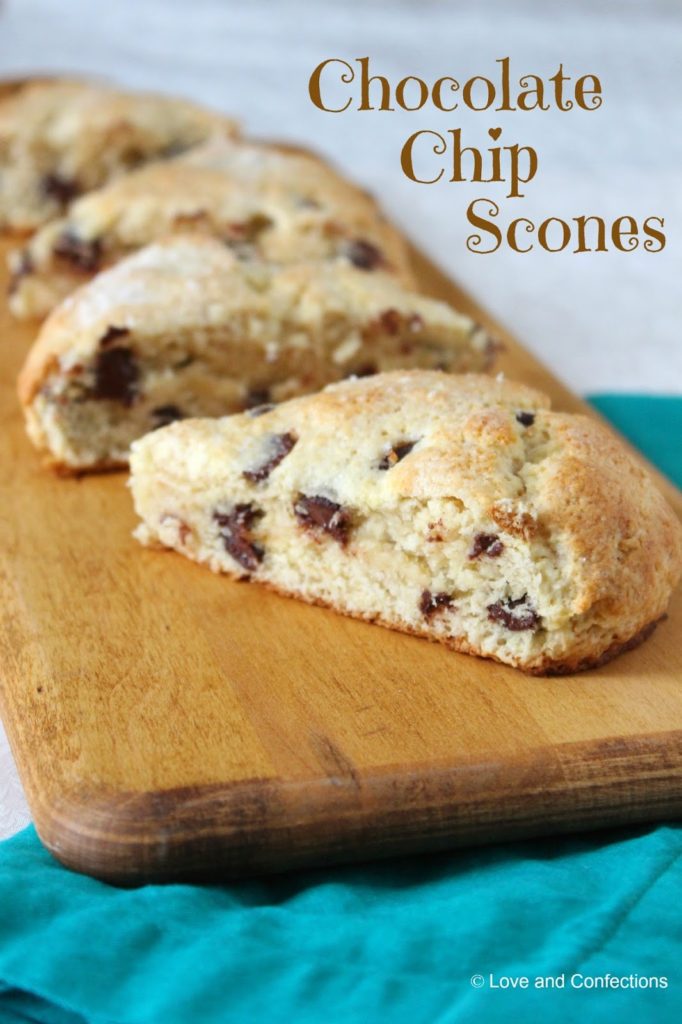 A few weeks ago, I guest posted for my friend Shaina from Take A Bite Out of Boca. She recently came back from a work trip to Germany and I offered to post this recipe while she recovers from jet-lag and gets her schedule back to normal. I figured a sweet treat to have with a hot cup of tea would be the perfect snack.
Afternoon tea is something I love to do, but don't always have the time. With a busy schedule and taking care of an infant, the day often passes in a blur. Having a quiet moment, sipping a cup of tea from your favorite mug is relaxing just thinking about it.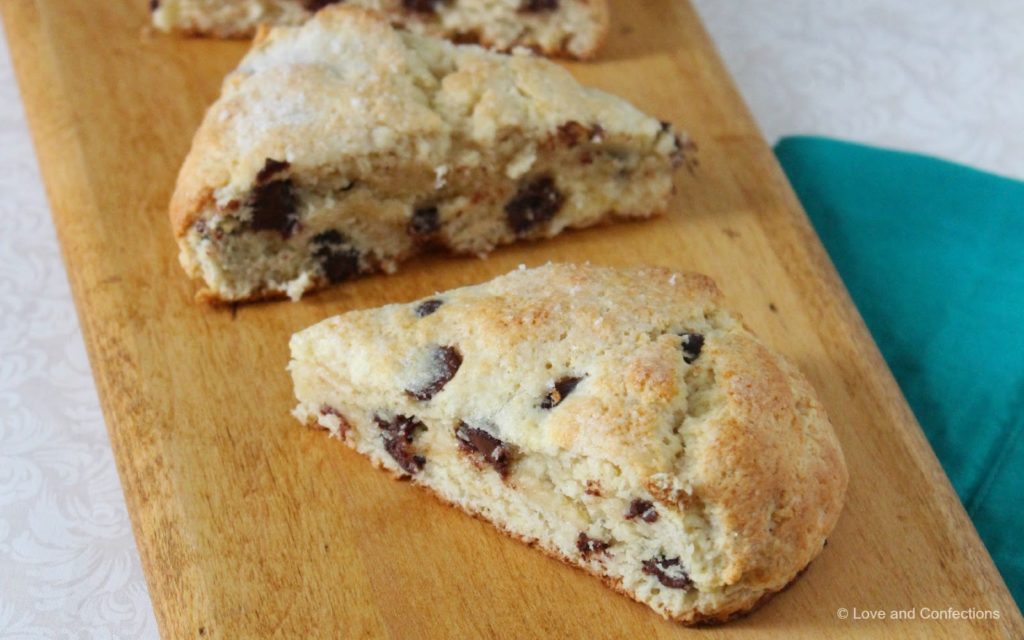 Nowadays, the old-fashioned afternoon tea is basically nonexistent, unless you're planning a bridal shower or other special occasion. I love having a moment in the afternoon for a little snack and a time-out from a busy day. One of my favorite tea parties was Afternoon Tea at The Grand Floridian Garden View Tea Room. The last time I was there was on Baby L&C's due date (she came 4 days later) and everything was delicious. Don't hesitate to try the seasonal teas and goodies, they are delicious. If you are ever in the Walt Disney World area and can go, it is a great experience. Reservations are highly recommended.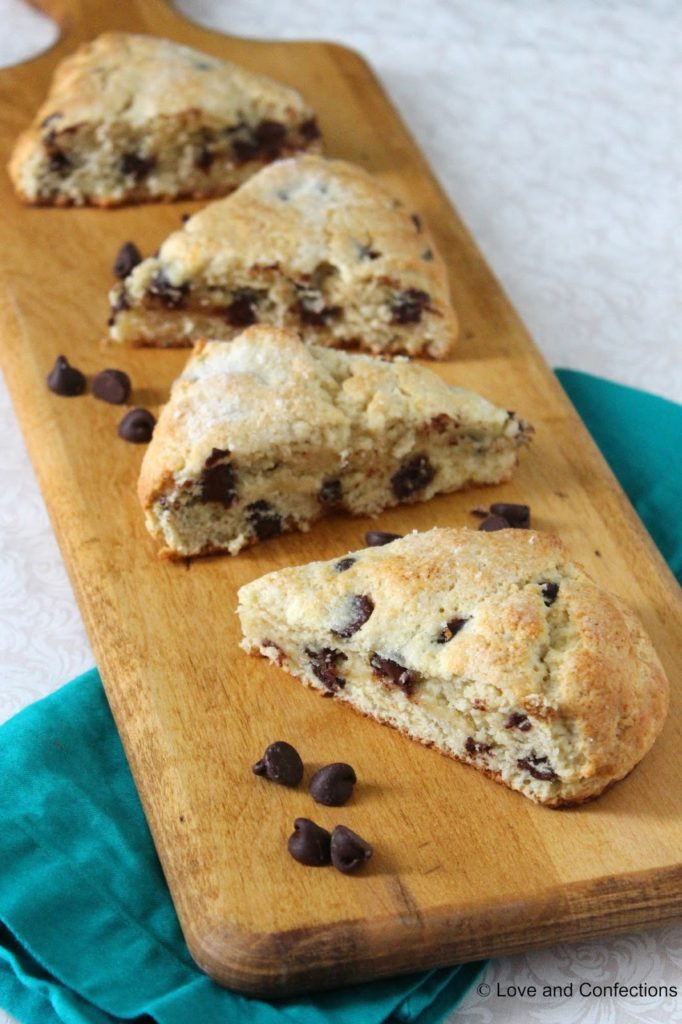 I love tea parties and all the goodies that go with it. Cookies, tea sandwiches, and scones. These Chocolate Chip Scones are incredibly easy to make. The best part is that you can add whatever mix-ins you want, instead of chocolate chips. I have a list of scones I plan on making with this recipe and can't wait to try different flavor combinations for the Fall season. Grab a cup of tea and enjoy a relaxing moment with these delicious Chocolate Chip Scones.
Chocolate Chip Scones
Recipe slightly adapted from Betty Crocker
Click here for a printable recipe
Chocolate Chip Scone Ingredients:
– 2 cups Bisquick Mix
– 3/4 cups Semi-Sweet Chocolate Chips
– 1/3 to 1/2 cup Heavy Whipping Cream, depending on consistency of dough
– 1/4 cup Granulated Sugar
– 1 large Egg
– 1 teaspoon Vanilla Extract
– Heavy Whipping Cream for topping
– Granulated Sugar for topping
Chocolate Chip Scone Directions:
1. Heat oven to 425°F. Prepare a cookie sheet with non-stick cooking spray.
2. In a medium bowl, stir together the Bisquick Mix, Chocolate Chips, 1/3 cup of Heavy Whipping Cream, Granulated Sugar, Egg and Vanilla Extract. If the mixture is crumbly, dry and does not form a ball, add more Heavy Whipping Cream, 1 teaspoon at a time. until the mixture comes together but is not too wet or sticky.
3. Place ball of dough onto the cookie sheet and pat it into an 8-inch circle. With a pastry brush, brush the top with Heavy Whipping Cream and sprinkle an even layer of Granulated Sugar for the topping. Using a sharp knife, cut the dough into 8 equal parts, but do not separate the triangles.
4. Bake for 10-14 minutes, depending on your oven, until golden brown. Let the scones sit on the sheet tray for a few minutes to cool, then separate the triangles and either place on a cooling rack or serve immediately. Can be served warm or at room temperature.
Until next time,
LOVE & CONFECTIONS!