Rich chocolate cookies, maraschino cherries and creamy chocolate ganache combine in a delectable treat – Chocolate Covered Cherry Cookies.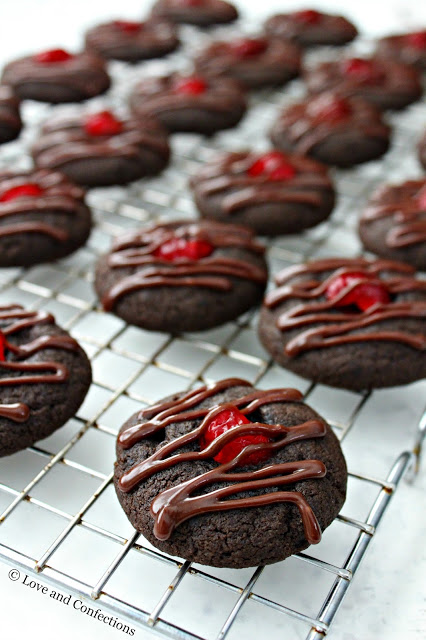 I am a big cookie fan. I like all types, from cut out sugar cookies to biscotti and everything in between. As soon as I saw this recipe for Chocolate Covered Cherry Cookies, I knew it would be an instant hit with my family.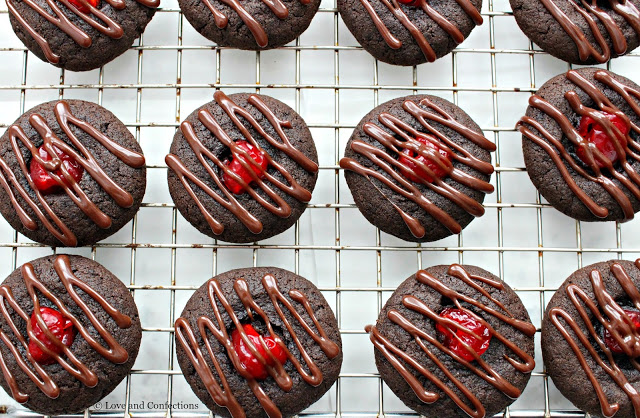 This is such an easy recipe and perfect for when you want a delicious chocolate cookie. I love maraschino cherries, but usually only use them for sundaes and pineapple upside-down cakes. I never thought to use them in a thumbprint-style cookie. They add just the right amount of sweetness and love the color too.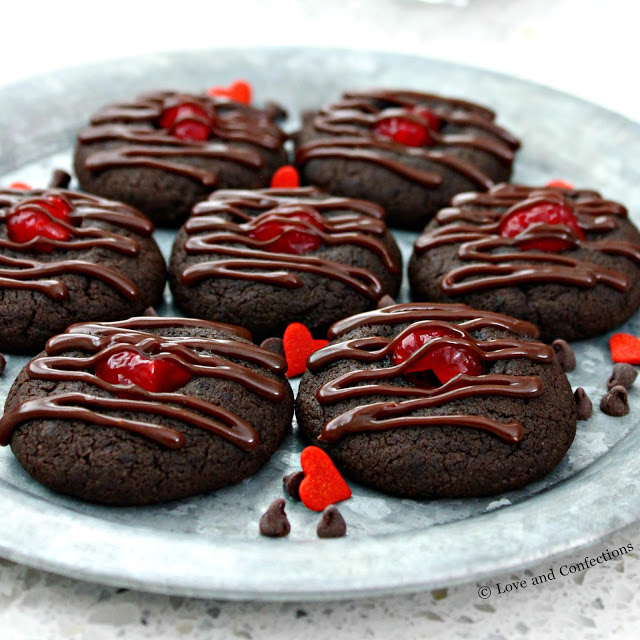 Now, let's talk about the chocolate ganache drizzle. This is seriously delicious! I love how creamy and sweet it is. The recipe says to use semisweet chips, but I think you can get away with dark chocolate chips too, since the sweetened condensed milk is so sweet. Just thinking about these chocolate cookies make me want to whip up another batch again.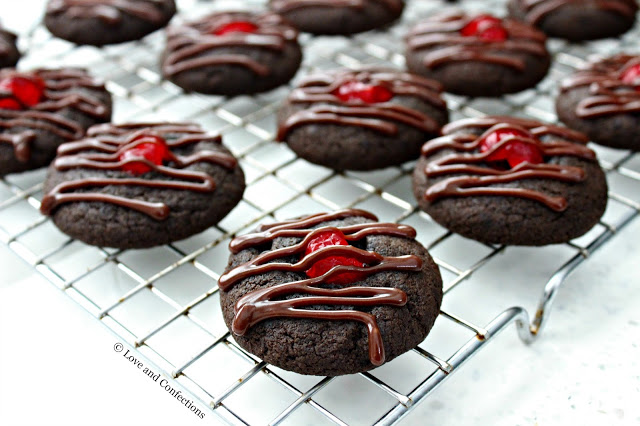 Some of my favorite kitchen tools are my dishers, or ice cream scoops. I rarely use them for ice cream though. They come in so many different sizes and are perfect for portioning out batters. I use them for cookies, cupcakes, pancakes, macaroons, and even meatballs. It's great because everything you make is uniform and cooks more evenly. I usually use a size 40 (purple) or 30 (black) disher for cookies, depending on how big I want them to be. Here's some links to a few of my favorites – they are Amazon affiliate links, which means if you purchase them, at no additional cost to you, I receive a portion of the purchase.
Chocolate Covered Cherry Cookies
By Adapted from Better Homes and Gardens
Published 07/15/2017
Rich chocolate cookies, maraschino cherries and creamy chocolate ganache combine in a delectable treat.
Ingredients
1/2 cup unsalted butter, room temperature
1/2 cup light brown sugar
1/2 cup granulated sugar
1 egg
1 1/2 teaspoons vanilla extract
1 1/2 cups all-purpose flour
1/2 cup unsweetened baking cocoa
1/4 teaspoon salt
1/4 teaspoon baking powder
1/4 teaspoon baking soda
Maraschino cherries, no stem and blotted dry
6 ounces semisweet or dark chocolate chips
1/2 cup sweetened condensed milk
2 tablespoons reserved maraschino cherry juice, optional
Instructions
Prepare baking sheets with parchment paper or silicone baking mats, and set aside. Heat oven to 350F.
Cream together butter, brown sugar and granulated sugar until light and fluffy. Scrape down the sides of the bowl then beat in egg and vanilla extract.
In a separate bowl, sift together the flour, salt, baking powder and baking soda. Slowly add to butter mixture, 1/2 cup at a time, and mix until just combined. Using a small cookie scoop, shape cookie balls then place on cookie sheets. Using the scoop, spoon or your fingers, make a slight indentation in each cookie then place a cherry into each cookie ball.
Bake for 8-11. Remove cookie sheets from oven and allow cookies to rest for 5 minutes before placing them on wire racks to cool completely
While cookies are cooling, combine chocolate chips and sweetened condensed milk in a small saucepan on low heat, whisking constantly. If needed, add reserved cherry juice to thin our chocolate. Drizzle or pipe over cooled cookies. Store in an airtight container.
Yield: 28-35 cookies

Until next time,
LOVE & CONFECTIONS!