Chocolate hazelnut spread is deliciously swirled into a pumpkin and spice muffin, creating the perfect breakfast, snack or dessert!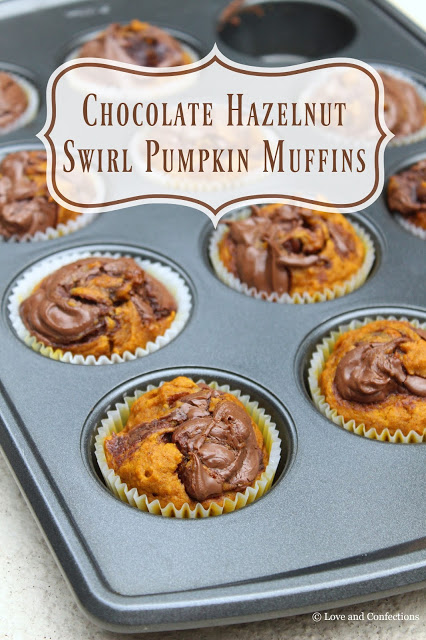 Chocolate hazelnut swirl pumpkin muffins is my #PumpkinWeek day 3 recipe today! There are so many delicious pumpkin recipes below, so be sure to scroll to the bottom to see all the participating #PumpkinWeek Bloggers.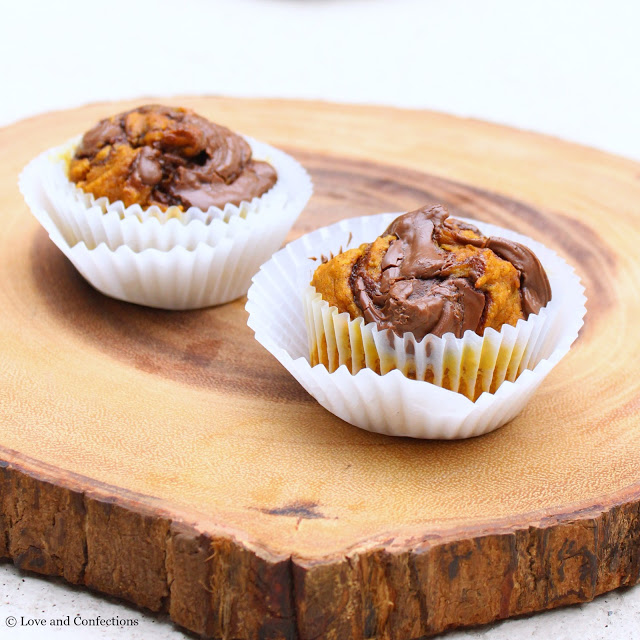 Chocolate hazelnut spread is one of my favorite condiments. Yes, I call it a condiment, because it comes in a jar and I love to spread it on all kinds of things. Although my favorite way to eat it is with a spoon straight from the jar – shhh, don't tell anyone!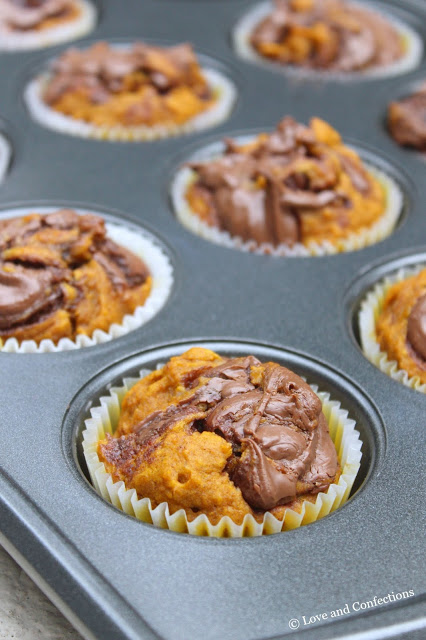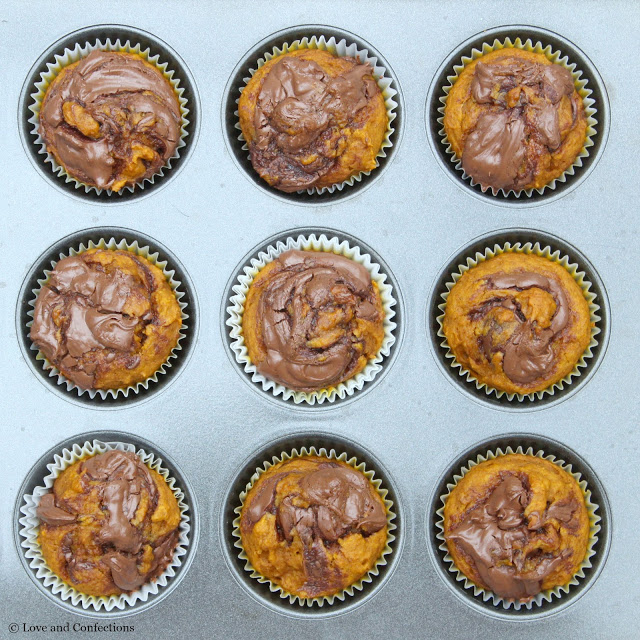 Chocolate and pumpkin go well together, like this Chocolate Pumpkin Spice Bundt Cake I made a couple years ago. I knew hazelnut would be a great complimentary flavor. The swirl kind of creates a self-frosting muffin. If you want the swirl more incorporated throughout the muffin, I would suggest heating the chocolate hazelnut spread just a bit, so it swirls easier. I hope you enjoy these and all the rest of the #PumpkinWeek recipes!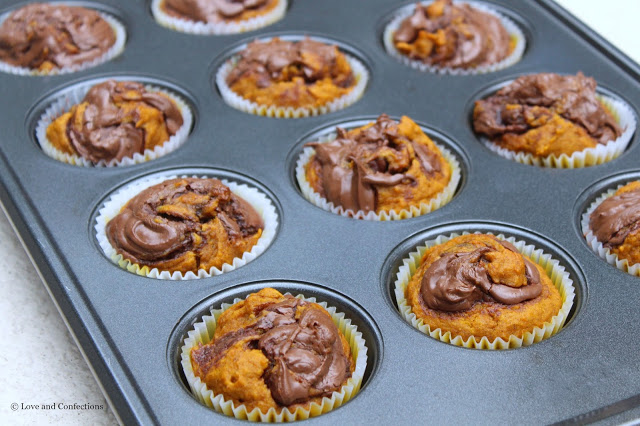 Chocolate Hazelnut Swirl Pumpkin Muffins
By adadpted from 52 Kitchen Adventures
Published 10/05/2016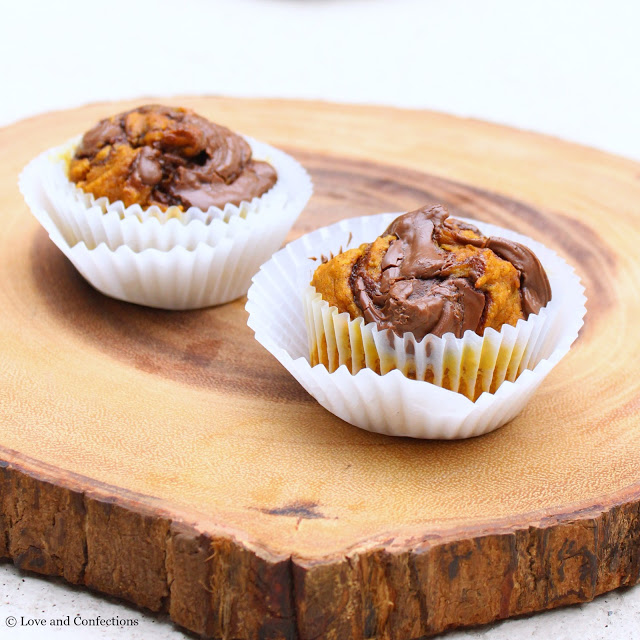 Chocolate hazelnut spread is deliciously swirled into a pumpkin and spice muffin, creating the perfect breakfast, snack or dessert!
Ingredients
15 ounces canned pumpkin
1/2 cup vegetable oil
2 large eggs, room temperature
1 tablespoon pure vanilla extract
1/4 cup packed light brown sugar
1/4 cup granulated sugar
2 cups all-purpose flour
1 1/2 teaspoons ground cinnamon
1/2 teaspoon ground ginger
1/2 teaspoon freshly ground nutmeg
1 teaspoon baking powder
1/2 teaspoon baking soda
1/2 teaspoon salt
Chocolate Hazelnut Spread for swirl
Instructions
Heat oven to 350F. If not using muffin cups, spray muffin tins with baking spray. In a medium bowl, mix pumpkin, oil, eggs, vanilla, brown sugar and granulated sugar.
In separate bowl, whisk the flour, cinnamon, ginger, nutmeg, baking powder, baking soda and salt. Add into wet ingredients and mix until just combined
Using cookie scoop or ice cream disher, fill muffin cups 2/3 full. Place a teaspoon of chocolate hazelnut spread onto each muffin and using a toothpick, swirl it into the batter. If necessary, warm the spread just a bit
Yield: 16 muffins
Prep Time: 00 hrs. 10 mins.
Cook time: 00 hrs. 22 mins.
Total time: 32 mins.
Tags: Chocolate, hazelnut, pumpkin, muffins, nutella, breakfast, brunch, snack, dessert
Autumn's Savory Pumpkin Cream Pasta with Bratwurst from Kudos Kitchen by Renee.
Chocolate and Pumpkin Cheesecake Bars from A Day in the Life on the Farm.
Chocolate Hazelnut Swirl Pumpkin Muffins from Love and Confections.
Gluten Free Pumpkin Pizza from Gluten Free Crumbley.
Kadu Bouranee from Culinary Adventures with Camilla.
Maple Pumpkin Butter from Cooking With Carlee.
Pumpkin Bread Rolls from Making Miracles.
Pumpkin Cornbread from A Kitchen Hoor's Adventures.
Pumpkin Crepes from The Redhead Baker.
Pumpkin Milkshake from Cindy's Recipes and Writings.
Pumpkin Waffles with Pumpkin Praline Topping from Grumpy's Honeybunch.
Pumpkin Whoopie Pies from The Freshman Cook.
Slow Cooker Pumpkin Chili from Palatable Pastime.
Whipped Pumpkin Spice Honey Butter from Family Around The Table





Until next time,
LOVE & CONFECTIONS!