Chocolate Tres Leches is a delicious spin on the classic dessert. Moist chocolate cake is soaked with three different milks, topped with whipped cream and garnished with chocolate curls – chocolate perfection!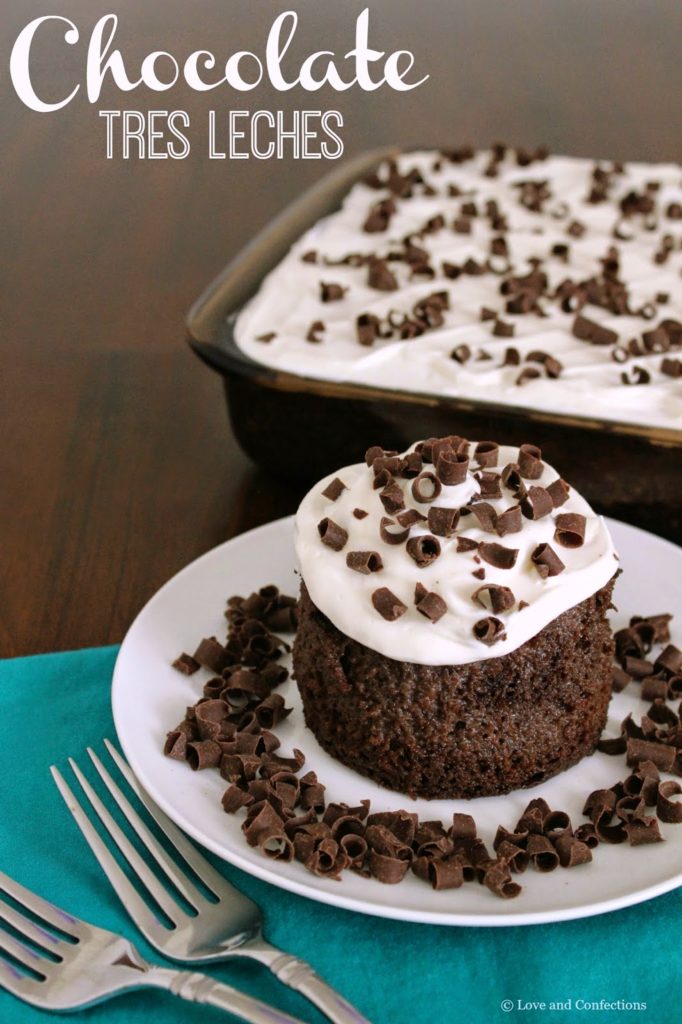 While I do like cake, it isn't always my first choice for desserts. I have made my fair share of all different types of desserts: tarts, bread puddings, ice creams, etc. I often make cake, but my weakness tends to be frozen sweets. This cake, on the other hand, is one that I gravitate toward. I love how moist it is and it's the perfect amount of sweetness. This recipe is great as a large cake, or you can even make it into individual servings.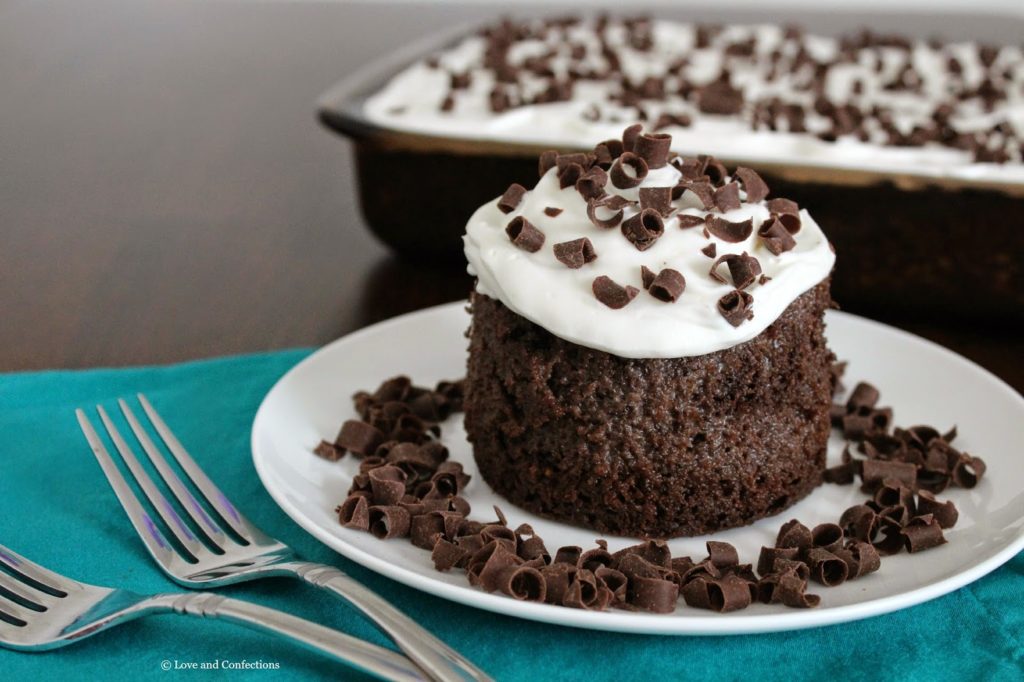 I put my own spin on the traditional tres leches and made a Chocolate Tres Leches for the Dixie Crystals Chocolate Dessert Recipe Contest for this year's Food & Wine Conference. The Food & Wine Conference is a 3-day event at the beautiful Rosen Shingle Creek Resort and Spa, here in Orlando, Florida. Food Bloggers, Chefs, Business Owners, Brands and Media Professionals all gather for sessions, demonstrations, food, wine and fun.

I had an incredible time at last year's Food & Wine Conference. I learned so much and am extremely excited about this year's conference as well. We would love to have you join us, too! You can use the promotional code FWC15millt for a $50 discount off the full conference pass. Please be sure to follow and like the Food & Wine Conference on Facebook, Pinterest, Twitter, and Google+ to keep up-to-date on all conference happenings, announcements and updates.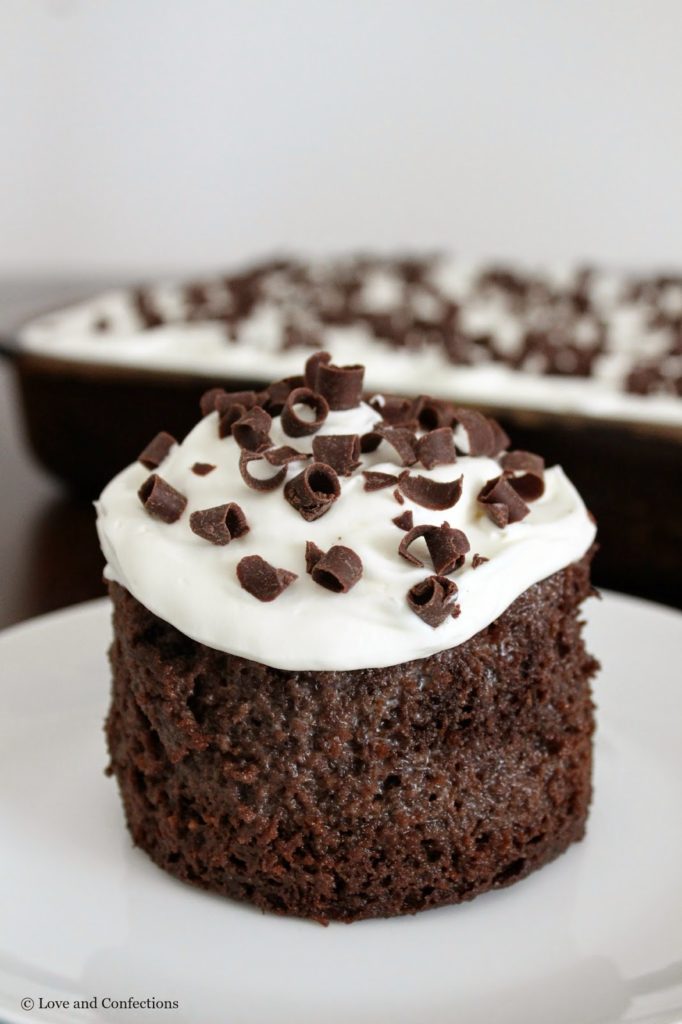 Chocolate Tres Leches
A Love and Confections original recipe
Click here for a printable recipe
Chocolate Tres Leches Ingredients:
For the Cake:
– 1/2 cup Unsalted Butter, room temperature
– 1 & 1/2 cup Dixie Crystals Extra Fine Granulated Sugar
– 4 large Eggs, room temperature
– 1 cup Greek Yogurt
– 6 ounces Semisweet Chocolate, melted
– 2 teaspoons Madagascar Vanilla Extract
– 2 cups Unbleached All-Purpose Flour
– 1 tablespoon Baking Powder
– 1 teaspoon Baking Soda
– 3 tablespoons Cocoa Powder
– 1 teaspoon Espresso Powder
– 1/2 teaspoon Salt
– 1/2 cup Vegetable Oil
For the Milk Mixture:
– 12 ounces Evaporated Milk
– 14 ounces Sweetened Condensed Milk
– 8 ounces Half & Half
For the Topping:
– 1 & 1/2 cups Heavy Cream, very cold
– 2 cups Dixie Crystals Powdered Sugar, sifted
– 1 teaspoon Tahitian Vanilla Extract
– Chocolate Curls for garnish (optional)
Chocolate Tres Leches Directions:
1. Heat oven to 350F. Prepare a 9×13 pan with baking spray and set aside. If using individual ramekins, prepare those with baking spray and set aside on a sheet tray with sides.
2. In the bowl of your stand mixer, cream the Butter and Sugar until light and fluffy. While the mixer is on low, add the Eggs one at a time. Scrape down the sides of the bowl to insure everything is incorporated. Add in the Greek Yogurt, Melted Chocolate and Vanilla Extract and mix to combine.
3. In a medium bowl, whisk together the Flour, Baking Powder, Baking Soda, Cocoa Powder, Espresso Powder and Salt. Add it into the liquid mixture, while on low, alternating with the Vegetable Oil.
4. Pour batter into prepared pan or ramekins and bake for 30-35 minutes, or until a toothpick inserted into the center comes out clean. Make the Milk Mixture while the cake cools.
5. In a medium bowl, whisk the Evaporated Milk, Sweetened Condensed Milk and Half & Half together. With skewers, poke holes all over the cake, making sure you go all the way through to the bottom of the pan. With a ladle, spoon the milk mixture over the cake, trying to get as much as possible into the holes. It looks like a lot of milk, but the cake will absorb everything. Cover with plastic wrap and refrigerate a minimum of 6 hours, preferably overnight.
6. 30 minutes before making the topping, place the bowl and whisk attachment from your stand mixer into the freezer*. Whip the Heavy Cream on medium-high, until it starts to thicken and form soft peaks. Add in the Vanilla Extract and combine. Slowly add in the Powdered Sugar while the mixer is on low. Once it is incorporated, mix on high to whip until firm peaks.
7. Remove the cake from the refrigerator and spread the whipped topping on with an offset spatula.** Sprinkle the top with Chocolate Curls. Enjoy!
*Heavy Cream whips better when cold. To insure a good whip, it is best to chill the bowl and whip attachment before it is needed.
**The cake needs to remain refrigerated and covered because of the whipped topping. If necessary, use toothpicks on the cake so the plastic wrap does not touch the whipped topping. If not serving immediately, store in the refrigerator and do not put the Chocolate Curls on until right before serving.
Until next time,
LOVE & CONFECTIONS!
Disclaimer: I am an ambassador and on the planning committee for the Food & Wine Conference and will receive a commission if you use my discount code to purchase a ticket. This recipe was created as an entry for the Dixie Crystals Chocolate Dessert Recipe Contest. The Dixie Crystals Chocolate Dessert Recipe Contest runs from March 30, 2015-April 17, 2015. Contest entries are equal opportunity for all Food and Wine Conference participants, and I receive no advantage for being an ambassador or committee member.