Cinnamon Pumpkin Muddy Buddies are my new favorite Fall snack. The perfect amount of spices and chocolate cover cinnamon cereal tossed with pumpkin. You will want to make these for every Fall holiday and party.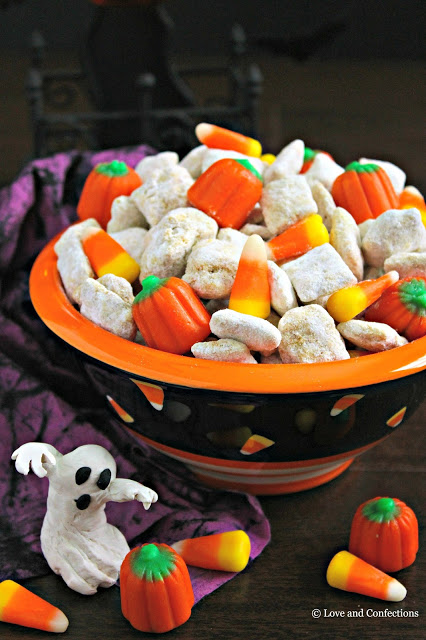 Muddy Buddies, or puppy chow, is such a fun treat to have. I knew that I wanted to make pumpkin muddy buddies for #PumpkinWeek a while ago. While I like pumpkin pie, I prefer other pumpkin-flavored treats more. I think it just stems from having pie crust that doesn't taste that great, so I take pie out of the equation and have all that deliciousness in a snack. It's also covered in powdered sugar, so you can't go wrong with them.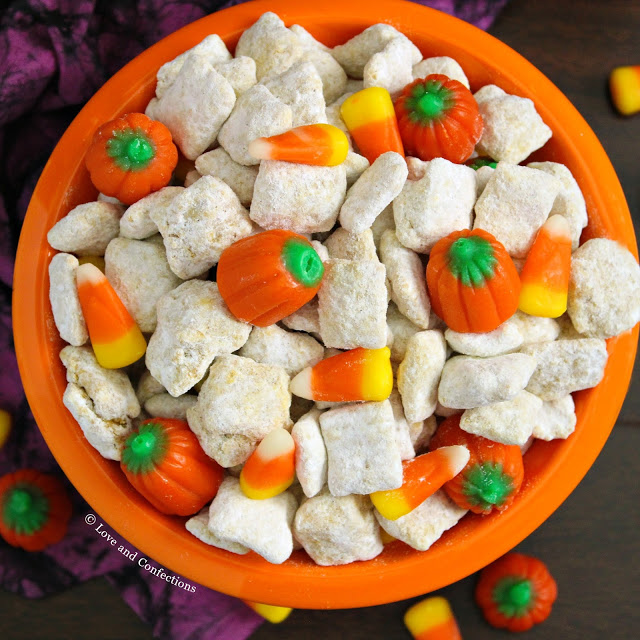 Chocolate is the most common flavor, and one that I grew up loving. Playing around with flavor profiles is always fun, and these pumpkin muddy buddies are soon to be your family's favorite. I plan on making some more batches for Halloween and Thanksgiving, and maybe even as favors for everyone to take home.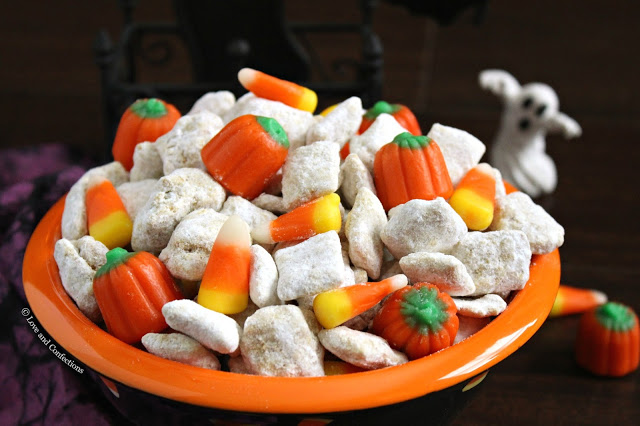 A lot of recipes out there use candy melts. I opted to use white chocolate, which can seize a bit if overheated or adding wet ingredients to it. That's where the coconut oil comes in. You can use shortening as well, but since I have wet pumpkin in the mix, I wanted to thin the chocolate just a bit. It also helps to try and pat your pumpkin dry as much as you can before mixing it in.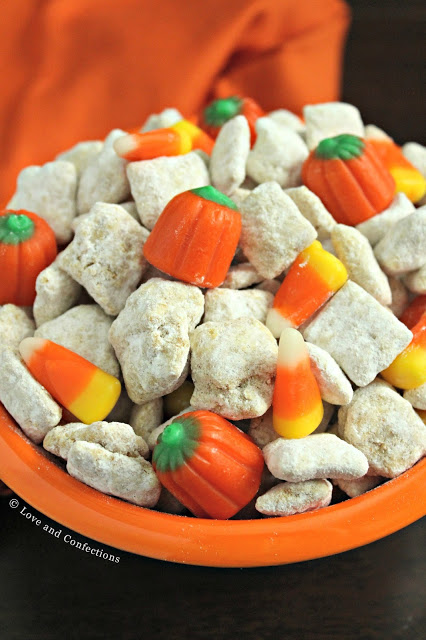 See that cute ghost in the photos? That little guy was made by my grandfather a few years before he passed. My grandfather was a great artist and he made it for my mom for Halloween one year. I wanted to incorporate him into the photos because he really is too cute.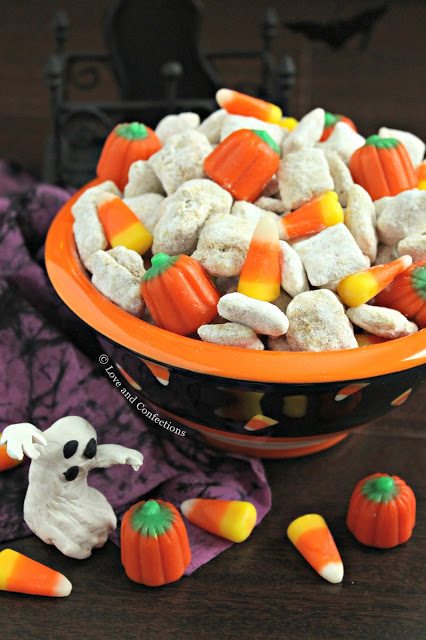 Cinnamon Pumpkin Muddy Buddies
By Love and Confections
Published 10/05/2017
Ingredients
12.1 ounce box Cinnamon Chex (approx 8 cups)
1/3 cup pumpkin puree, patted dry
3 teaspoons coconut oil, divided
3 teaspoons pumpkin pie spice, divided
16 ounces Ghirardelli white chocolate chips
3 cups confectioner's powdered sugar
Instructions
Pour cereal into a large mixing bowl and set aside. Make sure pumpkin is patted as dry as you can get it. Place pumpkin, 2 teaspoons of coconut oil, and 1 teaspoon pumpkin pie spice in a heatproof container. Heat in microwave, a few seconds at a time, until oil is melted. Mix together then pour over cereal. Toss to coat.
Place chocolate and remaining coconut oil in a heatproof container or measuring cup. Melt according to package directions. Pour over cereal and toss gently to coat each piece.
Combine powdered sugar and remaining pumpkin pie spice in a large zip top bag. Add cereal to bag and shake to coat. May need to repeat the process in batches.
Until next time,
LOVE & CONFECTIONS!

Here are today's #PumpkinWeek recipes:
Savory Pumpkin Recipes:
Pumpkin Farrotto from Culinary Adventures with Camilla.
Pumpkin Habanero Salsa from Rants From My Crazy Kitchen.
Pumpkin Quesadilla from Making Miracles.
Sweet Pumpkin Recipes: