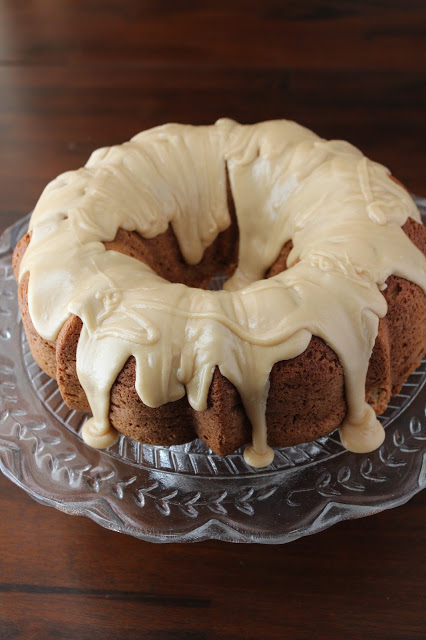 BrunchWeek is almost over. Besides entering for the fabulous prizes below, there is still our PinChat Live happening this coming Saturday, May 11th from 2-3 pm EST. We'll be announcing all our prize winners and there will be more prizes from Lodge Cast Iron drawn from participants in the chat.
I thought this cake would be a nice treat for Mother's Day – what mom doesn't like coffee? The cake and frosting make for a great dessert that could even be eaten at breakfast or tea time. I also love this frosting! It has such a great coffee flavor and I love how it kind of crusts as it dries – making it not all fall completely off the cake when glazing.
Coffee Chiffon Cake
Coffee Chiffon Cake adapted from About Professional Baking
Coffee Frosting is a Love & Confections original recipe
Coffee Chiffon Cake Ingredients:
– 255 grams sifted Cake Flour
– 50 grams Granulated Sugar #1
– 12 grams Baking Powder
– 3 grams Salt
– 120 milliliters Canola Oil
– 95 grams Egg Yolks, room temperature
– 75 grams Warm Coffee
– 224 grams Egg Whites, room temperature
– 1 gram Cream of Tartar
– 255 grams Granulated Sugar #2
Coffee Frosting Ingredients:
– 6 Tablespoons Unsalted Butter, melted
– 100 grams Powdered Sugar
– 20 grams Warm Coffee
– 1/2 teaspoon Espresso Powder
Coffee Chiffon Cake Directions:
– Make sure all your ingredients are at room temperature before starting. Preheat oven to 310F. If using a false-bottom tube pan, do not grease – as per the original recipe instructions. If using a bundt pan I suggest greasing it and cutting the recipe down by 1/3.
– Sift together Cake Flour, Granulated Sugar #1, Baking Powder and Salt into a medium mixing bowl.
– Whisk in Oil and Egg Yolks and Coffee and blend until smooth.
– Whip Egg Whites in an extremely clean bowl of your stand mixer until foamy. Add in Cream of Tartar and whip until soft peaks form. Gradually add in Granulated Sugar #2 and whip until stiff peaks form.
– Whisk 1/3 of the whipped egg whites into the cake batter to "lighten".
– Gently fold in the remaining egg whites in two additions with a rubber spatula, being careful not to over-mix and deflate the whites.
– Pour the batter into your chosen cake pan and bake for 30-45 minutes or until a cake tester comes out clean – time depends on the size of your pan and the amount of batter used
– If using a tube pan with metal tabs, cool upside-down, if using a bundt pan, let it cool right-side-up – you can attempt to turn it upside-down if you dare.
Coffee Frosting Directions:
– Melt Butter over medium-low heat.
– While butter is melting, whisk together the Powdered Sugar, Coffee and Espresso Powder until combined.
– While whisking, pour melted butter over the sugar coffee mixture. If you don't use it immediately, the frosting starts to crust – just re-whisk to smooth it out.
– Pour over Chiffon Cake and enjoy!
Today's Brunch Recipes from participating #BrunchWeek Food Bloggers



Brunch Drink Recipes
Breads, Grains, Cereals and Pancake-type Yums
Meat, Poultry, Fish and Legume Brunch Recipes
Egg Recipes
Potato Recipes
Brunch Dessert Recipes
Until next time,
LOVE & CONFECTIONS!
Disclosure: I have not been given any monetary compensation for this post or any #BrunchWeek post involving the above sponsors and/or prizes. Samples and bits of promotional material have been given to me, not exceeding a value of $100 total.