I am all about the easy Christmas desserts and having a fully stocked dessert table with White Chocolate Christmas Tree Cupcakes, Mini Cannoli and Chocolate Yogurt Dip are three delectable and easy desserts for anyone to pull off this year!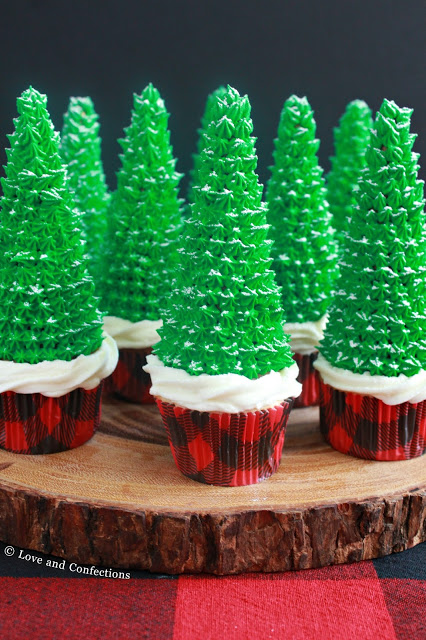 While I love making desserts all the time, sometimes I even need a little help. We made over 700 cookies this year, including some that were decorated with royal icing, for neighbors, for friends, neighbors and our Christmas celebrations. I love cookies, but wanted something extra special for Christmas and partnered with Florida Dairy Farmers for these three easy and delicious recipes.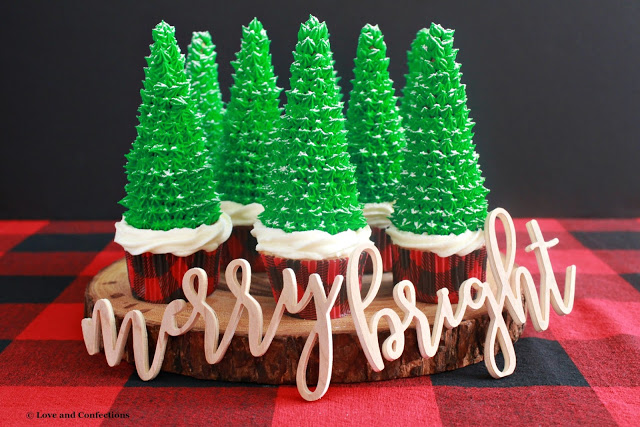 These Christmas Tree Cupcakes are so cute. It does take a little time for the royal icing trees to dry – preferably overnight – but since it can be made ahead, that step is pretty easy. I love the flavor of these cupcakes. Also, this recipe calls for buttermilk, but if you don't have any, you can use a combination of milk and lemon juice, like I did in my Homemade Gingerbread Pancakes.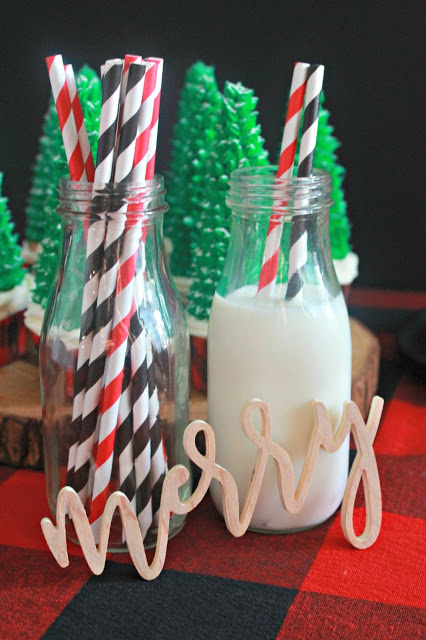 Mini cannoli are the perfect bite-sized treat. I don't make them often, and Christmas is the perfect time to share cannoli with family and friends – especially because we celebrate an Italian Feast of the Seven Fish on Christmas Eve. Cannoli, Italian cheesecake, and sfogliatelle are Christmas Eve traditions.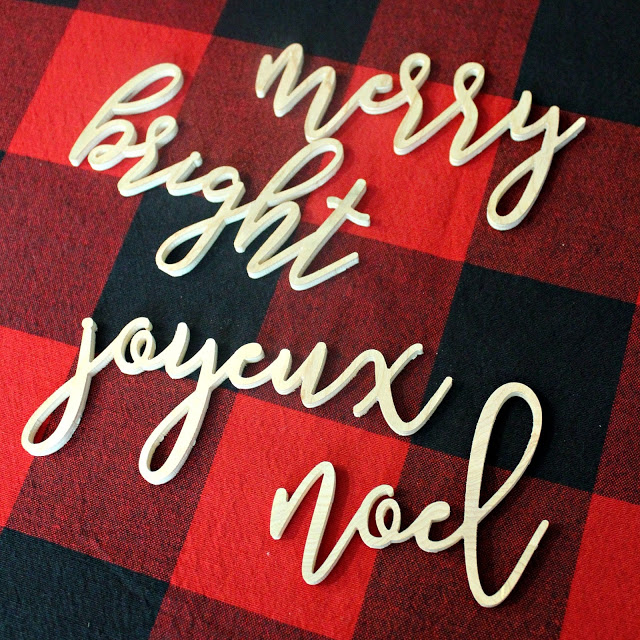 This year, since we ran out of time because of all the decorated cookies I made, the cheesecakes were never made and the sfogliatelle never got ordered. The cannoli are sure to be a hit, though! As are these cute custom laser letters from my friends at Revel. They created the perfect holiday sayings and these are going to be adorable as table-settings too! I can't wait to show you what they made for my New Year's Eve table decorations!
Chocolate Yogurt Dip is a delicious alternative to those heavy, cream cheese-laden dips. While they are yummy, since I already had cannoli with ricotta and mascarpone I opted for something a bit lighter. Sprinkles are definitely a requirement on this dip, especially during holiday time. High quality chocolate sprinkles are a decadent treat and give the dip a nice crunch.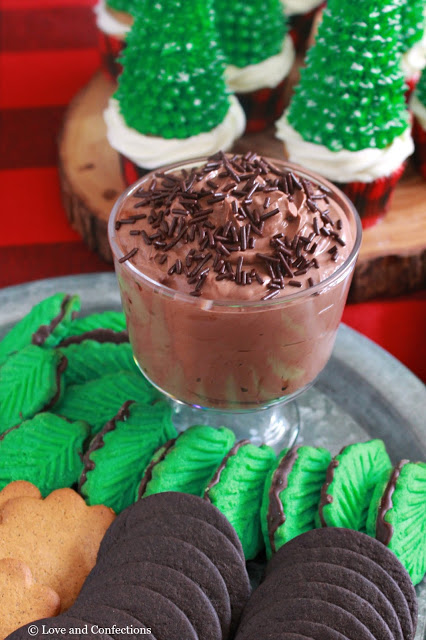 We used cookies on our platter, but you could also dip fruit. Strawberries and bananas would go great with this too. I used Greek yogurt for my chocolate dip, but feel free to use regular yogurt if you don't like that slight tang.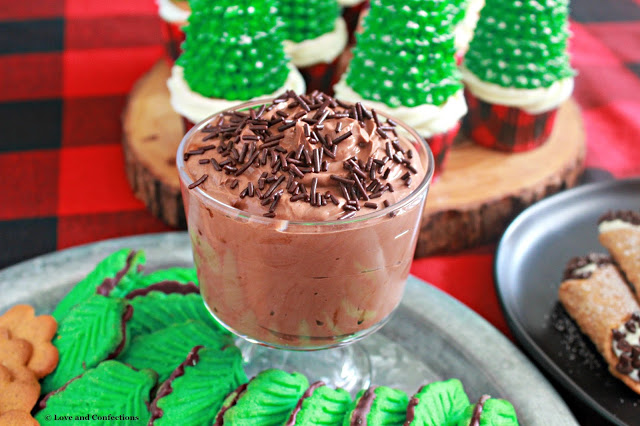 I hope you enjoy your holiday season with family and friends. Make it sweet, have plenty of cookies, and don't forget a big glass of ice cold milk!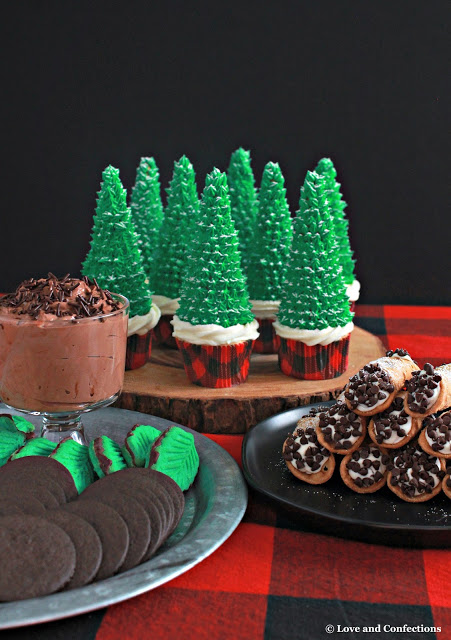 White Chocolate Christmas Tree Cupcakes
By Love and confections
Ingredients
2 1/2 cups all-purpose flour
2 tablespoons cornstarch
1 teaspoon baking powder
1/2 teaspoon baking soda
1 teaspoon salt
6 ounces white chocolate, finely chopped
1/2 cup hot water
1 cup (2 sticks) butter, softened
1 3/4 cups granulated sugar
4 eggs, separated
1 teaspoon vanilla extract or vanilla bean paste
1 cup milk + 2 teaspoons lemon juice, prepared ahead
1 cup (2 sticks) unsalted butter, room temperature
3-4 cups powdered sugar, sifted
1 1/2 teaspoons vanilla extract
2-3 tablespoons milk
green royal icing
sugar ice cream cones
Instructions
Heat oven to 350F. Prepare muffin tins with baking cups and set aside.
In a medium bowl, whisk together the flour, cornstarch, baking powder, baking soda and salt. Set aside.
Melt chocolate according to package directions, either in microwave or double boiler. Once melted, whisk in hot water to thin chocolate.
In large bowl, or bowl of your stand mixer, beat butter and sugar together until light and fluffy. Add in egg yolks one at a time, scraping down the sides of the bowl after each addition. Mix in vanilla bean paste and white chocolate.
Add flour and homemade buttermilk alternating, beginning and ending with the flour.
In separate bowl, beat egg whites until stiff peaks form. Slowly add into cupcake batter, folding 1/3 in at at time.
Using a cookie scoop, portion batter into prepared muffin tin and bake for 22-25 minutes, or until a toothpick inserted into the center comes out clean. Cool in tin for 10 minutes, then remove to wire rack to cool completely.
To make frosting, cream butter until light and airy. Add powdered sugar slowly one cup at a time, alternating with milk, scraping down the sides between additions. Mix in vanilla extract then whip until light and airy. pipe onto cupcakes.
You can either pre-pipe the ice cream cones, or place the sugar cone onto the cupcake and pipe directly onto it after assembled. Using a small star tip, pipe green royal icing around cones to resemble a tree. Dust with powdered sugar or luster dust.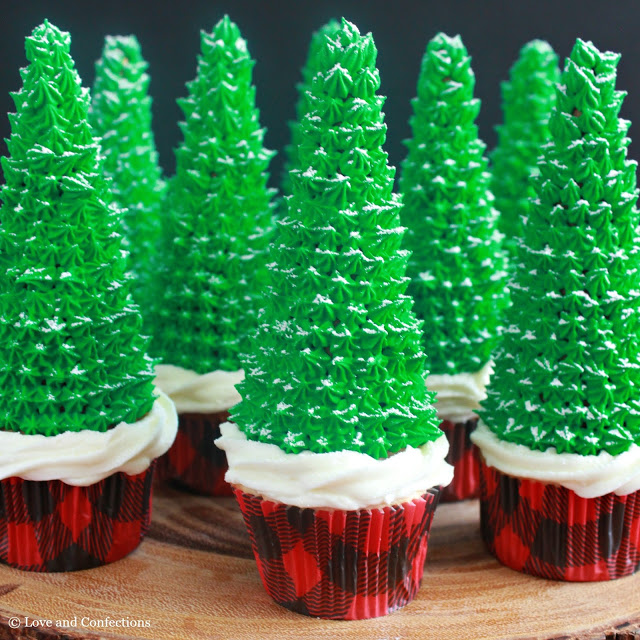 Mini Cannoli
By Love and Confections
Ingredients
24 homemade or pre-made mini cannoli shells
15 ounces ricotta, drained
8 ounces mascarpone
1 cup powdered sugar
2/3 cup mini chocolate chips, plus more for garnish
Instructions
Place ricotta in cheesecloth-lined fine sieve overnight in the refrigerator before making recipe, to drain any extra liquid.
In a mixing bowl, combine ricotta, mascarpone, powdered sugar and mini chocolate chips. Filling can be made ahead of time and stored in airtight container up to two days. Once filled, cannoli must be eaten same day.
Pour chocolate chips into low dish for dipping. Place filling into piping bag and pipe into cannoli. Dip each end into the chocolate chips and place on serving platter. Dust with powdered sugar.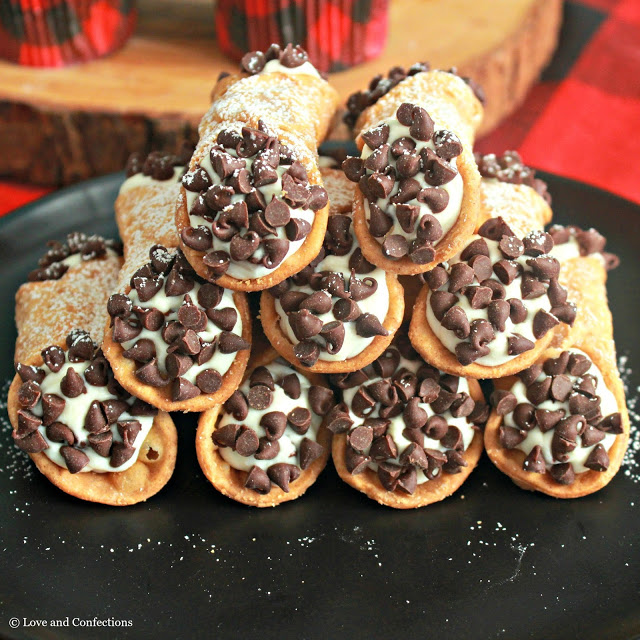 Chocolate Yogurt Dip
By Love and Confections
Ingredients
2 cups vanilla Greek yogurt
1/4 cup cocoa powder
1/2 cup powdered sugar
1 teaspoon vanilla extract
garnish with chocolate sprinkles
Instructions
In a medium mixing bowl, combine yogurt, cocoa, powdered sugar and vanilla. If substituting regular yogurt, increased powdered sugar might be necessary.
Spoon into serving dish, top with sprinkles and serve with cookies and fruit. Refrigerate for up to one day before serving.
Until next time,
LOVE & CONFECTIONS!
I have an ongoing relationship with Florida Dairy Farmers as a recipe developer. Thank you for supporting the brands that make Love and Confections possible. This post may contain Amazon Affiliate links – if you make a purchase after clicking the link, the price will not be higher, but a portion of the sale will go towards the sustainability of this website. As always, all opinions are my own.