Dark chocolate cocoa powder, almond butter, flax seed meal, chia seed gel, bananas, spinach and my favorite yogurt are blended together into a delicious and satisfying Dark Chocolate Almond Green Smoothie.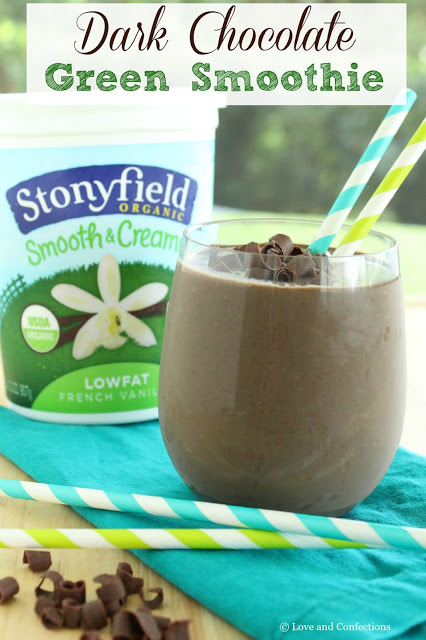 I love using Stonyfield Yogurt in my smoothies. Starting today, I am doing a 5-part smoothie series during the month of August. Many families are getting into back-to-school mode, and sometimes breakfast isn't all that easy. Over the next 5 Saturdays, I'll give you some great options for smoothies. Throughout the next few weeks, I am also going to have a few round-ups for smoothies and healthy breakfasts. Don't forget to come back throughout the month to read about my delicious smoothies. You can also follow along with the hashtag #LnCSmoothieSaturdays on social media.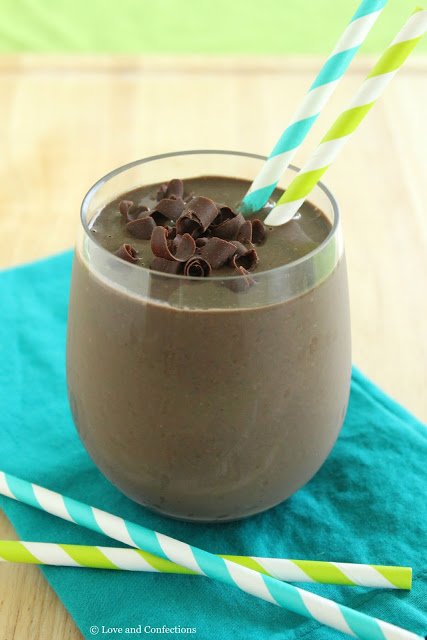 My toddler loves when I make us smoothies, so I try and incorporate a lot of tasty and healthy ingredients into them. During the Spring and Summer, we have a great deal of fresh fruit on hand. We use strawberries and blueberries during the Spring and cherries and peaches make their way into our smoothies during the Summer. During the Fall and Winter, I also use a good amount of frozen fruit that I have either picked from organic farms or bought from the grocery store.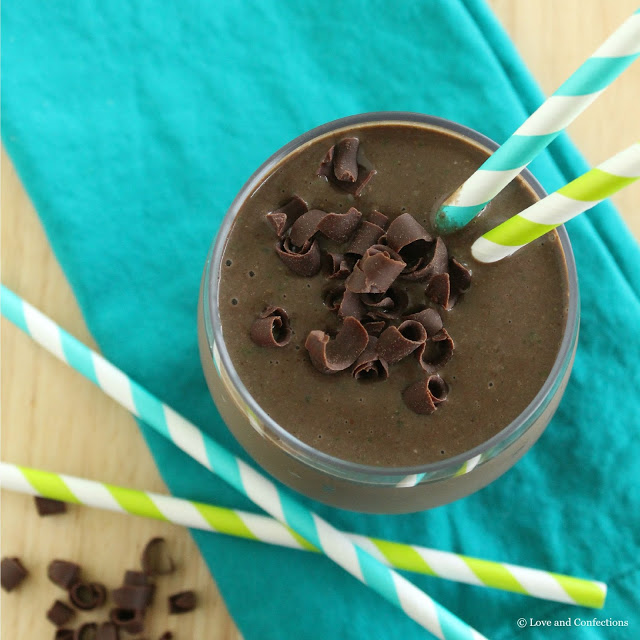 #ToddlerLnC loves bananas, so we usually add one to our smoothies if we haven't already eaten one earlier in the day. I also use chia seed gel – which I love! Chia seeds not only go in our smoothies, but also into my overnight oatmeal and baked goods. I recently started using flax seed meal and like the nutty flavor it adds. If possible, I try to add some green veggies into our smoothies so I get some extra good food into the toddler!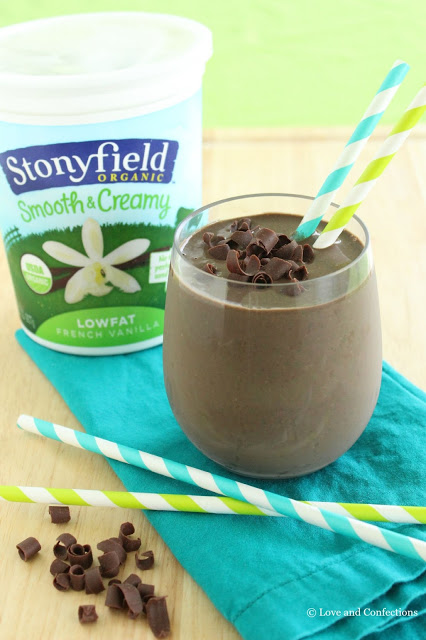 I don't have a high-speed, powerful blender, and usually burn out motors on regular ones because they can't handle the ice crushing or smoothie making. If I make a green smoothie, I often find bits of the leafy greens not mixed in completely. I am used to not making my smoothies with ice, because of the blender issue also, but feel free to add ice to any of these smoothies in the series.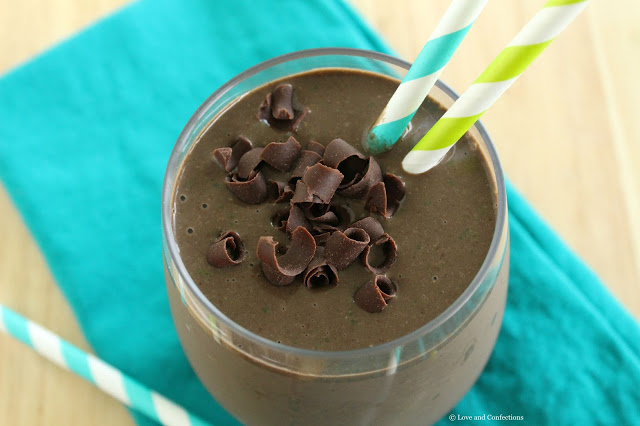 Dark Chocolate Green Smoothies
A Love and Confection original recipe
Yield – 1.5 (without ice for one adult and one toddler)
Click here for a printable recipe
Dark Chocolate Green Smoothie Ingredients:
– 1 cup Stonyfield Lowfat French Vanilla Yogurt
– 2 tablespoons Nut Butter
– 2 tablespoons Dark Cocoa Powder
– 1/4 cup prepared Chia Seed Gel
– 1 cup fresh Spinach
– 1/2 teaspoon ground Cinnamon
– 1 tablespoon Flax Seed Meal
– 1 teaspoon Honey
– 1 teaspoon Vanilla Extract
– Chocolate Curls or dusting of Cocoa Powder (optional)
– Crushed Ice (optional)
Dark Chocolate Green Smoothie Directions:
1. In a blender, or with an immersion blender, add Yogurt, Nut Butter, Cocoa Powder, Chia Seed Gel, Spinach, Cinnamon, Flax Seed Meal, Honey and Vanilla Extract. Blend until all the ingredients are thoroughly combined. Blend in Crushed Ice, optional. Pour into glasses and enjoy!
Until next time,
LOVE & CONFECTIONS!
Disclaimer: As a #StonyfieldBlogger and member of the Clean Plate Club, I regularly receive coupons from Stonyfield for free product. I was not compensated for this post and all opinions are my own.