This shop has been compensated by Collective Bias, Inc. and its advertiser. All opinions are mine alone. #BeenBooed #HalloWINE #CollectiveBias The following content is intended for readers who are 21 or older.
DIY glitter wine glasses, delicious Mushroom and Kale Flatbread Pizzas, and a bottle of Robert Mondavi Private Selection Chardonnay along with some treats for my girlfriends, create a Happy "Hallo-WINE" Ghouls Night In.
I absolutely love Halloween, but for my girlfriends and I it is usually geared towards our little ones. We try to have a girls' day every couple of months for us to hang out and spend time together. Sometimes we get so busy with our everyday lives and work that we need to schedule a day just for us.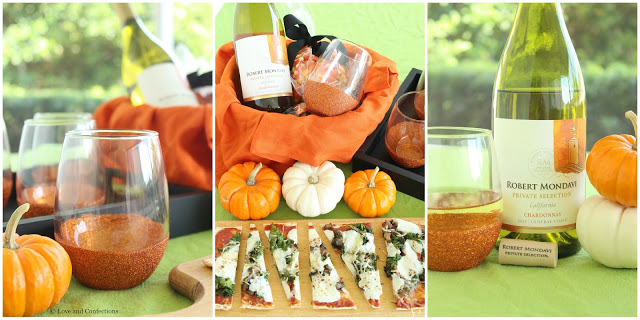 With the help of Robert Mondavi Private Selection Chardonnay, I planned a Halloween "Ghouls Night In"… get it? 😉 A chance for my girlfriends and I to relax and enjoy some good food and good wine. I made a cute little basket to display our treats – there can't be a girls' day without some dark chocolate – and created some delicious flatbread pizzas that pair perfectly with the Robert Mondavi Private Selection Chardonnay.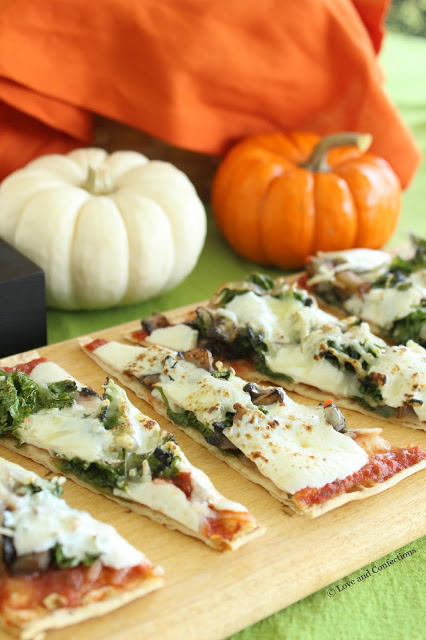 My basket is based off the traditional "You've Been Boo'd" chain letter game played around Halloween. Friends, neighbors or co-workers anonymously leave a note and treat for someone and they in turn have to "boo it forward" to two more people. The chain keeps going so everyone in the neighborhood or office has been boo'd by Halloween.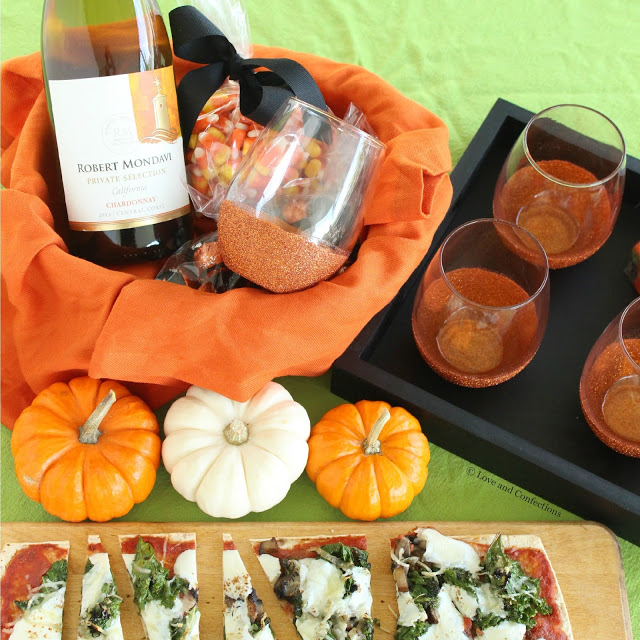 Robert Mondavi Private Selection Chardonnay is also a great idea for a host/hostess gift. Some bottles in stores have a hang tag with Mummy's Mulled Wine recipe and message "
You've Been Hallo-wined
". How cute is that?! Even better is the instant redeemable coupons and mail in rebates that are valid 10/1-11/30.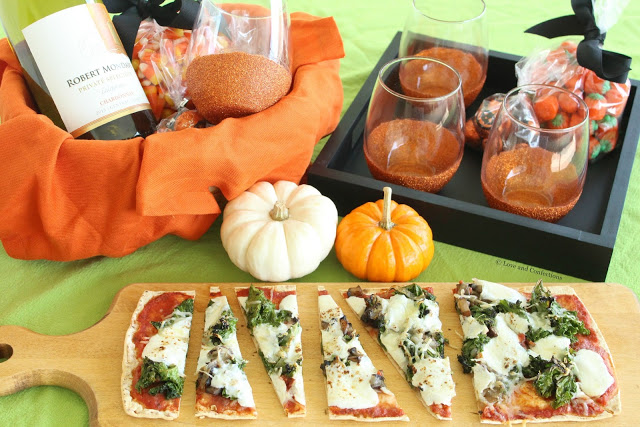 Now, you can't drink wine without cute wine glasses. I love getting crafty and decided to make each of my girlfriends their very own glittered wine glass. I chose orange, which is perfect for our "Hallo-wine" party and any day during the Fall season. It is easy to do (I created mine while the toddler took a nap) and a swanky idea for any Autumn-themed tablescape.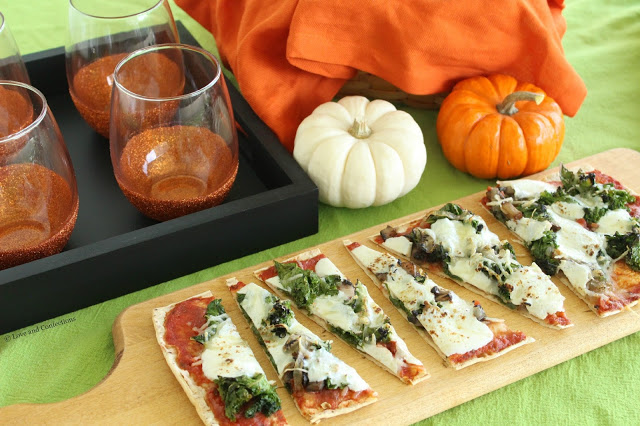 Make sure the wine glasses are clean and the outside is wiped with rubbing alcohol. Gather all the supplies you need: paper plates, paintbrush, foil or newspaper, dishwasher-safe Mod Podge, ultra-fine glitter, and a small bowl. You can also use painters' tape to create a very clean line. I free-handed mine and they turned out perfect.

Place foil or newspaper on your work surface. Add Mod Podge into your small bowl. Using the paintbrush, paint a thin layer of Mod Podge according to whatever design you would like, and over a paper plate, sprinkle the glitter so it covers the glue completely. Gently shake it off and place the glass upside down to dry. Repeat with the other glasses and let them dry for 1-2 hours. While they are drying, rinse off the paintbrush and replace the excess glitter back into its container.

Once the glasses are dry, gently repeat with another layer of Mod Podge and glitter. Let the second layer dry on all the glasses for 2 hours. Clean the paintbrush and replace and clean up the glitter. After 2 hours, paint a final layer of Mod Podge all over the glitter to seal it. Let it dry for a minimum overnight, but make sure to read the package directions for specific curing times.

Mushroom and Kale Flatbread Pizzas
A Love and Confections original recipe
Click here for a printable recipe
Mushroom and Kale Flatbread Pizza Directions:
– 1/2 tablespoon Extra Virgin Olive Oil
– 1/2 tablespoon unsalted Butter
– 1 small onion, diced
– 2 cups chopped Baby Bella Mushrooms
– 4 stalks of Kale, rinsed and leaves pulled off, discard stalk
– 3 prepared Flatbreads
– 3/4 cup prepared Tomato Sauce
– 8 ounces fresh Mozzarella Cheese
– 1/3 cup shredded Parmesan cheese
Mushroom and Kale Flatbread Pizza Ingredients:
1. Heat oven to 375F. Place a silicone mat or parchment paper onto a half-sheet jellyroll pan and set aside.
2. In a medium-large skillet, heat the Olive Oil and Butter and saute the Onion until translucent, about 5 minutes. Ad in the chopped Mushrooms and cook another 5 minutes. Add in the Kale and cook another 5 minutes until it has wilted and cooked through. Set aside.
3. Bake the plain Flatbreads, per the package instructions, for 2 minutes, before adding toppings. Add 1/4 cup Tomato Sauce per flatbread and spread evenly. Top with mushroom and kale mixture. Break apart the Fresh Mozzarella and sprinkle it over the flatbreads. Evenly distribute the Parmesan Cheese on top.
4. Bake for 6-10 minutes, or until the cheese is fully melted to your liking. Remove pizzas from the pan onto a cutting board and slice. Serve with a glass of Robert Mondavi Private Selection Chardonnay and enjoy!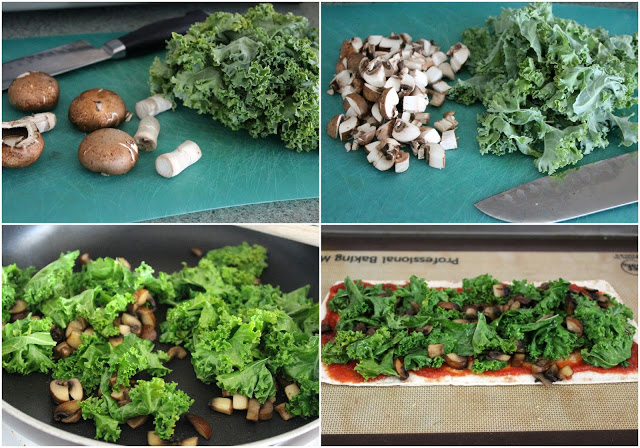 Until next time,
LOVE & CONFECTIONS!