Strawberry Shortcakes are the perfect quick dessert that's not too sweet and highlights those perfect berries!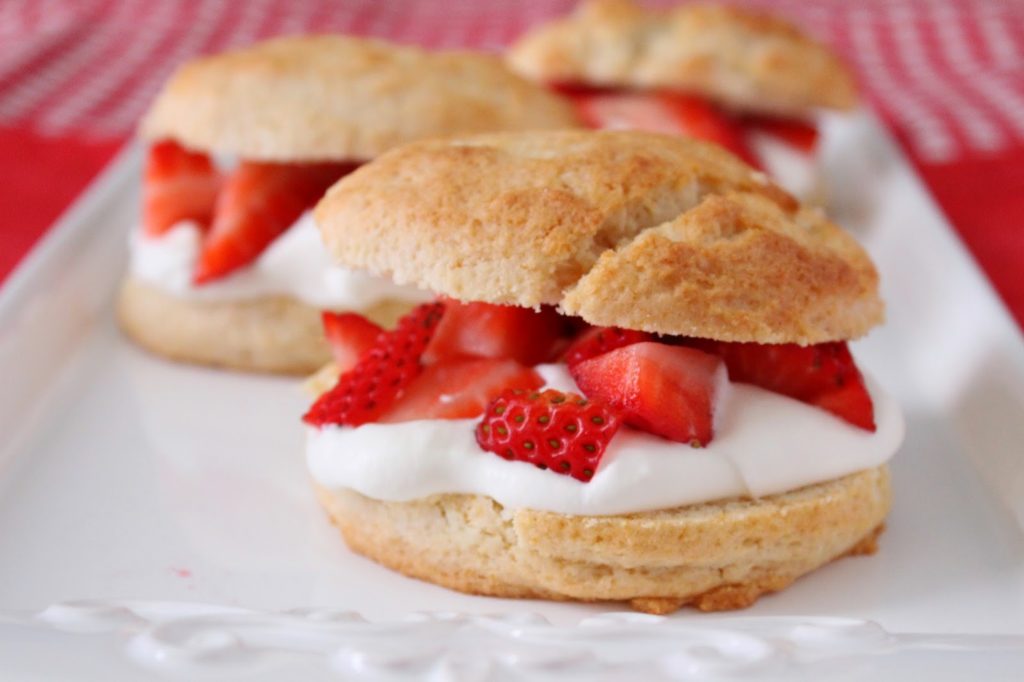 A lot of people associate strawberry shortcake as angel food cake topped with strawberries, but if you are from the south you know different. This is a true strawberry shortcake. The biscuit is buttery and crumbly and best eaten as soon as it cools off. If you want to give yourself a workout – like I did – hand whip your heavy cream – it's a lot quieter than turning on the stand mixer, especially when Baby Grace is taking a nap.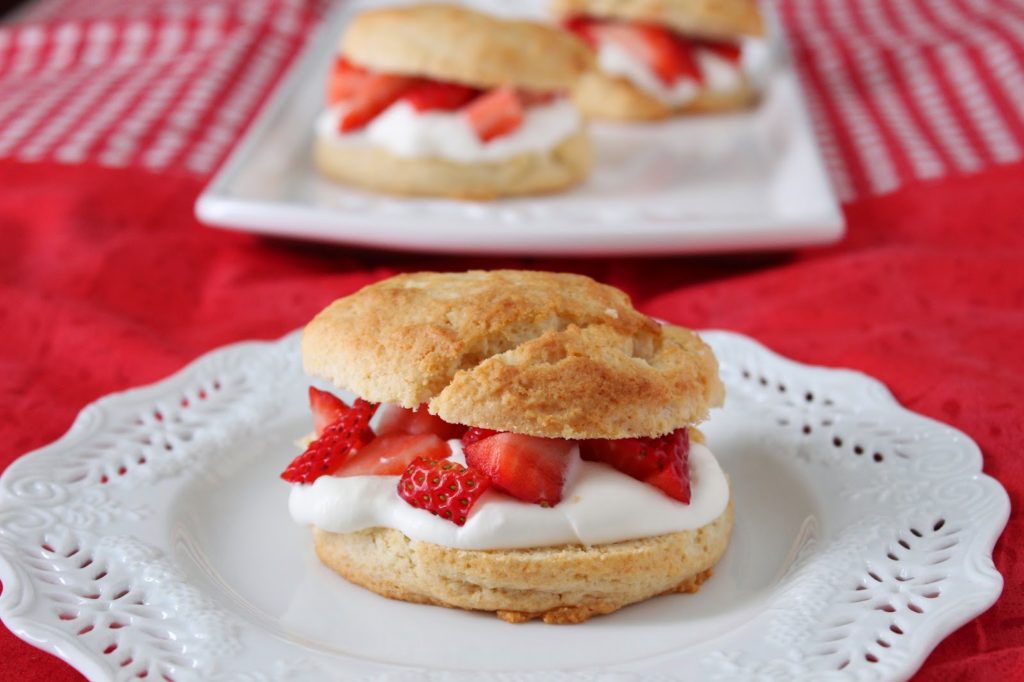 I was actually out of milk, so I substituted heavy cream. Next time I will probably try the milk, just to see how it turns out. I recommend a disher or ice cream scoop, so they are uniform in size – I got 8 from this recipe at about 2.75 ounces per shortcake.
Strawberry Shortcake
adapted from Bisquick
Strawberry Shortcake Ingredients:
– 1 pint Strawberries, hulled and diced
– 2 & 1/3 cups Bisquick mix
– 3/4 cup Heavy Cream
– 3 tablespoons Granulated Sugar
– 3 tablespoons Unsalted Butter, melted
– 1/2 cup Heavy Cream, kept well chilled
– 2 teaspoons Powdered Sugar
Strawberry Shortcake Directions:
– Heat oven to 425F. Prepare strawberries and set aside.
– In a medium bowl, combine the Bisquick mix, Heavy Cream, Sugar and Butter until it is combined and a soft, sticky dough is formed.
– Using an ice cream scoop or disher, drop dough onto an ungreased cookie sheet. Press down slightly so it flattens a bit.
– Bake for 10-12 minutes, until golden brown, depending on your oven. Let the shortcakes cool while you prepare the whipped cream.
– Either by hand or using a stand mixer, whip the Heavy Cream and Powdered sugar until soft peaks form.
– Slice the shortcakes, fill with whipped cream and strawberries. Enjoy!
Until next time,
LOVE & CONFECTIONS!