Everything Bagel Rolls are a perfect brunch accompaniment. The everything bagel spice mix is delicious on the soft homemade rolls. Serve warm with whipped cream cheese for a spin on the classic.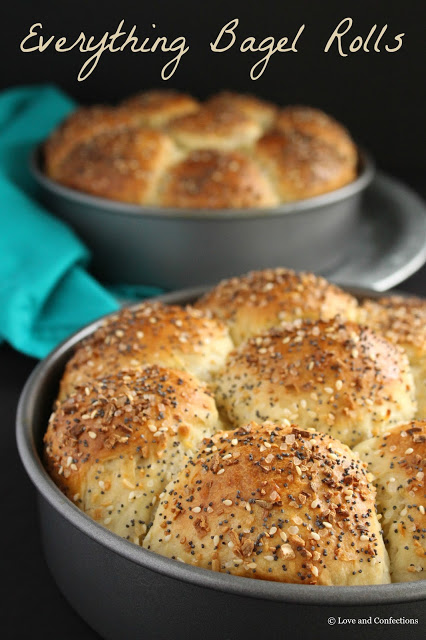 Welcome to day 3 of #BrunchWeek! I am co-hosting this year's #BrunchWeek with A Kitchen Hoor's Adventures, and the brunch recipes keep getting better by the day! When I brunch, there is usually a carb involved – I'm a total "carbivore". Sometimes it's in the form of pancakes, waffles, toast, etc. While I do love bagels, they sometimes are too heavy when accompanied by a variety of food for brunch. These Everything Bagel Rolls are my answer to wanting the delicious everything bagel taste, but in a soft, pillowy roll.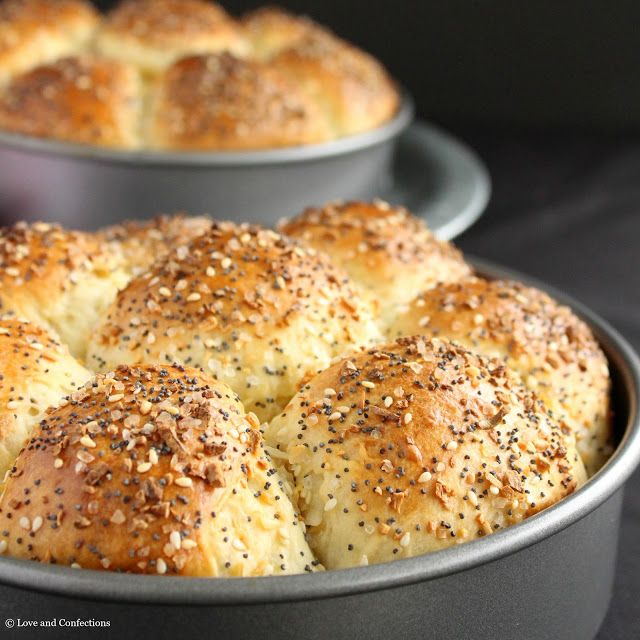 I have a mason jar with my everything spice mix and I plan on baking a few different kinds of bread so I can use it all. Speaking of bread, I love Red Star Yeast. It is my favorite yeast to use – I have used it in culinary school, in my home kitchen, and in the bakery. It is high quality and consistent, making bread-baking a whole lot easier. RedStarYeast.com has so many delicious recipes and I want to bake every one!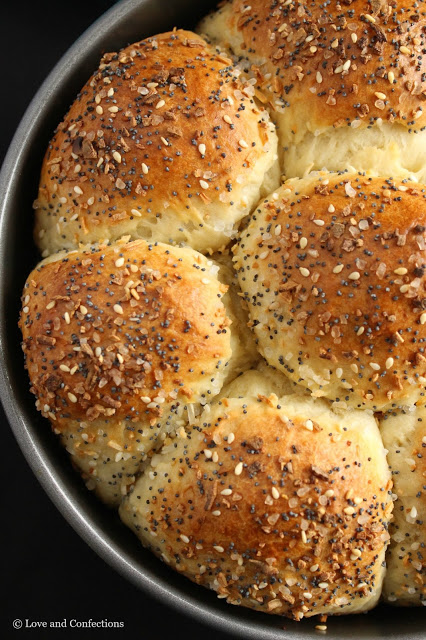 When these rolls were baking, the whole house smelled delicious. I had to have one while it was warm, and smeared on some whipped cream cheese. It would also be great with butter and your
favorite jam
! These rolls are sure to be a hit at your next brunch!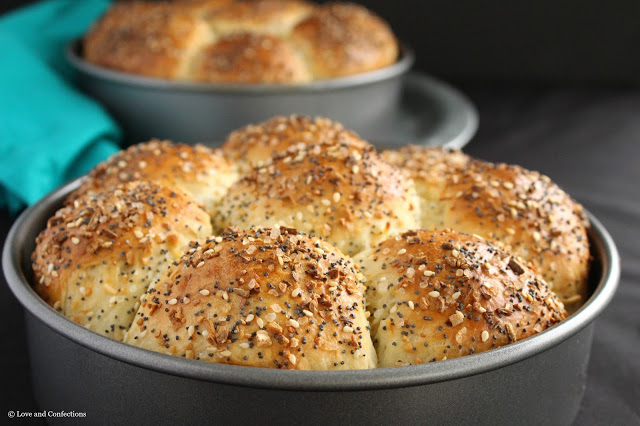 Everything Bagel Rolls
Rolls adapted from Stephie Cooks
Everything Bagel Spice Mix a Love and Confection original recipe
Everything Bagel Rolls Ingredients:
Yeast Roll Ingredients:
– 1 cup shortening
– 1 teaspoon salt
– 1/2 cup Dixie Crystals Extra Fine Granulated Sugar
– 1 cup boiling water
– 2 packages (4& 1/2 teaspoons) Red Star Platinum Yeast
– 1 cup warm water (110F-115F)
– 2 eggs, lightly beaten
– 6 cups all purpose flour, sifted
– 1 egg + 1 tablespoon water, beaten for egg wash
Everything Bagel Spice Mix Ingredients:
– 1 tablespoon minced onion
– 1 tablespoon minced garlic
– 1 tablespoon sesame seeds
– 2 teaspoons course salt
– 1 & 1/2 tablespoon poppy seeds
Everything Bagel Rolls Directions:
1. In a large mixing bowl, dissolve shortening, salt and sugar, then let cool to 110F-120F.
2. In medium measuring cup, dissolve yeast into warm water. Add it to the shortening mixture. Whisk in eggs.
3. With a spatula, stir in the flour until combined. Cover bowl with lightly greased plastic wrap and refrigerate for 6-8 hours.
4. To bake, gently turn dough out onto a lightly floured surface and divide into 16 equal pieces. Tuck the edges of each piece under until the top of the dough is taut, like a bubble, place the dough onto your surface and gently roll the dough clockwise to tighten each roll.
5. Grease 2-3 9-inch cake pans and arrange the dough balls in them. Cover with a tea towel and let it rise for 1 hour. Near the end of the rise, heat the oven to 425F.
6. In a bowl or jar, combine all the ingredients for the spice mix. Lightly brush the tops of the rolls with the egg wash and sprinkle the everything bagel spice mix on.
7. Bake the rolls for 20-25 minutes, until golden brown on top, and cooked inside. If necessary, place a piece of foil over each pan, halfway through baking, to prevent topping from burning. Enjoy
Until next time,
LOVE & CONFECTIONS!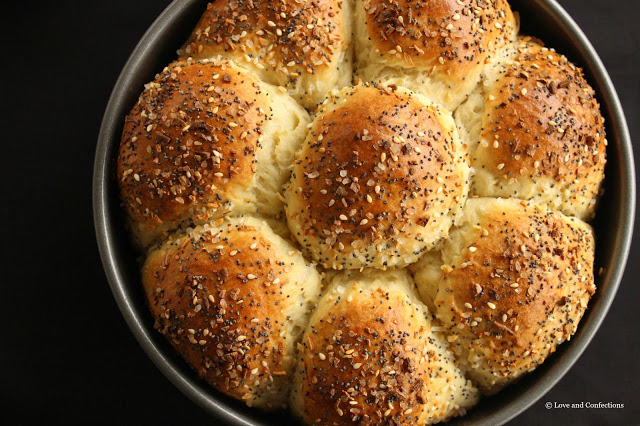 BrunchWeek Beverages:

BrunchWeek Breads, Grains and Pastries:

BrunchWeek Fruits, Vegetables and Sides:

BrunchWeek Egg Dishes:

BrunchWeek Main Dishes:

BrunchWeek Desserts: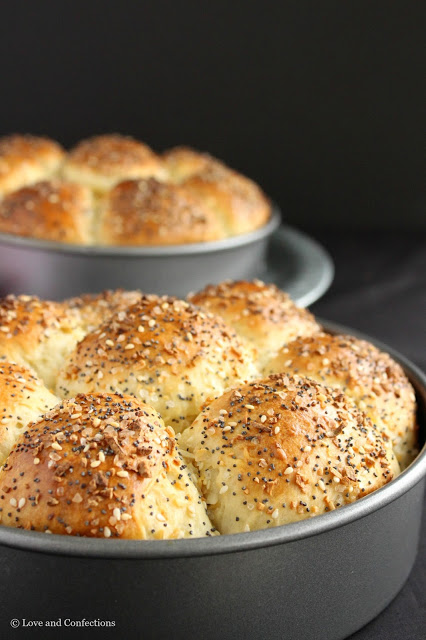 Disclaimer: Thank you to #BrunchWeek Sponsors: Red Star Yeast, Dixie Crystals, Cabot Cheese, Vidalia Onion Committee, Sage Fruits, Nielsen-Massey, KitchenIQ, and Le Creuset for providing the prizes free of charge. These companies also provided the bloggers with samples and product to use for #BrunchWeek. All opinions are my own.