"Sometimes the biggest disaster of your life is actually a moment of even bigger Grace." – The Daily Love
Of all the things I learned this past weekend, at the Food Blog Forum Orlando, the thing I will always remember is Jaden Hair of Steamy Kitchen and her spirit of generosity. She said that is one of the most important things we can ever do, and she lived it. Because of her spirit of generosity, I was able to attend an amazing event, when I didn't think I was able to.
In order to explain the quote above, one of my new favorites, you need to understand that my use of the word disaster is not just a hurricane or an earthquake or terrorism – and please don't judge me that I think little of natural disasters, am egocentric, etc., which is not the case. I am talking about my own personal disaster – one that not many people will think is that bad, but we each have our own personal disasters, so again, do not judge. My personal disaster was, and still is, my surgery. I have one Carpal Tunnel surgery done and one still left to do. It has been a burden physically, financially, and emotionally, and one that almost didn't let me go to the Food Blog Forum.
I am still new in the food blog scene. I met some extraordinary people that share my same passion for food and photography. We had different panels throughout the day and the information was priceless. Lindsay Landis of Love & Olive Oil and Purr Design shared information on Blog Design, Optimization and Usability. Dawn Viola of Wicked Good Dinner gave a presentation called, "Just Ask: How to Write for the Big Boys" and helped to organize this entire amazing event. Julie of The Little Kitchen is the other person responsible for making the Food Blog Forum happen.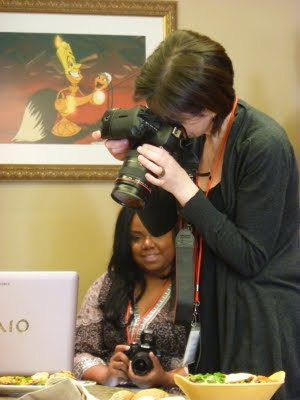 Two of my favorite presentations during the day were from Helene Dujardin of Tartelette. She presented on, "Find Your Composition and Styling Voice" and "Find Your Light," two invaluable sessions for any food photographer. I am so glad she shared her expertise with the group and am extremely honored to have met her. She is an inspiration, and as my husband and I lovingly joke, my "food blog idol." I aspire to become as good at photography as Helene, who is impressively self-taught. Watching her styling and listening to her about composition and lighting and cameras gave me a new optimism in food photography, and taught me to take a step back and really think about the food and the light. She doesn't have the, "I'll fix it in Photoshop," mentality, which I think is great. Do the shot and do not rely on fixing it up later.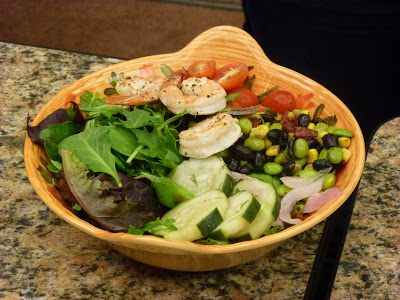 The last presentation of the day was from Jaden Hair of Steamy Kitchen, "Beyond the Banner: Building a Blog Business." Alliteration, lol, but in all seriousness, it was very informative and opened my eyes to how a blog can really be a business. I am also honored to have met Jaden. Her spirit of generosity was visible to everyone in the room. We have food blogs to share – share our recipes, share our experiences, share our photos, and share ourselves. Out of my disaster I was Graced with this great opportunity, and I won't let it go to waste.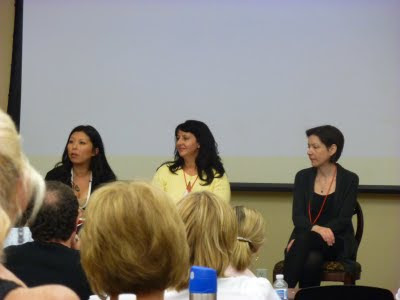 Thank you to all the organizers, presenters and my new food blog friends: Katie's Cucina, Cakeb0t, Food + Words, Cook the Story, and Inn the Kitchen just to name a few. 😉
*I didn't take too many pictures, and the ones I did were not that great. Too busy listening to presenters and meeting new people.
Until next time,
LOVE & CONFECTIONS!