Fried Polenta Cakes with Grilled Tomato and Mozzarella Salad is an easy and delicious appetizer or entree for any occasion!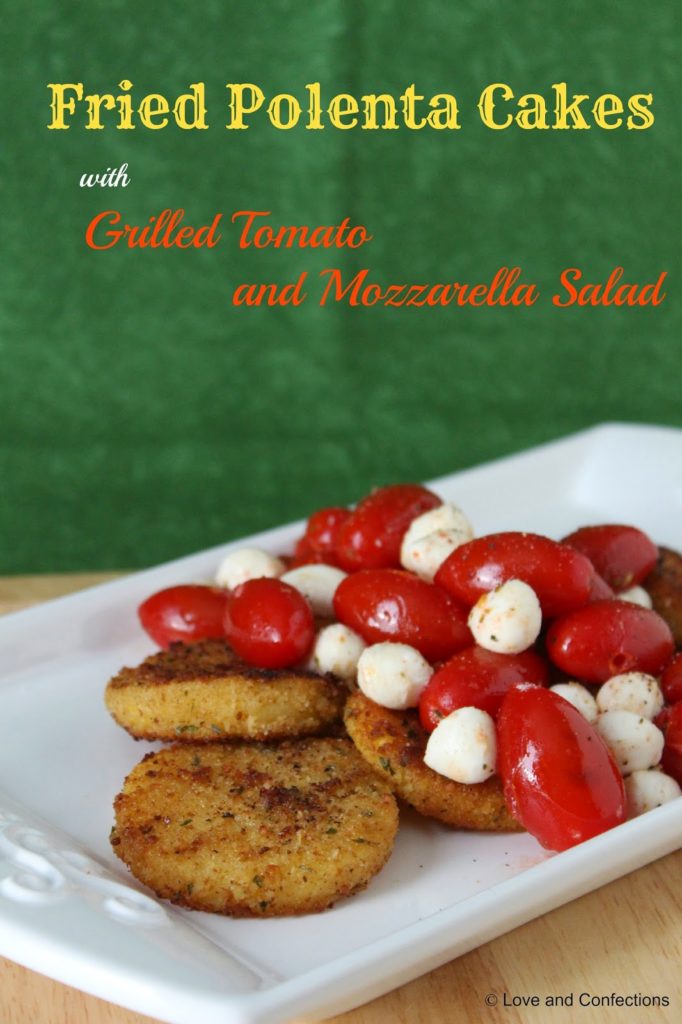 Welcome to #10DaysofTailgate hosted by Culinary Adventures with Camilla! There are nearly two dozen bloggers with over one hundred recipes to inspire you through an entire tailgating season. From Chili, Meatballs and Wings to Sangria, Pretzels and some sweet Desserts, we have all your tailgating recipe needs covered. #10daysofTailgate runs from September 20th through September 30th. A huge thank you goes to our event sponsors who have graciously donated prizes for our readers. There are fourteen different prize packages so make sure you enter the rafflecopter HERE and check back throughout the event for all the. Don't forget to follow the hashtag on Twitter too.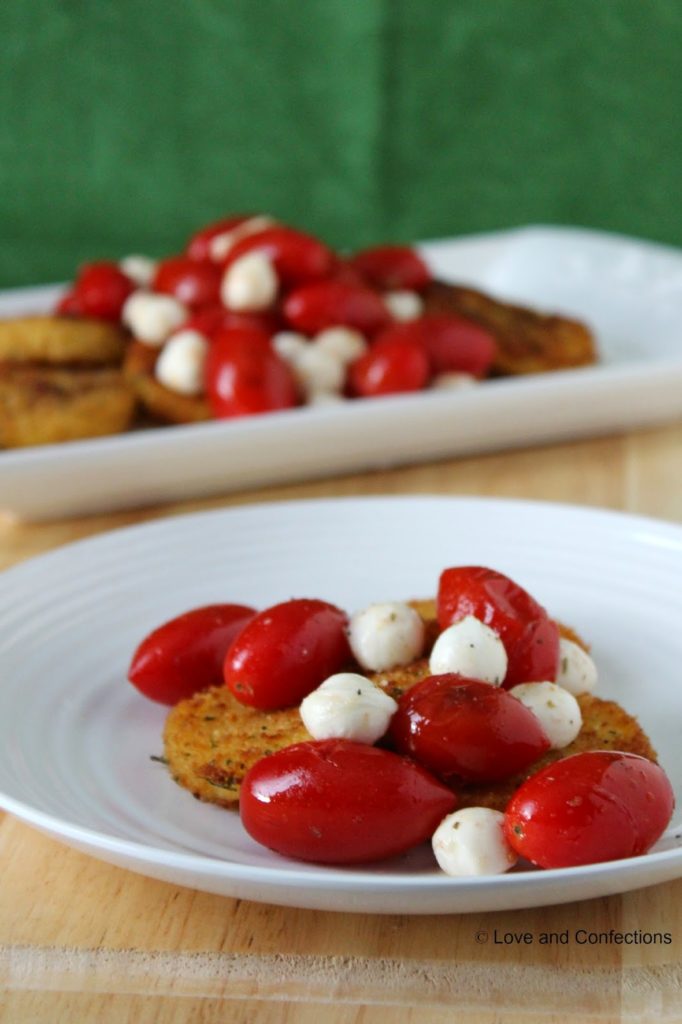 So things have been quite crazy around here this past week. We moved and if you think moving is hard, try moving with a 9-month old. My kitchen is mostly put together, and I actually got to cook dinner in it last night! There are still a few things that need to get done and unpacked. Most of my baking supplies are still in boxes. Slowly but surely things are getting back to normal. And we officially have the computer and internet running, so I am beyond happy that this post is actually happening!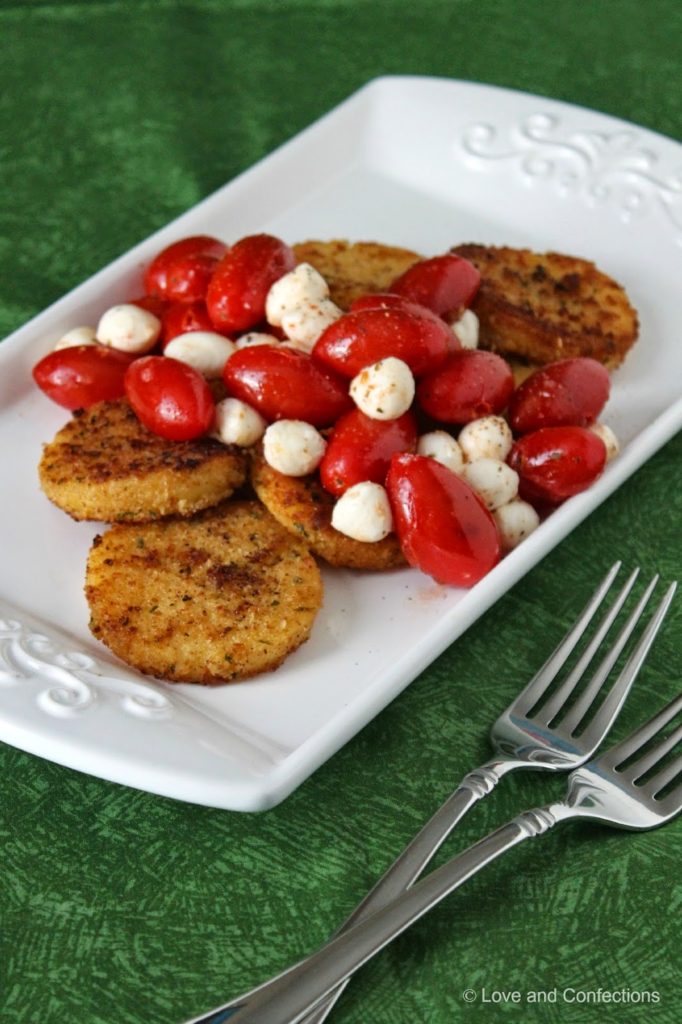 I love grilled food, but having lived in an apartment for the past 4 years, we weren't allowed to have a grill. Hopefully that will change, now that we are in a house. Before, when I wanted something grilled, I would have to either go out to eat, try and grill on a very small portable charcoal grill, or visit family that lives about an hour away. My little go-around has been a panini press that is an interchangeable grill and griddle that I used for today's recipe.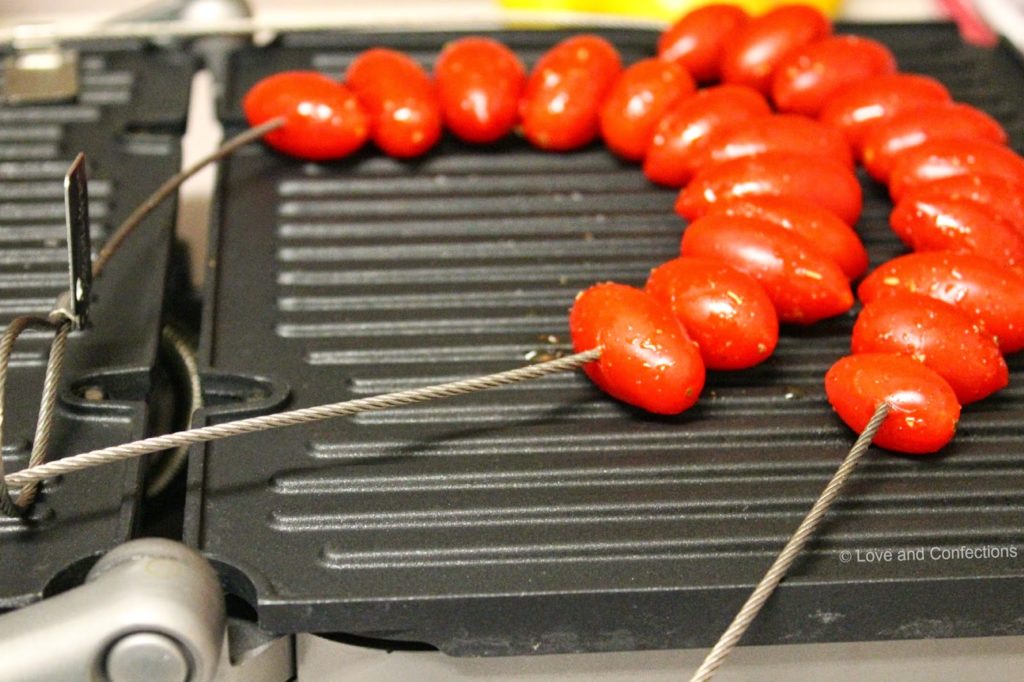 This is my first time using FireWire grilling tools and they are pretty cool. My panini press is quite small to use the flexible skewers on, but you can bet that I am going to try them out again on a bigger grill as soon as I can. I love polenta and thought it would be the perfect upscale tailgate treat. It is absolutely delicious and I might have eaten more that my fair share. The polenta cakes are best served warm and fresh. You can reheat them, or keep them warm in a low oven as well. Garnish with the Tomato and Mozzarella Salad right before serving. This dish will definitely impress your game-day guests!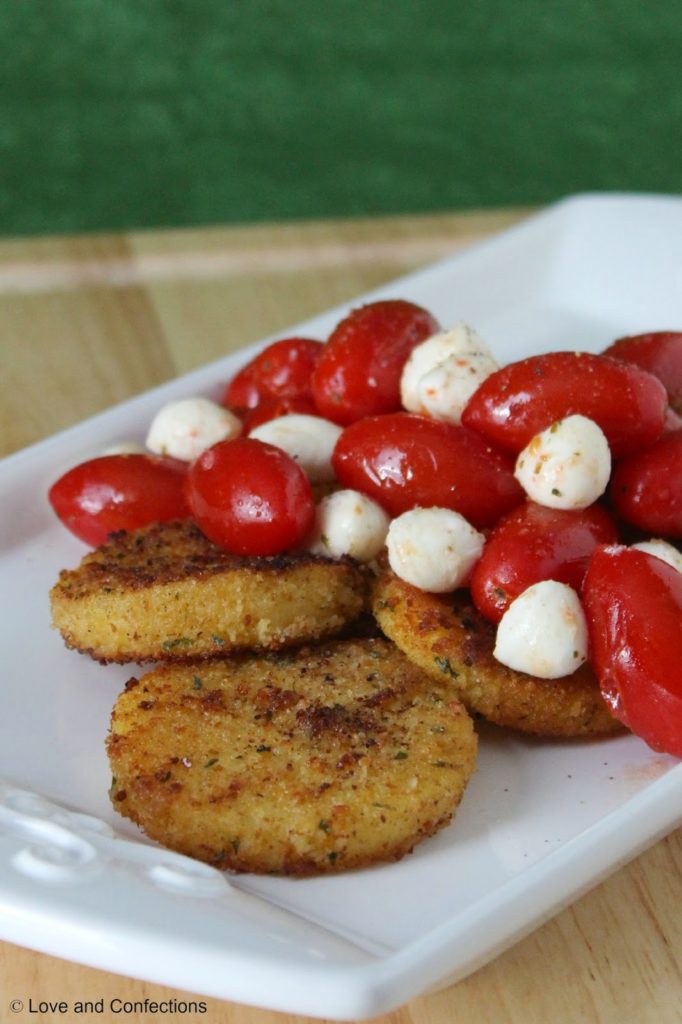 The Grilled Tomato and Mozzarella Salad would not be complete without herbs. Gourmet Garden has such a great variety of herbs available in the refrigerated section of your grocery store. I love the Italian Herb Paste, Basil Paste and Garlic Paste. I use these specific Gourmet Garden products a lot, especially in my meatloaf and tomato sauce. They are perfect because the ingredients are all ready to be incorporated into my dishes and I don't have to worry about the quality – sometimes my supermarket doesn't have a good selection when I need it.
Fried Polenta Cakes with Grilled Tomato and Mozzarella Salad
A Love and Confection original recipe
Click here for a printable recipe
Fried Polenta Cakes with Grilled Tomato and Mozzarella Salad Ingredients:
– 1 roll prepared, refrigerated Polenta
– 2 large Eggs
– 1-1 & 1/2 cups Seasoned Bread Crumbs
– Olive Oil for frying; oil should only come up maybe halfway on the sliced polenta
– 1 teaspoon Extra Virgin Olive Oil
– 1/4 teaspoon Onion Powder
– 1/4 teaspoon Gourmet Garden Italian Herb Paste
– 1/4 teaspoon Gourmet Garden Basil Paste
– 1/8 teaspoon Gourmet Garden Garlic Paste
– 1 cup Cherry or Grape Tomatoes
– 1 cup Mozzarella Pearls (Bocconcini)
– Salt and Pepper to taste
Fried Polenta Cakes with Grilled Tomato and Mozzarella Salad Directions:
1. Slice prepared Polenta into 1/4 slices and set aside. In two separate small bowls, whisk the Eggs in one, and place most of the Breadcrumbs into the other, creating a breading station.
2. Heat the Olive Oil in a medium-large skillet for frying. Once hot, Dredge the Polenta slices into the Eggs then Breadcrumbs and fry, turning half-way, until golden brown. Be careful to not overcrowd the skillet. Once cooked, place on a paper towel-lined plate to drain off excess oil. Once all the Polenta slices are fried, place them onto a serving platter.
3. In a medium bowl, whisk together the Extra Virgin Olive Oil, Onion Powder, Italian Herb Paste, Basil Paste and Garlic Paste. Add in the Tomatoes and Mozzarella and toss to combine. Salt and Pepper to taste and serve over the warm Polenta cakes. Enjoy!
Until next time,
LOVE & CONFECTIONS!
Here's what the rest of the crew brought to the table…
Starters
BBQ Sausage & Cheese Plate by The Spiffy Cookie
Vegified Hot "Wings" by Curious Cuisiniere
Fried Polenta Cakes with Grilled Tomato and Mozzarella Salad by Love and Confections
Smoky Karma Stovetop Beans by Culinary Adventures with Camilla
Dips
Chile con Queso by Sew You Think You Can Cook
Mains
*Disclaimer: I was provided with the FireWire Flexible Grilling Skewers and Gourmet Garden Herbs as a #10daysoftailgate participant. All opinions are my own. I only work with companies I love.