Royal Icing Snowflakes are an easy and beautiful decoration on cakes and cupcakes for any Frozen or Winter-themed party!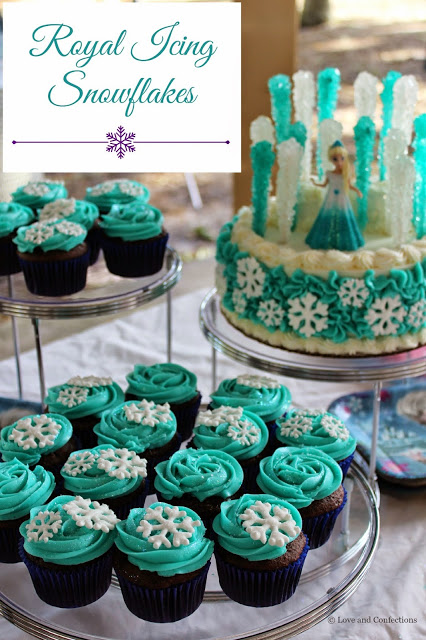 For the past year and a half, little girls all everywhere have been in love with Frozen. Clothes, toys, dolls, birthday parties, you name it, Frozen is everywhere. I like the movie and thought it was cute, but I am still a classic Disney girl at heart. I recently had an opportunity to help make a little girl's Frozen-themed birthday party spectacular.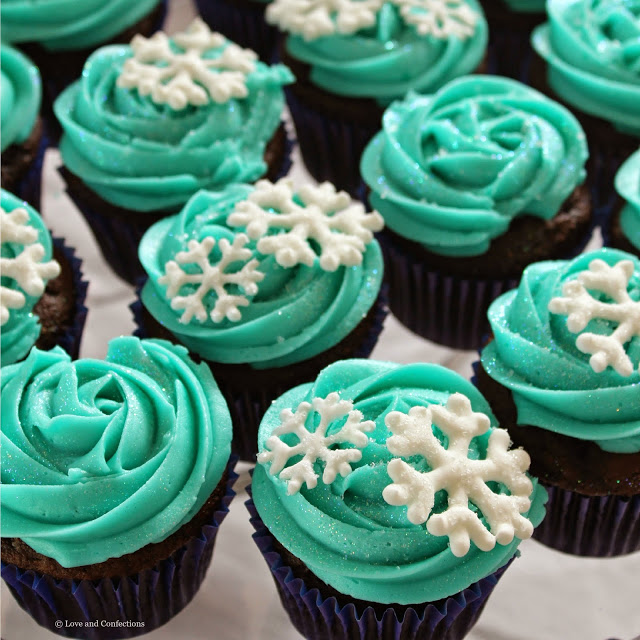 If you are a pastry chef or baker, then you most likely get asked to help make goodies for family and friends – holidays and birthday, being the most popular occasions. So, when one of my friends asked me to make her daughter's Frozen birthday cake, I got right to work.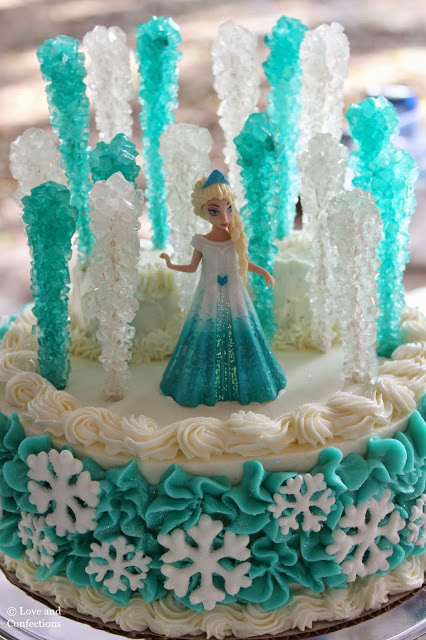 You can find anything and everything online nowadays and there are so many ideas for Frozen birthday parties. I combined a few of my favorite and added some of my own flair to come up with this adorable Frozen-themed cake and cupcakes.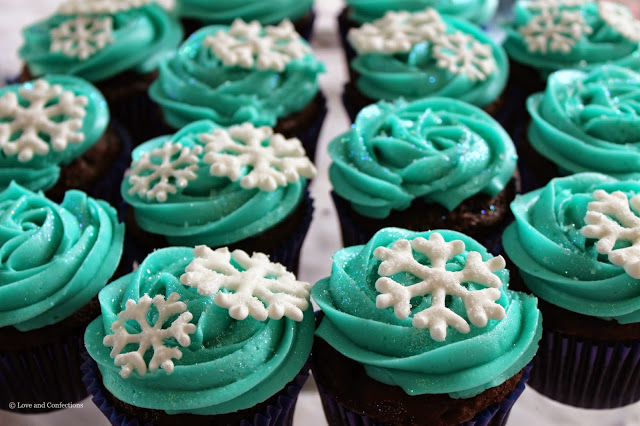 There are so many different snowflake ideas out there. Most of them are fondant, gumpaste and white chocolate. I decided to make mine from royal icing because it's very easy to make and dries hard.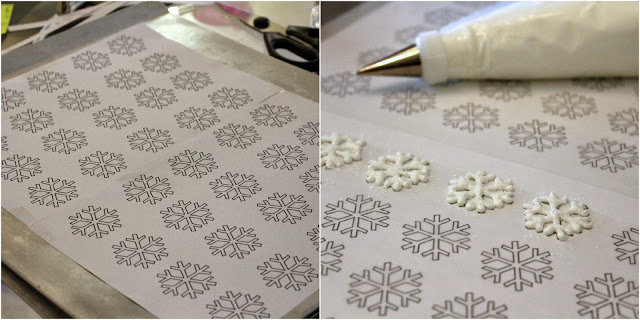 A little sparkling sugar and luster dust made the cake and snowflakes pop. The color was spot on, and I used a little toy the birthday girl owned as a cake topper. I got the idea for rock candy from BuzzFeed. The cake turned out perfect and everyone had a great time at the party, especially the birthday girl!



Royal Icing Snowflakes
Recipe adapted from Wilton
Click here for printable snowflake template
Royal Icing Snowflake Ingredients:
– 1 & 1/2 tablespoons Meringue Powder
– 2 cups sifted Confectioners' Sugar
– 3 tablespoons warm Water
– Piping Bags
– Piping Tips – size 2 & 3
– Cookie Sheets
– Wax Paper
– Sanding Sugar (optional)
– Luster/Disco Dust (optional)
Royal Icing Snowflake Directions:
1. Place templates onto a flat cookie sheet and tape down. Tape Wax Paper on top of the templates.
2. Make sure the bowl and whip from your stand mixer is completely clean and grease-free. If necessary, wipe down with a paper towel and lemon juice.
3. Place the Meringue Powder, Confectioners' Sugar and Water in the bowl of your stand mixer and whip on low until incorporated. Raise the speed to medium-low for 7-10 minutes until stiff peaks form.
4. Scoop Royal Icing into a prepared piping bag with tips. Use size 3 for the large snowflakes and size 2 for small snowflakes.
5. Pipe snowflakes onto the wax paper. You can sprinkle Sanding Sugar or Luster Dust onto the snowflakes for a little sparkle. Let them air dry overnight. Gently remove from the wax paper using a small offset spatula or pairing knife. Store in an airtight container until use. Do not store in the refrigerator. Place onto the frosting just before serving.
Until next time
LOVE & CONFECTIONS!