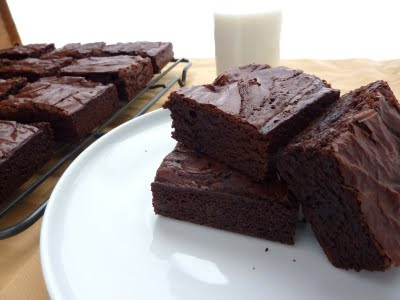 Yay roadtrips! I am even more excited because I will be trekking north to visit my parents. It isn't that much of a road trip – only 8-10 hours – but still, what would that be without some great road food.
My sister and I will hopefully leave early enough so we will be home before dark. Even though my husband and I have our own apartment and my sister has hers, wherever our parents are, is where we call Home. I am also extremely excited to meet the newest addition to our family – an adopted 6 month old little boy Yorkie – Hercules!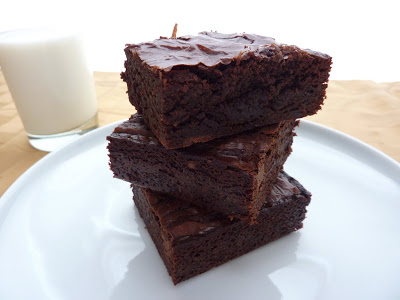 My mom used to always have amazing food for us when we took family trips. We would have a cooler packed with drinks and a bag of homemade goodies. Most of the time they were her brownies. She didn't usually make from scratch brownies – but with that one box mix that is our family's go-to, who would?
I decided to try my hand at some homemade brownies. Lucky for me, brownies freeze well, because I made these about a week ago, a few days before my hand surgery. My hand is doing okay. I can't do a lot of things, like grip anything, but I'll get that back.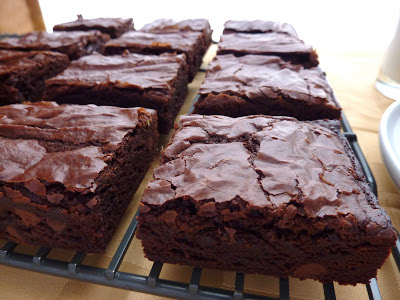 Baking is on the list of things I will have to work up to, but I am excited to get back to it. Mom even said that while I'm there, we can do some baking – basically I'll direct and she'll do all the work, but it will be baking nonetheless.
These brownies were relatively easy to make – just a few more steps than the normal tear open a box and measure out some liquid. They're thick and rich, chewy and cakey, and extremely chocolate-y all at once. You'll probably want a giant cold glass of milk alongside these dark beauties.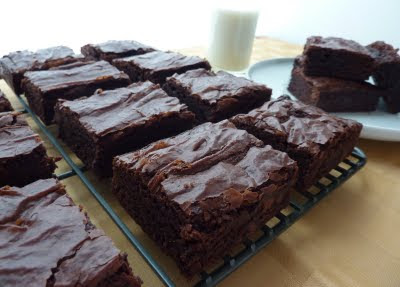 Fudge Brownies
from King Arthur Flour
Brownie Ingredients:
– 2 sticks unsalted Butter
– 15 3/4 ounces granulated Sugar
– 4 large Eggs
– 3 3/4 ounces Dutch-Process Cocoa
– 1 teaspoon Salt
– 1 teaspoon Baking Powder
– 1 teaspoon Espresso Powder
– 1 tablespoon Vanilla Extract
– 6 1/4 ounces All-Purpose Flour
– 12 ounces Chocolate Chips
Brownie Directions:
1. Preheat the oven to 350F. Lightly grease a 9″ x 13″ pan.
2. In a saucepan set over low heat, melt the Butter, then add the Sugar and stir to combine. Return the mixture to the heat briefly, just until it's hot (about 110F to 120F) but not bubbling. It will become shiny looking as you stir it. Heating this mixture a second time will dissolve more of the sugar, which will yield a shiny top crust on your brownies.
3. While the sugar heats a second time, crack the 4 Eggs into a bowl – or your stand mixing bowl, and beat them with the Cocoa Powder, Salt, Baking Powder, Espresso Powder and Vanilla Extract until smooth.
4. Add the hot butter/sugar mixture, stirring until smooth.
5. Add the Flour and Chocolate Chips, again stirring until smooth. Note: if you want the chips to remain intact in the baked brownies, rather than melting in, let the batter cool in the bowl for about 20 minutes before stirring in the chips
6. Spoon the batter into the lightly greased pan
7. Bake the brownies for 30 minutes, until a cake tester inserted into the center comes out clean, or with just a few moist crumbs clinging to it. The brownies should feel set on the edges, and the center should look very moist, but not uncooked. Remove them from the oven and cool on a rack before cutting and serving.
Until next time,
LOVE & CONFECTIONS!