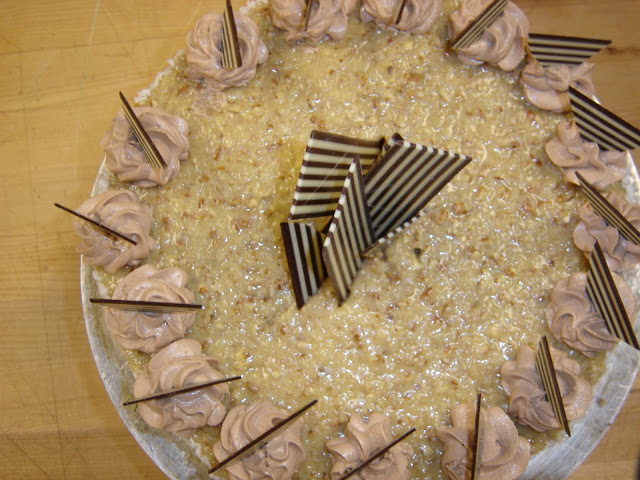 First and foremost – I am NOT a coconut girl! For some unexplained reason, I just don't like the flavor or texture of coconut. Give me a Strawberry Daiquiri over a Piña Colada any day! Even though I do not like coconut, I refuse to make this recipe without the classic element. I suffer through it to enjoy to moist, delicious chocolate cake with creamy, gooey caramel frosting – and in the end, it is worth it!
Today is National German's Chocolate Cake day. Yes, you read that right. There is an " 's" in the title. The cake did not originate in Germany, like many believe. It is named after Englishman Samuel German, who created "Baker's German's Sweet Chocolate" in 1852 for the "Baker's Chocolate" brand.
The first published recipe for German Chocolate Cake was submitted to a local newspaper by a Dallas, Texas homemaker in 1957. The cake became popular and "Baker's Chocolate" sales increased. The possessive form – 's – was dropped in later publications of the recipe and the name still stands as we know today – German Chocolate Cake.
Now on to the good stuff…
German Chocolate Cake is a layered chocolate cake filled and topped with a coconut-pecan frosting. Sweet Baking Chocolate is traditionally used in the actual cake, although some recipes today do not call for it. The Coconut-Pecan topping is a caramel made with egg yolks and evaporated milk, with coconut and pecans stirred in.
I first made this cake in my "Basic and Classical Cakes and Pastries" class in culinary school, and fell in love! This recipe is one of my favorites and a definite go-to cake for any occasion.
German Chocolate Cake with Coconut-Pecan Frosting
adapted from a culinary school recipe
German Chocolate Cake Ingredients:
– 240 grams Sweet Baking Chocolate
– 120 milliliters Boiling Water
– 240 grams Unsalted Butter, softened
– 480 grams Granulated Sugar
– 80 grams Egg Yolks
– 5 milliliters Vanilla Extract
– 300 grams Cake Flour
– 4 grams Baking Soda
– 3 grams Salt
– 240 milliliters Buttermilk
– 120 grams Egg Whites
German Chocolate Cake Directions:
– Chop Chocolate and melt in a bain marie over Boiling Water
– In a mixing bowl or stand mixer, cream the Butter and Sugar
– Add Egg Yolks one at a time, then Vanilla and Chocolate
– Sift Flour, Baking Soda, and Salt and add alternating with Buttermilk
– In a separate bowl, whip Egg Whites to stiff peaks and then fold into the batter
– Divide into 3 9-inch round pans lined with parchment
– Bake at 350F for 30-40 minutes
Coconut-Pecan Frosting Ingredients:
– 240 milliliters Evaporated Milk
– 240 grams Granulated Sugar
– 60 grams Egg Yolks
– 120 grams Unsalted Butter
– 5 milliliters Vanilla Extract
– 120 grams Coconut, flaked
– 120 grams Pecans, Chopped
Coconut-Pecan Frosting Directions:
– Combine Milk, Sugar, Egg Yolks and Butter in saucepan on medium heat
– Cook until it thickens
– Remove from heat and add Vanilla Extract, Coconut and Pecans
– Beat in electric mixer until cool and spreadable
Assembly:
– Make sure cakes are level, after cooling
– Place 1/4 of the frosting in between each layer and stack
– Frost the top with 1/4 of the frosting
– Frosting the outside of the cake with the last 1/4 of frosting
– Buttercream, Coconut and Chocolate decorations are optional
– Enjoy!
Until next time,
LOVE & CONFECTIONS!